21. Pork Rind Tortillas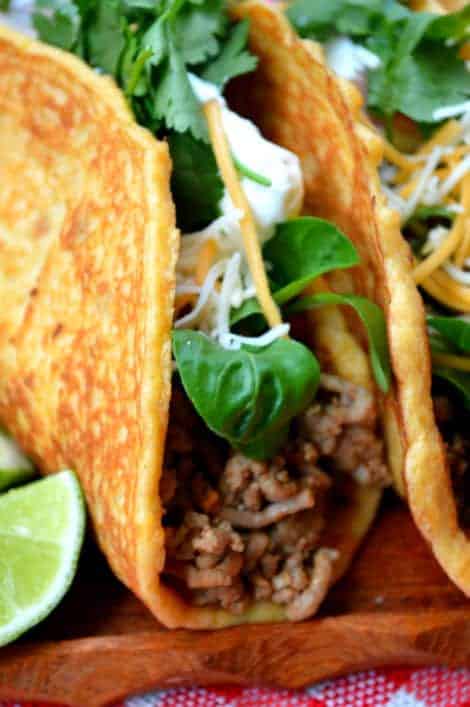 Pork rinds give these tortillas a dash of unexpected flavor. Most low-carb taco shells are hard, made from cheese that's been melted down to a fine crunch. These pork rind tortillas on the other hand will satisfy the low-carb soft-shell lover. They cook like pancakes, and their full and fluffy consistency isn't too far off from them either. Less than 1 carb per tortilla also makes them a health-smart alternative to the wraps and shells you buy at the supermarket. These tortillas are great to use as the foundation for a quesadilla, eaten sandwich-style with some guacamole or used to make low-carb tacos with your favorite Mexican meat and toppings. You will be using his recipe all the time.
22. Paleo Spicy Tilapia Baja Taco with Lime Slaw and Avocado Cilantro Sauce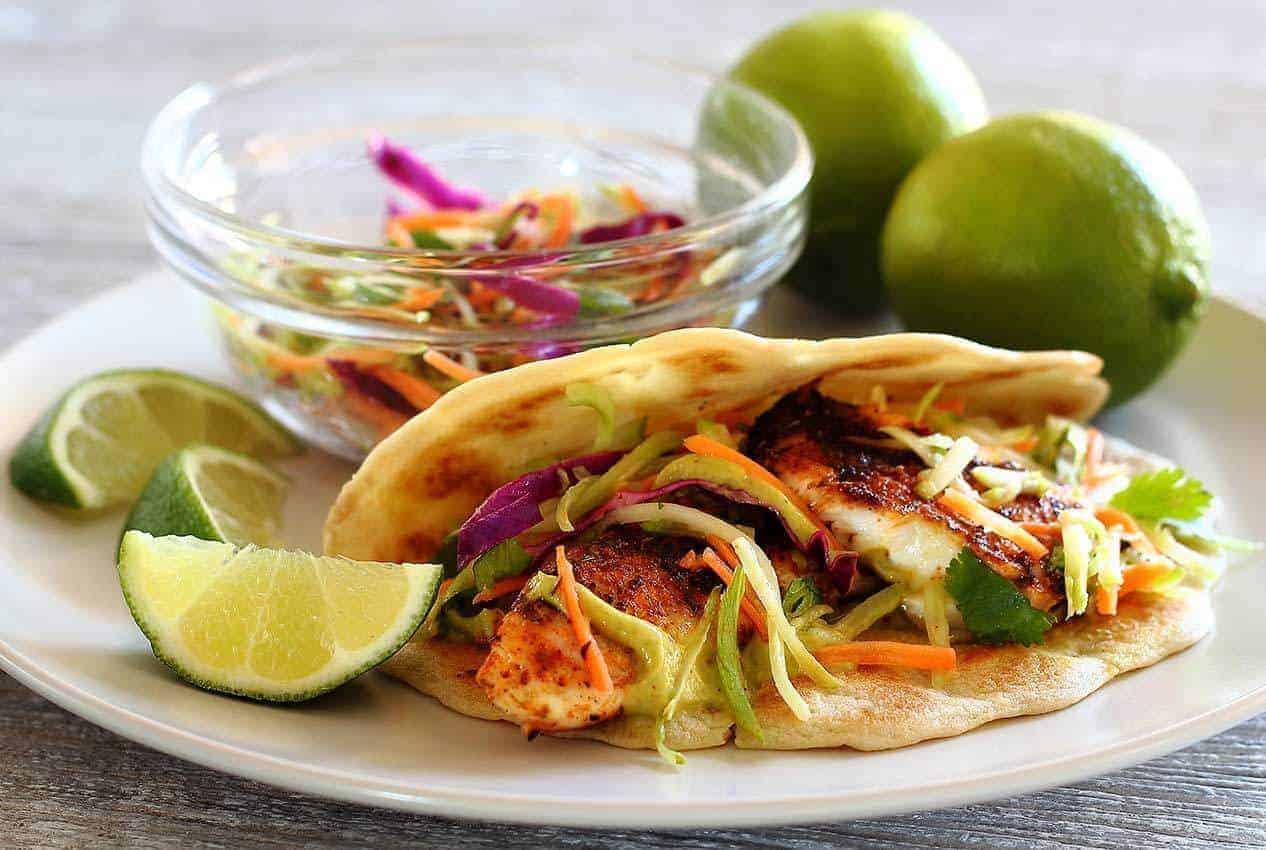 This taco is one of those low-carb Mexican recipes that you won't believe is low carb! There is no deprivation here with these decadent flavors all rolled up in a low carb tortilla. Think Southwest meets low carb with this delicious, spicy fish, topped with a bright lime-flavored coleslaw and a cool, creamy avocado sauce- just WOW! The spices on the fish will rev up your metabolism while you reap the antioxidant benefits from the coleslaw. Your taste buds and your jeans will both benefit from this dish!
23. Mexican Salad with Cilantro Jalapeño Pesto
This salad is one of those great low-carb Mexican recipes that is perfect for a busy night! It can be whipped up faster than you can get take out, and you will get all of benefits and flavor of this low carb dinner. Your body will benefit from the healthy fats in the olive oil that keep you full and the myriad of vitamins and nutrients from the veggies drenched in delicious pesto. In addition to all of that, the jalapeños are rich in capsaicin, which has been shown in studies to be linked to weight loss and can also reduce inflammation in the body. With all of those health benefits and the fact that this is low carb, you should probably make this tonight!
24. Low Carb Paleo Tortillas With Flaxseeds And Eggs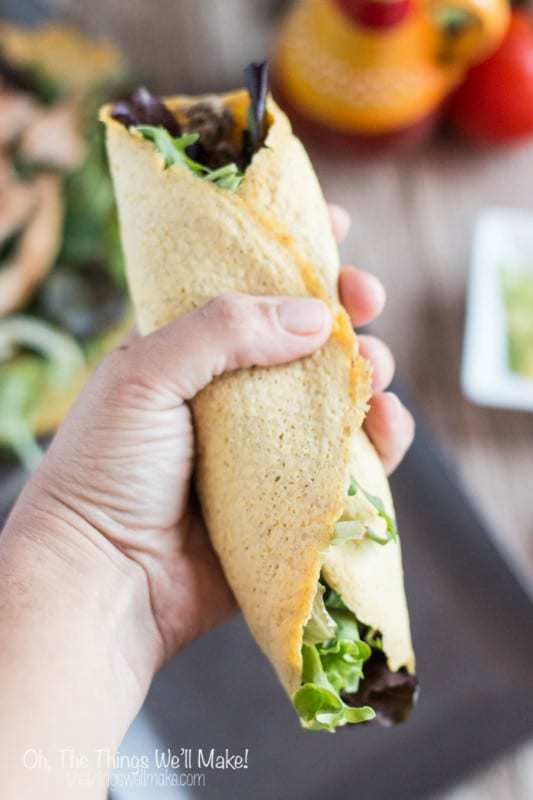 If you're a Paleo vegetarian and watching your carbs, finding low calorie Mexican recipes can be a disaster. Today you're in luck, because these tortillas are Paleo-friendly, made from just three simple ingredients you probably already have at home. Eggs, flaxseeds and salt are mixed together and cooked pancake-style to give you a crispy, solid tortilla that you can use for lunch and breakfast wraps or some Paleo Mexican tacos. Talk about a creative low carb Mexican recipes!
25. Molten Cheese Beef Or Chicken Quesadillas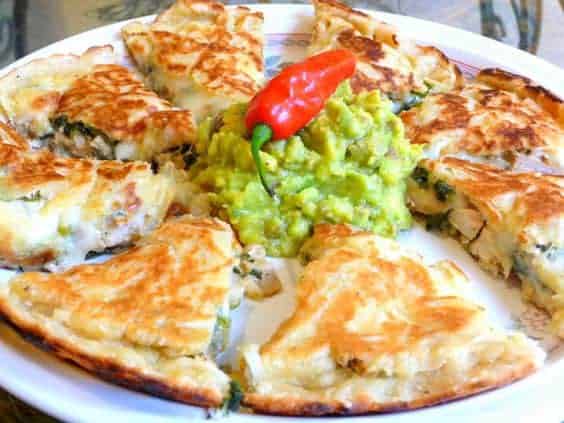 Carb free Mexican recipes don't usually feature the dishes you're really craving, like these fantastic molten quesadillas. Beef, chicken or vegetarian-style, the choice is yours. What matters is that you follow this recipe and try these incredibly cheese-stuffed bad boys for yourself ASAP. If you've been on a new diet and been craving Mexican food like never before, this is the dish you'll want to make to reunite with all the tastiness that is a quesadilla. It is finally time to enjoy them once again!And if you think they're good when they come from a Taco Bell drive-thru, just wait till you try them homemade and low-carb- they are just purely irresistible (so have another!).
26. Blackened Mahi Lettuce Tacos with Cajun Remoulade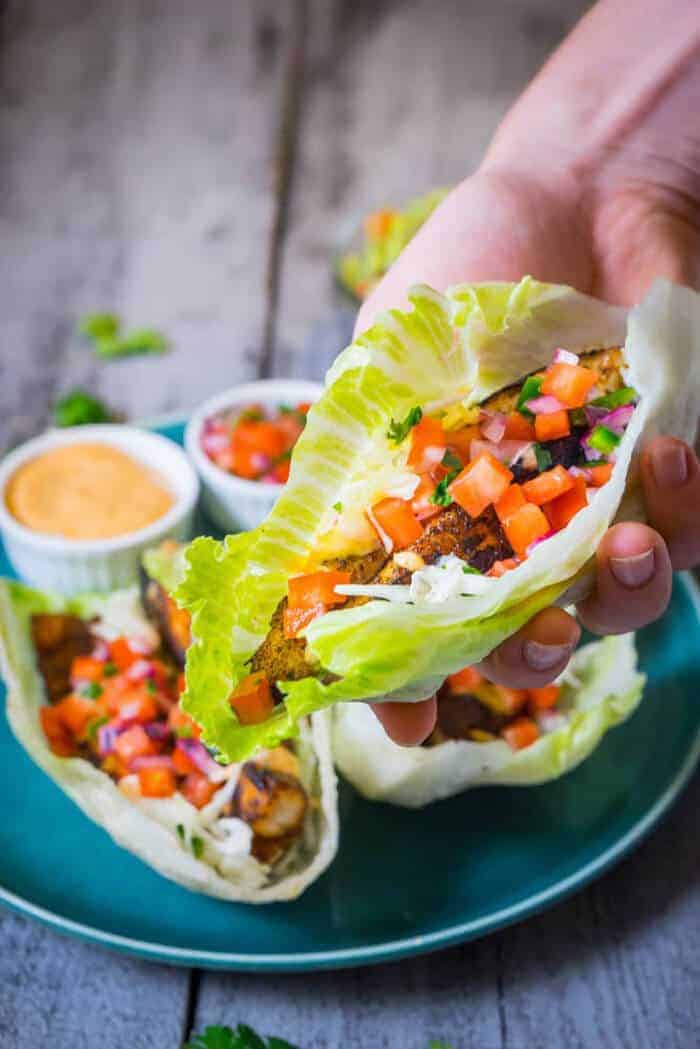 Here's a recipe that showcases simple ingredients with incredible flavor! This recipe has the perfect blend of spices to create succulent blackened mahi. The fish is topped with a creamy, decadent, low carb coleslaw that can eliminate hunger as it fills you up with fiber. The spicy and creamy remoulade sauce balances out the pico de gallo, which is low in calories and big on flavor. All of these big flavors are wrapped up in a crisp lettuce leaf to keep you on track and loving it with your low carb diet. You will want to make this quick recipe all the time and go ahead, your diet totally allows it!
27. Green Chile Chicken Enchilada Stuffed Spaghetti Squash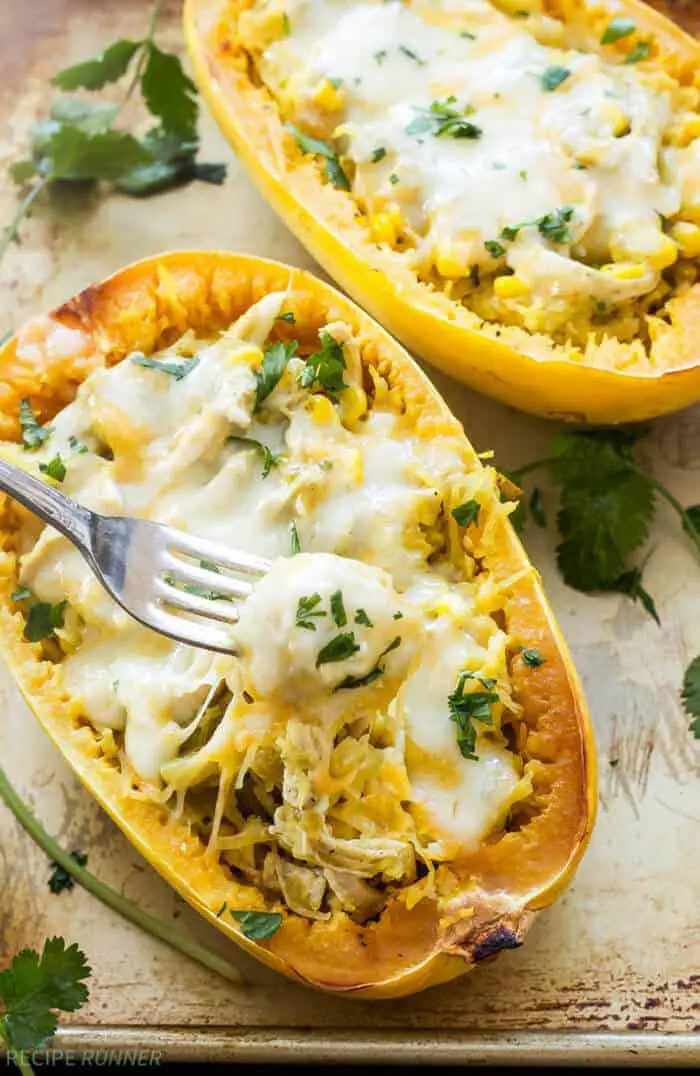 This enchilada is one of those low-carb Mexican recipes where you won't even notice the lack of a carbohydrate. This has all of the big flavors of an enchilada without the high carb count. Stuffed into a spaghetti squash, these flavors will delight your tongue and fill you up. Not only do you save time by not having to roll everything up in a tortilla, but you will also be getting a full serving of vegetables disguised in this delicious meal. Such a creative way to get that Mexican fill of food without all the carbs.
28. Soft Taco Recipe With Spinach |Low Carb Taco Shells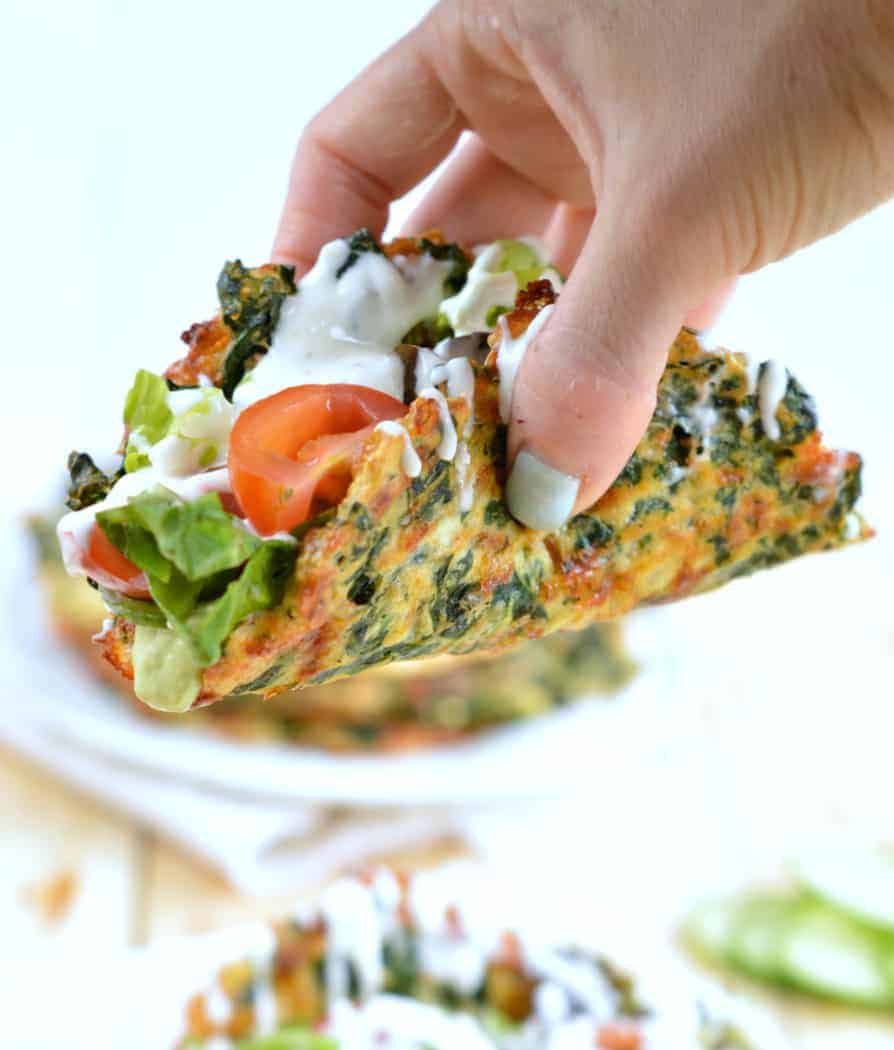 If it's Mexican low-carb recipes you seek, then you'll definitely want to make note of this soft spinach low-carb taco shell. Aside from looking beyond appetizing and tasting amazing, it's also loaded with protein and vegetables, making your Mexican night healthier than ever and, of course, low carb!. In 100g of spinach there is 46% of vitamin C, which makes it the primary substitute for orange juice in breakfast smoothies. You'll be getting tons of that with these shells, made with eggs, boiled water, ground almonds and seasoned with a Mexican staple: goat cheese.
29.White Bean And Avocado Baked Burritos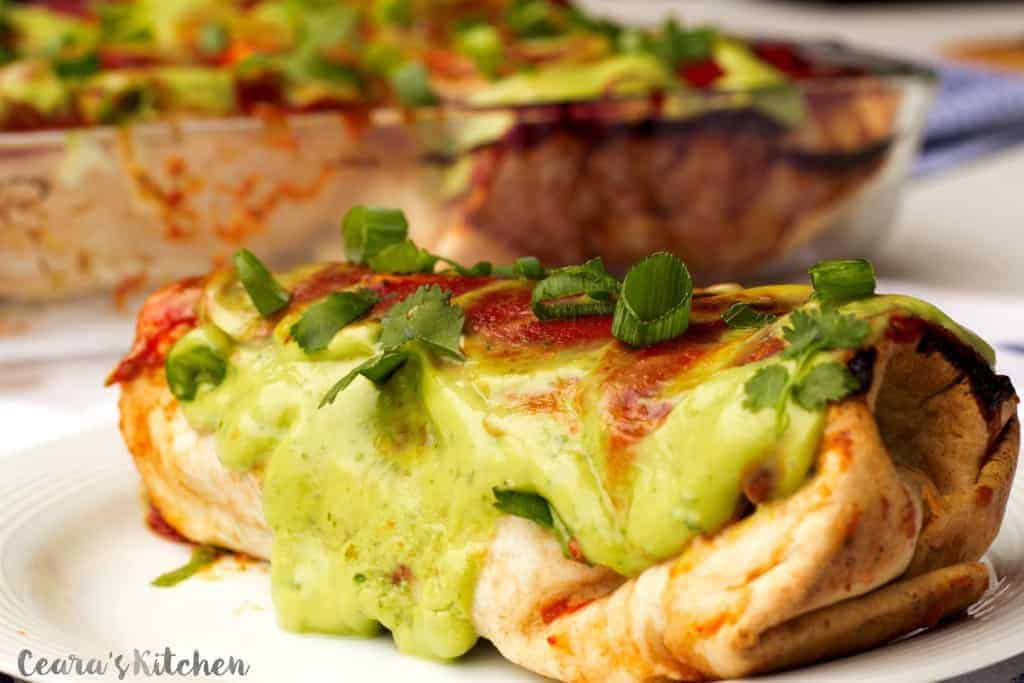 A burrito is a true bundle of joy- the original bundle of joy! Carb-free Mexican recipes can't always give you a 100 percent no-carb meal, but this burrito recipe comes close. This is a gourmet version if the bean and cheese burritos you're used to noshing on, so be prepared to have your mind blown when you bite into layers of rice, white beans, mushroom and corn, as well as warm, creamy avocado. You can top them off with salsa, sour cream or some extra guacamole because really, you can never have too much avocado in a burrito (seriously, never…). This recipe makes a dozen of these delicious burritos, so it's the perfect choice for a low-carb, fiber-packed family dinner. Everyone's gonna love these!
30. Kerry'S Low Carb Mexican Meatballs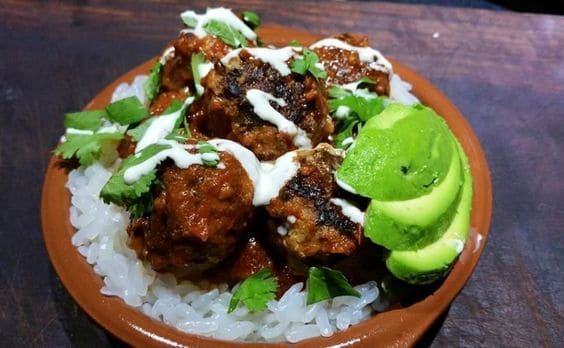 Meatballs aren't just for spaghetti. In this low-carb Mexican recipe, you'll concoct some of the most unique meatballs you've ever tasted out of coriander, garlic, onion, ghee, dried ground chipotle and syllium husk. This interesting recipe works great so thanks to those who made it happen! When served over a bed of white rice and topped with the creamy chipotle and coriander sauce, these meatballs give Mexican food an unexpected Middle Eastern flare. You'll definitely want to turn to this recipe when you're craving something new and exotic.
More low-carb mexican recipes on the next page…