31. Chicken Tostadas With Black Bean Salsa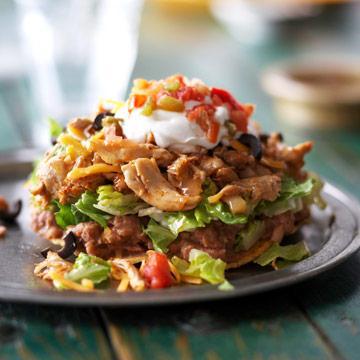 There are plenty of carb free Mexican recipes that spin tostadas a dozen ways, but this one is a nice throwback to the traditional Mexican dish. Everything you'd expect to find in a tostada is there, like chicken, black beans and corn, and finished off with a thick and flavorful black bean sauce. These are filling and have plenty of vitamins, so you can dine knowing that you're not just having an awesome Mexican meal, but also nourishing your body with a strong dose of fiber and other nutrients. As always, it's also low carb (how can so much flavor be so good for you?!)
Must read: Top 10 Low-Carb Dutch Recipe with Chicken
32. Mexican Cauliflower Rice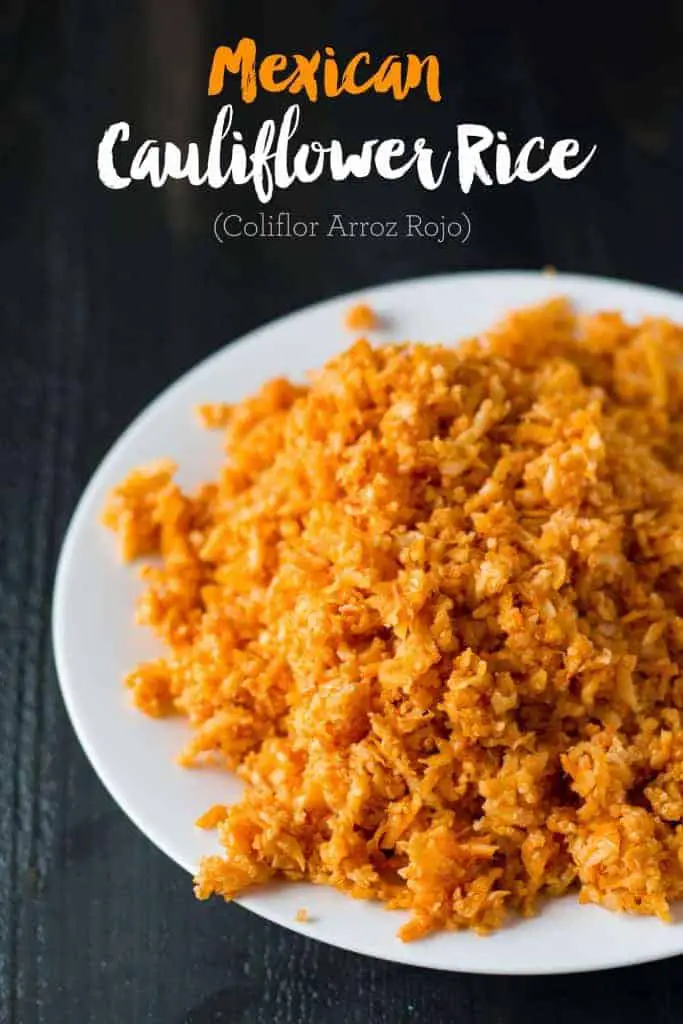 Low calorie Mexican recipes call for creativity and that is the driving force behind this fantastic Mexican cauliflower rice recipe, or coliflor arroz rojo. It's hard to practice self-control when you've got a steaming pot of authentic Mexican rice in front of you, but with this recipe you'll be able to eat as much as you want because instead of actual grain, this rice is made from minced cauliflower. It can be prepared, cooked and ready to eat in just 15 minutes, so apart from being one of the carb free Mexican recipes you'll want to go-to over and over again, it's also a huge time-saver- perfect for busy nights after a long day at work. The cauliflower alone may not seem very Mexican, but when it's made with tomato paste, chili pepper, onion and garlic, you'll have a hard time believing that it's anything other than 100 percent arroz.
33. Low-Carb Slow Cooker Sour Cream Chicken Enchiladas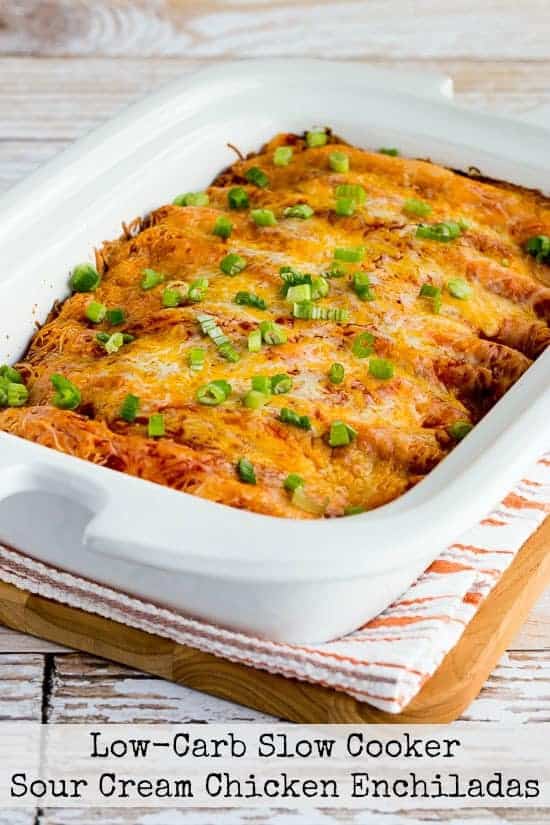 There's something about food made in a slow-cooker that makes it ten times better. As if enchiladas weren't already fantastic enough (seriously, have you ever eaten a bad one?), these ones are loaded with generous helpings of cheese and slow-cooked chicken. The sour cream used to make the enchilada sauce light and tangy and the green onion garnishing makes them as Instagram-worthy as they are delicious. This is a great meal to choose if you want to freeze meals for later or have plenty of leftovers for the week. Switch up the filling to make them into your own creation too.
34. Low-Carb Grilled Chicken & Avocado Quesadillas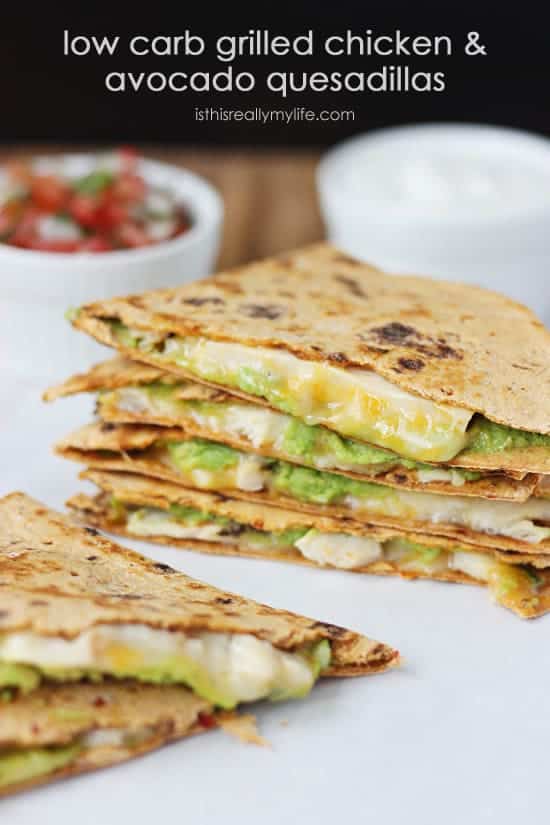 Grilled chicken and avocado make the perfect couple when combined in this low-carb Mexican recipe. Instead of a simple tortilla, these beauties are made with Flatout ProteinUP flatbread wraps in Red Pepper Hummus and topped with Pico de Gallo and sour cream. Combining the flavor of hummus wraps with a quesadilla will give you an interesting flavor that breaks the traditional mold, and if you can't get your hands on the Flatout wraps, there are plenty of easy homemade hummus wrap recipes you can find online.
35. Mexican Fajita Kabobs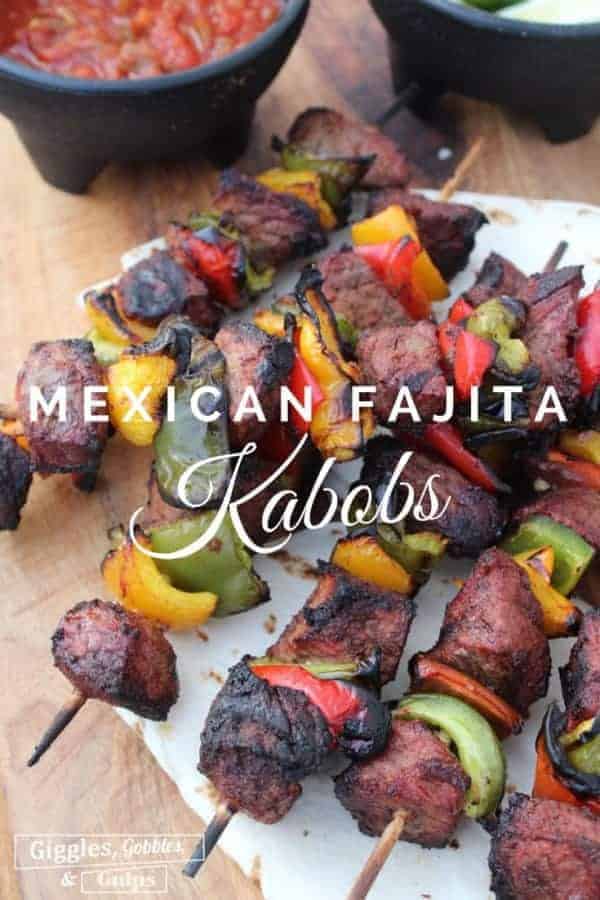 Every time you eat these fajita kabobs you'll feel like you're on the best Mexican summer getaway ever. If there's any entree you'll want to serve at a Cinco de Mayo celebration, it'll be these low-carb kababs. Boneless sirloin steak, crunchy bell peppers in bright, festive colors are grilled and served with tortillas, salsa and rice. Having them slightly charred adds a smoky taste that's perfectly complimented by a burst of lime from a freshly squeezed wedge. Eat them while they're hot and before they disappear (everyone will be grabbing for these!).
36. Mexican Coffee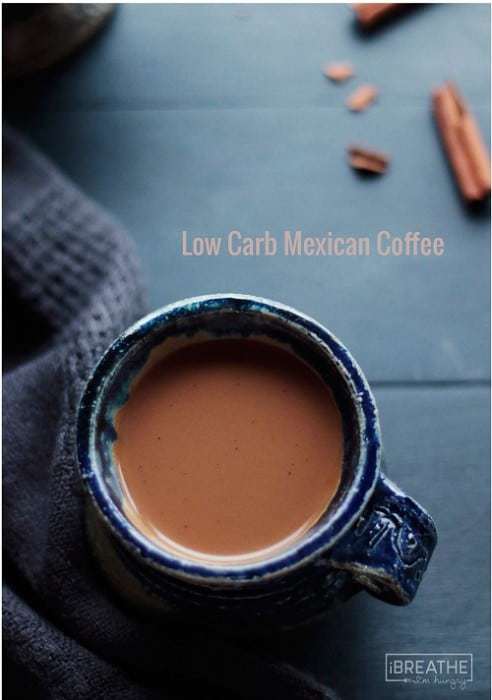 Low calorie Mexican recipes can be use any time of day, and you'll be jumping out of bed once you know this Mexican coffee is waiting for you. Sugar and creamer can get old, but you won't need any of it once you try this delicious coffee that's flavored with chocolate, cinnamon and vanilla- i'm ready for a cup right now! It's just as wonderful served hot in the winter as it is over ice in the summer, so you'll literally never have to be without this low-carb treat. A great way to start your day.
37. Beef And Chorizo Empanadas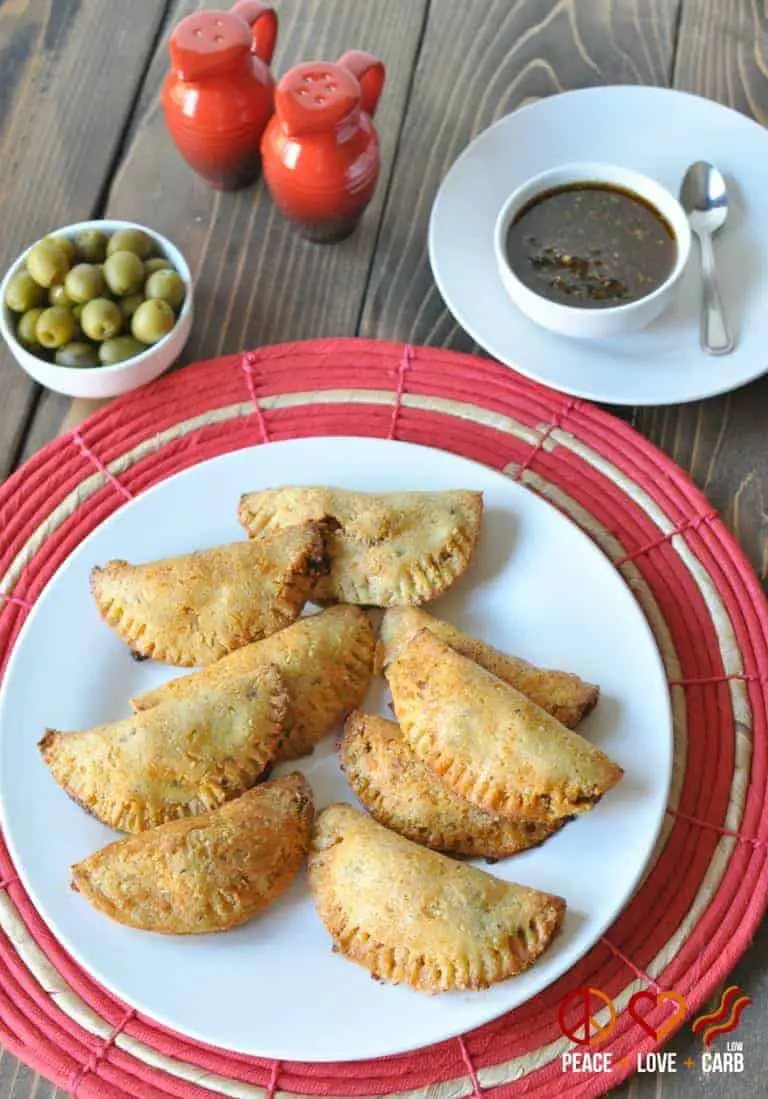 Empanadas are the calzones of Mexico. They're traditionally made with a meat filling, but you can also swap that out for cheese if you're a vegetarian. This recipe walks you through the steps of making your traditional beef and chorizo empanadas from scratch, starting with the gluten-free dough. From there, you'll mix beef with chorizo, jalapeño, garlic, tomato paste onions and hardboiled eggs. Once they're assembled and baked, these empanadas make wonderful lunches on-the-go and your leftover filling can be eaten solo or mixed with some eggs for breakfast. These are also much healthier than their fired counterpart- goodbye deep fryer and hello oven!
38. Creamy Mexican Slow Cooker Chicken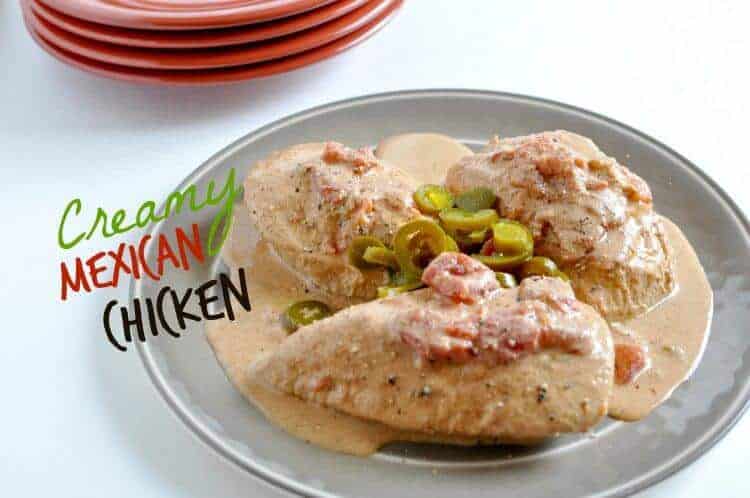 This is an easy and tasty option for a low carb Mexican feast. With just 5 ingredients and a crockpot, you can have a drool-worthy dinner with all of the flavor and none of the carbs. This one-pot dish is high in fiber and protein to fill you up, and the bold flavors of chiles and taco seasoning will delight your palate. This is a perfect dish to ladle on top of riced cauliflower or to just scoop up by the spoonful. You will also love the ease of putting everything in a crockpot and coming back hours later to a fully cooked meal!
39. Mexican Chicken Tortilla Soup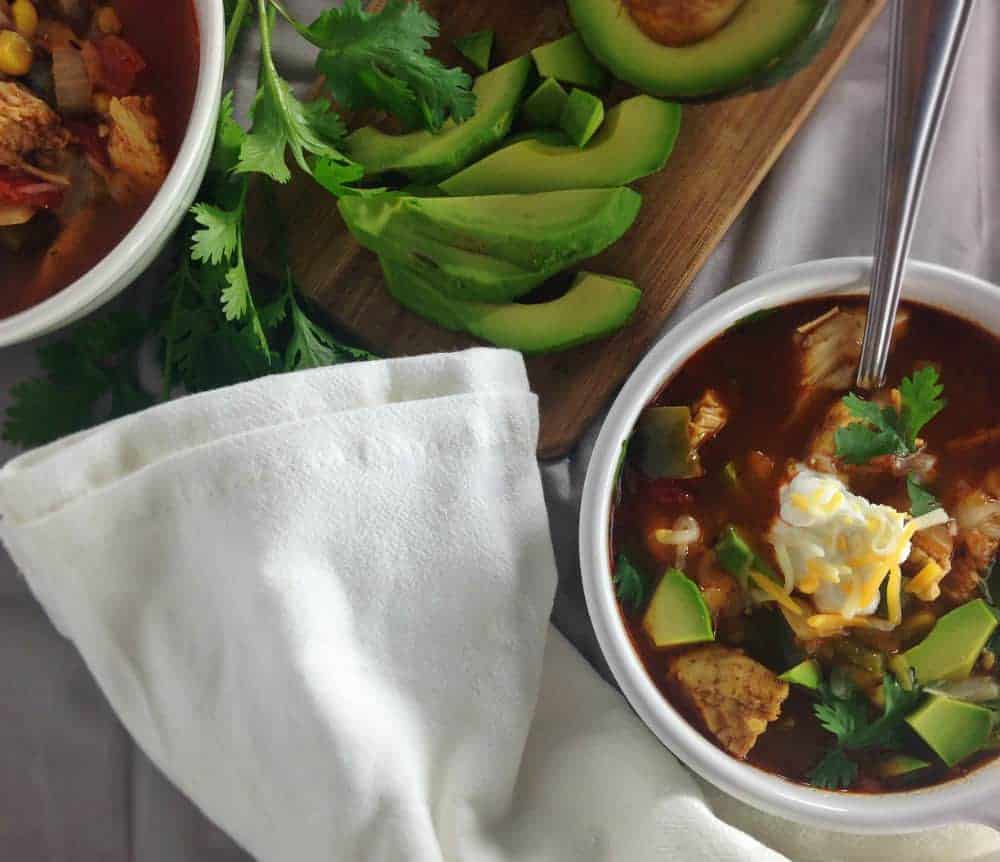 You'll be craving this Mexican Chicken Tortilla Soup all winter long. It's filled with vegetables like black beans, green bell pepper, yellow onion and corn, all mixed together in a light broth and chicken. There are so many flavors that work harmoniously in this soup, from hints of coconut oil and chili powder to cumin and smoked paprika. Perhaps the best part about this soup is the act of eating it, since you'll get to add the final touch by crunching up tortilla chips and dropping them into your bowl, along with some shredded Monterey cheese. Freeze this soup without the tortillas and you'll have a meal ready and waiting the next time you crave soup.
40. Turkey Taco Lettuce Wraps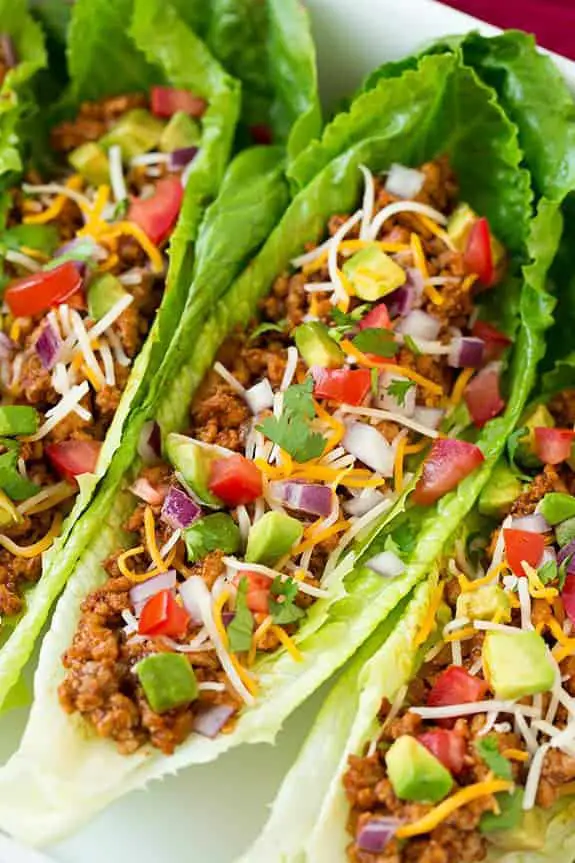 If you're serious about carb-free Mexican recipes, this turkey taco wrap forgoes the flour and shell altogether in favor of a healthier choice: lettuce leaves. Nestled on the leafy bed is lean ground turkey and your favorite taco fixins; red onion, tomato, avocado and cheese. This is the ideal low-carb dinner because it is able to fill you up without that Mexican-food bloat we're all too familiar with. You can always swap out the turkey for beef if you prefer, and if you're looking for an even fuller meal, you can serve these alongside some Mexican cauliflower rice. UP the veggies and skip the meat all together for a vegetarian version that is just as delicious.