It is not quite lunch and it is not quite dinner. You have already had breakfast hours ago but you are still craving something…anything! It is that dreaded time of day when you just need a snack. But what can you have? Eating a paleo diet is tricky enough when planning your main meals but now you also need to consider what to eat in between meals. This may seem like a daunting task at first but it is not as hard as you may think!
The paleo diet has many health benefits, but finding low-carb, high-fat foods in the modern world may be tricky. Everything in the store may seem to contain something that is off limits and the most common vending machine snacks will probably not be paleo. In fact, the paleo diet revolves around avoiding highly processed foods which may be what you use to reach for at snack time. However, you will not miss the processed chips and cookies once you learn how to make delicious paleo snacks.
Most of the snacks on this list are made from nuts, seeds, almond flour, coconut oil, and honey. This winning combination of ingredients provides just enough protein and sugar to keep you feeling full and energetic throughout the day however they also all stick to the strict paleo requirements. No fake sugars, trans fats, dairy or grains here! All natural, all healthy and all surprisingly easy to make is what you will find with these snacks.
Of course, like any diet, eating paleo does take a lot of planning. You will need to be prepared by making your snacks ahead of time and bringing them with you. While the convenience factor may be lessened, once you get into the habit of carrying around your homemade snacks, whenever your hunger cravings hit, you will be ready! And, the best part, you will be ready with a snack that is actually good for you! Not only will you be feeding your belly but you will also be keeping your mind at ease knowing that you are eating healthily.
So, whether you are craving something salty or something sweet, there is definitely a snack on this list for you. The wide variety of paleo snacks will keep you interested and excited for quite some time. You'll never get into a snacking rut when you have these recipes available! When you find one that you like, try altering it a little bit too. Swap out those chia seed for flaxseeds or try a new combination of seasonings in your recipe. Keeping it fresh and thinking creatively as you cook is a way to truly succeed on the paleo diet.
Without further ado, here is the list of the best paleo snack recipes that you absolutely need to try. Even if you aren't on a paleo diet, you are sure to find something on here that you love. Always remember to make extra because once people find out you are a master of paleo snacks, they will come flocking to try some! Enjoy!
Satisfy Your Cravings With These 50 Paleo Snacks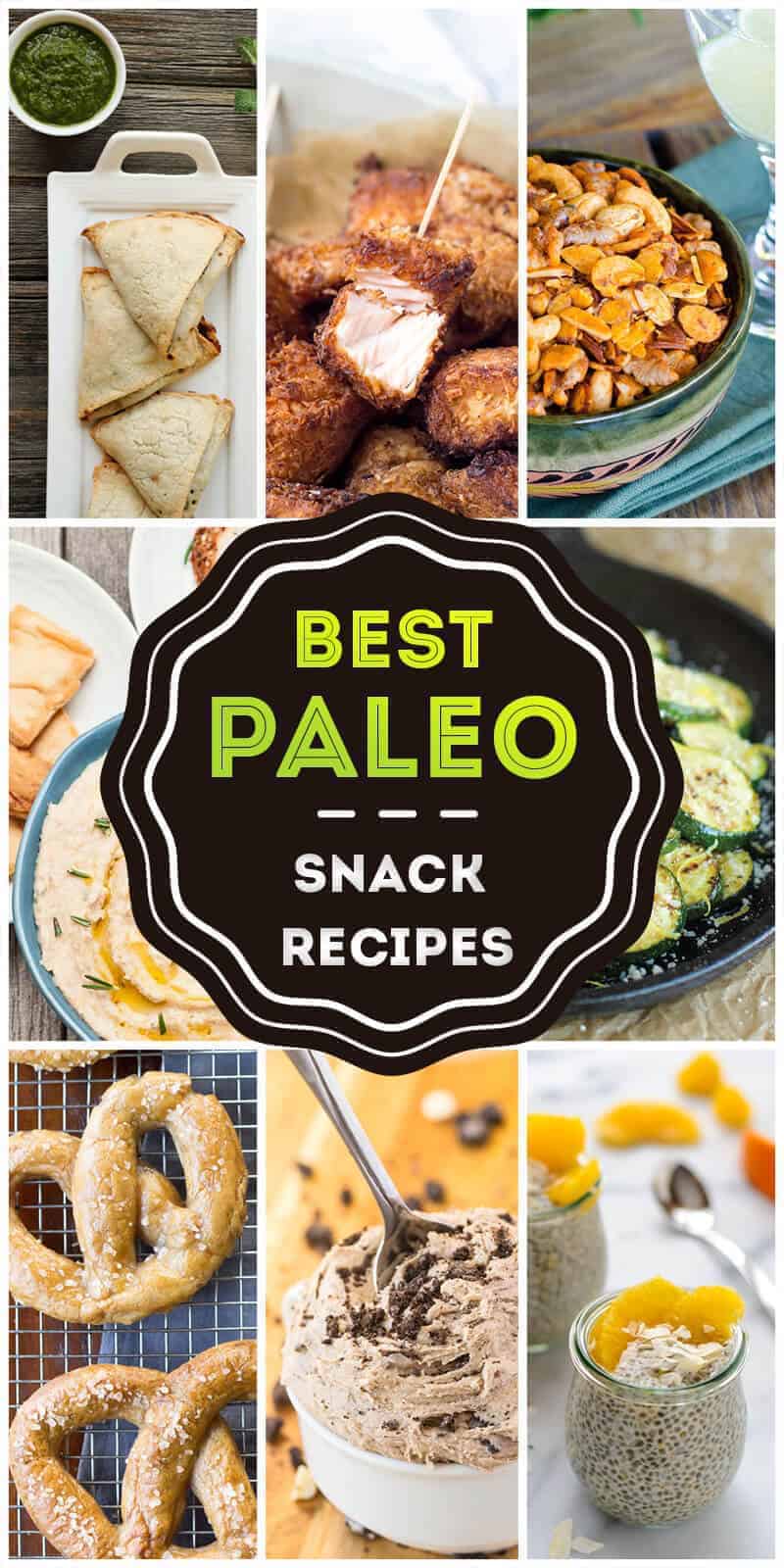 1. 3 Ingredient Gluten Free & Paleo Crackers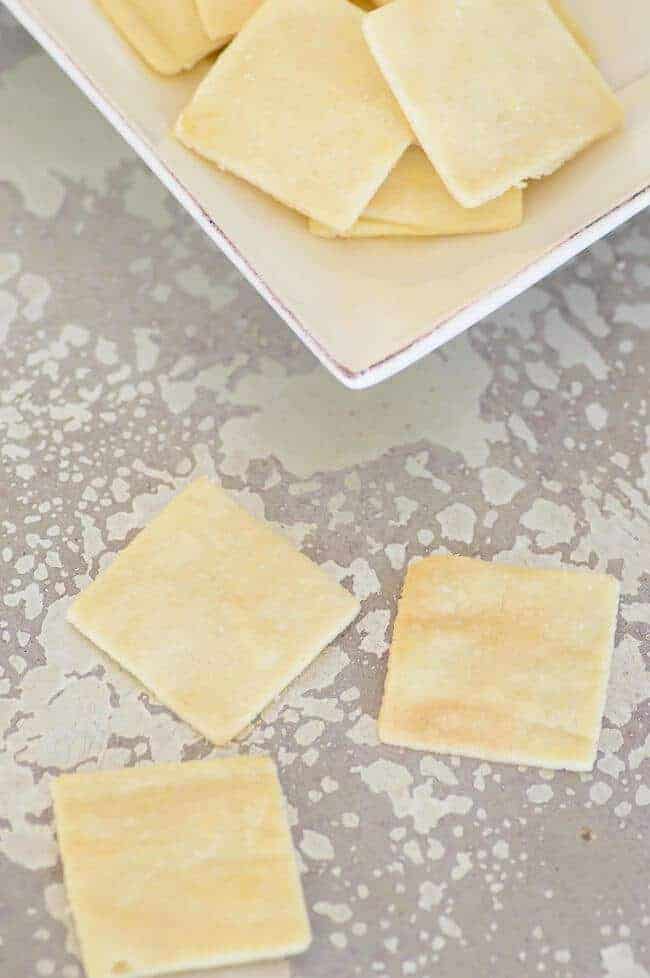 There are plenty of fantastic paleo snack recipes available for dips but it can be hard to find a tasty, crunchy cracker to eat along with all those dips. These crackers have a mild flavor that works well with sweet or savory spreads, but they are also absolutely delicious on their own. Incredibly easy to make,  the recipe is so versatile that you can create crackers of any size or shape. You can also spice them up by including fresh herbs or cheese in the crackers. Interesting, easy and delicious- this recipe is a keeper!
2. Paleo Snack Mix
Anyone who eats paleo knows that nuts make the perfect snack but just eating handfuls of plain walnuts or pecans all the time can become very boring. You can only eat so many plain walnuts after all! This recipe uses a blend of almonds, walnuts, and cashews to create a flavorful and nutritious snack mix that is perfect at any time of the day. The flavorings include both sweet and hot paprika, so you get a yummy flavor that is smoky, sweet, and absolutely delicious. You'll never want to stop snacking on these!
3. Baked Carrot Fries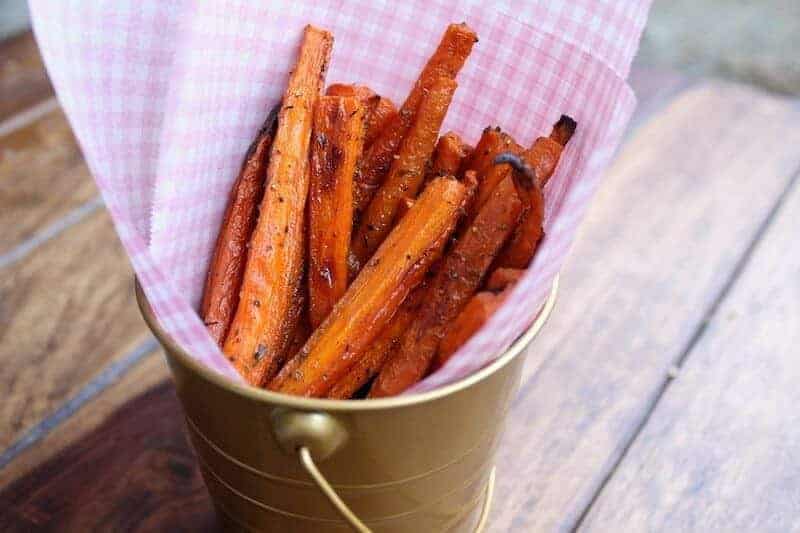 One of the things that people miss the most when they first start trying to follow the paleo diet are classic, greasy,  french fries from fast food restaurants. This recipe is the perfect nutritious substitute. The mildly sweet flavor of carrots makes a tasty fry and carrots are also packed with vitamin A and other nutrients. Since these carrot fries are baked instead of deep fried, they are low in calories while still being crisp and crunchy. An all-around win!
4. Honey Chipotle Meatballs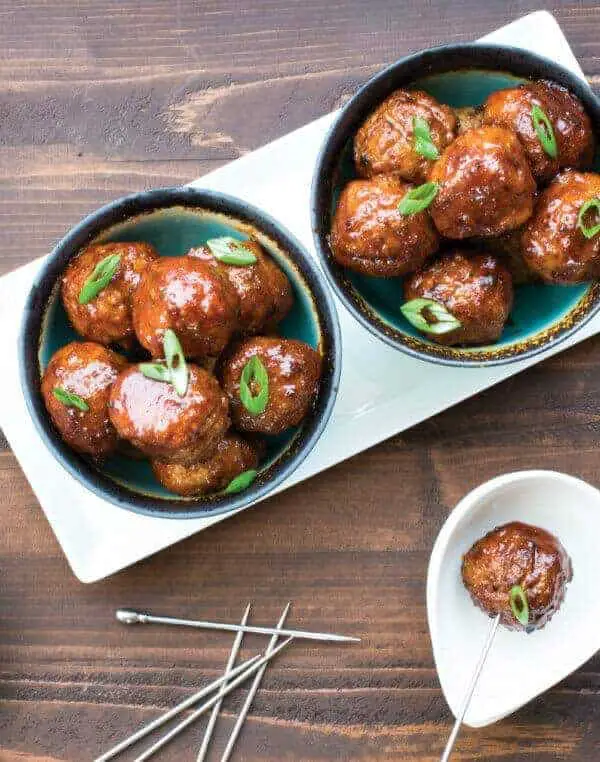 Paleo foods are full of protein and healthy fats and these meatballs are no exception. They're made from a blend of beef and pork, and then they are topped with a yummy honey chipotle sauce that is both spicy and sweet. These meatballs can be used as a great paleo snack recipe when served on their own (all you need is a toothpick!), or you can top a serving of spaghetti squash noodles or cauliflower rice with these meatballs to make a complete meal.
5. Paleo Samosa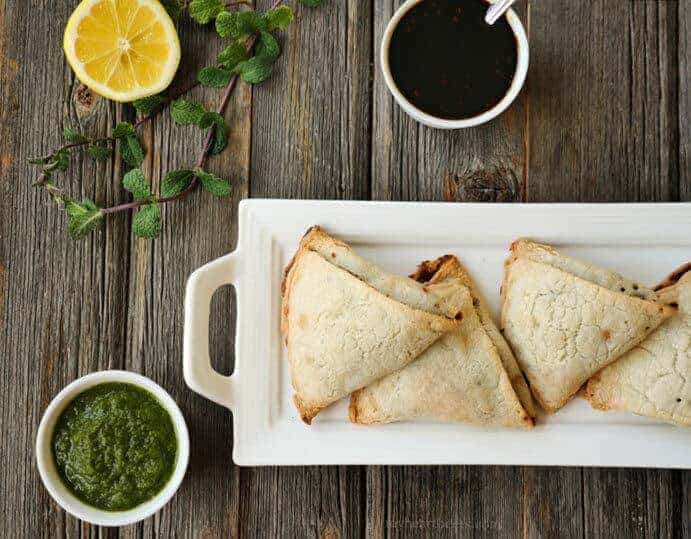 Indian food is typically plant-based so it is no surprise that many Indian classics can be used to create tasty paleo snack recipes. Samosas are traditionally a floury flatbread filled with a savory filling but a quick switch from wheat flour to almond flour makes them the ideal paleo snack. These tasty little samosas have a sweet potato filling but you could also fill them with a mixture of meat or pureed pine nuts.
6. Paleo Baked Avocado Fries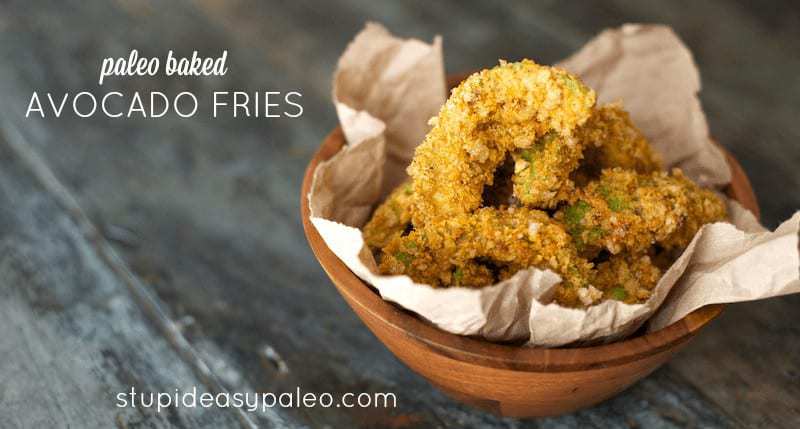 Avocados are a fantastic source of healthy fats so they have always been one of the top paleo foods. Most people just slice up avocado and serve it raw (simple and tasty), but avocado can actually be delicious when it is cooked for a brief period of time. This recipe creates a crushed pork rind coating for long slices of avocado that are then baked in the oven. The resulting treat has a salty, crunchy coating and a soft, creamy interior. A perfect fry for those who crave that crunchy, salty taste of a regular French fry.
7. Paleo Coconut Salmon Bites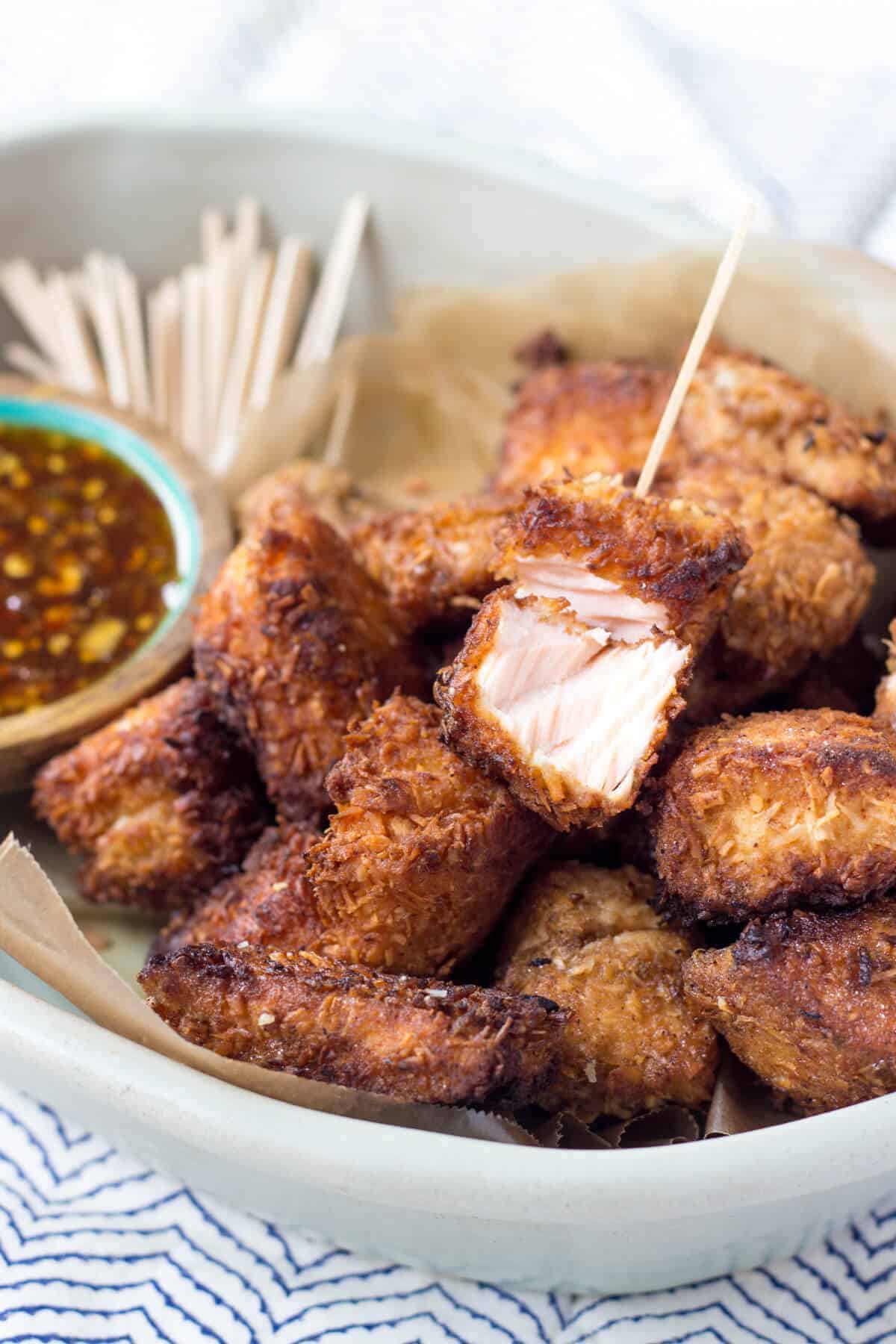 Salmon is everyone's favorite paleo fish thanks to its beneficial omega-3 fatty acids that are essential for maintaining the body's health. This recipe might sound fancy but it is actually fast and simple to create little snack sized salmon chunks that will satisfy cravings for crunchy snack bites. The shredded coconut coating provides a crisp, sweet flavor that goes perfectly with the sweet chili dipping sauce. The key to getting enough crunch on the bites is to avoid overcrowding the pan. You can also flip them over halfway through baking to ensure a crunchy outcome.
8. Tomato, Avocado, and Salami Bites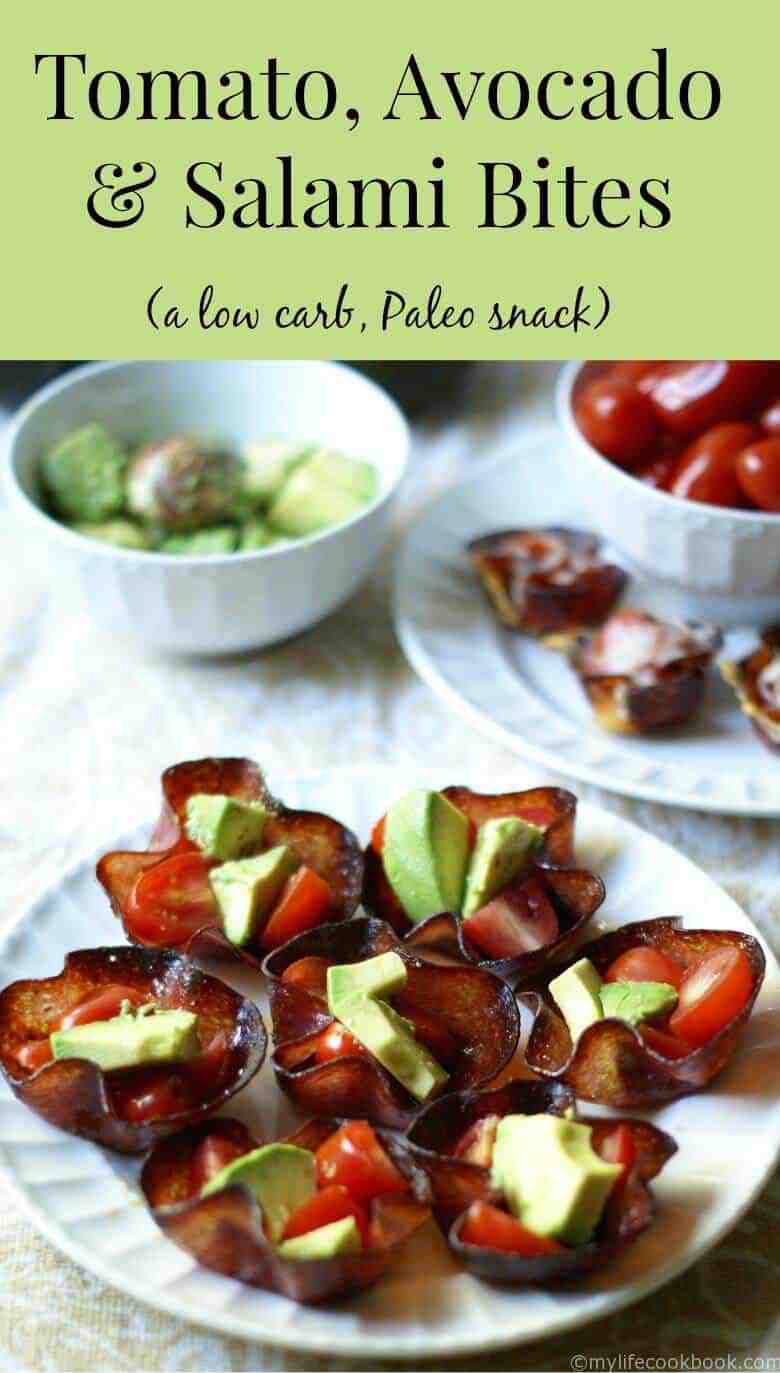 Plenty of recipes for bacon cups already exist but this paleo snack recipe puts a European twist on the trend and also makes it much easier to create the crunchy meat cups. Round slices of salami are quickly baked in a muffin tin until they turn into crisp little cups that can be filled with a mix of avocado and tomatoes. The flavor is similar to a BLT sandwich, but these snack cups are paleo and low carb. Try using these cups to hold other dips as well!
9. Paleo Sweet Potato Chips
You might be able to find baked root chips at your local grocery store, but these classic paleo snacks are often overpriced and underwhelmingly flavored. You are much better off just making your own! The secret to this tasty recipe is avocado oil which helps the sweet potato slices to become crisp and crunchy without burning. If you have a mandolin slicer, this snack can be made in just a couple of minutes but no fancy kitchen equipment is necessary.
10. Crispy Garlic Bread Chickpeas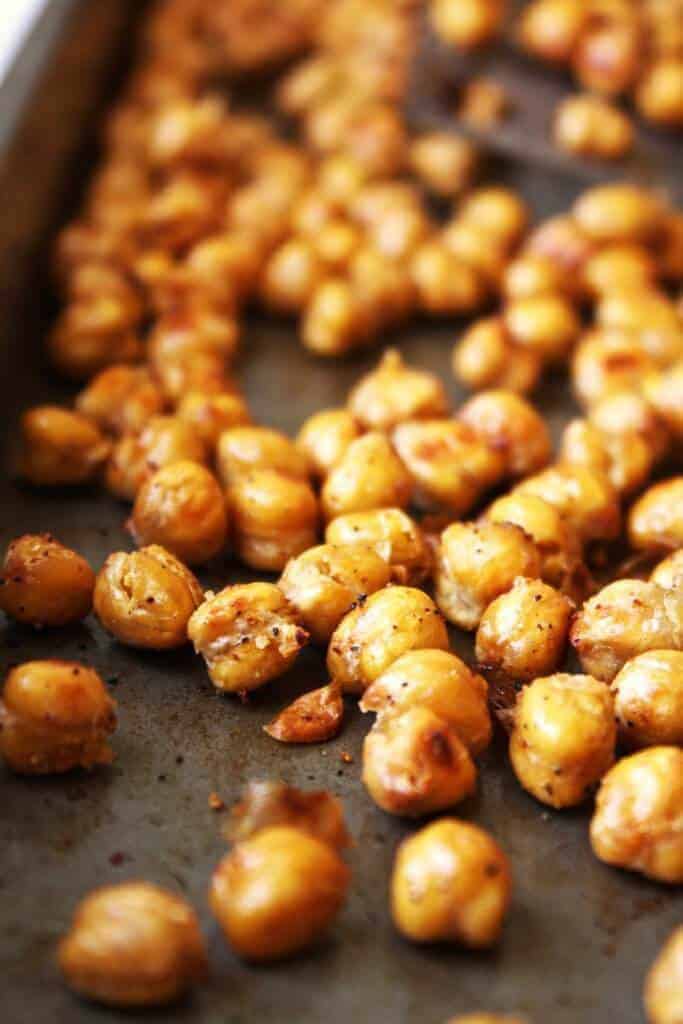 Roasted chickpeas are not very common in stores just yet but these crunchy little treats are quick and easy to make. The small size of chickpeas makes them easy to snack on and these tasty treats are packed with protein and beneficial fiber. After just a few minutes in the oven, chickpeas become crisp and crunchy on the outside and a little soft on the inside making an ideal snack. This recipe uses garlic powder and cayenne pepper to create a spicy, salty flavor that is reminiscent of garlic bread.
More paleo snack recipes on the next page…
11. Kale Chips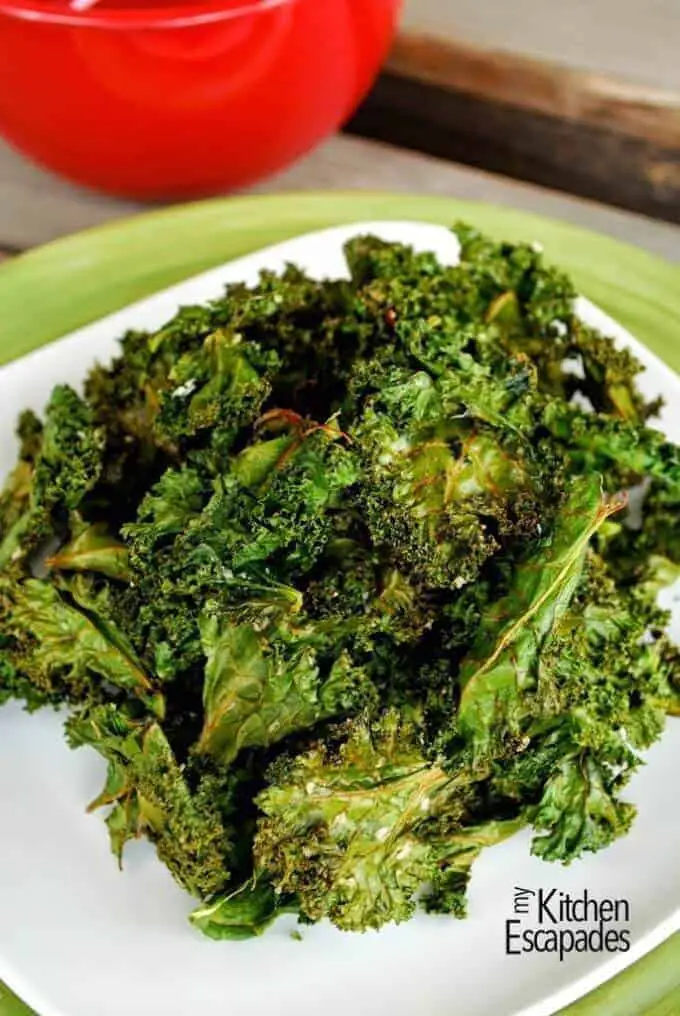 Even people who hate kale will be converted after giving this recipe a try. Baking the kale in the oven removes the slightly bitter taste and makes the kale crispy. The key to getting enough crunch in your kale chips is to make sure the leaves are completely dry before you coat them in olive oil- any moisture will prevent that crunch! This basic recipe just seasons them with salt and pepper but cheese, chili powder, or vinegar can be added to make them taste just like your favorite chip flavor.
12. Salted Tahini Fudge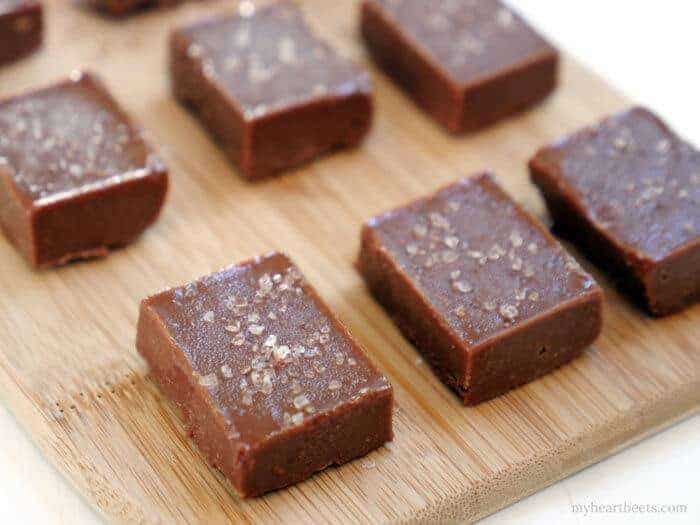 Unlike real fudge, you do not need to carefully labor over a stove with a candy thermometer to create this deliciously sweet treat. Instead, all you have to do is mix together tahini with a few other ingredients before freezing it and then you're done! The ground sesame seeds create a smooth base for the fudge and they are also a great source of iron and calcium. This fudge is a great way to satisfy your sweet tooth quickly while sticking to the paleo diet.
13. Bacon Wrapped Dates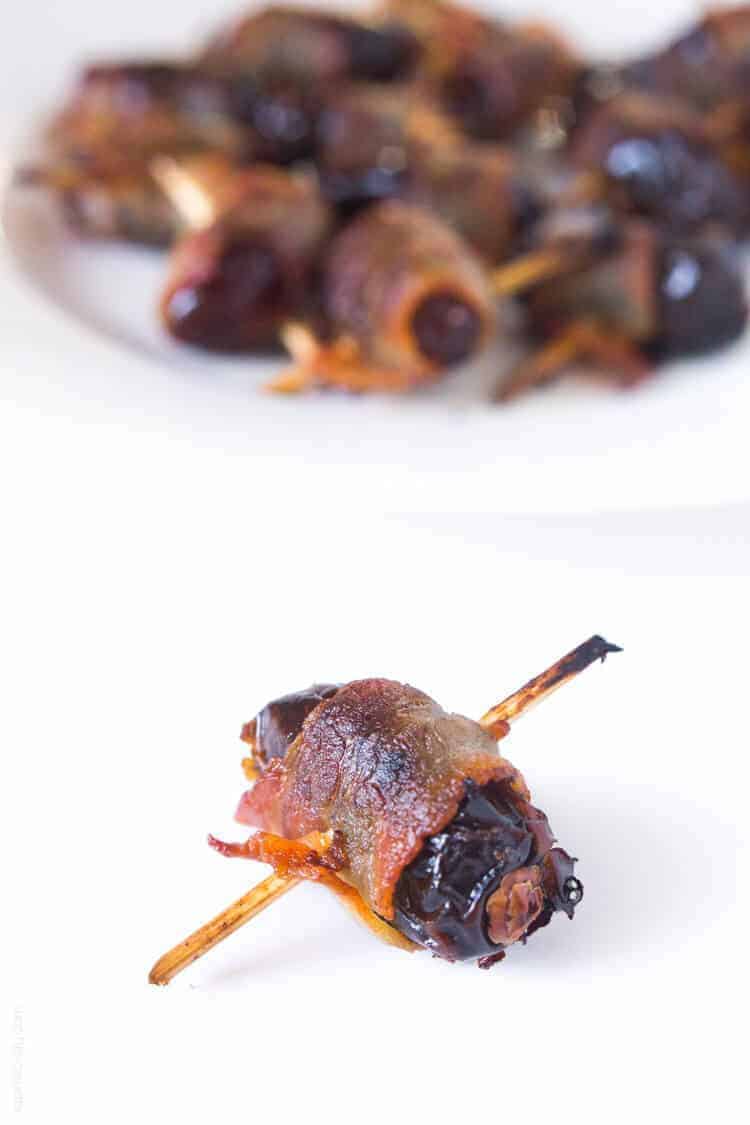 This recipe just involves two ingredients and can be used to create a yummy snack or even a paleo appetizer. The salty, smoky flavors of the bacon blends perfectly with the natural sweetness of the dates and baking them in the oven allows the flavors to blend and get caramelized together. In order to avoid ending up with burnt dates and raw bacon, be sure to slightly cook the bacon before wrapping it around the dates. This will ensure that the dates and bacon are ready at the same time.
14. Oven Baked Beet Chips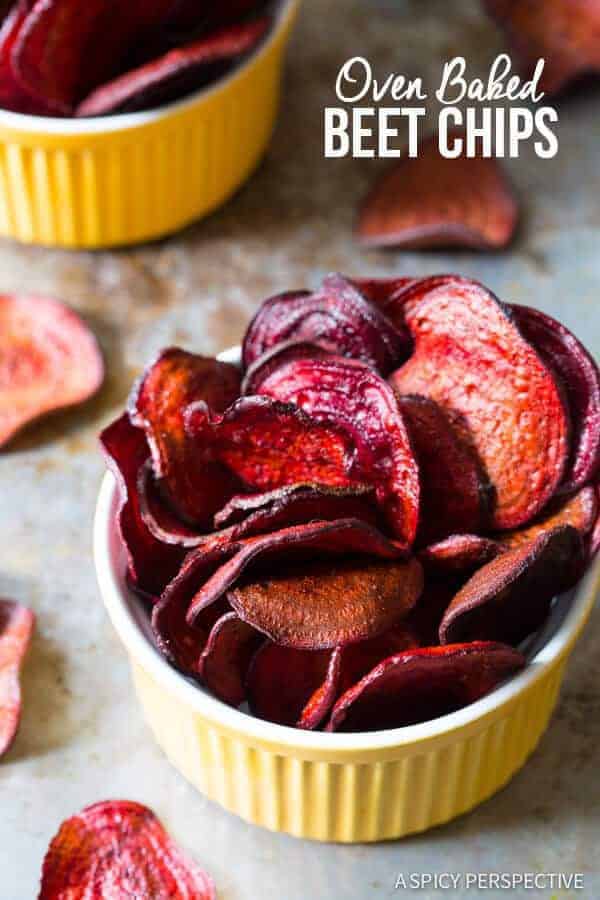 The mild sweetness of beet roots seems like it would make the ideal oven-baked chip but many people struggle to achieve the right texture on these chips. This paleo snack recipe shows you how to get the beets to release some moisture before baking so they get crunchy without becoming burnt and bitter. You can use both red and gold beet chips with this recipe to create a snack that is both beautiful and delicious. You'll be a beet lover soon enough!
15. White Bean Garlic Dip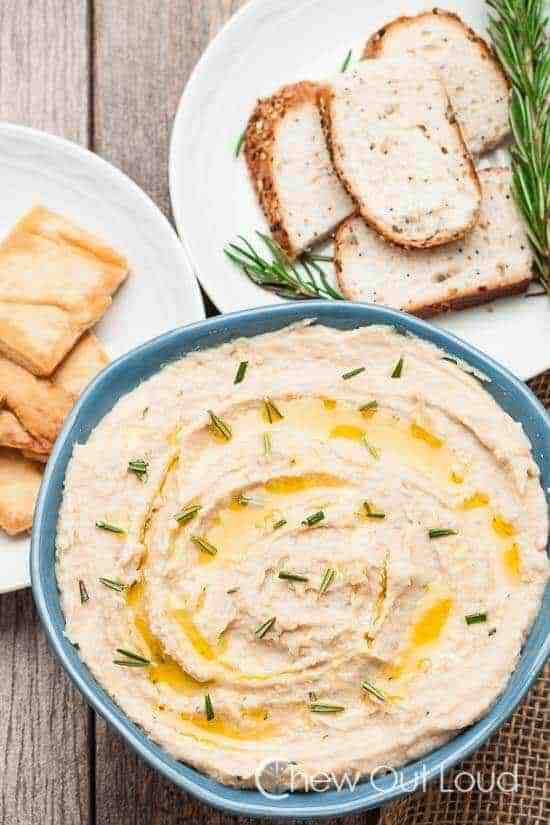 This versatile dip can be used  with your favorite paleo cracker or as a spread on a wrap or sandwich. Though the white bean garlic dip has a flavor that is similar to hummus, the white beans have a slightly lighter flavor, and they are full of Vitamin C and Magnesium. This dip is flavored with just the right amounts of garlic, lemon, rosemary, and olive oil so it is absolutely delicious. Add a touch of pepper to give it a little extra kick.
16. Chicken and Zucchini Poppers
These yummy snacks are similar to a bite-sized meatball but they have far less calories. Not only is the zucchini in these poppers nutritious but it also helps the poppers to remain juicy and flavorful as they cook in the oven. Since they are baked instead of fried they are healthy and making the chicken and zucchini poppers is easy and mess-free. You can serve them with salsa, guacamole, or another one of your favorite paleo friendly dips.
17. Smoked Salmon and Cucumber Bites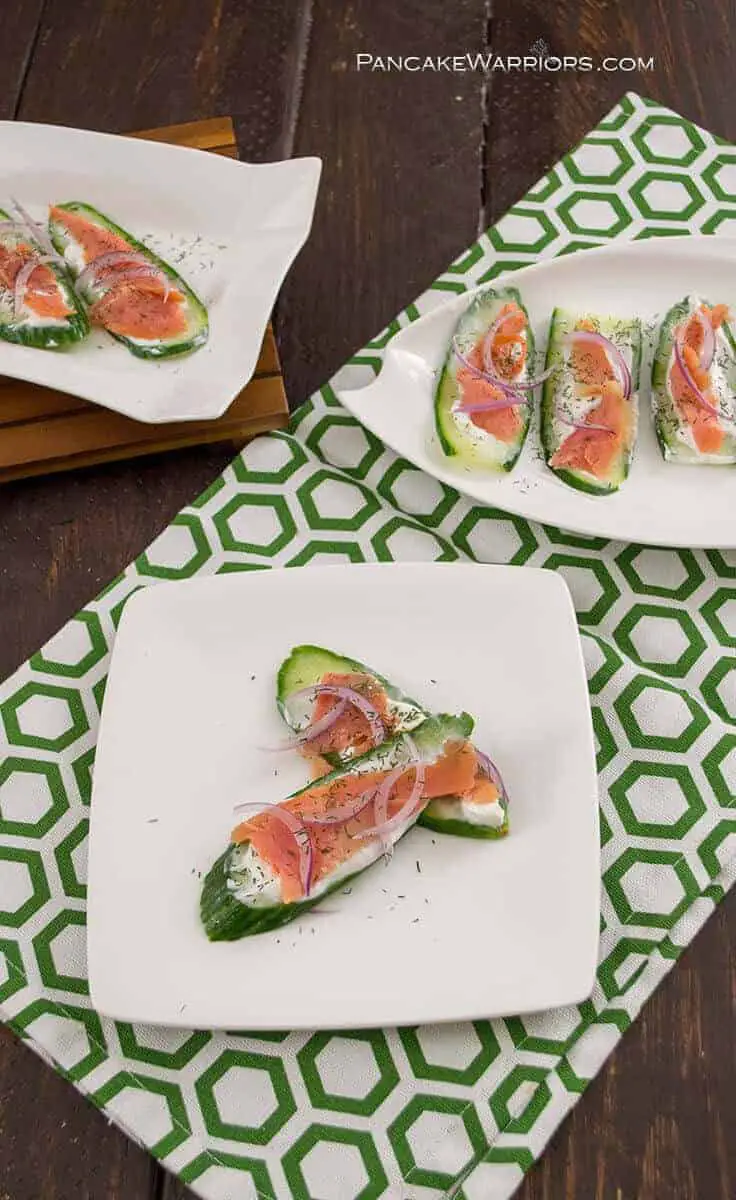 Anyone who has ever eaten a lox bagel or a sushi bagel roll knows just how tasty salmon and cream cheese are together. Creamy and salty just can't be beat! Instead of an unhealthy, carb-packed bagel, this recipe uses thin slices of cucumber that are topped with salmon and other tasty ingredients, and goat cheese cream cheese provides a creamy flavor that works well with the dill and onion included in the recipe.
18. Broccoli Feta Fritters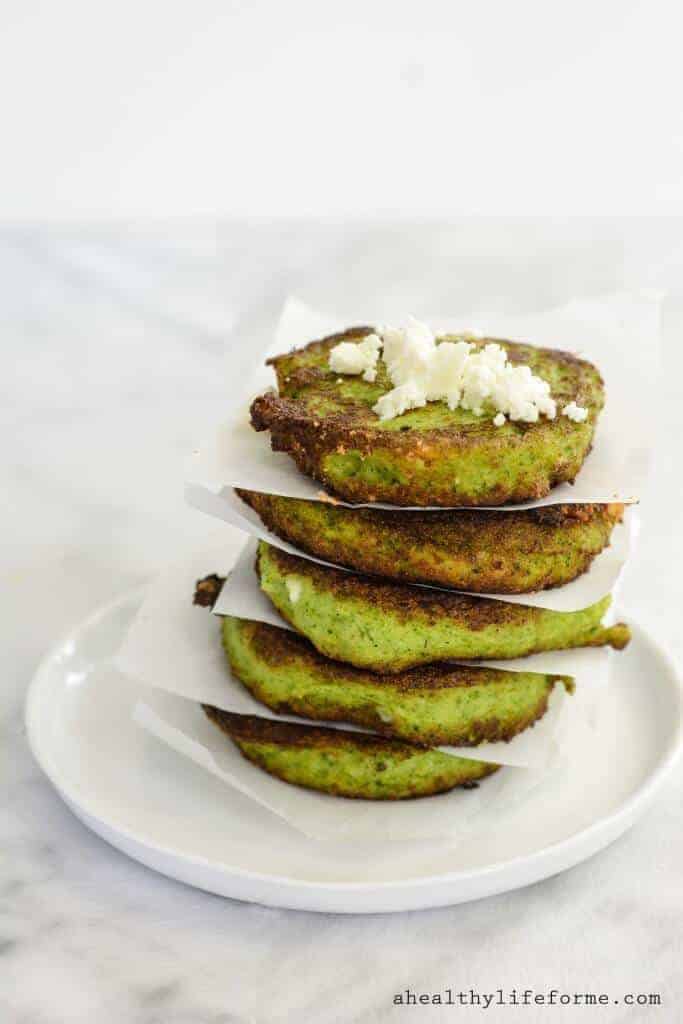 Instead of just eating broccoli raw, you can add it to a batter to make delicious broccoli feta fritters. Feta cheese and red pepper flakes add a Mediterranean flair to these fritters while broccoli provides a massive amount of Vitamin C to these healthy treats. This unique recipe purees broccoli before mixing it together with paleo-friendly flour and frying it. The resulting fritters are chewy without falling apart and they taste great when topped with hummus or another paleo dip. Make a big fritter and server it as a main meal like a veggie burger!
19. Paleo Fried Pickles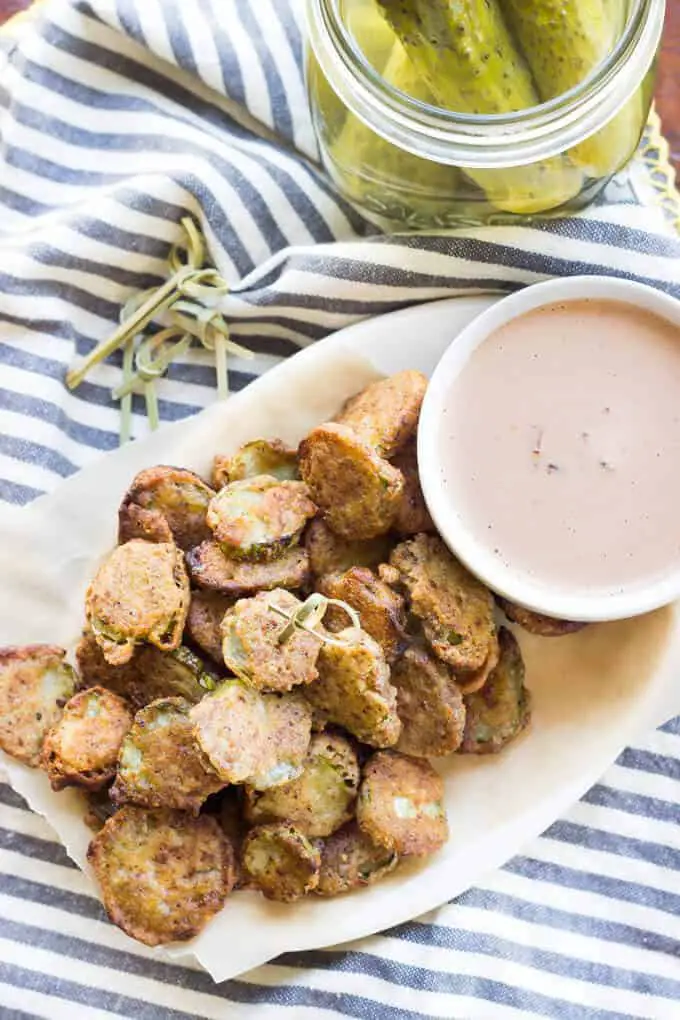 Fried pickles are the ultimate state fair food but sadly the cornmeal and flour breading used in most fried pickles is not paleo. Most paleo recipes for fried pickles create a heavy, doughy coating that quickly loses its crunch, but this recipe provides the perfect substitute. The secret is to mix equal amounts of almond meal and tapioca starch to create a coating that quickly turns brown and crispy after being fried in coconut oil.
20. Parmesan Lemon Zucchini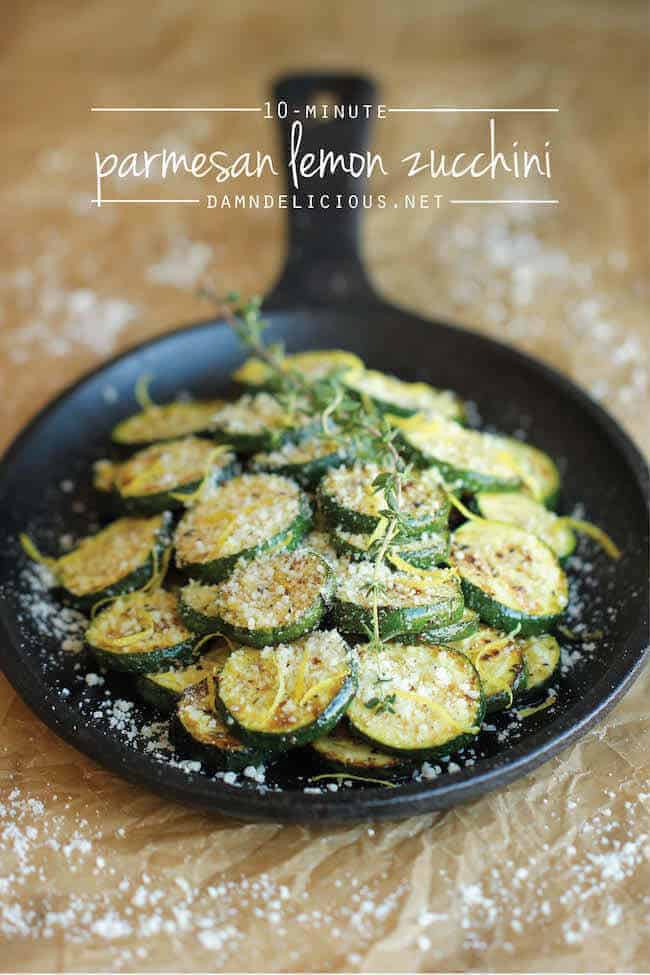 Most people who dislike zucchini have problems with the texture, because it can be slightly slimy but this recipe fixes the problem of soggy zucchini by frying the thinly sliced zucchini rounds at medium high heat. They are topped with a mixture of lemon zest and grated Parmesan cheese that adds plenty of complex flavor to complement the mild zucchini taste. If you are craving a salty, tangy snack, then this recipe is certain to satisfy your snacking needs. Zucchini will be your new go to veggie after trying these.
More paleo snack recipes on the next page…
21. Gouda Cheese Crisps With Carrots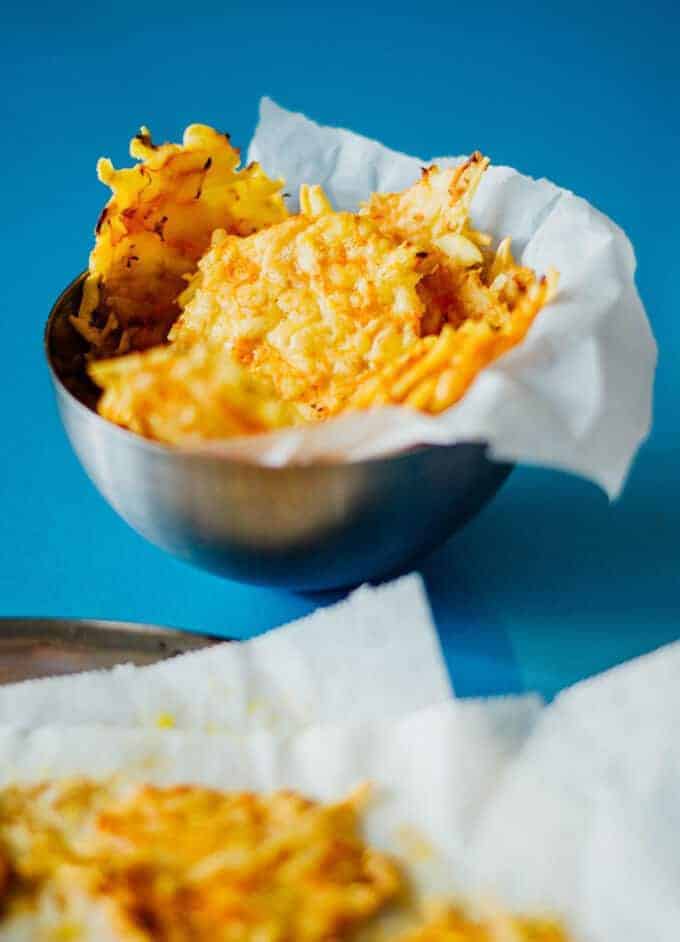 No list of the best paleo snack recipes would be complete without at least one recipe or cheese crisps. Cheese crisps are a great option because they contain a lot of healthy fat and protein, and they are very easy to make into a salty, crunchy snack. This recipe makes crisps from a mix of sweet, shredded carrots and sharp gouda cheese, so it is not quite as heavy and fatty as most cheese crisp recipes.
22. Paleo Bam Bam Shrimp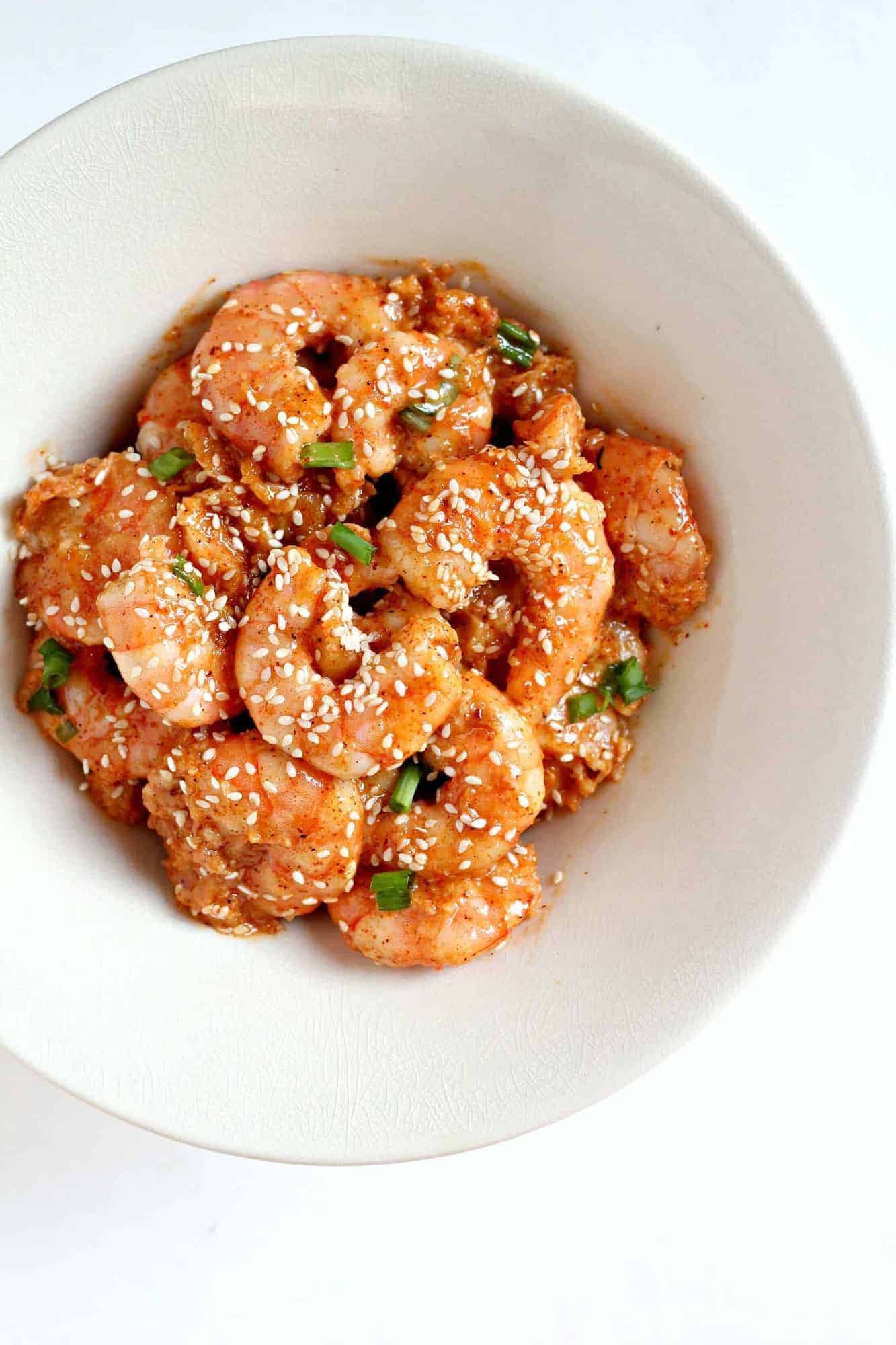 The creamy, spicy flavors of bam bam shrimp turns them into a snack so addictive that it is hard to eat just a few. This recipe skips the deep fried, floury coating usually used for bam bam shrimp which means these paleo shrimp are not as caloric as most recipes for this type of seafood. Instead, the coating is a light mixture of potato starch that provides just enough crispy crunchiness for the sauce to cling to, and the sauce is a perfect balance of spiciness and sweetness.
23. Paleo Pretzels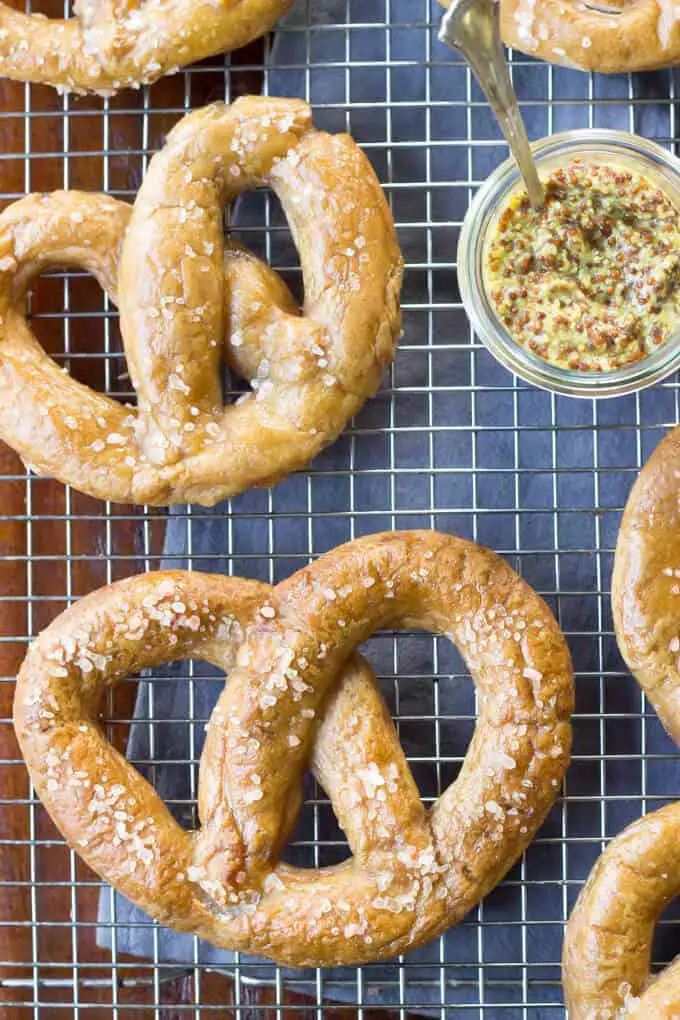 A big soft pretzel slathered in butter, cinnamon and sugar, mustard, or cheese sauce is the ultimate guilty pleasure. These paleo pretzels are so healthy that you can snack on them without ruining your diet- how is that possible?!. Cassava flour and coconut sugar are used to create a pretzel that is the ideal blend of soft and chewy. However, be aware that these pretzels may harden up after they get cold so they are best when served right out of the oven (don't worry, you won't have a hard time eating them all!).
24. 5 Ingredient Butternut Squash Fritters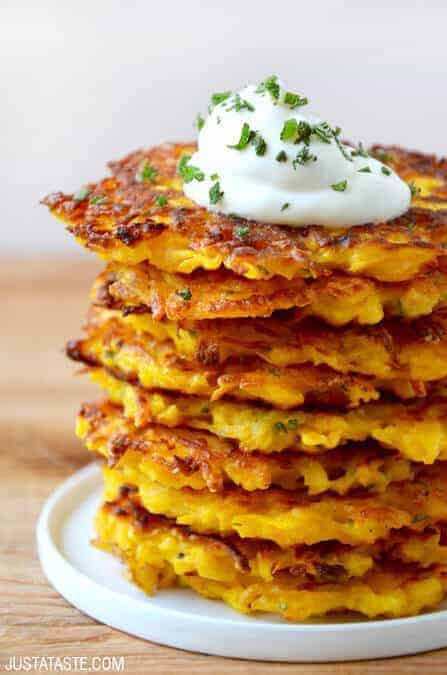 Butternut squash is a hardy winter squash that is known for its sweet flavor and extremely high levels of Vitamin A and Vitamin C. This recipe uses the tasty flavor of butternut squash to create fritters that are an incredible snack. Though the flour used in the recipe is not actually paleo, you can substitute your favorite paleo-free flour alternative such as almond meal or tapioca starch. YOur fritters will still come out great! Since butternut squash is full of starch, the fritters will not fall apart without gluten.
25. Peanut Dipping Sauce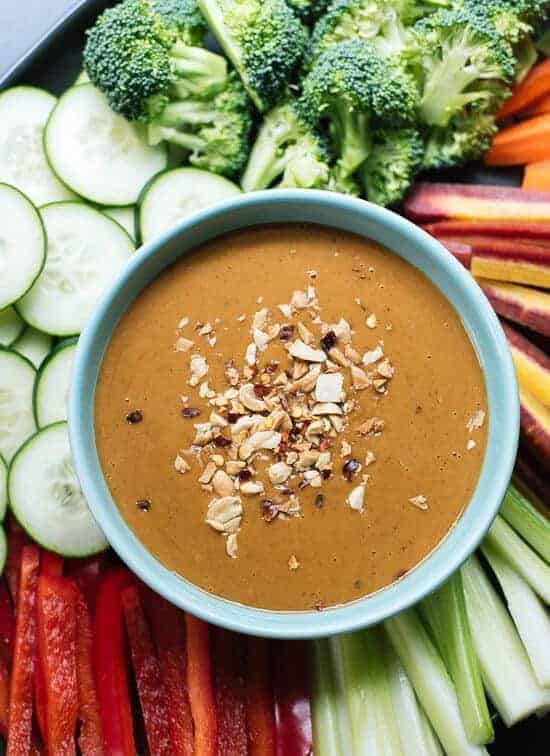 It is debatable whether or not peanuts are actually part of the paleo diet since some people do not include legumes in their list of paleo foods. However, if you do eat legumes, peanuts can be a great source of the protein and fat needed while eating paleo. For that reason, this recipe should be on the list! This tasty Asian sauce makes an excellent dipping sauce for fresh vegetables, or you can add it to zucchini noodles or cauliflower rice to make a stir fry.
26. Healthy Four Ingredient Flourless Apple Pie Blondies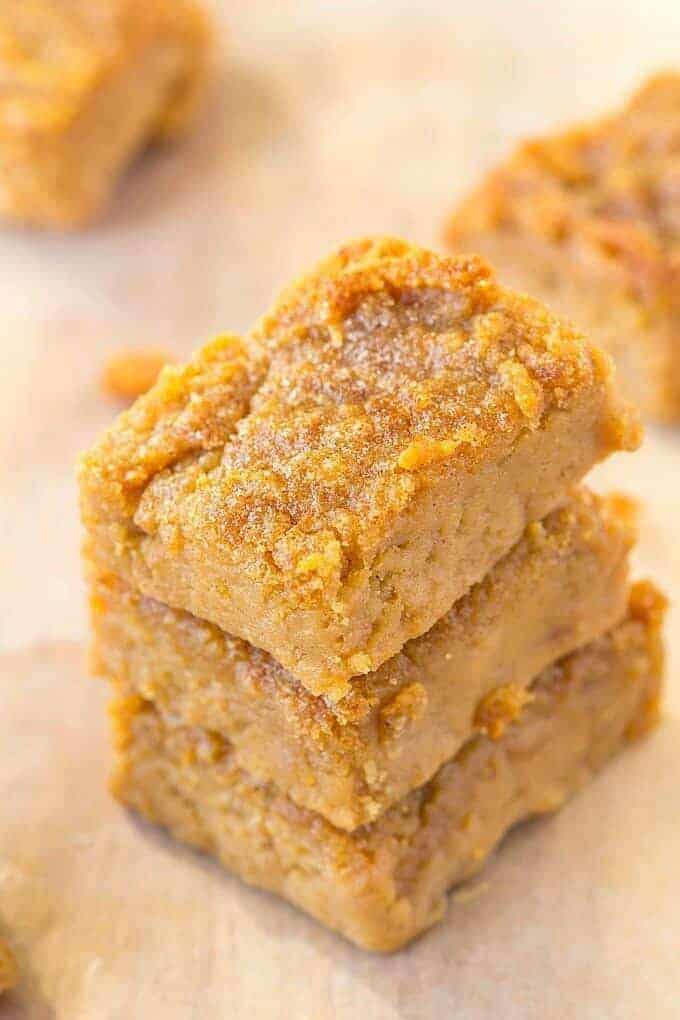 Normally, the biggest obstacle to making paleo baked goods is the fact that flour and sugar are not paleo. This recipe uses applesauce, coconut flour, and maple syrup to create a paleo snack that can satisfy dessert cravings without making you cheat on the diet. When you first take them out of the oven, these blondies may seem gooey, but rest assured that they will firm up after being refrigerated for an hour. After that, gobble them up before someone else does!
27. Paleo Nut Bar Recipe With Chocolate Drizzle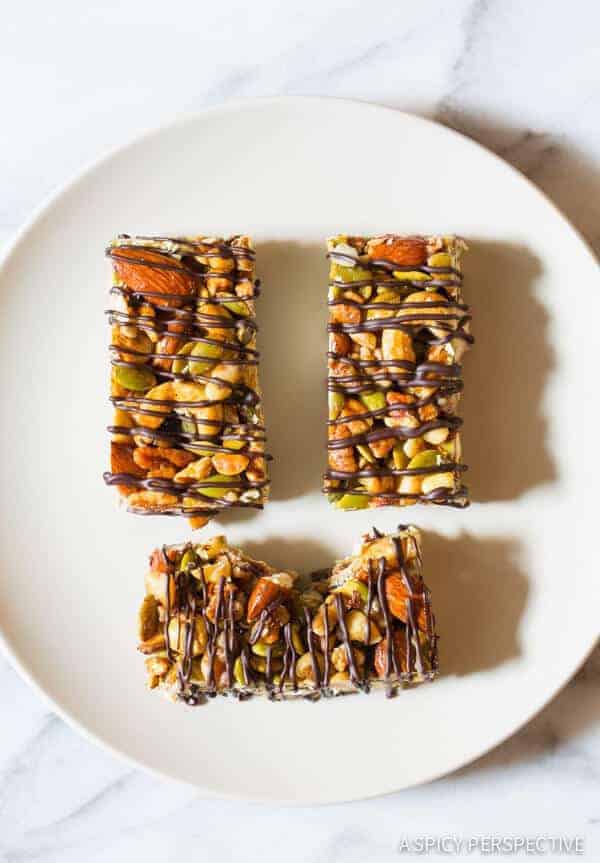 Granola bars are typically a great, healthy snack for people on the go, but sadly, all of those cereal grains are not paleo at all. This paleo snack recipe creates a nut bar that is just as convenient, but it is entirely paleo. A variety of tasty nuts and seeds are held together with agave syrup and palm sugar, and they are topped with a tasty chocolate drizzle to create a protein-packed snack that can give anyone a useful energy boost. Perfect for anyone snacking on the go!
28. Homemade Paleo Nutella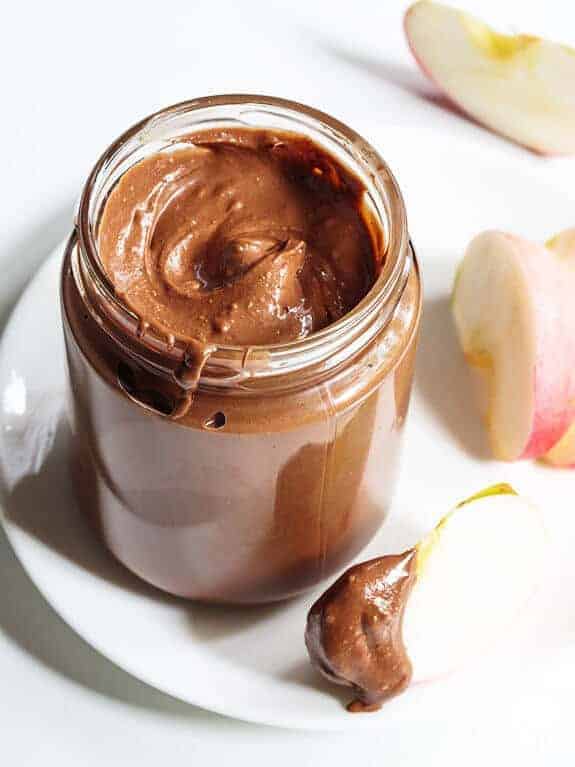 Nutella might seem like a healthy alternative to most treats, but it is actually packed with sugar. This fantastic recipe uses the concept of combining ground hazelnuts with chocolate flavoring, but it cuts down on the crazy amounts of sugar in store-bought Nutella and uses cacao powder instead. If you want to use this homemade Nutella to make a healthy paleo snack, you can use it as a dip for fresh fruit slices. However, it is also excellent as a decadent filling in paleo cakes or cookies.
29. Paleo Granola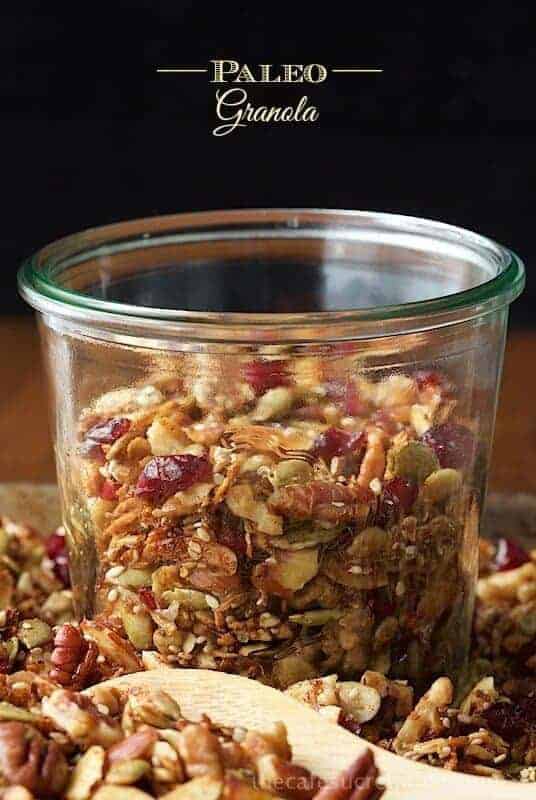 Most paleo snack recipes for granola seems more like a handful of mixed nuts, but this recipe manages to create something that truly seems like real granola. The mix of sliced nuts, seeds, coconut flakes, flax, and dried fruit provides plenty of interest and texture to this paleo granola. It is excellent eaten as a quick snack by itself, or you can sprinkle this paleo granola on top of yogurt or fresh fruit to make a filling meal. Always have a jar on this on hand!
Related: 50 low-carb ice cream recipes
30. Sweet Potato Banana Bites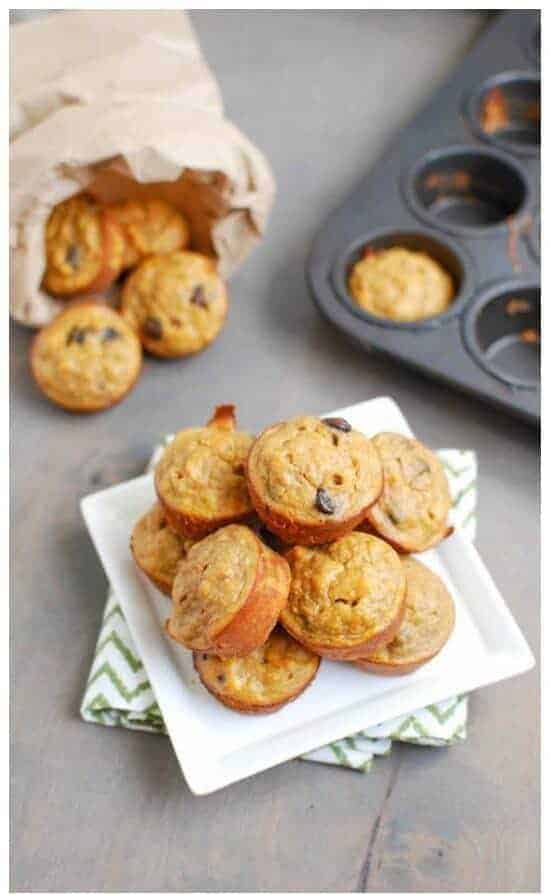 These delicious snack bites are similar to muffin but the filling is slightly more dense. Instead of using flour, the snack bites get their texture from a blend of bananas and sweet potatoes. The basic recipe just relies on the natural sweetness of the bananas and sweet potatoes for flavoring, but you can add more sweetness with some honey. You can even jazz up the recipe more by using dried fruit, dark chocolate chips, or chia seeds as a mix-in. This flexible recipe is fantastic!
More paleo snack recipes on the next page…
31. Apple Cookies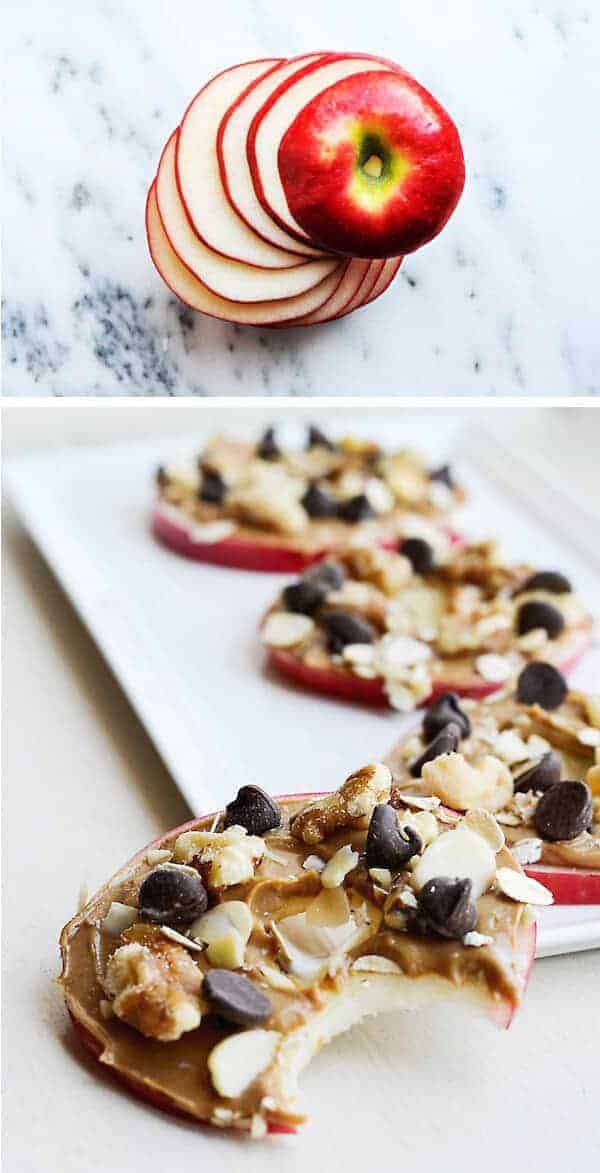 These "cookies" are actually made from thinly sliced apples that are topped with heaping servings of tasty paleo treats. This paleo snack recipe does not require any cooking or refrigerating times, so it is a very fast treat that can be made on the go. If you do not follow a version of the paleo diet that allows legumes, the peanut butter in this recipe can easily be substituted for tahini or almond butter. The toppings are also extremely easy to customize to your individual tastes.
32. No Bake Banana Bread Bites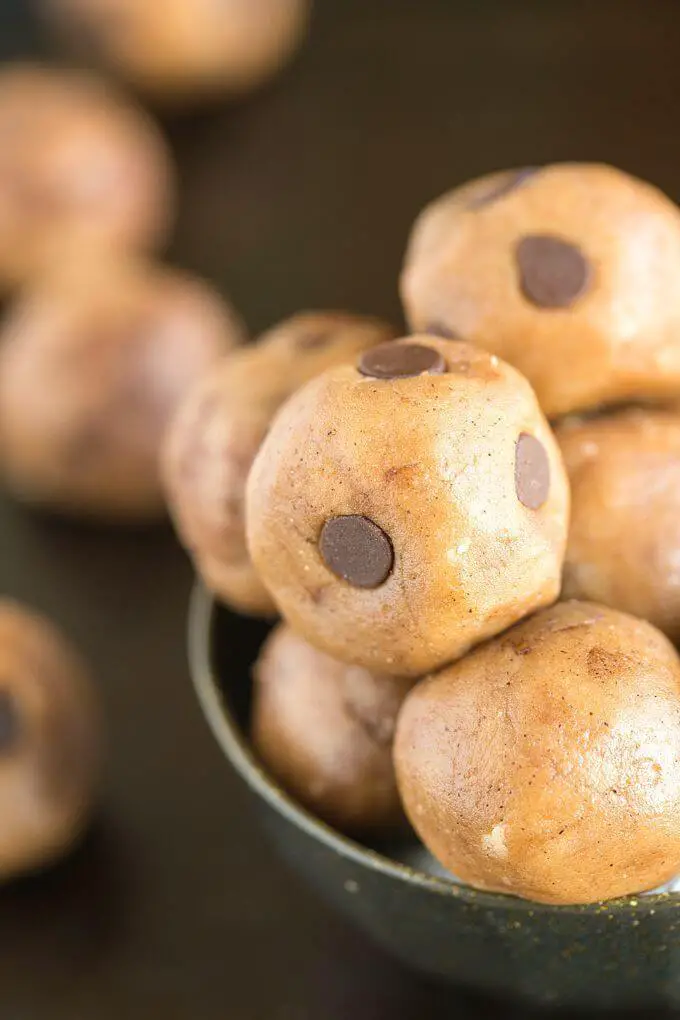 Not only are these tasty banana bread bites paleo, but they are also vegan and gluten free. Since they do not require baking, it is extremely easy to make these without having to spend a lot of time in the kitchen. The secret to these banana bread bites' realistic texture is a mix of coconut flour and protein powder, so they are a great way to get an energy boost if you are feeling lethargic and hungry.
33. Paleo Chai Spiced Cookies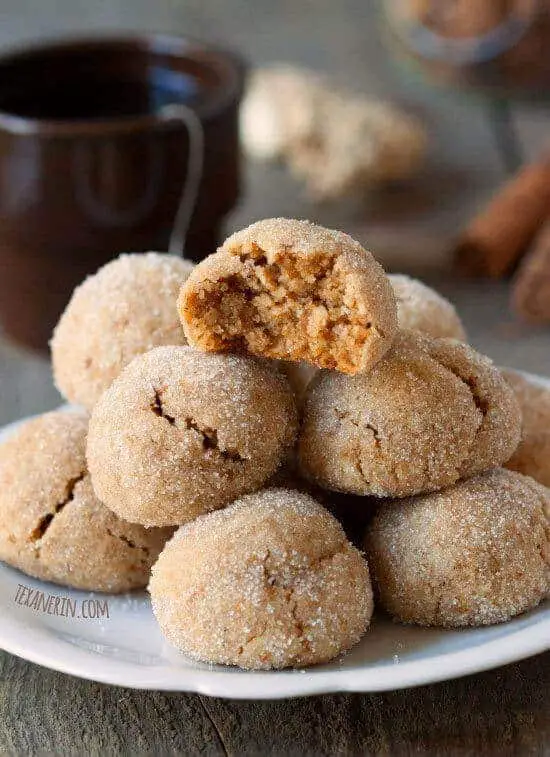 Chai is a spice mix that is traditionally used to create tasty blends of tea but the signature flavors of a chai mix are also delicious in cookies. These cookies are similar to snickerdoodles in texture and appearance, but their flavors are a delicate chai spice blend that makes them unique. This recipe calls for a blend of almond flour and coconut flour to create a dough that is not too heavy and gluey. Store the uncooked dough in the freezer and then bake them whenever you want a fresh cookie!
34. Paleo Pumpkin Bars
This is the perfect paleo snack recipe for a people who crave pumpkin spice flavorings on each cozy fall day. The mixture of pumpkin puree and coconut flour creates extremely moist, flavorful dessert bars that hold together instead of falling apart when sliced. This recipe only requires one bowl and an oven to make, so these tasty paleo pumpkin bars can be quickly thrown together anytime you need to make a sweet treat. You definitely need to make them in the fall when pumpkin is in season!
35. Healthy Cookies and Cream Dip For One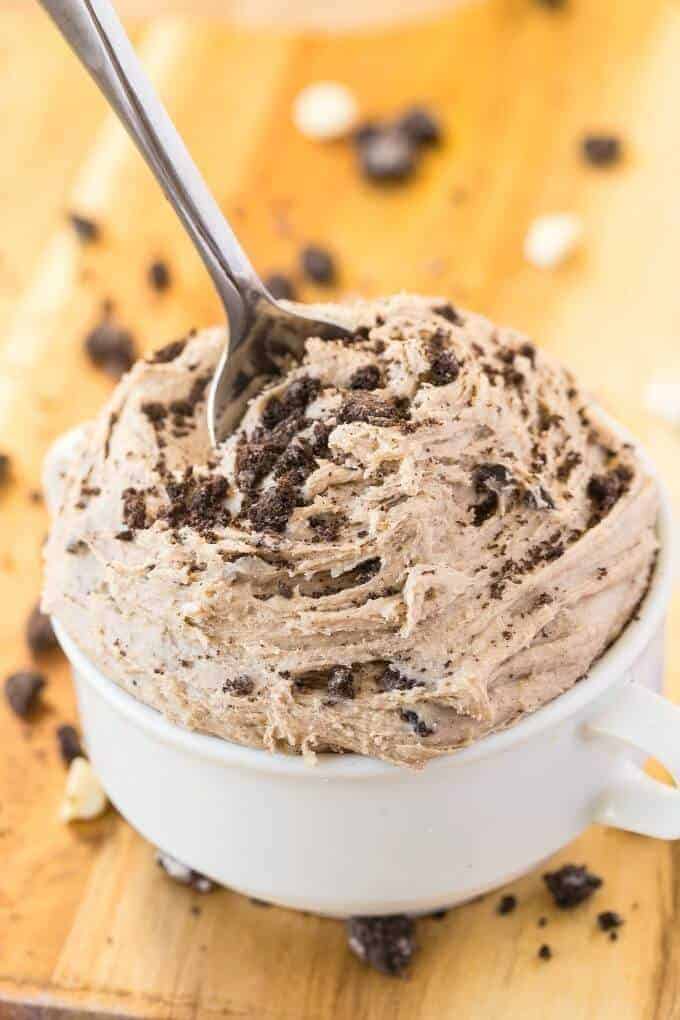 This single serving snack manages to taste like a decadent dessert while still being entirely healthy. This cookies and cream dip is good on slices of fresh fruit, but it is so tasty that some people just eat it with a spoon! It can quickly be whipped together from applesauce, protein powder, and a few other paleo foods that most people have in their cabinets, so it is the ideal snack for when midnight sugar cravings suddenly strike.
36. Almond Goji Energy Bars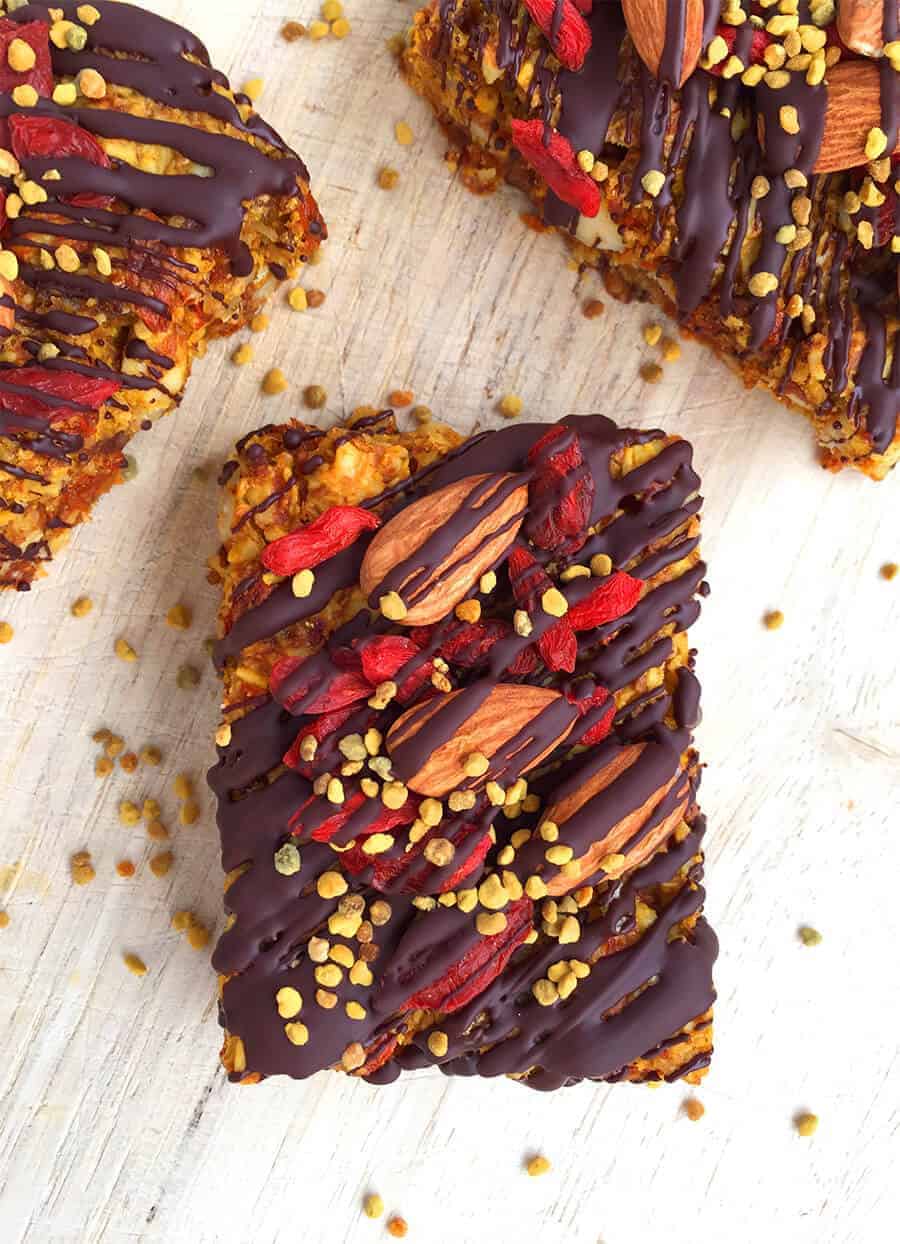 Goji berries are often called a "superfood" because they are packed with Vitamin A, B Vitamins, Vitamin C, iron, calcium and antioxidants. This recipe takes advantage of the health benefits of dried goji berries to create tasty energy bars from dates, coconut, and almonds. Since they keep so well without being refrigerated, these almond goji energy bars are a great snack for a person with a busy schedule who needs paleo snacks. Take them on the go and you will be happy you have them when you have a craving for something sweet and salty!
37. Paleo Chocolate Chip Cookies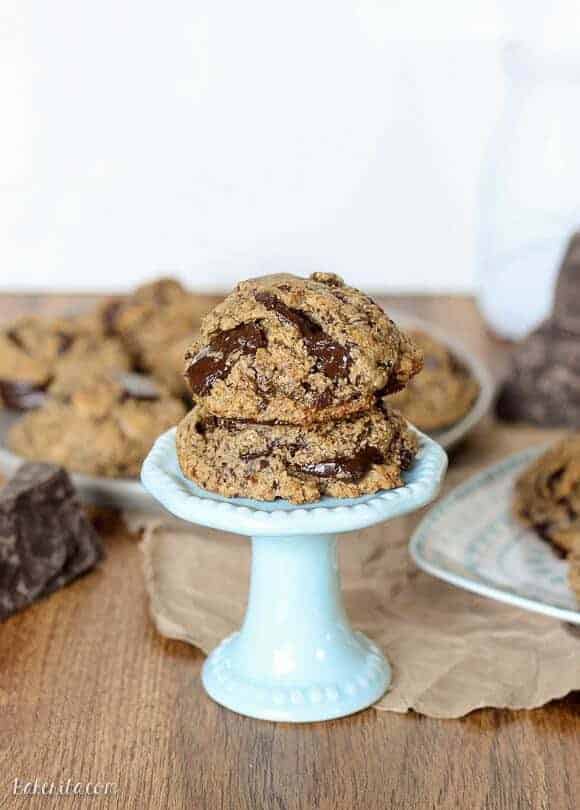 Chocolate chip cookies have been one of the most popular snacks for decades, so it is no surprise that many people new to paleo eating are desperate to find paleo snack recipes for chocolate chip cookies. The balance of almond flour and coconut oil in this recipe really helps to hold the cookies together and keep them moist. This recipe perfectly mimics the taste appearance, and texture of everyone's favorite gooey chocolate chip cookies.
38. Paleo Fruit and Nut Bread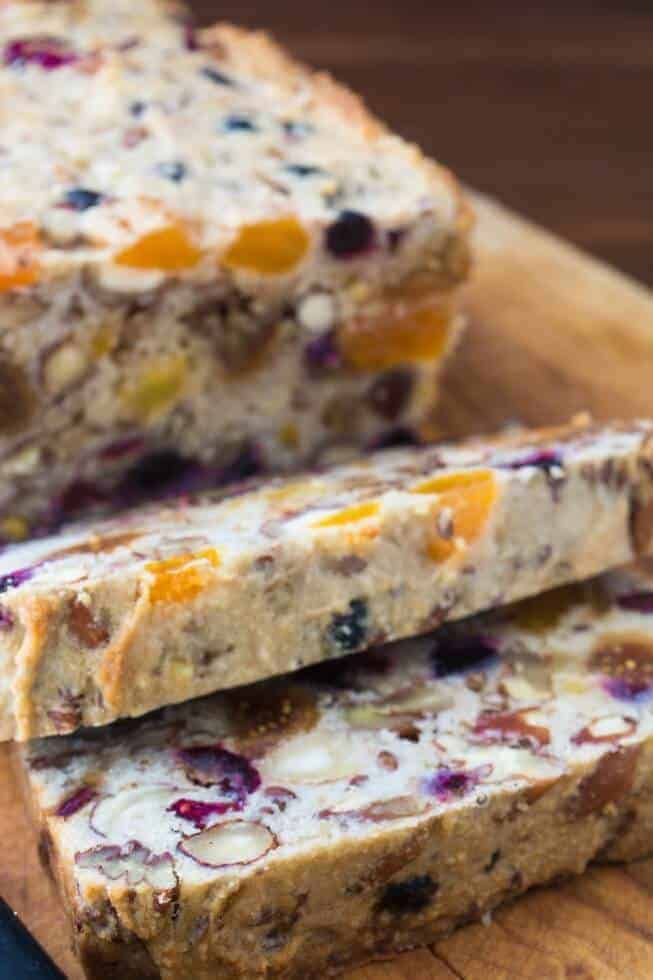 This bread is packed with dried fruit and nuts but adding some flax seed and bananas to the dough keeps it from becoming heavy and flat. Though the recipe recommends a specific blend of nuts and dried fruit, it can easily be adapted to include whatever fruits and nuts are your family's favorites- give all different combinations a try!. Paleo fruit and nut bread is delicious as part of a breakfast, or it can be snacked on throughout the day.
39. Cinnamon Apple Chips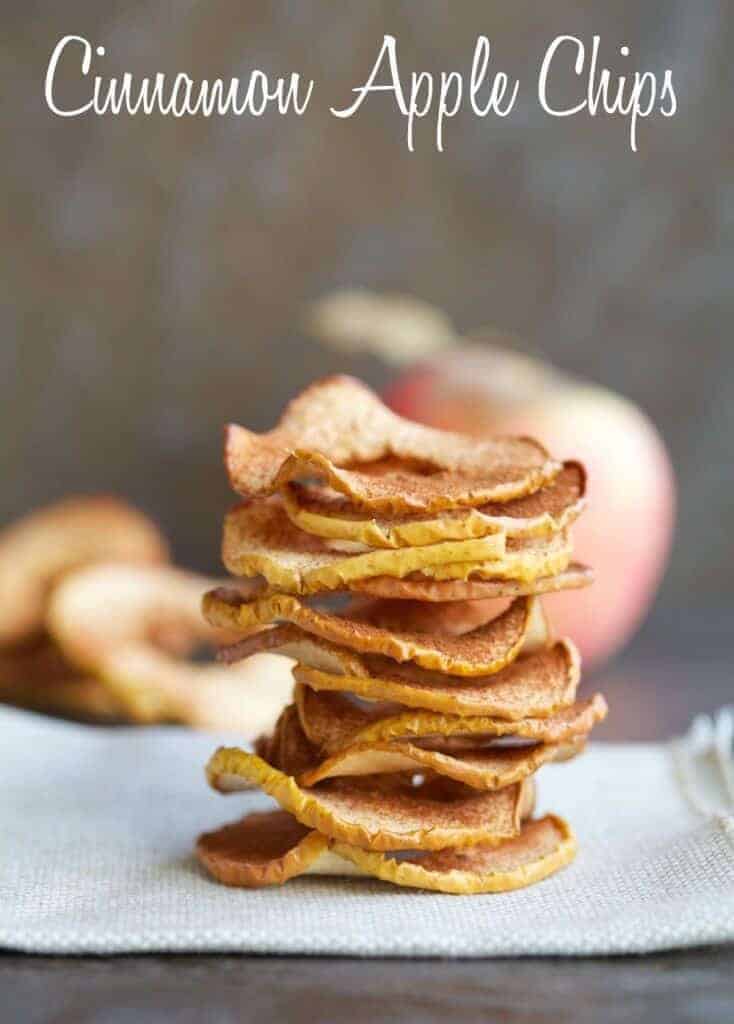 Apple chips are a classic paleo snack that can be found at almost any grocery store. However, if you want to make them at home, you do not need a huge food dehydrator to get perfectly crispy apple chips. This recipe shows you how to turn your favorite variety of apples into crunchy chips with the help of your oven, and the light seasoning gives the apple chips a bit of added flavor. Try eating them with your favorite paleo-friendly sweet dip.
40. No Bake Paleo Caramel Chocolate Slice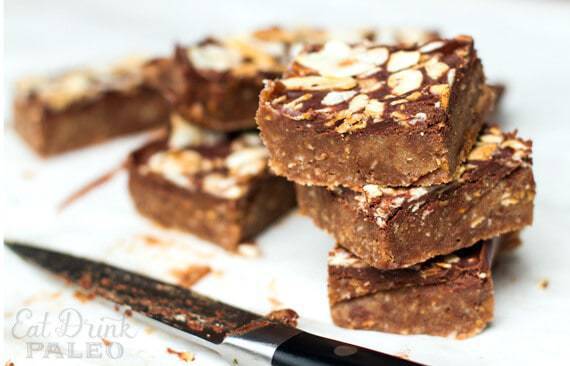 These chewy, fudgy bars are absolutely delicious and very easy to make. The caramel layer is made from naturally sweet Medjool dates and creamy cashew nuts, while the chocolate layer is a mixture of raw cacao powder and coconut oil. Though it takes a bit of time to make each layer of the no bake paleo caramel chocolate slices and wait for the bars to refrigerate, it is definitely worth the wait.
41. Paleo Lemon Bar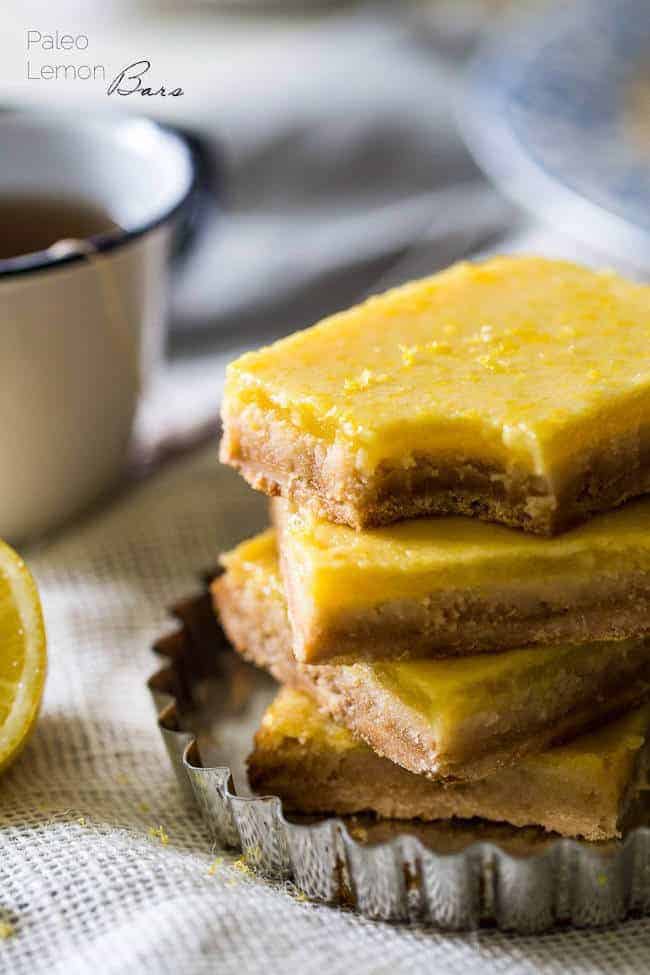 Sweet, bright lemon bars are the perfect snack for a warm sunny day, but most lemon bars are made with boxes of premade cake mix that definitely is not paleo. This recipe keeps the traditionally gooey topping while using honey and coconut flour to make a crust that follows paleo guidelines. Since these paleo lemon bars only require five ingredients, they are certain to become a classic paleo snack that anyone with a sweet tooth will love (and those not on a paleo diet will love them too!).
42. Easy Homemade Paleo Chocolate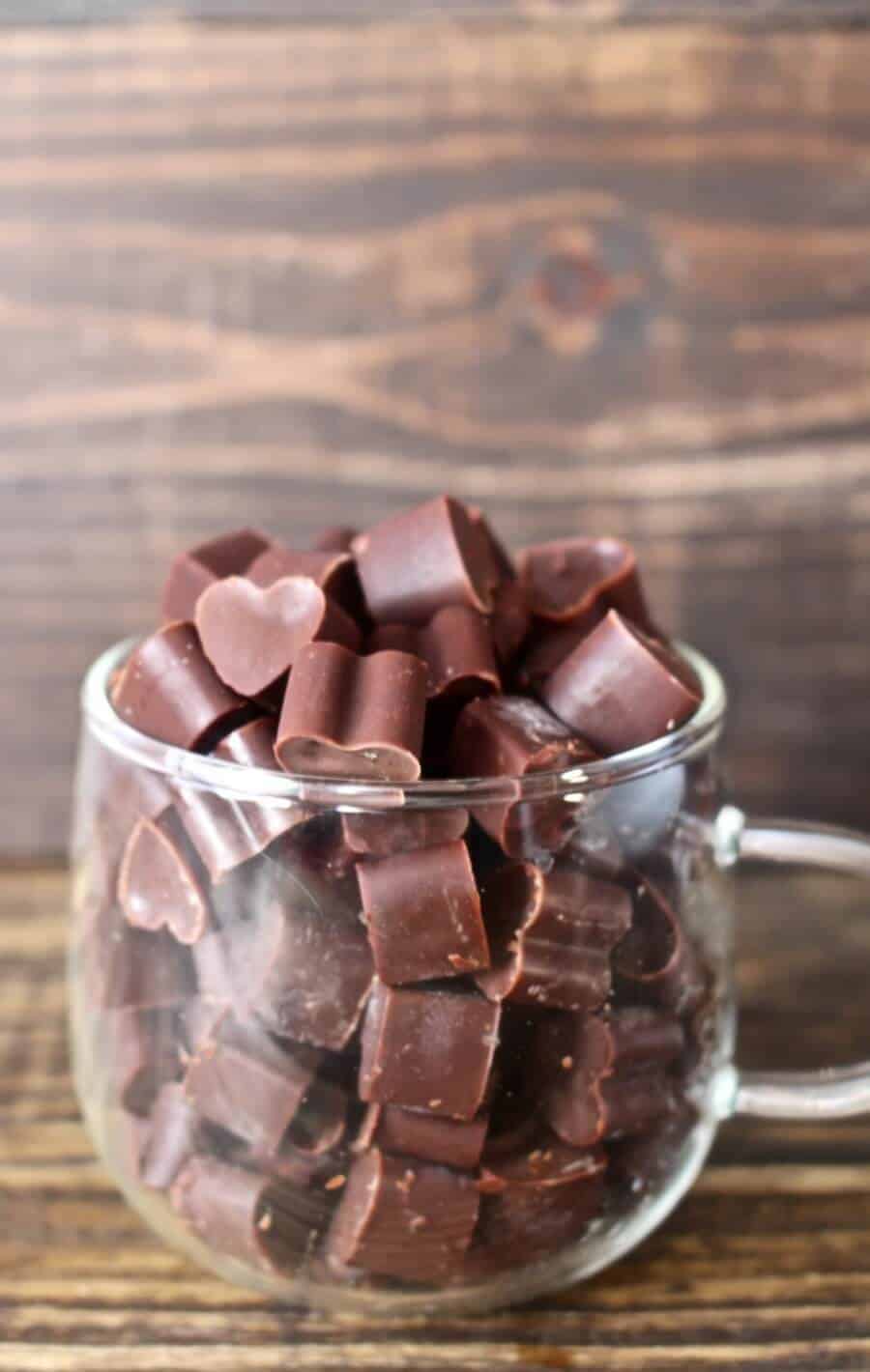 Though the ingredients in a chocolate candy bar technically ought to be paleo, most store bought chocolates contain preservatives, stabilizers, and other weird ingredients that definitely were not around in the Paleolithic era. This recipe keeps it simple and uses cacao powder, honey, and coconut oil to create completely natural chocolates. You can add a small amount of mint extract, almond extract or shredded coconut to create flavored chocolate candies for your loved ones to munch on. If you are a fan of pizza check out our delicious low-carb pizza recipes.
43. Salted Caramel Apple Tartlets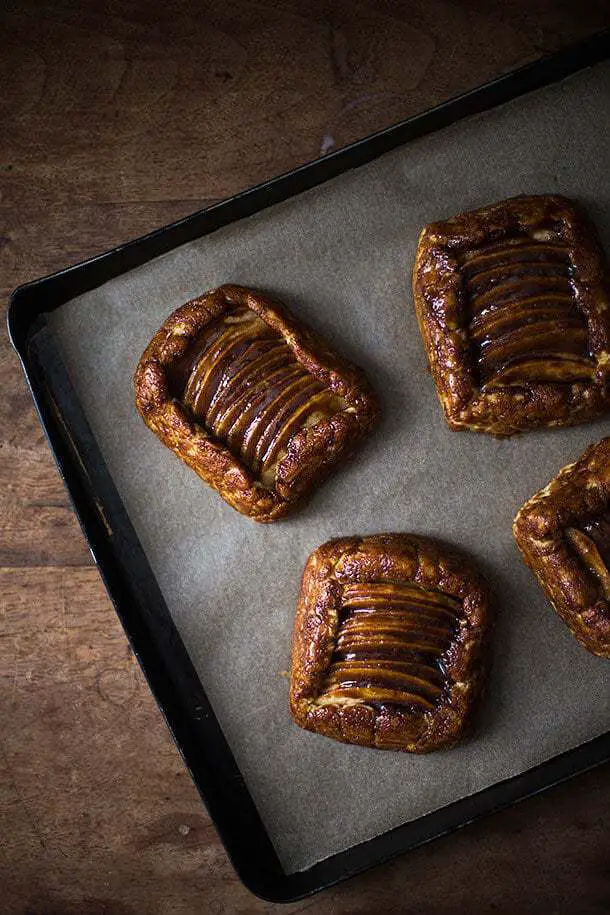 Pastries are one of the hardest foods to recreate in a paleo friendly manner because traditional wheat flour substitutes are too heavy to create a light, flaky crust. This recipe uses a blend of arrowroot powder and almond flour to create a soft, delicious tart that is topped with thinly sliced apples coated in cinnamon. Coconut milk and cane sugar is then used to create a paleo version of a salted caramel sauce that is drizzled on top of the tarts.
44. Healthy No Bake Thin Mint Treats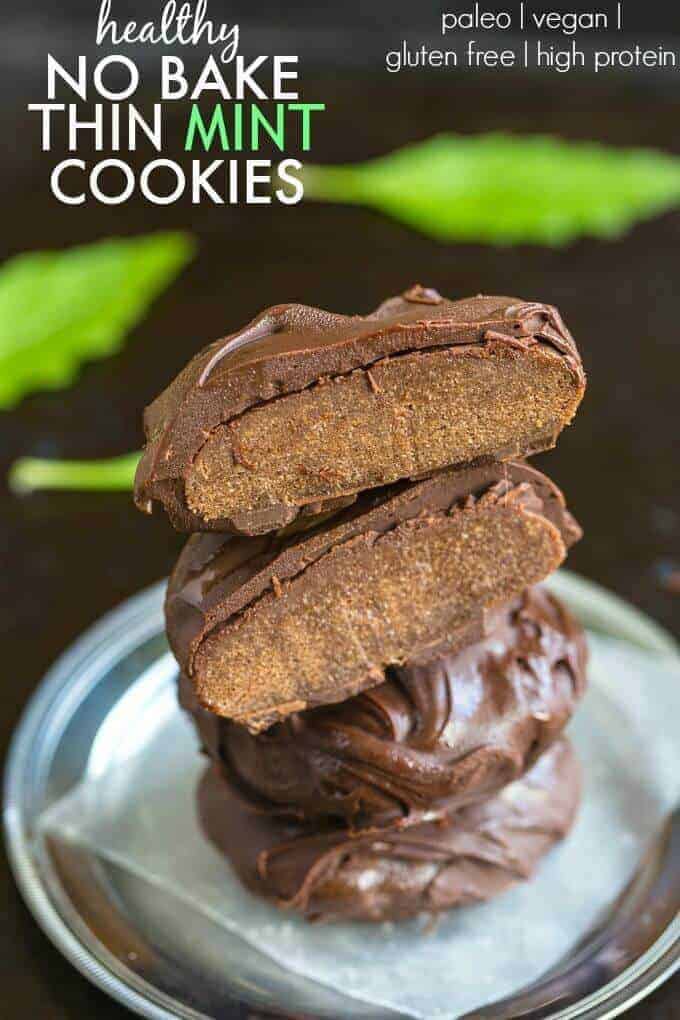 Many people find that they can generally stick to paleo guidelines, but all rules get tossed out the window when Girl Scouts selling cookies show up at the door. These cookies have the chocolatey, minty flavor of Thin Mint cookies, but they are also paleo snacks packed with protein and antioxidant-rich cocoa powder. Not only are these thin mint treats healthy, but they are also easy. It only takes 10 minutes to make them, so you can enjoy them at any time of the year.
Related: Top rated Paleo shrimp recipes
45. Paleo Pumpkin And Carrot Muffins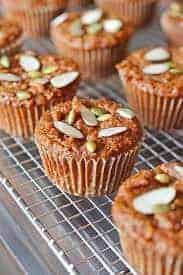 Grated carrots and pumpkin puree are mixed together to create muffins that are amazingly moist and also extremely high in vitamin A. The secret ingredient in these muffins is actually five spice powder, a seasoning used in traditional Chinese cooking. It might sound odd, but the blend of fennel, cinnamon, and cloves actually complements the carrot and the muffin perfectly- you'll want to try this combination on other foods after having it just once! These muffins can stick to the pan a little, so using muffin liners is definitely recommended.
46. Paleo Oreo Cookie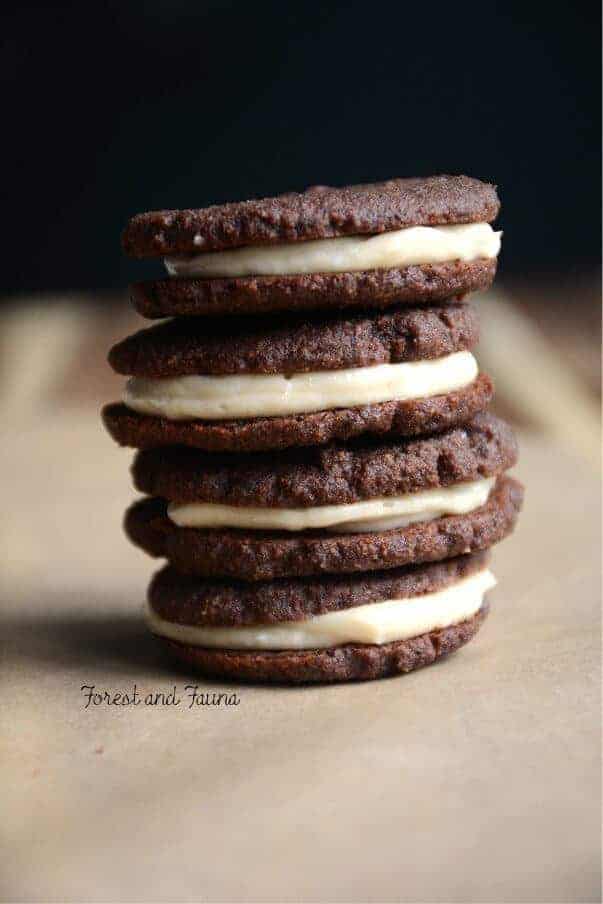 Store bought Oreo cookies might be vegan, but the huge amounts of processed oils and flours in them keeps them from being paleo. This recipe uses the basic concept of creamy filling sandwiched between crunchy chocolate cookies to create a paleo snack that tastes like a slightly less sweet version of Oreos. This recipe offers plenty of substitutes, so you can use whatever chocolate flavoring, fatty filling, and sweetening option you like best- the sky's the limit! The buttercream frosting recipe for these cookies is so good that some people even use it to frost cakes.
47. Orange Coconut Chia Pudding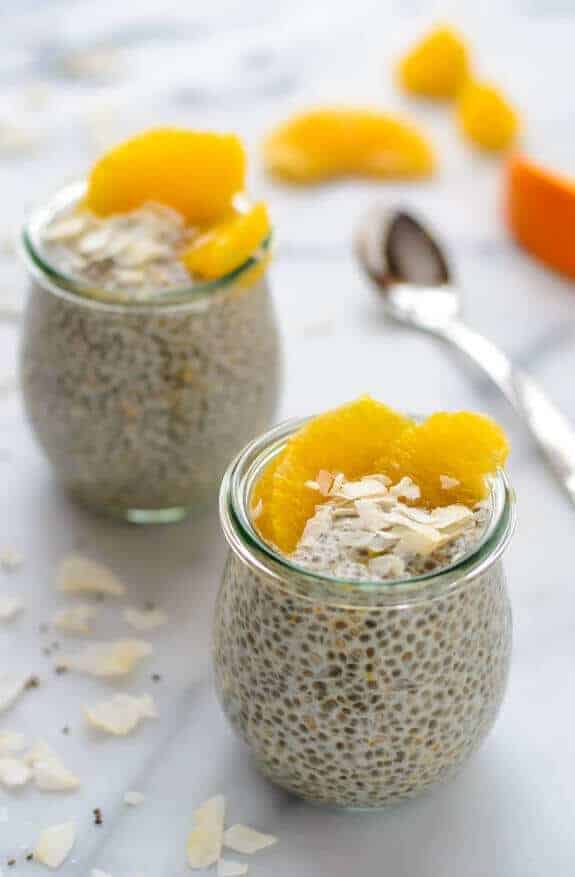 Chia seeds are a wonderful natural product that start swelling and getting a jello-like texture when put into liquid. They are an excellent way to make paleo pudding snacks, and chia seeds are also packed with fiber. In this recipe, the nutty flavor of chia seeds is complemented with orange zest, coconut milk, and vanilla. This pudding is very easy to make, since all you have to do is stir the ingredients together and refrigerate them overnight. You will also be able to think of tins of flavor combinations you can use to make this pudding different everyday.
48. No Bake Red Velvet Protein Bars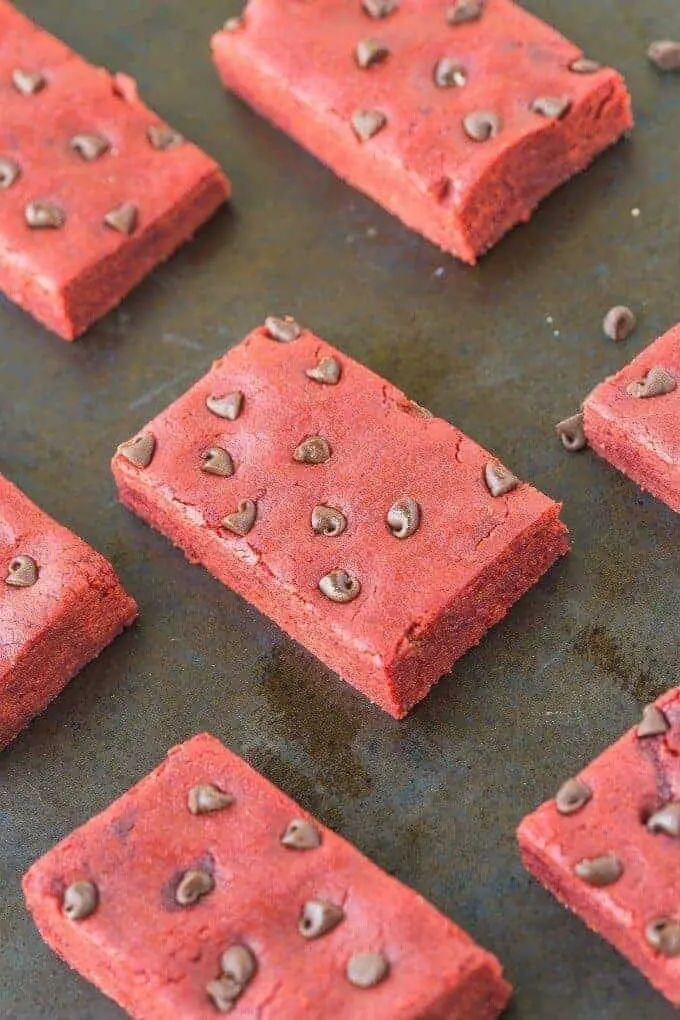 Red velvet cake is a classic dessert that normally requires a bottle of red food dye. This recipe uses beet powder to get a rich, red color without any chemicals. The mix of coconut flour and chocolate protein powder creates the velvety texture of a red velvet cake while providing a valuable energy boost. This recipe just requires a microwave and refrigerator, so you can make it even if you do not have an oven in your kitchen! Talk about a creative and easy way to make dessert!
49. Paleo Edible Cookie Dough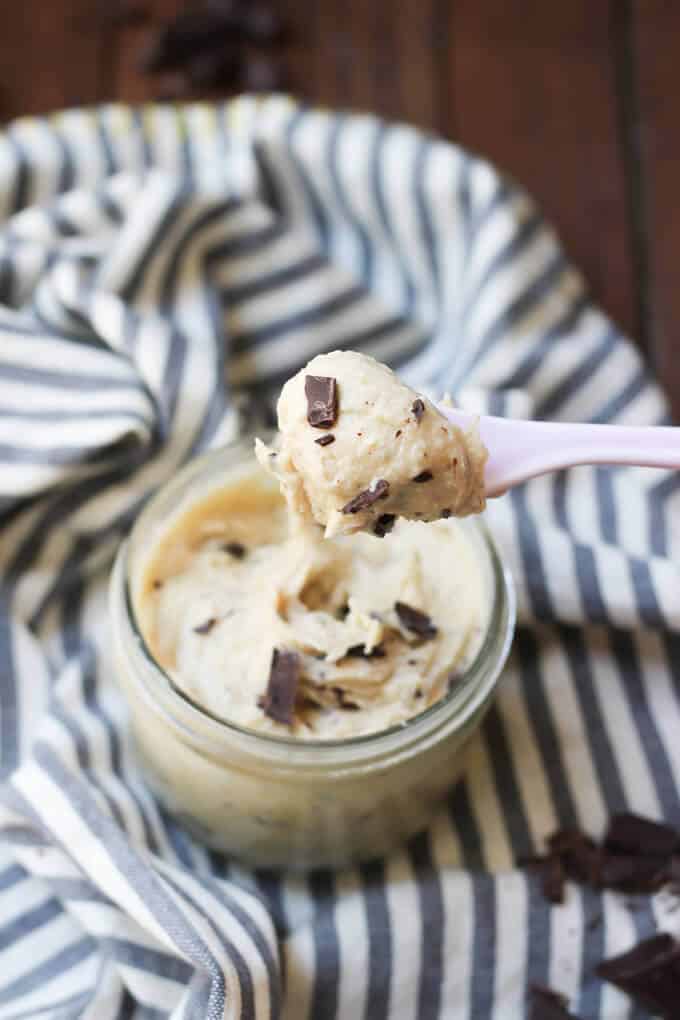 If licking the mixing bowl has always been your favorite part of baking, then this recipe is perfect for you. It tastes exactly like the real thing, but it's made from tapioca flour and almond flour. Since there are no raw eggs or raw wheat flour in it, you can eat this tasty cookie dough without having to worry about salmonella. The single serving size that this recipe makes is ideal for when you want to quickly make something sweet without spending hours in the kitchen. Keep it in the fridge or even the freezer for a cold cookie treat.
50. Chewy Coconut Bars With Mango & Pepitas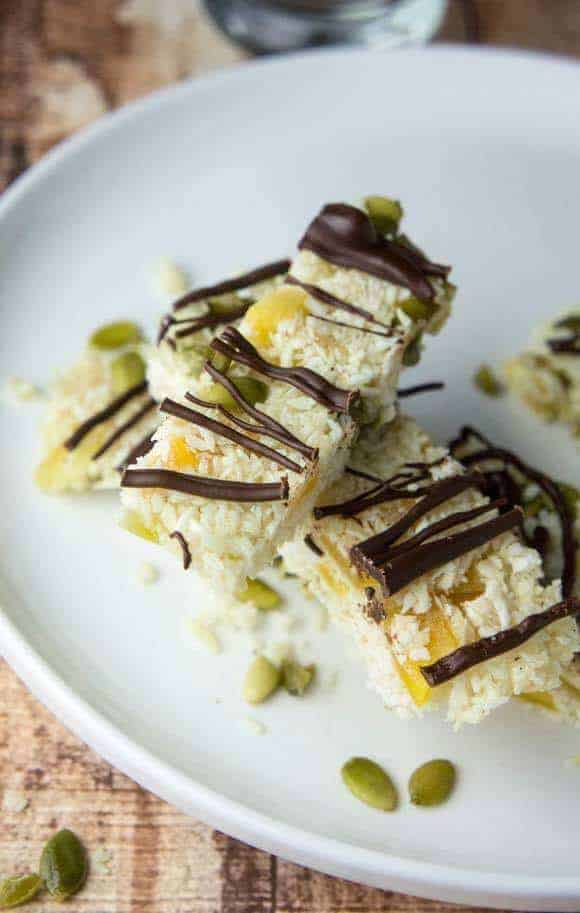 Pepitas provide just enough crunch to balance out the chewiness of these bars, and they also add some protein, fiber, and vitamin A to this healthy treat. The shredded coconut in these bars is mixed with just enough dried mango and coconut milk to create a tasty, tropical snack. These chewy coconut bars are a little sweet, a little salty, and definitely delicious. If you enjoyed reading this 50 Paleo Snacks recipe guide you will like our top 50 Paleo ice cream recipes