11. Salmon Chickpea Salad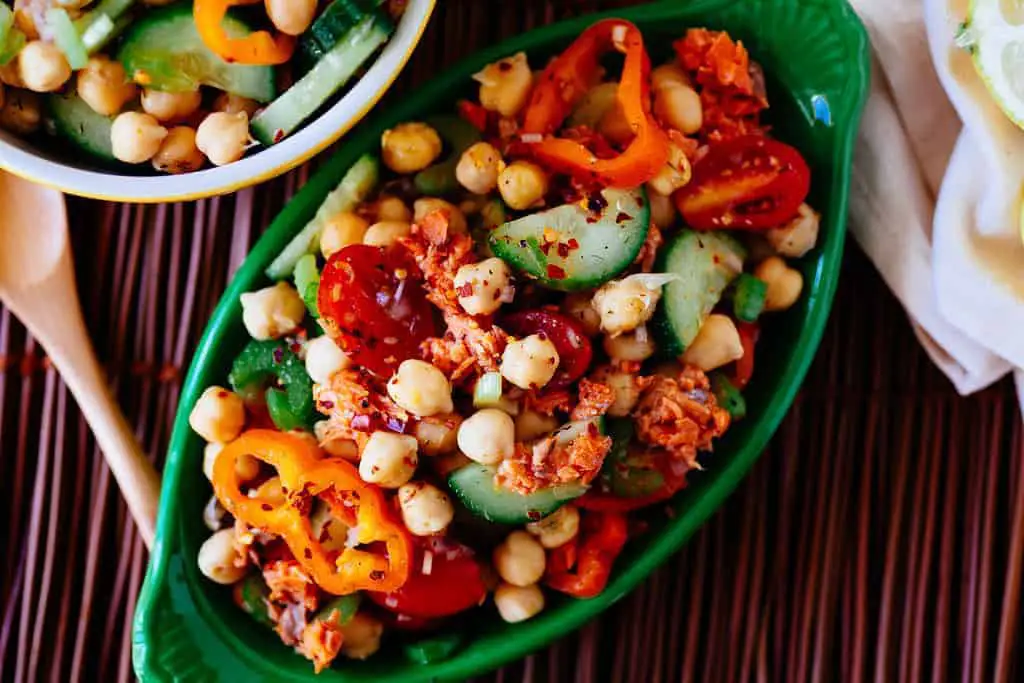 Thanks to canned salmon, this salad is easy to make and quite versatile. With a big enough portion it could be a filling low-carb lunch or, it could also be a delicious side dish for any meal. Use multi-colored mini bell peppers for a nice pop of color. The secret to making this recipe great is to first toss the vegetables with the dressing, then add the canned salmon. This prevents the salmon from flaking too much and distributes the dressing perfectly.
12. Barbacoa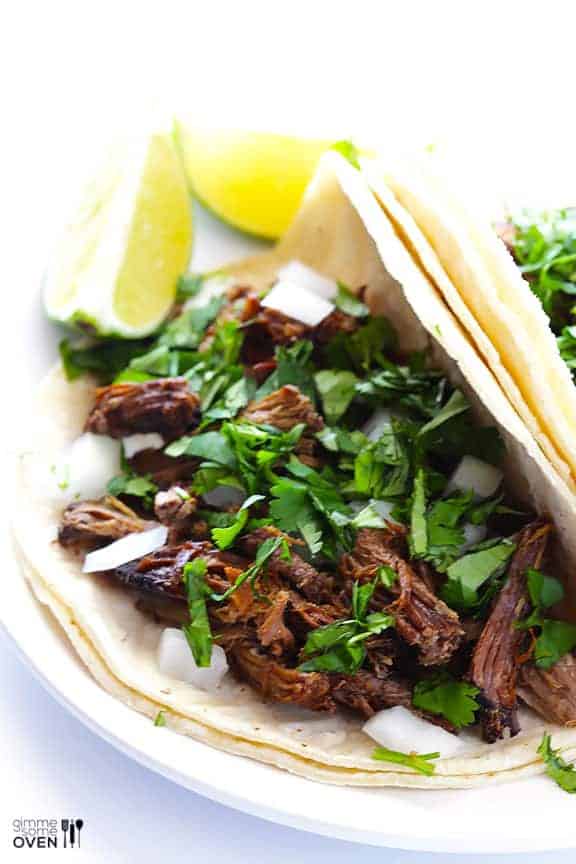 Barbacoa is a very popular dish at several take out restaurants but you can easily make it at home. While it's traditionally made by roasting meat over an open fire, this recipe makes use of the much more practical slow cooker. Simply toss all of the ingredients into the cooker in the evening and by morning you'll have a flavorful meat that can go with many different low-carb lunch ideas. Wrap it in lettuce, serve over cauliflower rice or quinoa, or put it in some low-carb soft tacos- no matter how you prepare it, you will be obsessed with this meat.
13. Leftover Roast Beef Salad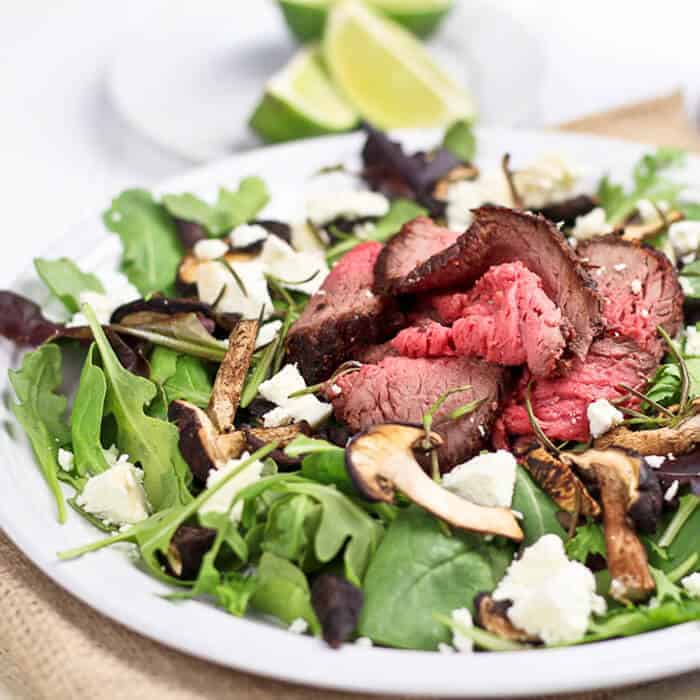 One of the best ways to stick with the low-carb lifestyle is to find new ways to use up your leftovers. A roast beef dinner can generate a lot of leftovers, but you won't necessarily want to eat the same old thing over and over again. Instead, consider this roast beef salad. Use fresh shitake mushrooms rather than the rehydrated ones for the best taste, and pile the beef on top of your greens. And, with just a dash of balsamic vinegar, what could be healthier and easier than this?!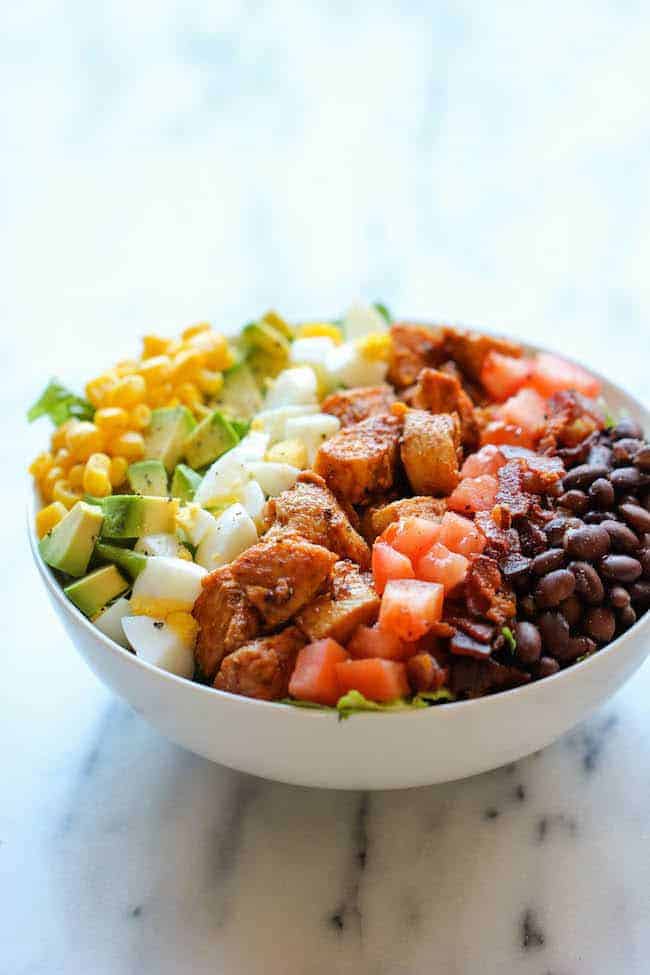 This is a simple no carb lunch that has all the flavors you love and the rows of ingredients look so pretty you'll feel happy and excited just by looking at it! Cook the chicken with your favorite barbecue sauce and then allow it to cool. This salad could also work nicely layered in a jar with the ranch dressing separate. This would allow you to pre-make your lunch meals for the week and just grab-and-go each morning. What is easier than that!
15. Veggie "Sushi" Rolls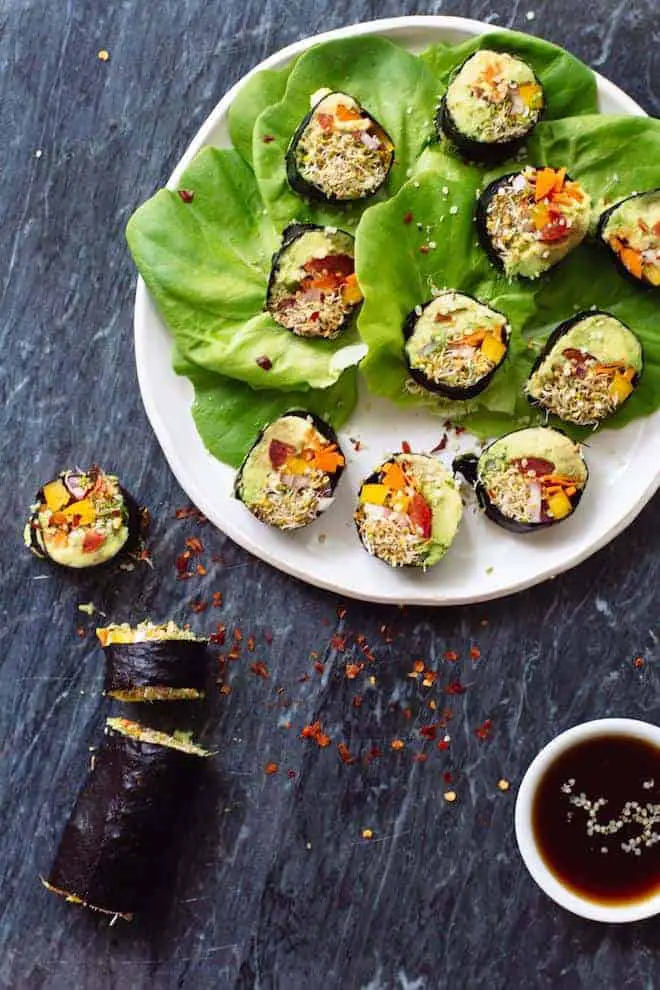 When you start trying to eat primarily low-carb foods, you often find that there are certain foods you miss more than others. Though it's a fairly healthy dish in general, sushi is actually off limits to those following a low-carb diet. However, you can definitely recreate the sushi experience with this veggie version. Don't skip the "special sauce," as it adds lots of flavor and also makes the nori easier to roll the right way.
16. Baked Turkey, Quinoa & Zucchini Meatballs Recipe in Lettuce Wraps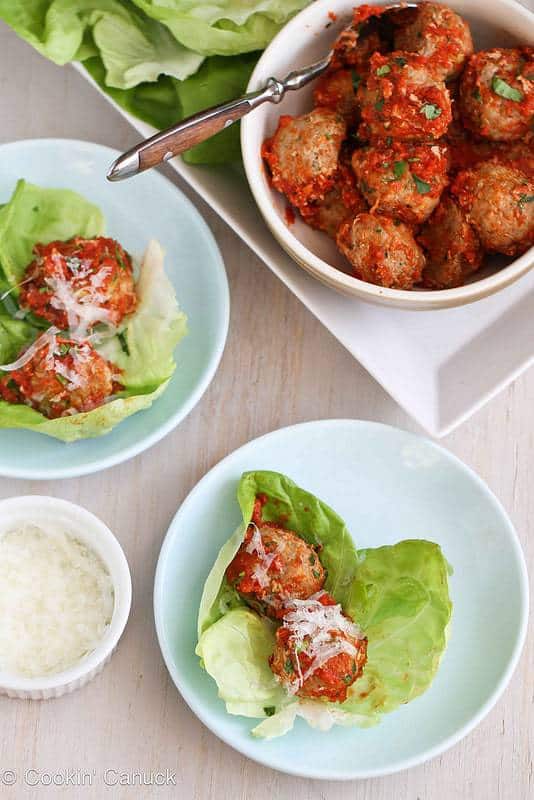 Most meatball recipes include breadcrumbs which we all know are not low-carb. However, this interesting recipe swaps them out for the healthier quinoa. What a genius idea! Now you can actually eat those meatballs you are craving! The addition of zucchini boosts the nutritional content without affecting flavor. This recipe suggests eating the meatballs in a lettuce wrap, you can also use them in your other low-carb lunch recipes, such as adding them to zucchini "pasta". Versatile and delicious!
17. Shakshuka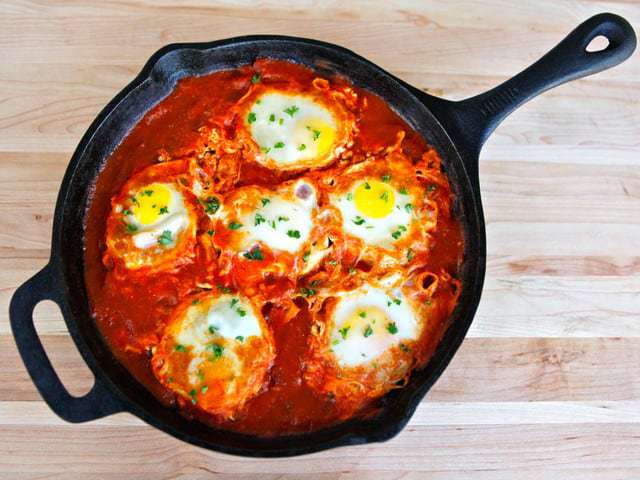 Eggs are one of the best low-carb foods as they're cheap, easy to cook and delicious. If you love eggs but are feeling a little tired of eating them hard-boiled and scrambled then it's time to try this shakshuka recipe. Shakshuka consists of eggs poached in a spicy tomato sauce and is a staple food in Tunisian, Libyan, Moroccan, and Egyptian households. Low carb, interesting and easy to make is what makes this recipe a total win. Just as you are picky with your breakfast and lunch, remember that dinners are equally important. Have a look at some of the tastiest Paleo dinners ever!
18. Winter Rainbow Panzanella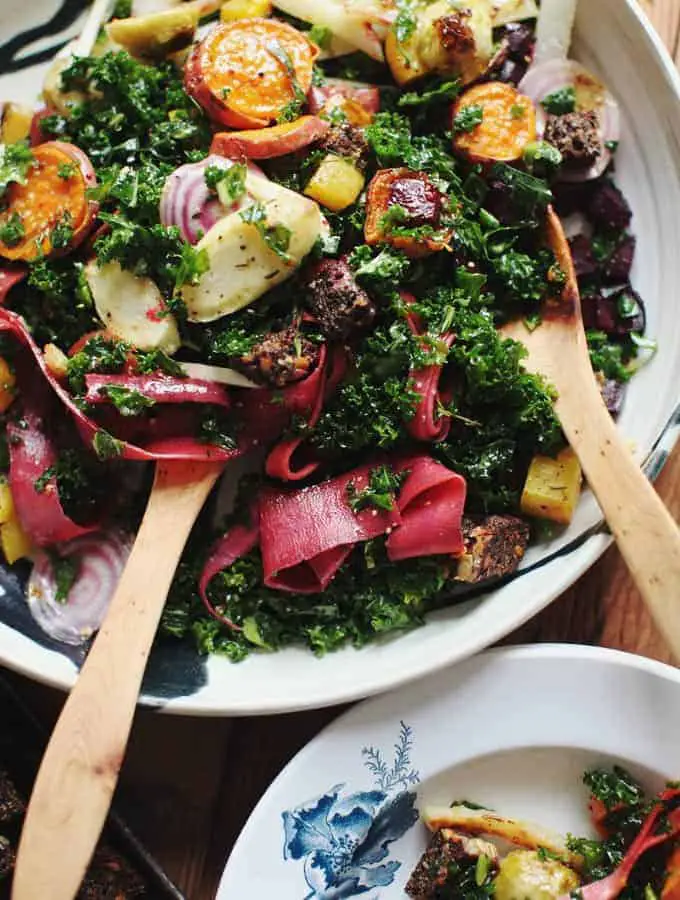 When you're starting to feel the winter doldrums, a colorful meal may be just what you need to cheer you up- especially when that meal is also low carb. This panzanella is a bit non-traditional but it gives you a lot of flexibility to incorporate whatever colorful vegetables you like. The crunchy croutons are a big deal in this recipe and while they may typically be a low carb no-no, you can opt to have a few- it really makes this dish what it is!
Halloumi is an interesting cheeseas it doesn't melt easily. While you wouldn't necessarily want it on a pizza, this characteristic makes it perfect for grilling and sauteing. A slice of grilled halloumi should be slightly crunchy on the outside and creamy on the inside- a true treat. You can toss it on the grill or use an indoor grilling pan if you're not able to light up the old barbecue. Top your favorite salad ingredients with this cheese and a light dressing for a delicious low-carb lunch. Versatile halloumi is something you need to try!
More low-carb lunch recipes on the next page…
20. Bacon-Cheddar Cauliflower Chowder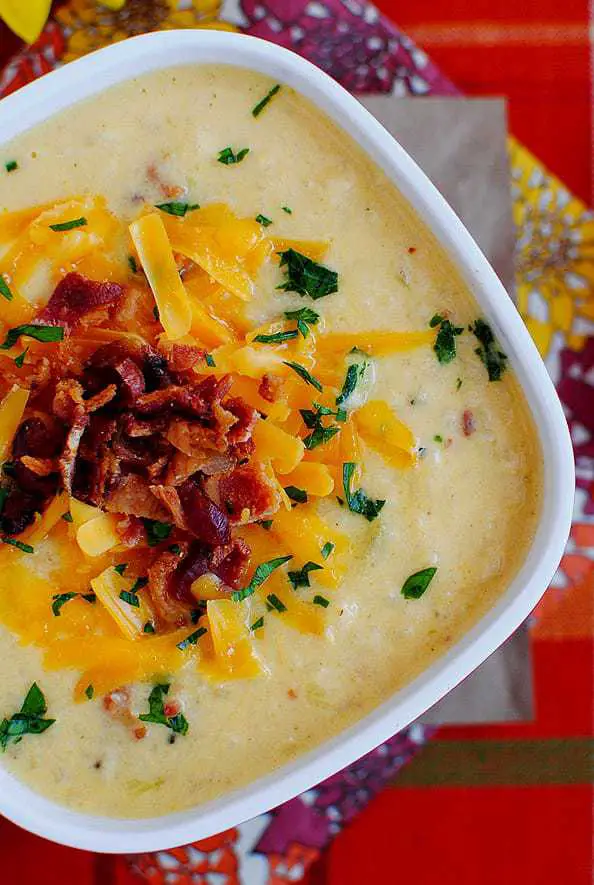 Cauliflower does it again as the perfect replacement in your favorite low-carb lunch recipes. In addition to being a substitute for rice, it also works well for potatoes, as you'll see in this low-carb version of a potato chowder. Bacon and cheddar give this soup a flavorful punch and you'll love eating this as a side dish with another favorite.
Related: See our best low carb soup recipes that are easy to make