Paleo has been all the rage lately, being touted as the best and most natural way to eat according to the human body's genetics. But 'nutritious' can sometimes be synonymous with bland and un-inspiring; unfortunately, normal paleo diets are no different. After a few weeks of eating the same things over and over again, eating paleo foods can get a bit boring. Paleo foods cookbooks include recipes that take hours to prepare or just lack flavor, which causes a lot of paleo followers to give up. But we're about to spice up your world. This curated, hand-picked list of 50 of the tastiest paleo dinner recipes is sure to have your mouth watering and renew your love for all things paleo!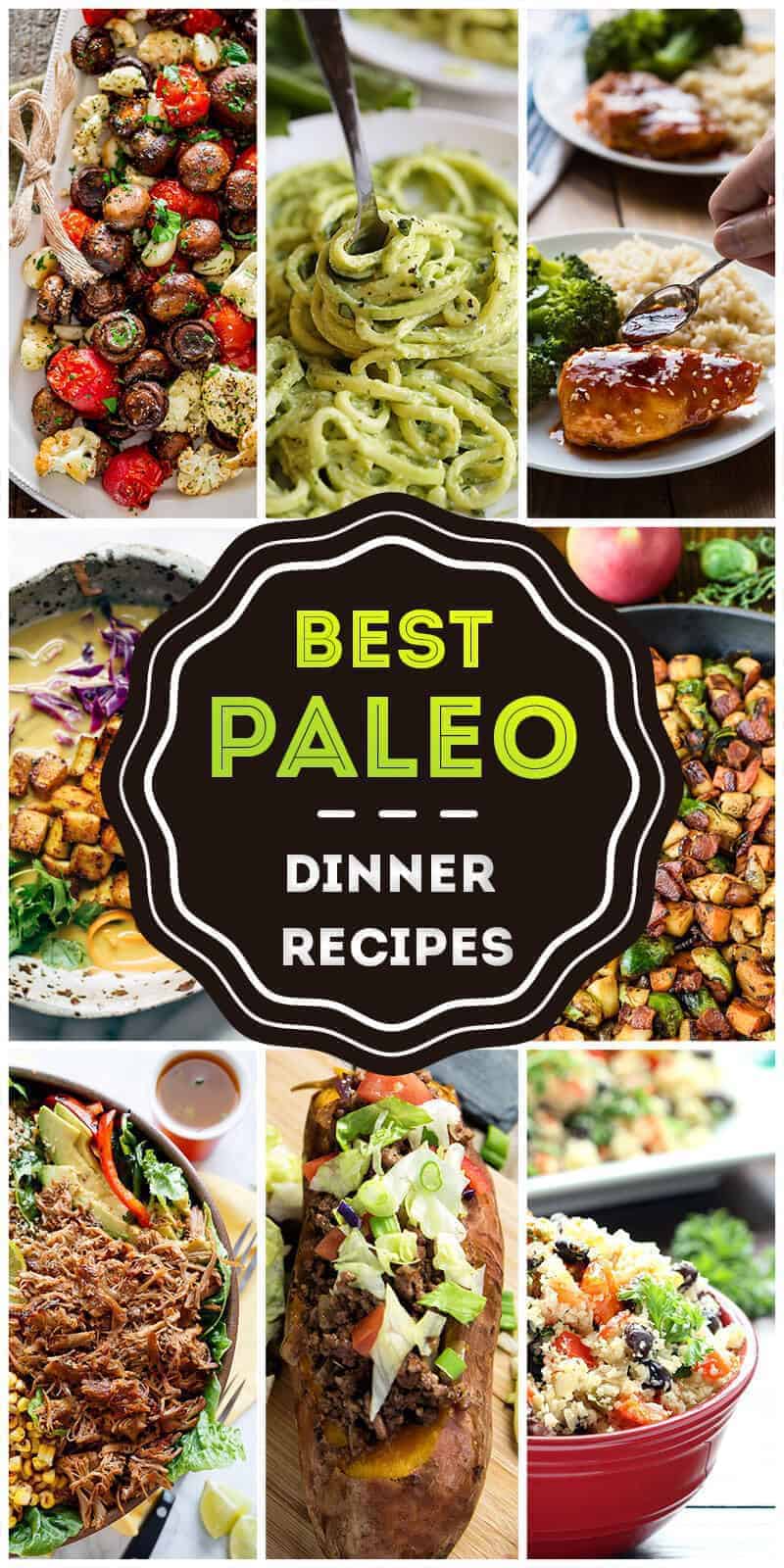 1. Paleo Buffalo Chicken Pizza Poppers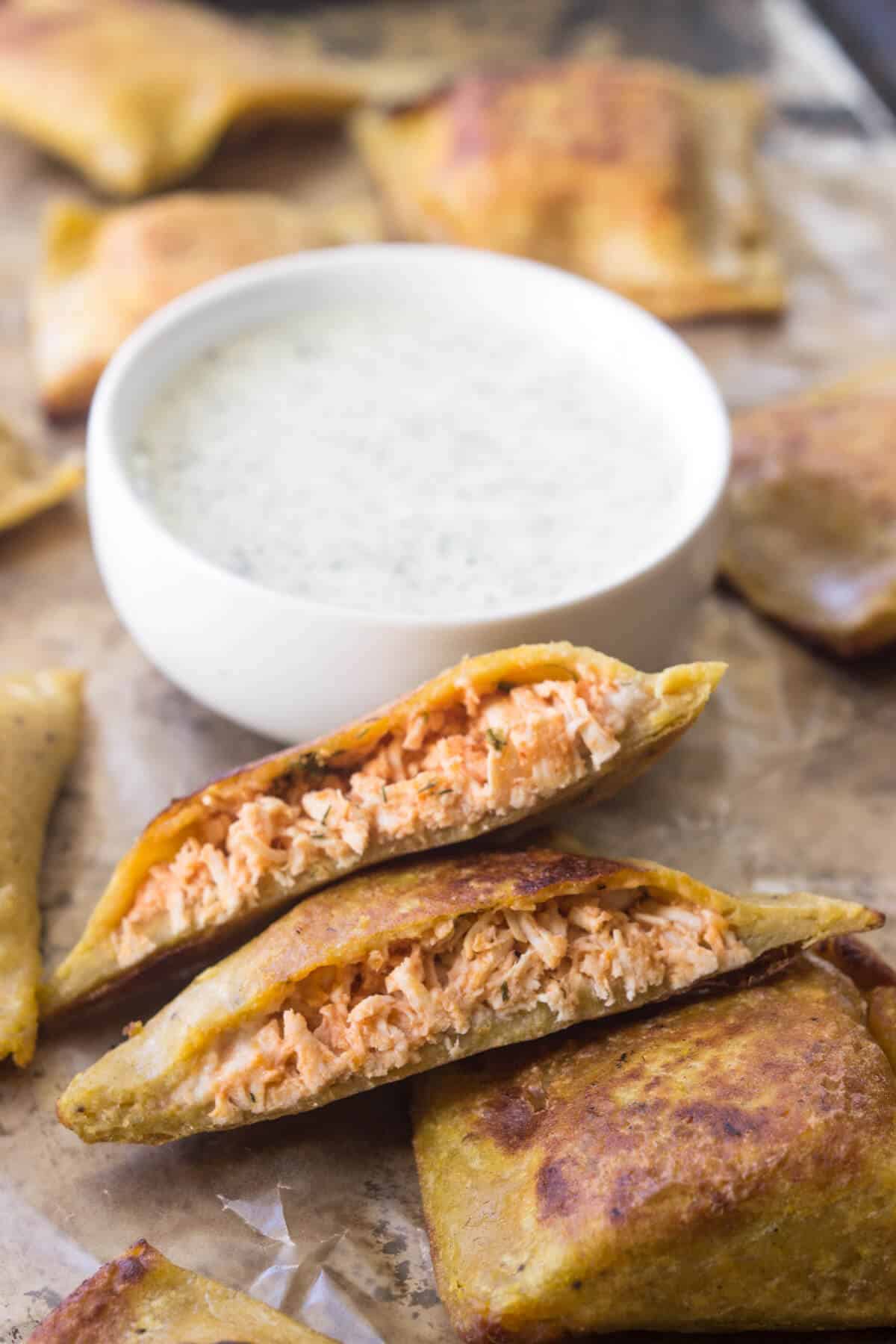 These inventive and ridiculously tasty pizza poppers take a little time to prepare, but they are well worth it! The genius move to use plantains in place of traditional dough makes these a shockingly tasty treat. Shredded chicken blended with tangy hot sauce adds just the right amount of kick that results in a crispy shell of spicy perfection. These delectable finger foods are sure to be a hit at your next dinner party.
2. Paleo Oven Baked Italian Meatballs With Marinara Sauce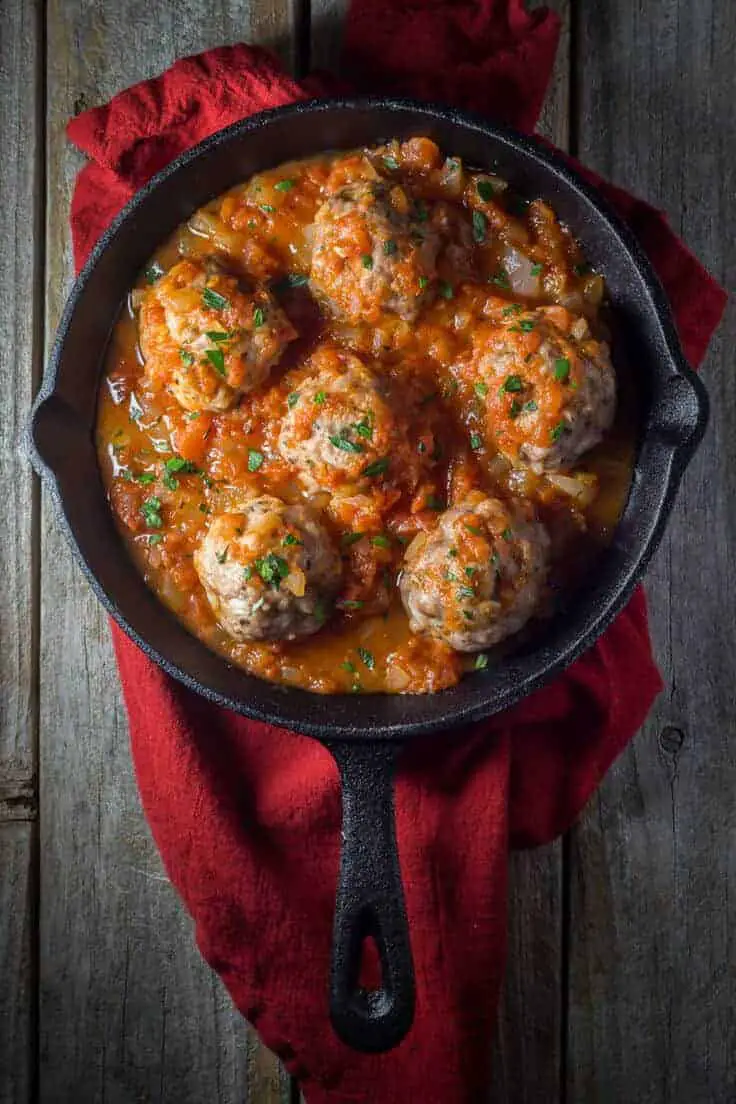 If you're short on time, but don't want to be short on flavor, look no further than these paleo meatballs. Smothered in thick, flavorful sauce and oven baked to perfection, these pork and ground beef meatballs are great for weeknights when you don't want to spend hours cooking but still want something wholesome and tasty for your family to enjoy.
3. Taco-Stuffed Sweet Potatoes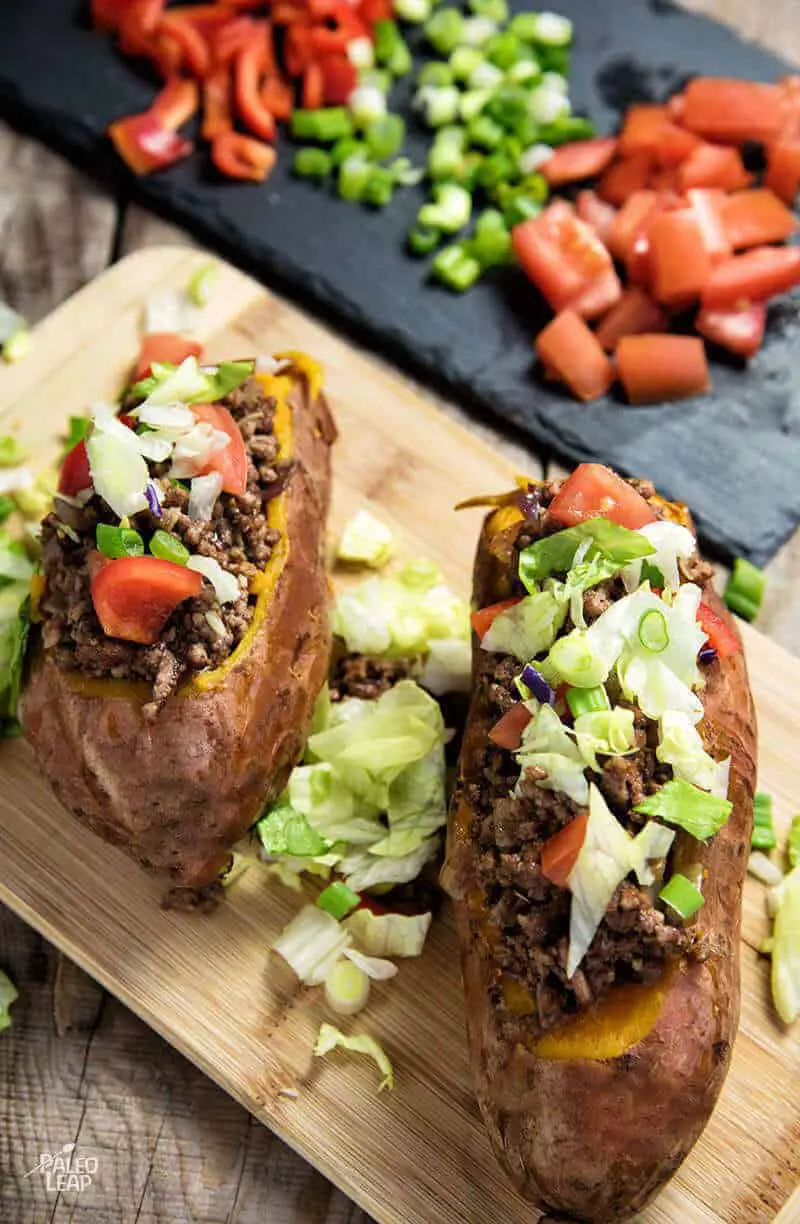 Skip the shell without losing out on flavor with this clever recipe. If you've been craving tacos, but can't imagine eating them without a tortilla, try them in a sweet potato! Set up a bar of toppings and let the kids go to town. The texture of the sweet potato adds a whole new level to tacos like you've never experienced before; they are so good, you may never go back to eating tacos in tortillas ever again.
4. Stuffed Salmon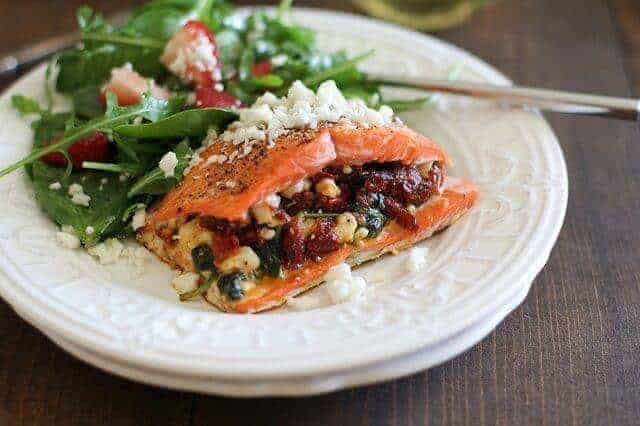 Salmon has a tendency to get dry when cooked, but not this version! For a delicious take on the popular fish, try this baked stuffed salmon recipe that is tender and moist and bursting with flavor. Infused with tasty sun-dried tomatoes, fresh spinach and delectable feta cheese, this salmon will knock your socks off. The stuffing helps keep the salmon moist while it's cooking so no more dried out, tough salmon anymore!
5. Lemon Rosemary Chicken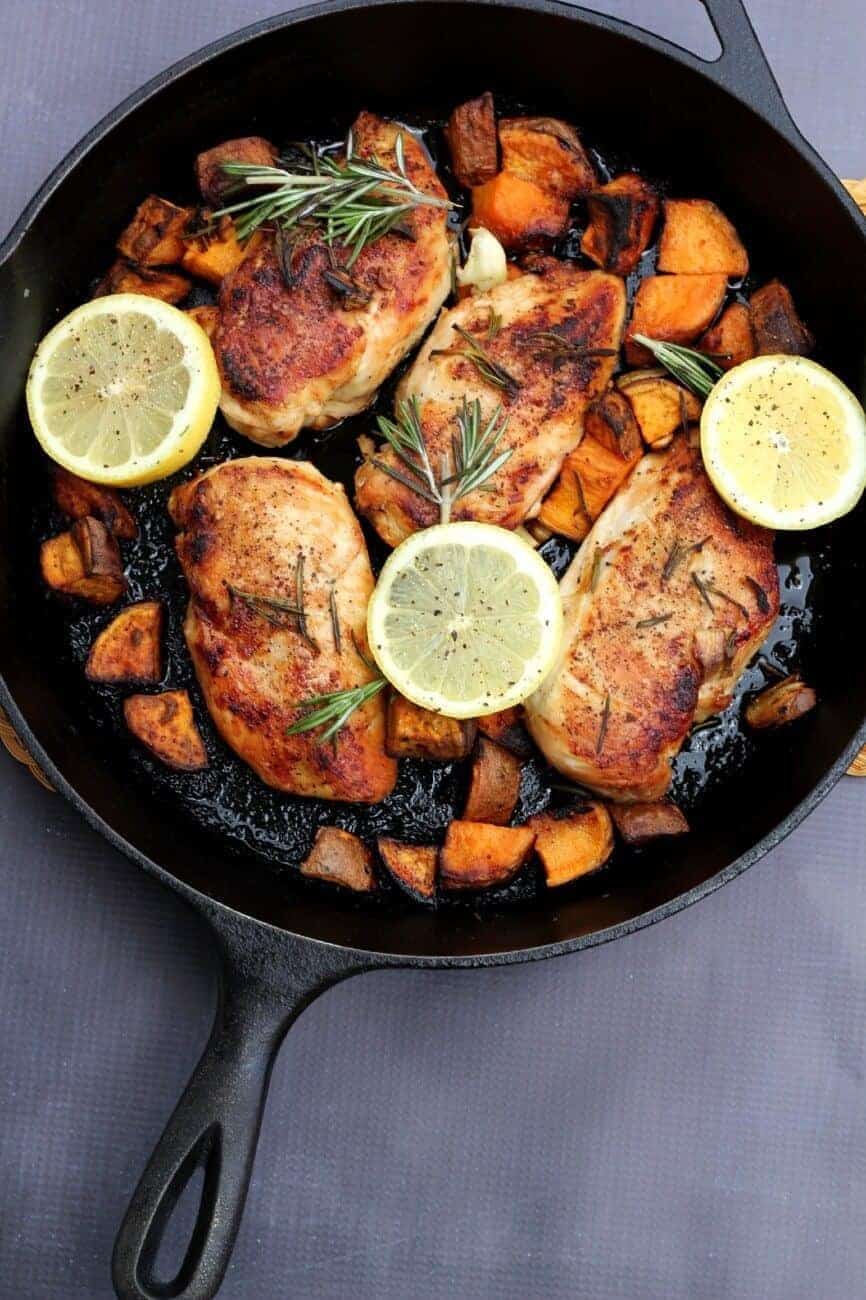 When it comes to paleo foods, chicken is one of the best options for its lean protein, average cost and mild flavor. This phenomenal recipe makes chicken even better with its simplicity and ease during preparation, but that certainly doesn't cost this dish any points when it comes to flavor. Perfectly browned, succulent chicken breasts sprinkled with a generous amount of lemon and garlic make this a recipe you'll return to time and time again. From start to finish, you'll be done in 45 minutes, which makes this great dish even more amazing.
6. Asiago Bisque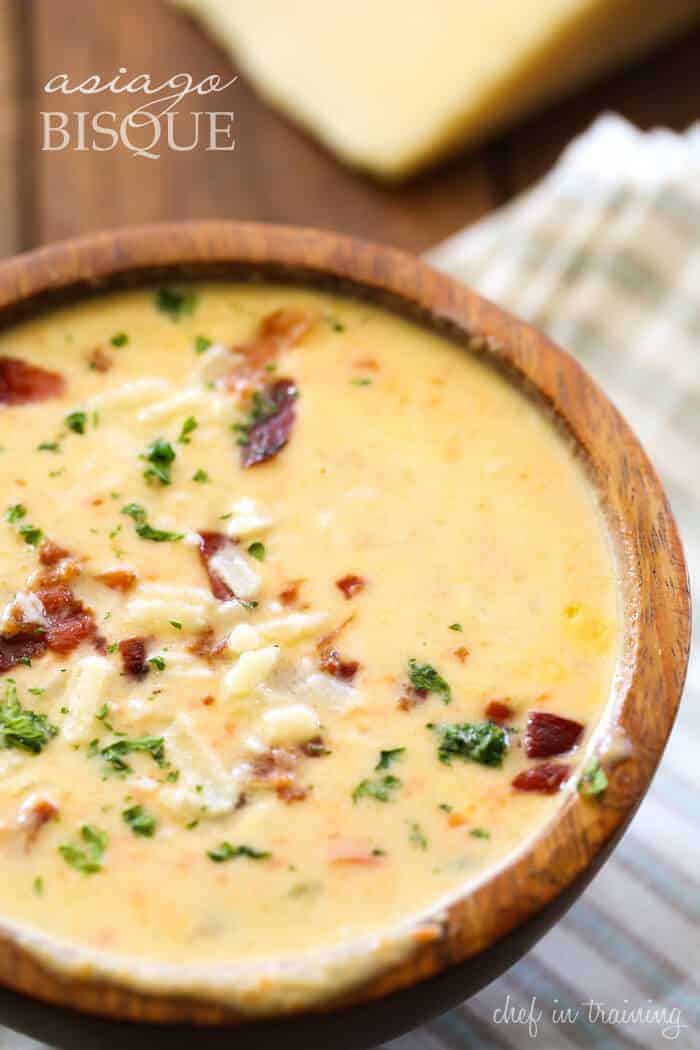 If you have a hankering for a creamy and cheesy comfort meal, look no further than this 30 minute paleo dinner recipe. This hearty and filling soup is chock full of decadent ingredients like white wine, asiago cheese and rich butter. This bisque is not light on calories so it is better saved for special occasions, but its creamy decadence will make you crave it week after week.
7. Garlic "Gnocci"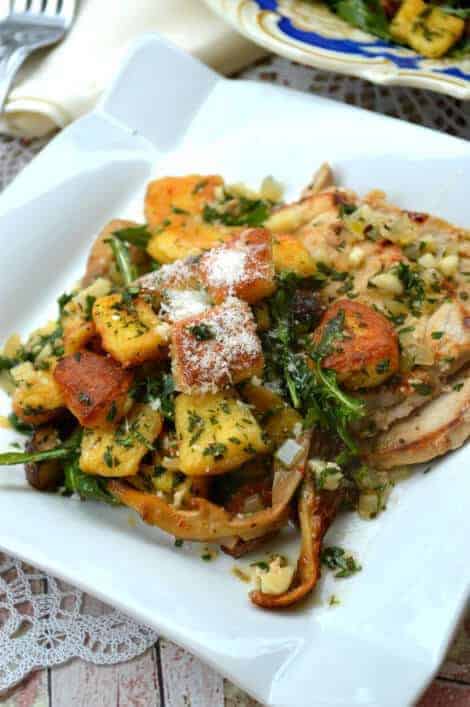 For an appetizing alternative to regular pasta, try this tasty garlic "gnocci" that happens to be a ton of fun to make! With only two base ingredients and only a few minutes of prep time, even the most unskilled chefs can create this dish easily. Satisfy your craving for pasta with these soft little pasta pillows that are chock full of garlicky flavor.
8. Paleo Porchetta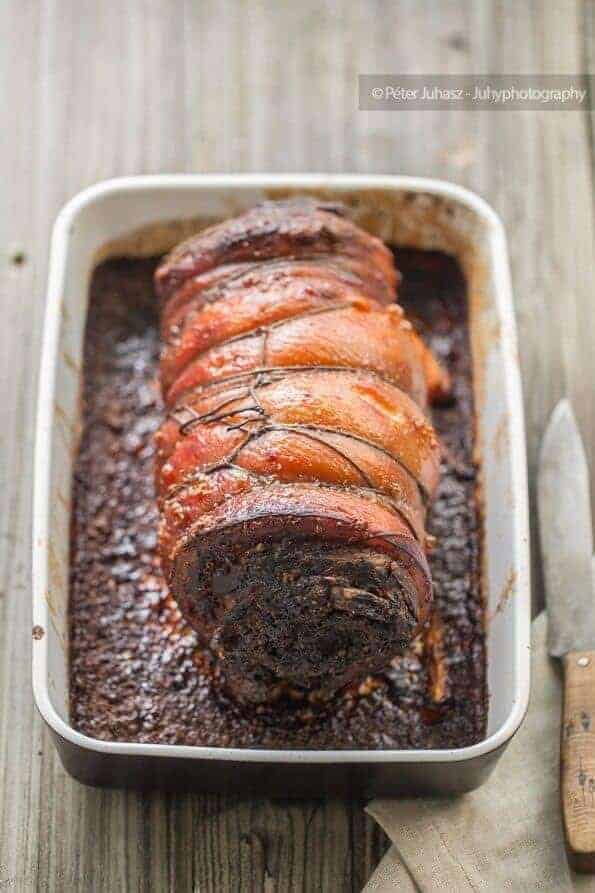 Savory and moist tender loin enveloped in a layer of crispy pork roast makes this hearty dish a must try! Normally served with bread, this paleo dinner recipe adds walnuts instead which enhances the flavor tremendously. The excess gravy is to die for and can be saved for later uses if you can control yourself and not slurp it all up with the meal.
9. Salmon Chowder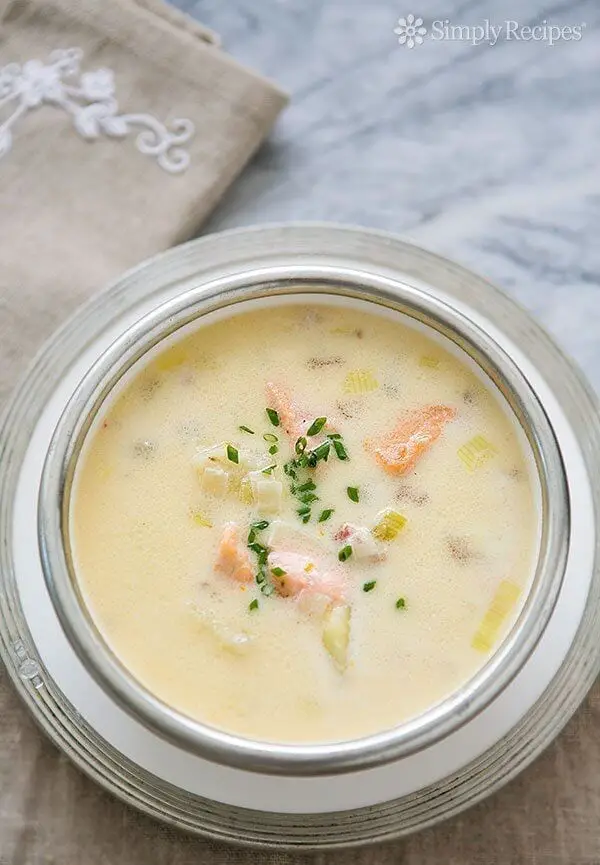 Not quite new England clam chowder, not quite salmon bisque, this chowder is in a class of its own. This omega-3 fatty acid-rich chowder combines smoky salmon with tasty bacon and all the trimmings to culminate in one of the best tasting chowders ever. Thanks to the fiber the hearty potatoes provide, you won't even be craving bread for dipping!
10. Sizzling Cilantro Lime Fajita Salad With Honey Lime Vinaigrette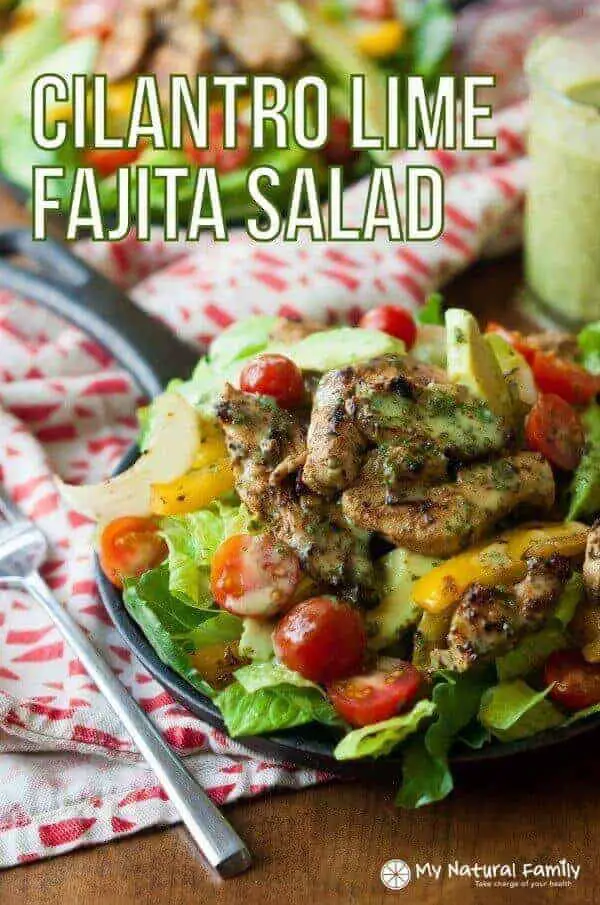 This fajita salad is so decadent, you'll forget that you're even eating a salad! It has all of the makings of a perfect dinner wrapped into one, simple dish: it's nutritious and low carb with just the right bite of flavor. The marinated chicken balances out the menagerie of colorful vegetables and makes this salad a perfect dinner choice for paleo food enthusiasts.
More paleo dinner recipes on the next page…
11. Creamy Lemon Chicken With Asparagus And Mushrooms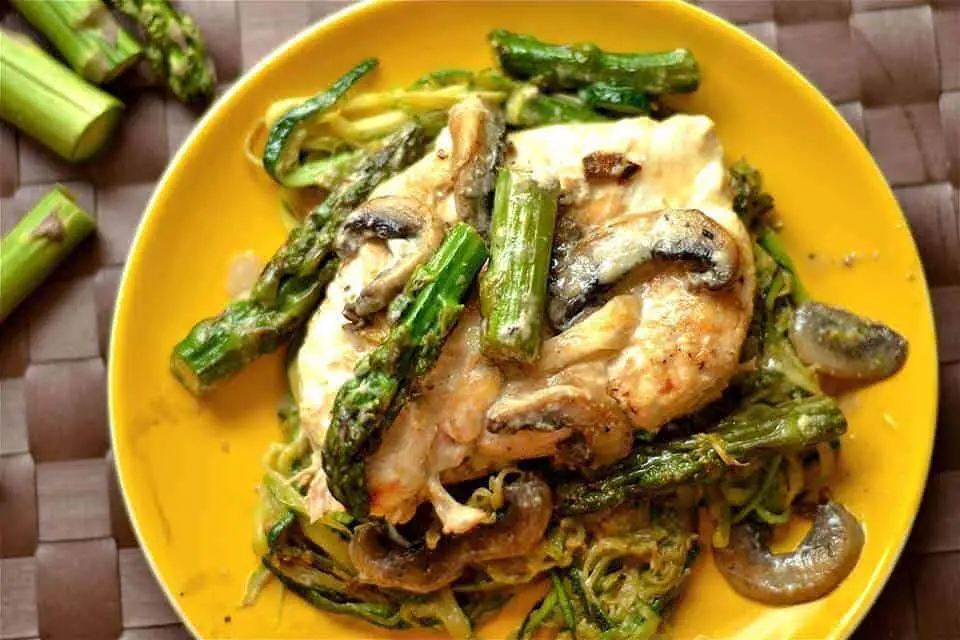 This delightful chicken dish is perfect for just about everyone. It's paleo friendly, gluten free, dairy free and nourishing for the entire family. This creamy dish substitutes coconut milk for traditional butter and cream, making this a fabulous, nutritious alternative to regular cream based dishes. Perfectly satisfying for the nights you're craving a rich, comfort food without breaking your paleo eating habits.
12. Lemon Garlic Herb Crusted Salmon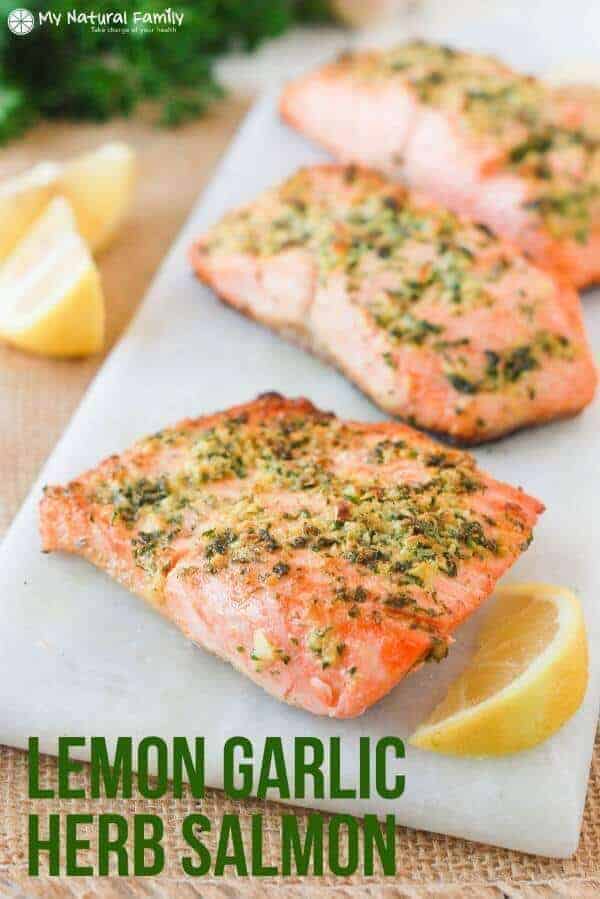 I can't think of a better dinner than seasoned salmon cooked to flaky perfection. This simple recipe takes only a few minutes to prep and only 10 minutes to cook. It is ideal for nights when you're short on time but don't want to skimp on health or flavor. Swap out another fish if salmon isn't your cup of tea; the herb crust goes well with just about any type of protein so get creative!
13. Chicken Detox Soup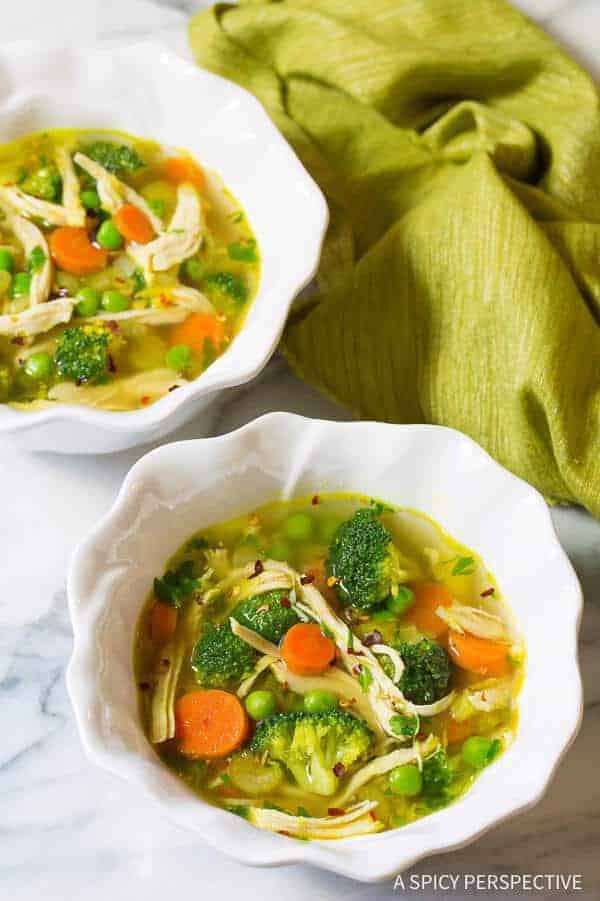 Did your diet derail and you've been eating poorly the past few days? Do you need a high dosage of wholesome vegetables and lean protein stat? This soup is filled to the brim with hearty vegetables and is sure to get you back to feeling like your old self in no time! The recipe makes enough for 10 servings, so you can even share your good health with friends and neighbors.
14. Harvest Chicken Skillet With Sweet Potatoes Brussels Sprouts And Sautéed Apples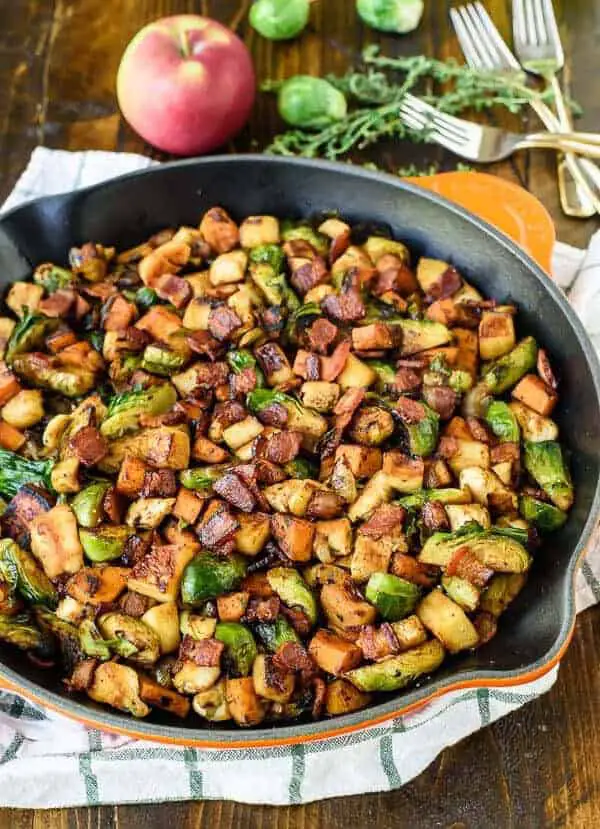 This extraordinary paleo dinner recipe is just as tasty as it is beautiful to behold. This dish is reminiscent of Thanksgiving feasts of yore, and the flavor combinations are sure to please your palate. The warm and cozy flavors of the bite-sized chicken, fresh apple and crispy bacon will make this dish a dinner staple for paleo families for many autumns to come.
15. Paleo Steak Salad with Creamy Garlic Vinaigrette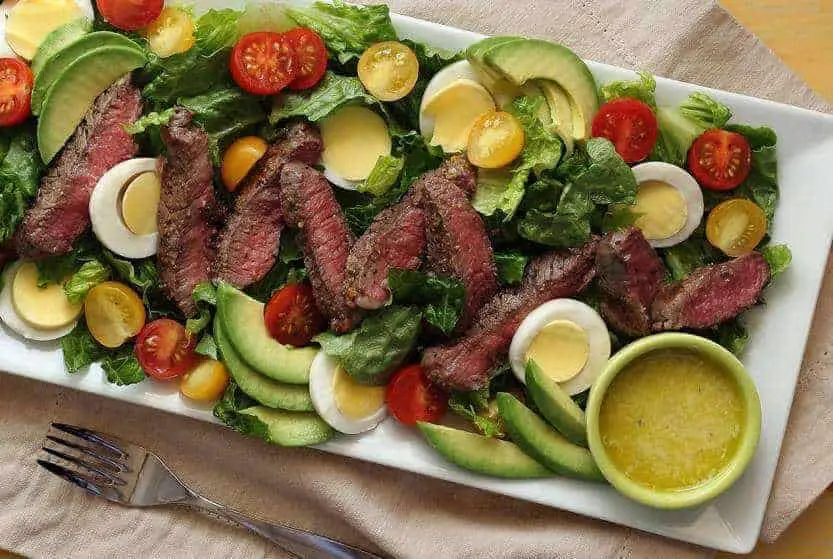 This salad is so decadent and easy to whip up, it'll be a new favorite in no time. Add this scrumptious salad to your weekly rotation of paleo foods to amp up your protein and vegetable intake while still enjoying a delicious meal. Although not considered to be quite a gourmet meal, this dish is easy enough for busy weeknights and is still sure to make your taste buds (and your body) happy.
16. Crock Pot Chicken Fajitas
For the best dinners on nights when you're short on time, don't discount your grandmother's old handy crock pot. Anything cooked in a crock pot creates great meals without a lot of time spent slaving away in the kitchen. These chicken fajitas are not only easier to make when using a slow cooker, but they turn out more moist and delicious than ordinary skillet cooked fajitas. Your mouth will be watering by the time you take out the tender, shredded chicken perfectly blended with crunchy peppers and onions. Bon appetit!
17. Quinoa Patties with Zucchini and Feta Cheese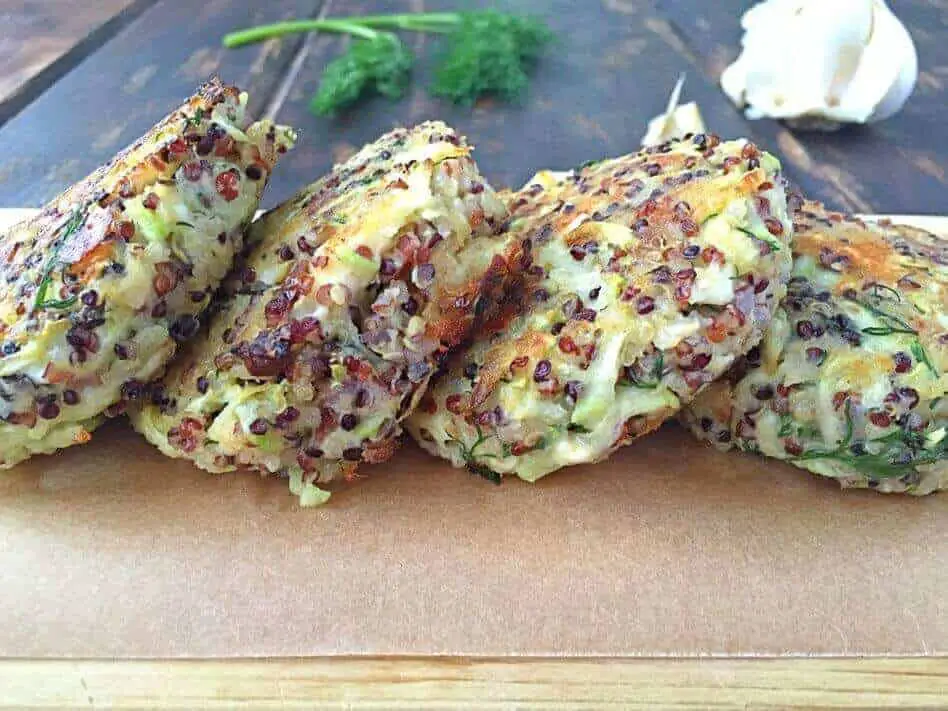 If you need a paleo dinner recipe that is meat free, these quinoa patties are sure to be a hit. Vegetarians and meat eaters alike will adore these robust and savory patties that blend great sources of protein with fresh vegetables. Quinoa married with zucchini, sun-dried tomatoes and salty feta cheese make these yummy vegetarian burgers a paleo dinner the whole family can enjoy. Top them off with a simple home-made tzatziki sauce, or eat them plain; either way, your taste buds will thank you.
18. Gluten Free Sesame Chicken with honey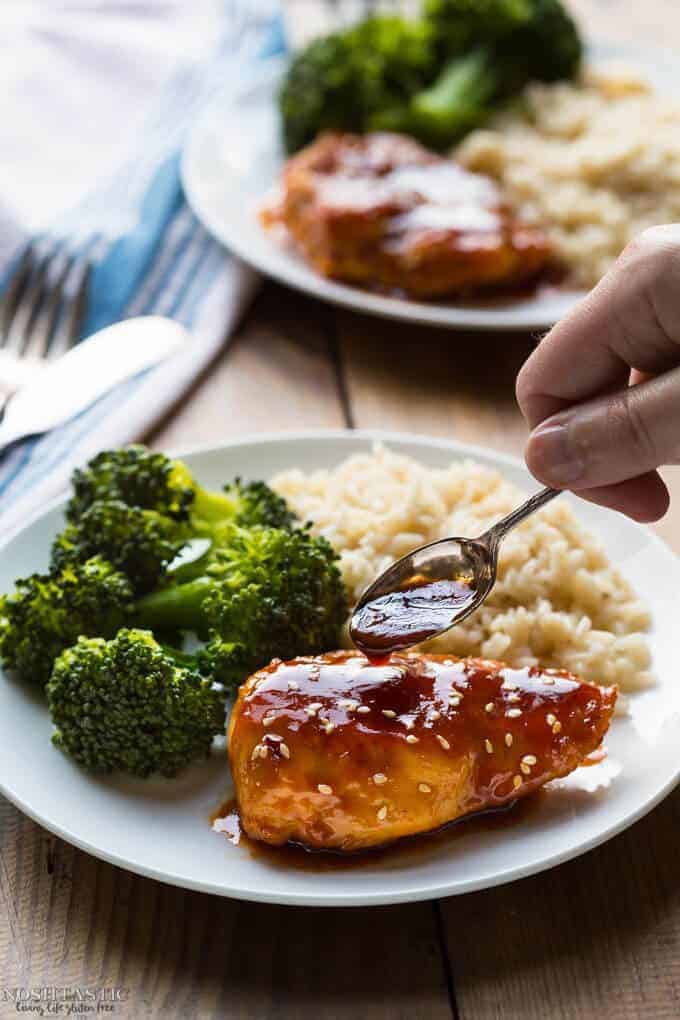 Don't grab sodium-laden, unhealthy take-out for dinner just because you're short on time. You can make this delicious sesame chicken recipe in only 10 minutes and you won't even be scrimping on flavor. Adjust the red pepper (or add chili pepper) to your liking if you appreciate some more kick with your chicken, but otherwise, this dish is an easy to make and marvelous to eat, crowd pleasing dinner.
19. Cilantro lime chicken with avocado salsa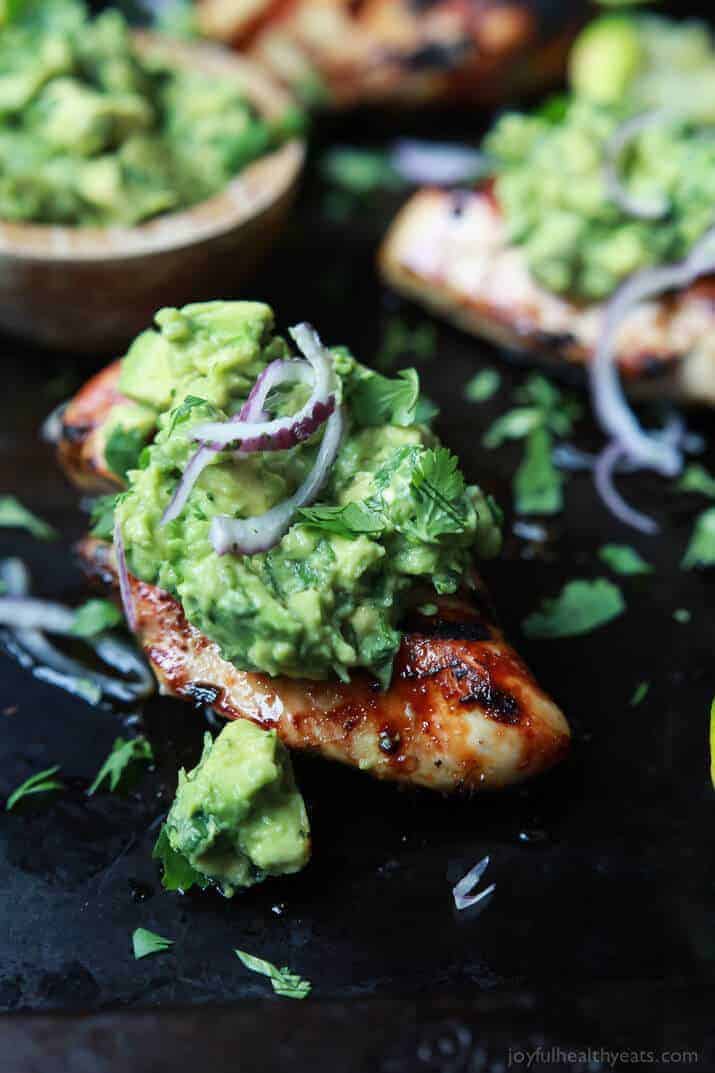 If you're looking for zest, you've come to the right place! Spice up your paleo dinner recipes with this spunky recipe that adds some tasty zing to your chicken. For the moistest chicken possible, grill the breasts to seal in the moisture and flavor. Then top it all with a heaping helping of the most delectable avocado salsa you've ever experienced. Together, the pairing is so simple but yet so utterly delicious.
20. Lemon Chicken
This tasty take on fried chicken will appeal to all those people eating paleo who are craving the comfort of fried food. Made by swapping traditional, unhealthy processed ingredients for natural ingredients like honey and coconut flour, you can actually have your fried chicken and eat it, too! The result is perfectly crispy, flavorful chicken bits that will make you feel like you're cheating without actually doing so.
More paleo dinners on the next page…
21. Turkey Avocado Wraps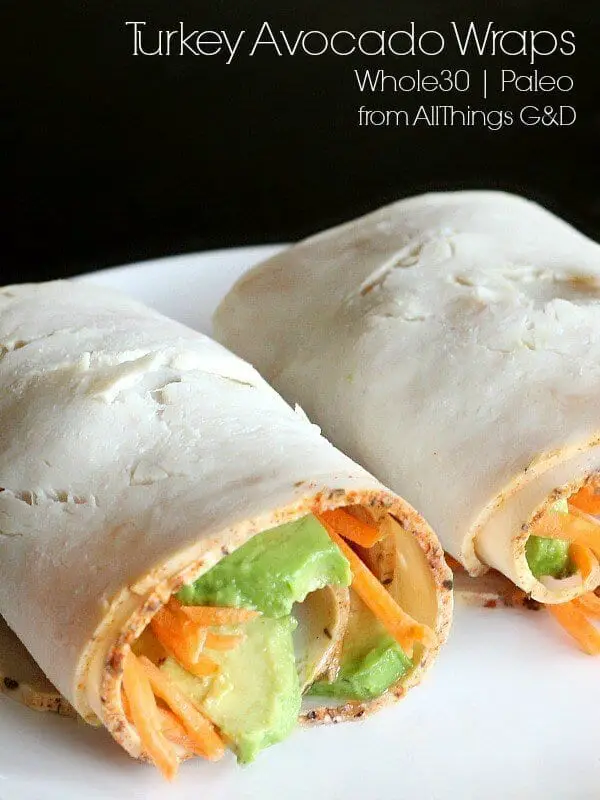 These turkey avocado wraps are yet another simple, but totally scrumptious recipe. Perfect for a quick paleo dinner or a lunch-time option, these wraps are great to pack when you're on the go, or when you only have a few items left in your fridge and need to whip something together. Top them with some dressing, or eat them plain. You simply can't go wrong with the easiness and pure yum factor of these wraps.
22. Zucchini noodles with creamy avocado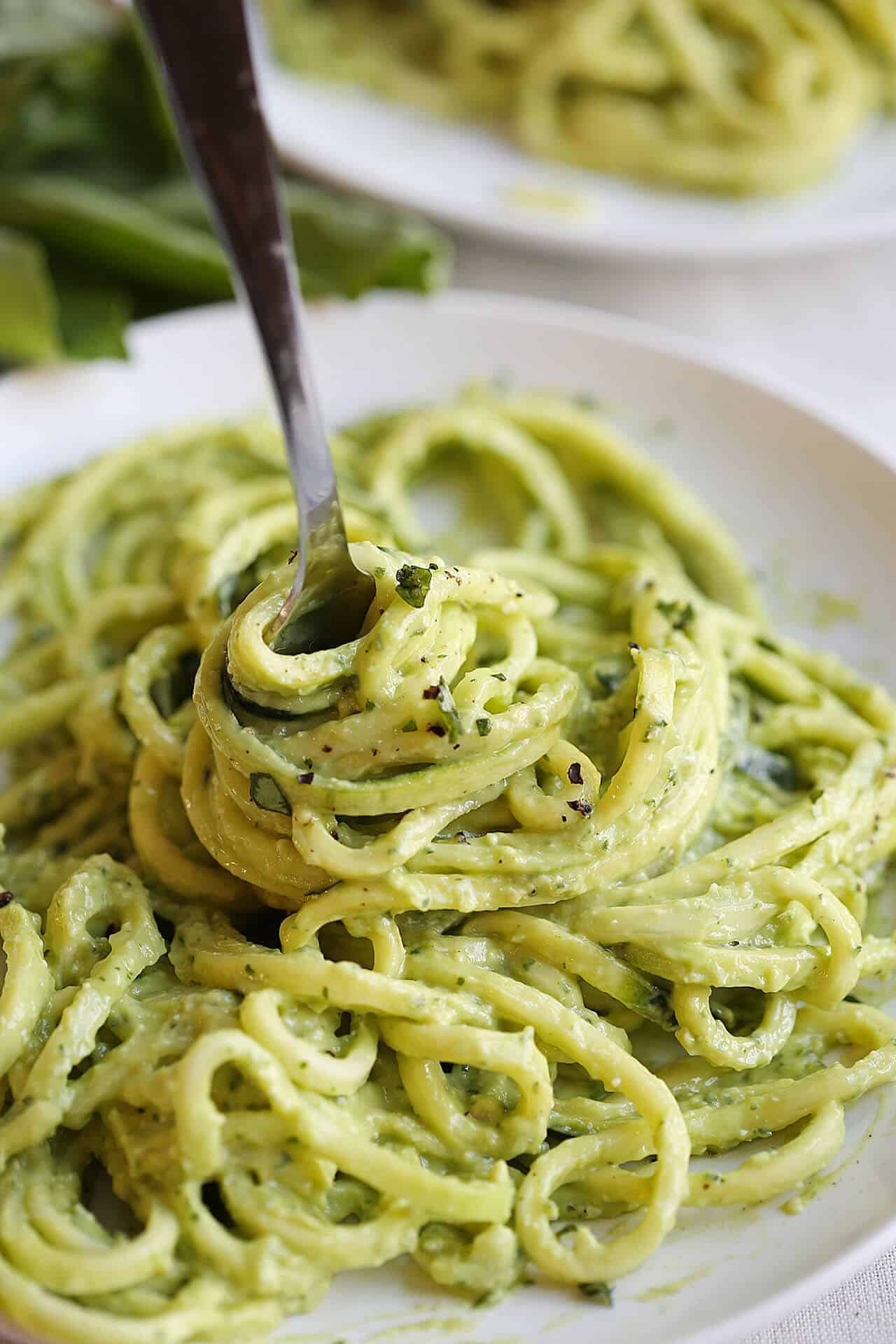 Not only is this paleo dinner recipe filling and nutritious, it'll trick your brain into thinking you're eating a big bowl of pasta on those days when you need some comfort food. These "zoodles" require a spiralizer, but other than that, it's super easy to whip everything together from start to finish in 15 minutes. The creamy avocado pesto sauce that goes along with it is so good, you'll want to drizzle it on everything else you eat, not just noodles.
Must Read: Dutch Style Oven Recipes
23. Coconut curry soup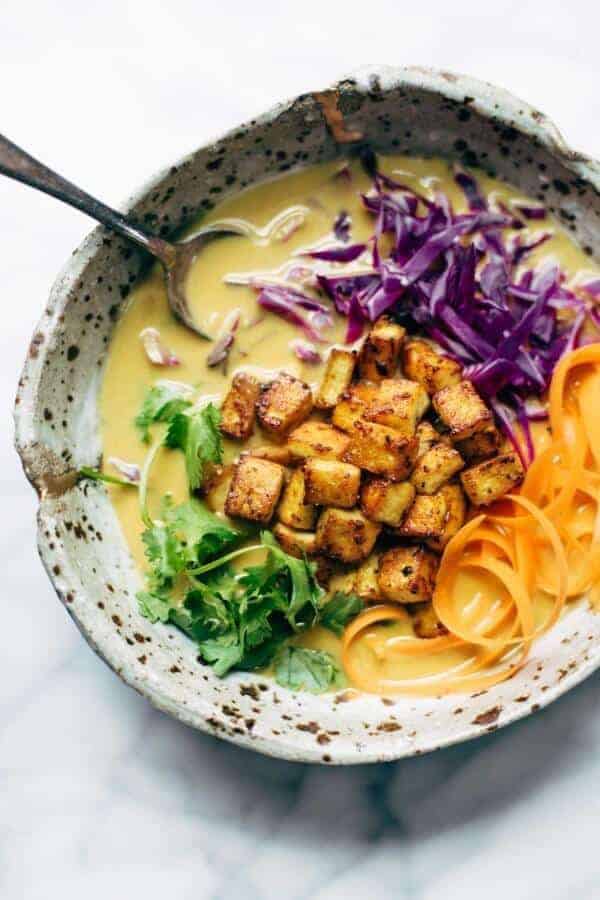 This delicious, creamy soup is basically a build-your-own-fabulous-dinner. Concocted of two base ingredients (curry and creamy coconut milk) mixed with just about anything you have on hand, this soup is a base for flavors so wild, you can't even imagine them until you take your first bite. Mix potatoes, onions and peppers into the base, or add some tofu and beans to give your diet a great protein boost. This dish is limited only by your imagination, so throw whatever your heart desires into your soup pot.
24. Mexican cauliflower rice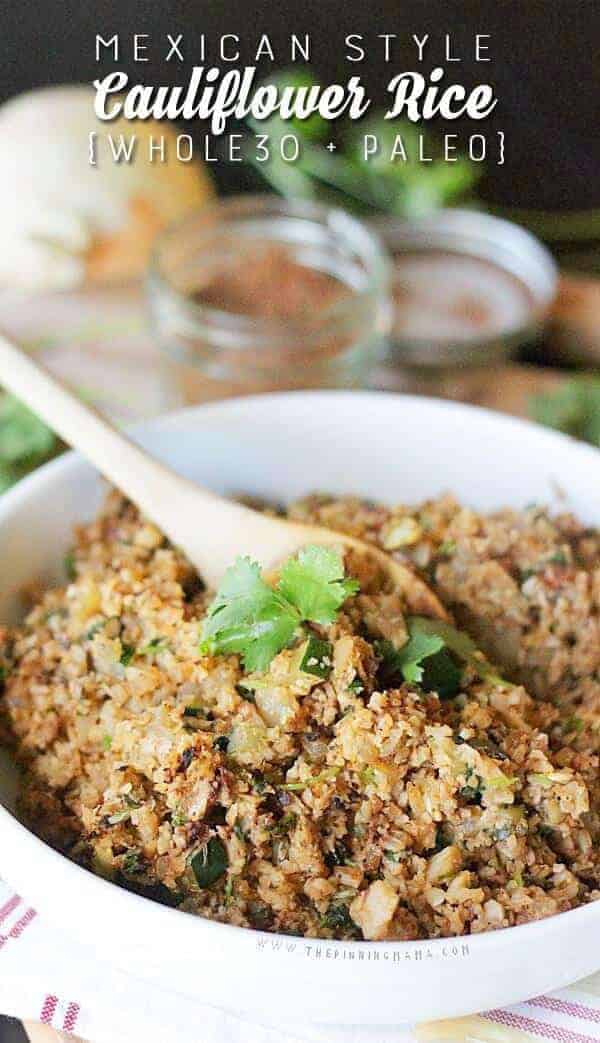 If you're missing out on traditional cheesy, high caloric Mexican food since starting your paleo diet and you're dying for a cheat night without spoiling everything, we have the perfect fix for you. No Mexican dish is complete without a side of rice to go with it. Enter this flavorful dish that swaps high carb rice for nutritive, pan-fried cauliflower melded with the perfect seasonings, and your Mexican dinner dilemma is solved.
25. Thai Coconut curry turkey meatballs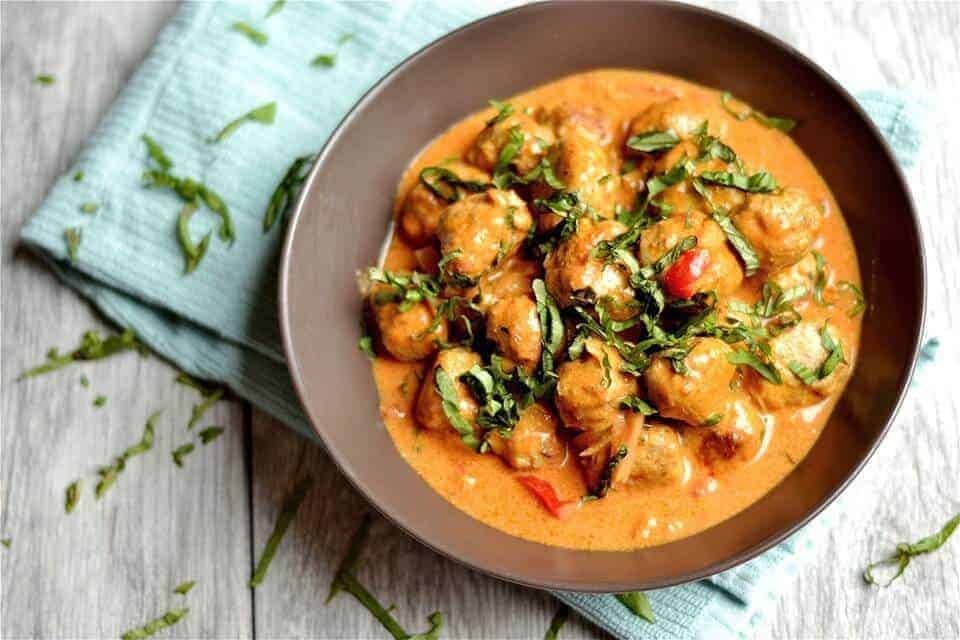 This delightful dinner is the trifecta of the absolute perfect and nutritious meal: grain free, paleo and gluten free. The blend of curry, spices and almond flour perfectly complement the flavor of these turkey and turkey sausage blend meatballs. Smothered in a delectable and creamy red curry coconut sauce, this dish is a must try for flavor lovers everywhere; you won't be disappointed.
26. Paleo sweet potato hash browns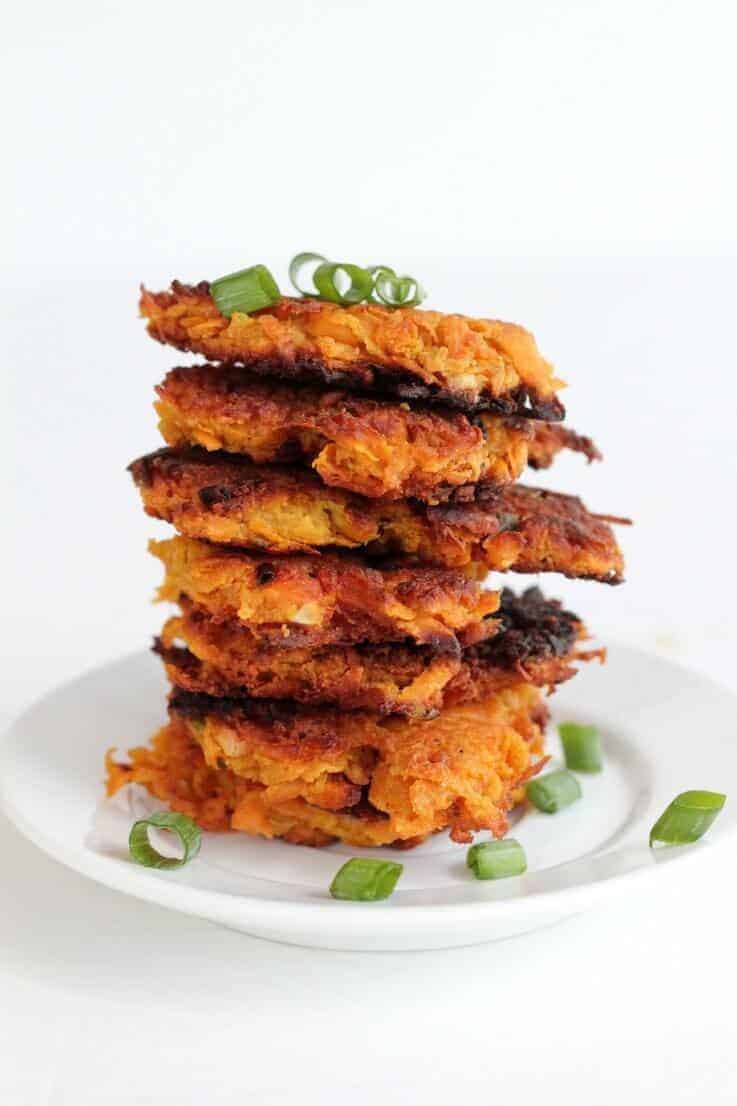 When on a paleo diet, it can be difficult to find the perfect side dish to pair with an incredible meal. Hash browns are great but recipes for crispy hash browns that don't fall apart when using sweet potatoes are hard to come by. This recipe takes all of the guess work out of it and results in the perfect, crispy crunch of a fresh baked sweet potato that you were desiring.
27. Greek chicken salad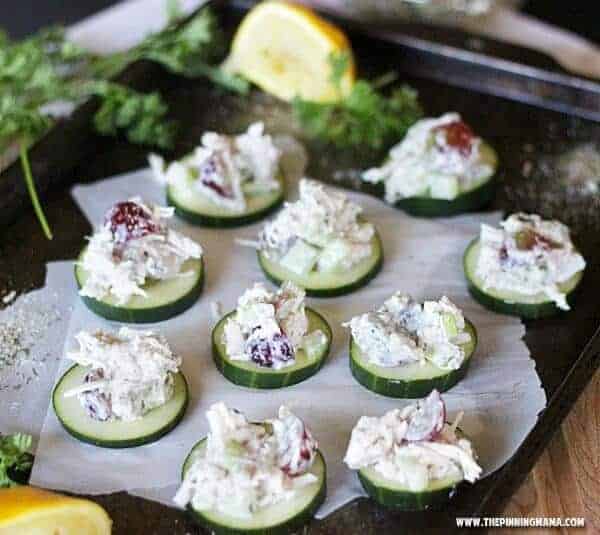 This delicious take on traditional chicken salad incorporates international flavors to spice up an otherwise blah dinner option. Who knew adding some greek flavor to chicken salad would give it such a boost? Mixed with grapes and celery, this paleo recipe gives you the crunch and the spicy kick that makes for a great meal every time. Serve it atop freshly cut veggies to make this meal that much healthier.
28. Ratatouille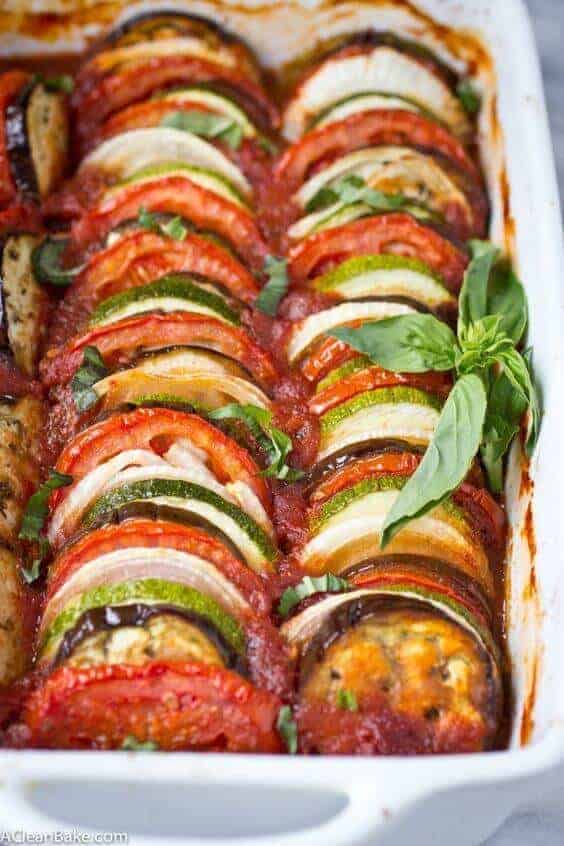 Don't be put off by this recipe's odd name. Ratatouille has been around for centuries. Originally a peasant's dish of vegetables roasted in a tomato base, this version is similar but revved up high on flavor. High quality, fresh vegetables are sliced and combined with crushed tomatoes to culminate in this beautifully presented and marvelously succulent paleo dinner recipe. Serve your ratatouille on fancy plates to diminish the peasant quality, if you wish.
29. Bam Bam shrimp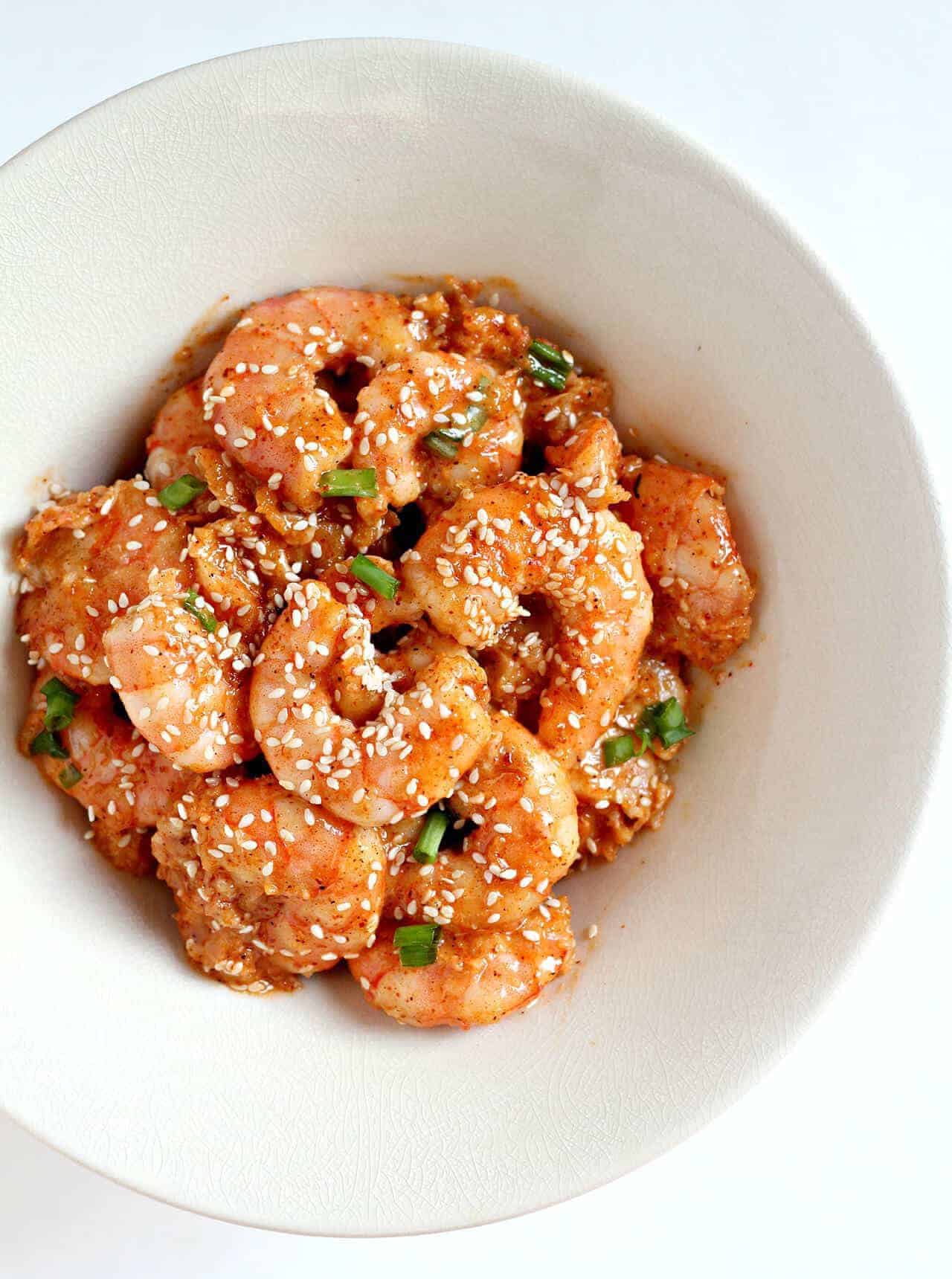 Shrimp can get a bit boring when prepared the same ways, so we found this amazing shrimp recipe that will knock your socks off. This fabulous copycat recipe from Bonefish Grill not only tastes great, but it's quick and simple to prepare, as well. Mayo, hot sauce and spices merge with battered shrimp to make these delectable little critters the yummiest seafood you've ever tasted without breaking your diet or the bank.
30. Crispy bacon wrapped asparagus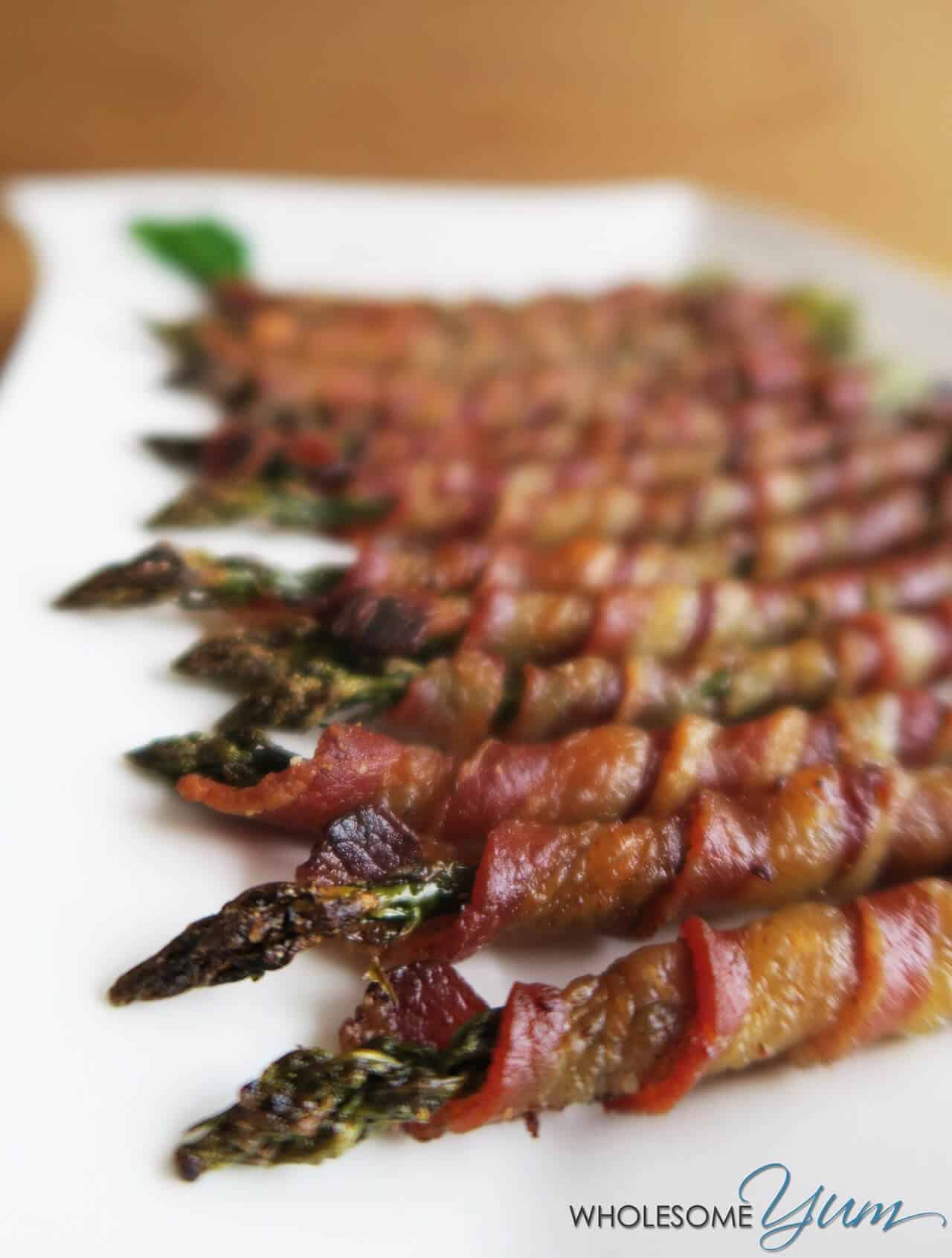 Side dishes can sometimes be the star of a meal, as in this case. Made originally as a side dish, this bacon wrapped asparagus was so good, it is often eaten as a main course for paleo eaters. Unlike other recipes where the asparagus cooks and leaves the bacon soggy, this paleo dinner features flavorful asparagus enveloped in a crispy bacon shell- no sogginess here. Delicious for dinner or any other time you're craving a crunchy snack.
More paleo dinner recipe ideas on the next page…
31. Paleo mac & cheese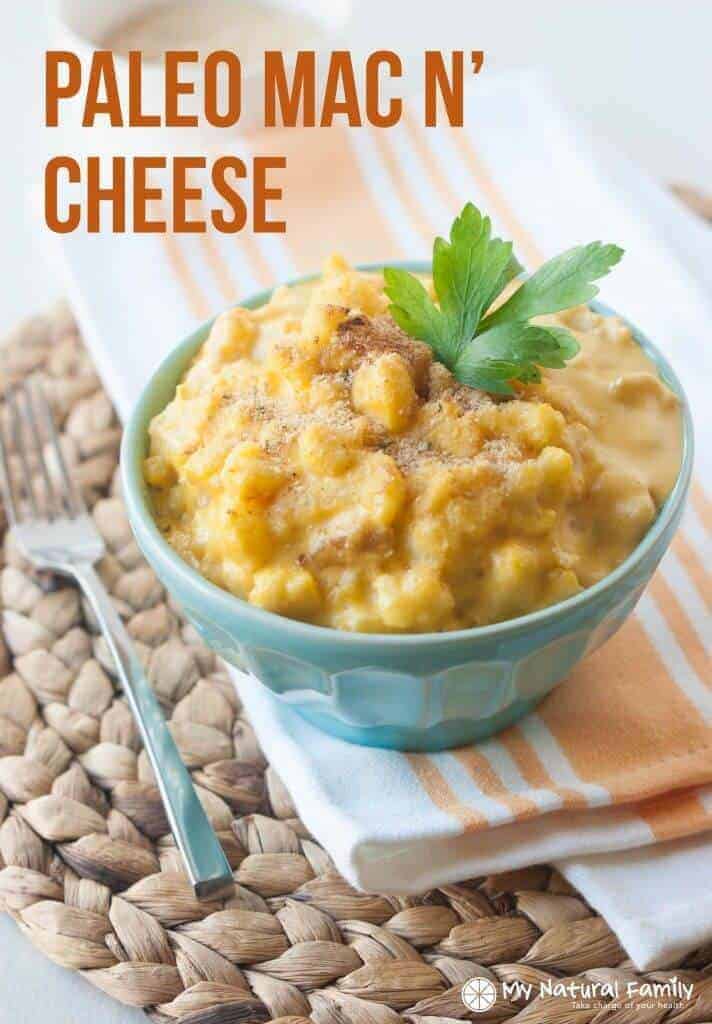 Macaroni and cheese is one of the most beloved comfort foods in all of America. But, as everyone knows, it's not exactly the healthiest food option since it's loaded with carbs and high-calorie cheese. If you have kiddos that won't touch anything but traditional mac and cheese, try this paleo version that utilizes cooked veggies instead of noodles and coconut milk and spices for the makeshift cheese sauce. Your kids will never even notice the difference!
32. Paleo chicken salad wraps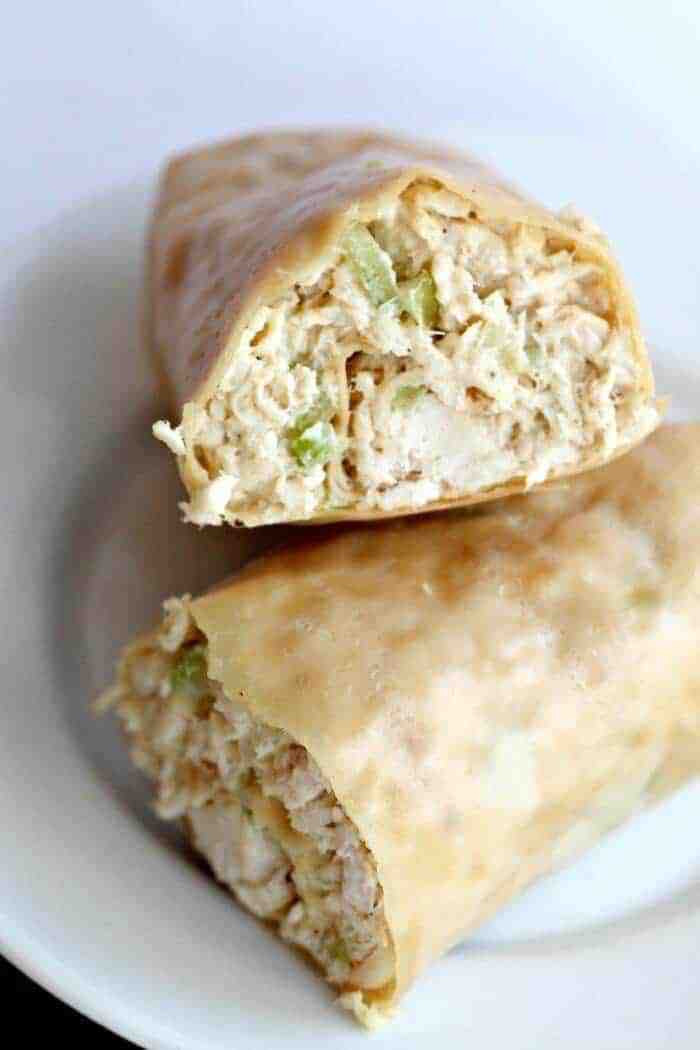 If the greek style chicken salad was too adventurous for you, try these chicken salad wraps. They are made with special order coconut paleo wraps and a delicious homemade paleo mayonnaise that is so good you will never want to buy store bought mayonnaise ever again. Use your imagination to top with any number of vegetables, spices, beans or other toppings and you'll never have a boring chicken salad wrap again.
33. Italian paleo chicken fingers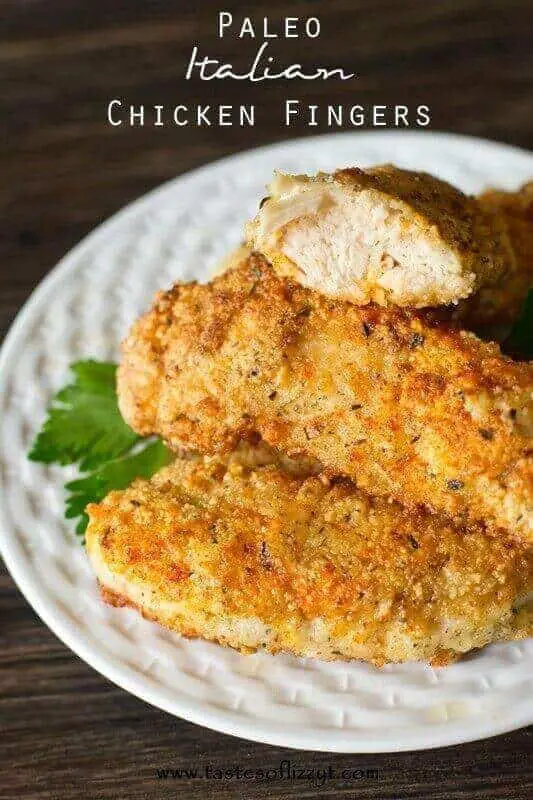 Another great kid-friendly option, these chicken fingers are completely free of all bad things; they are sugar free, grain free, gluten free and dairy free. That makes them, quite possibly, the healthiest chicken fingers to ever grace this planet and moms everywhere can rejoice. The chicken is lightly breaded with tapioca starch and Italian seasonings. Then pan fried in coconut oil to crispy perfection, this is a recipe that's sure to please the entire family without needing to sacrifice health.
34. Avocado egg salad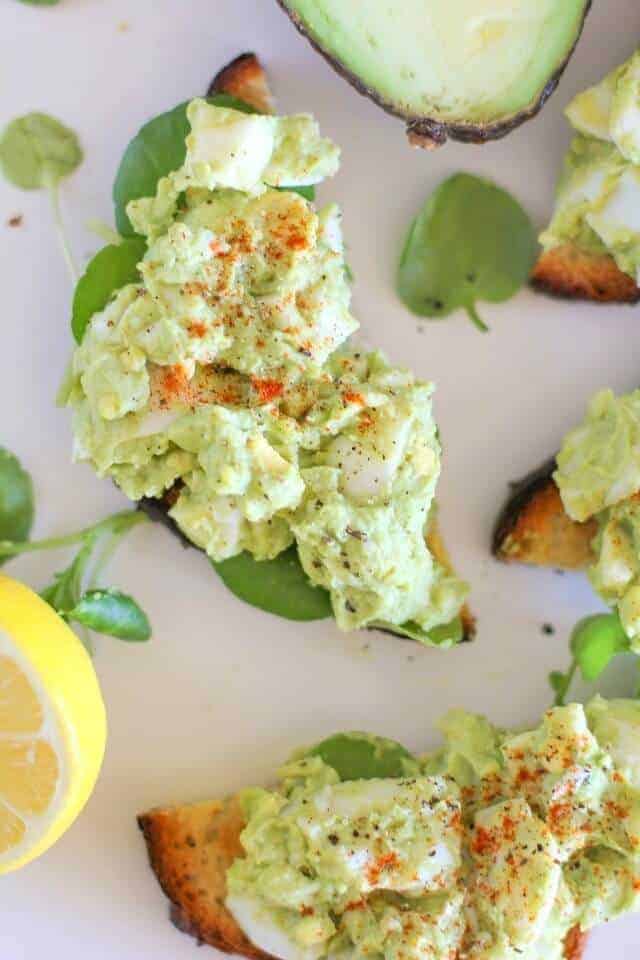 You'll never even miss the mayonnaise in this genius egg salad recipe. If you or someone in your family can't have mayo, or you just want to expand your taste bud horizons, give this egg salad recipe a try. It substitutes heart-healthy avocado for traditionally fattening mayo which results in a thick, creamy blend of healthy fats and tasty bites. Spices, peppers and/or onions should be added if looking for an even zestier flavor.
35. Avocado tuna salad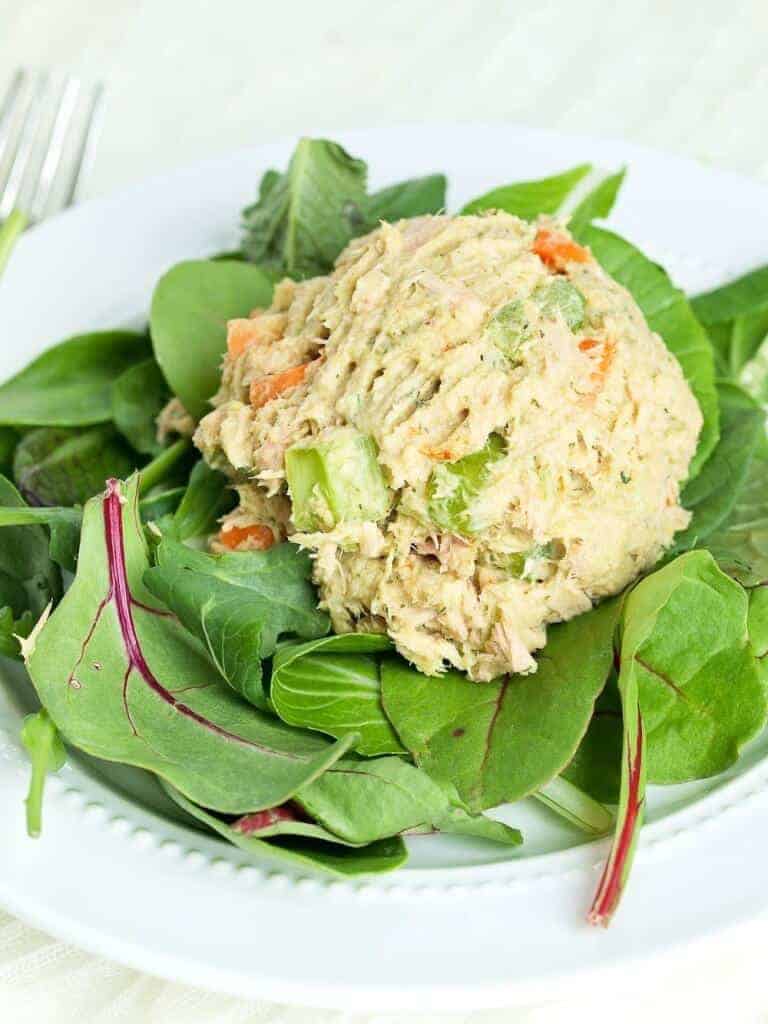 Similar to the above recipe, this tuna salad dish swaps the heavy mayo for avocado, giving it a creamier and bolder flavor. Not only is avocado a healthier fat than mayo, it also contains omega-3 fatty acids which are crucial for brain function. Do your brain a favor and use this recipe the next time you make tuna to boost your brain power. Add an even healthier boost to this paleo dinner by incorporating crunchy celery, tomatoes or lettuce.
36. Chicken avocado burgers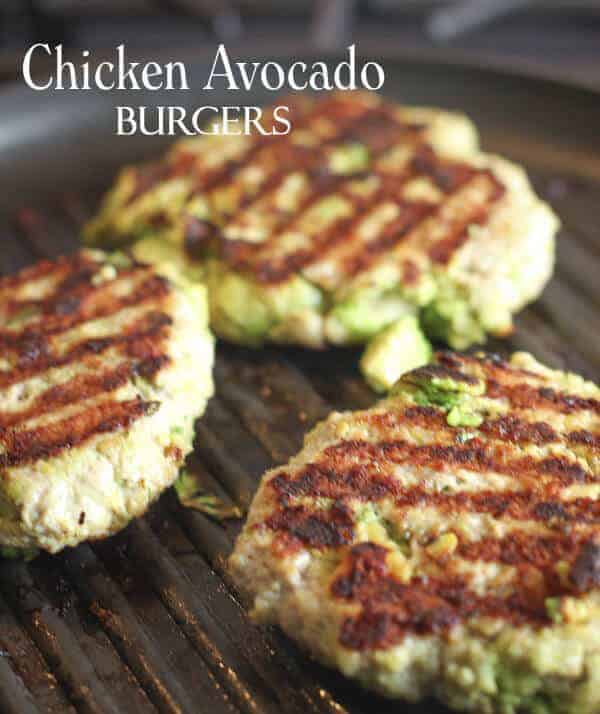 The simplicity of these chicken burgers doesn't take away from the flavor they provide. Made with lean protein and super food avocados, you'll forget you're not chowing down on a regular hamburger. Simply grilled, they come out moist and bursting with flavor and lacking all of the grease and fat that comes along with traditional hamburgers. Eat these, and don't be surprised when you find yourself hankering for a chicken avocado burger over a regular burger the next time you're grilling.
37. Gluten free pizza crust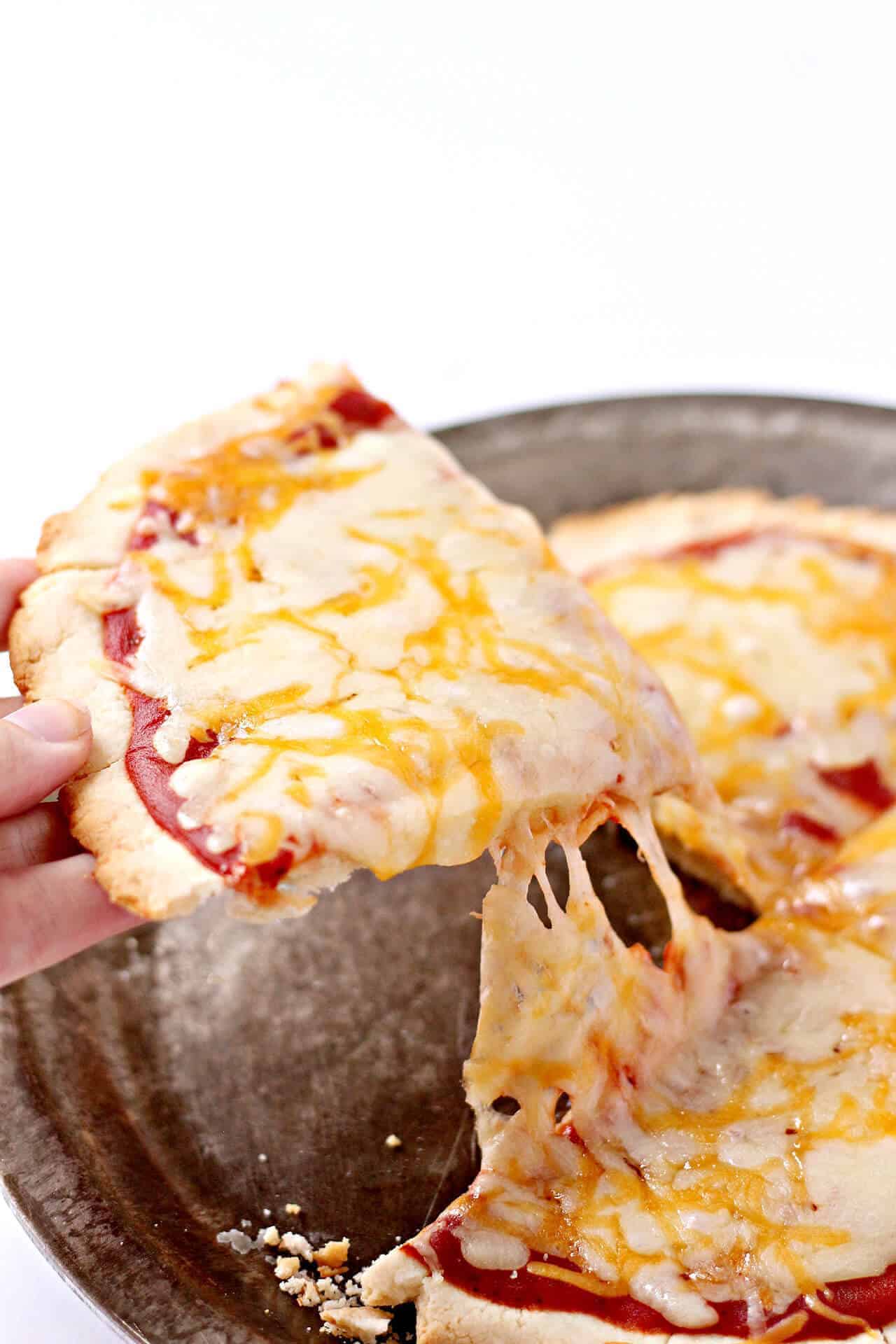 Ah, good ol' pizza. It's just about everyone's favorite food. But it is so darn bad for you and your body. If only there were a way to make it a bit healthier so you could treat yourself without the guilt. How great is it, then, that we've included this gluten free pizza crust in our tasty list of paleo foods? I know that most pizza crusts that are marketed as health-conscious taste like cardboard at best, but this one is truly a winner. Although still not the healthiest option, in moderation, this recipe is fabulous and even grain-free!
Related: 50 Fast Food Recipes
38. Paleo turkey sweet potato chili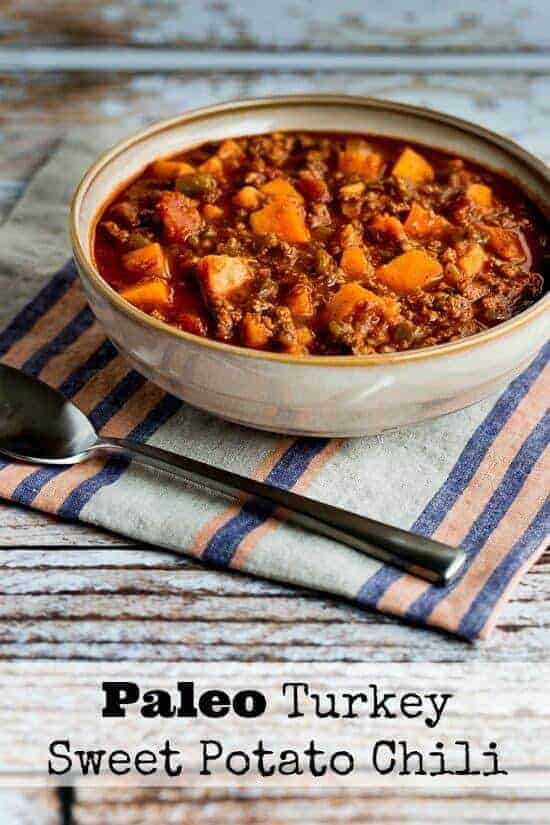 If you've never had chili made with bold sweet potatoes before, you're missing out. Adding sweet potatoes to chili creates the absolutely perfect marriage of savory, hearty and spicy flavors. The ground turkey is a great, lean protein and you won't even miss the regular ground beef and grease that most chili recipes use. And unlike other difficult and time consuming chili recipes, this great paleo dinner version doesn't even take very long to make.
39. Black beans and cauliflower rice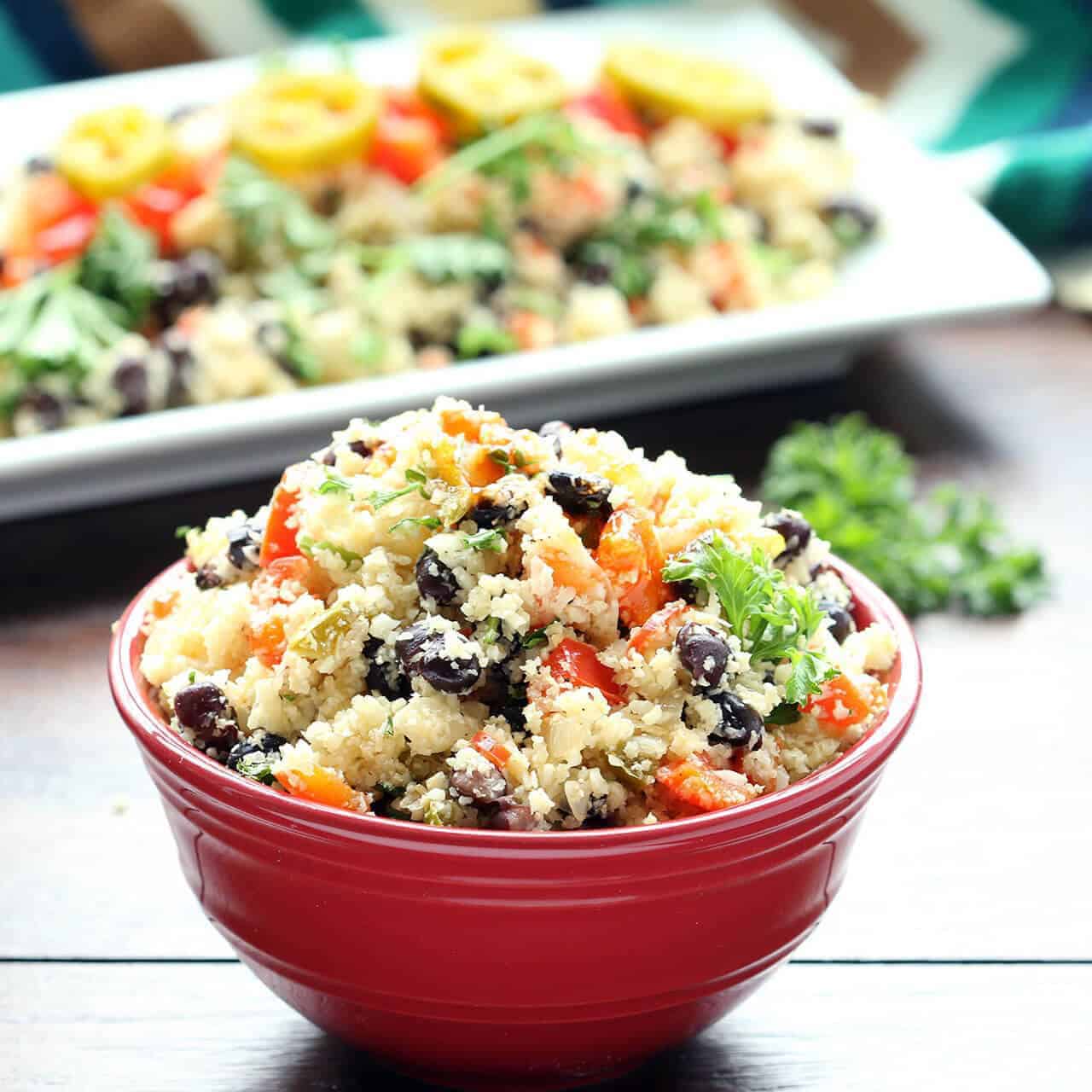 Another great vegetarian, grain-free, paleo dinner option is this yummy black bean and cauliflower rice recipe. Nutritionally dense cauliflower replaces traditional white rice in this flavorful dish that's also chock full of protein and sautéed in heart-healthy olive oil. Served on its own, as a side dish or in a wrap, you're sure to love the bold flavors of this beans and "rice" dish despite the texture taking a bit of time to get used to.
40. Italian roasted mushrooms and veggies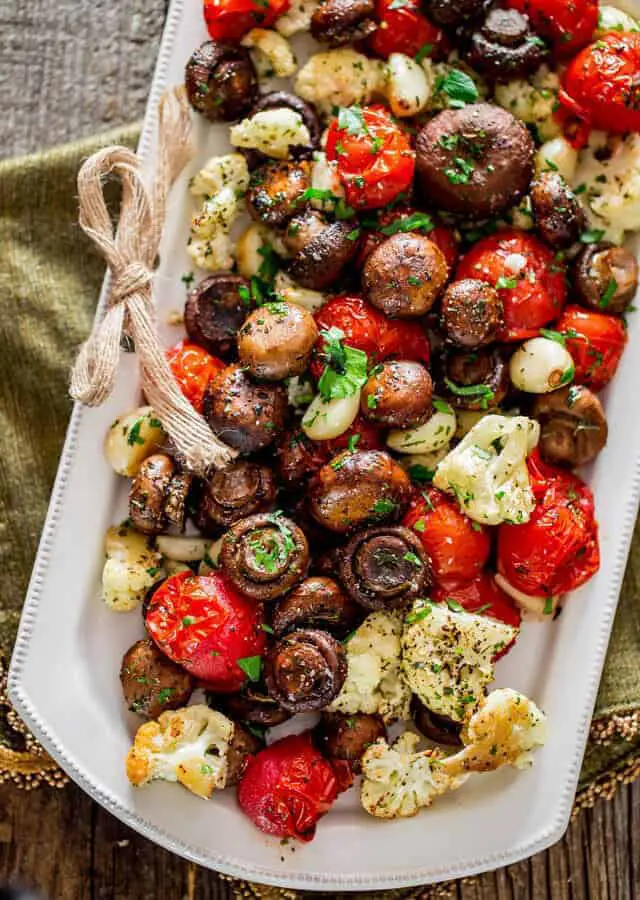 Roasted vegetables are a staple side dish for those on a paleo diet. Different combinations and different flavors are combined to try and stave off vegetable boredom, but sometimes it just doesn't help. This recipe has come to every bored paleo eater's rescue. Roasted vegetables are made delicious again in this recipe that calls for italian seasonings combined with the perfect blend of vegetables and garlic. After baking in the oven, the olive oil sauce drippings are so good, you'll want to drink them down!
41. Bacon wrapped guacamole stuffed chicken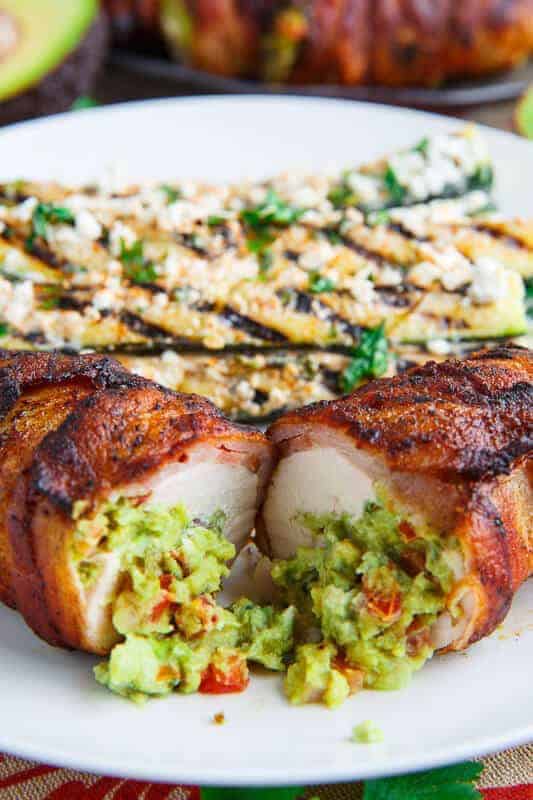 Bacon and chicken go together like peanut butter and jelly; they just don't have the same publicity. This has to be one of the tastiest paleo dinner recipes we've ever come across. Few things in this world are as mouth-watering as the combination of fresh, tender chicken paired with crispy, aromatic bacon. When you throw some thick guacamole in the mix, you've got a meal that's going to go down in the history books for being simple, yet bursting with amazing flavor.
42. Paleo avocado tuna salad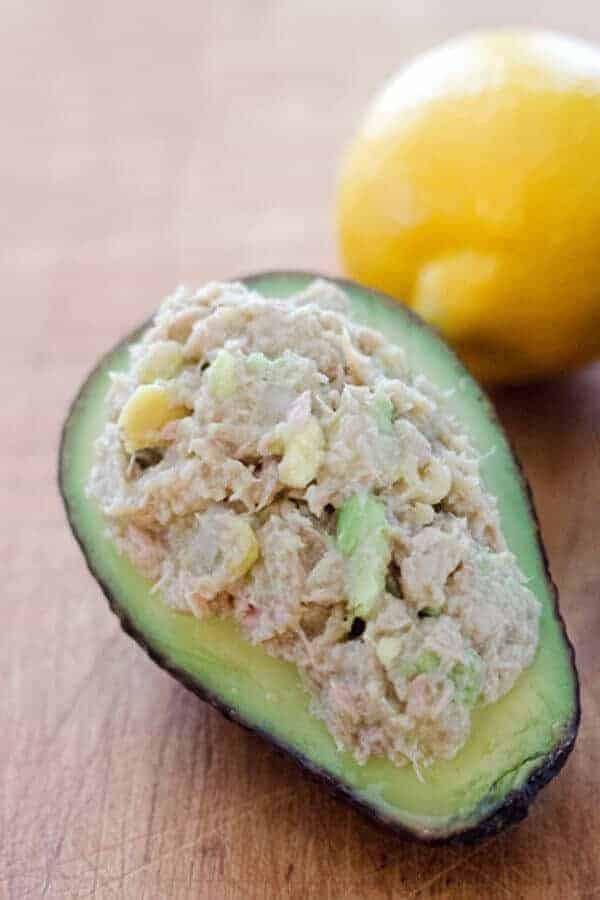 This scrumptious tuna salad recipe is not only super nutritious and filled with flavor, it's even environmentally friendly since the avocado takes the place of a plate! Skip the mayo and add heart-healthy, creamy avocado to your tuna instead. The key to this recipe is to taste test the tuna as you add the separate ingredients. You'll want to make sure you achieve the proper creamy/acidity balance before you spoon it back into the avocado halves.
43. Cajun shrimp guacamole bites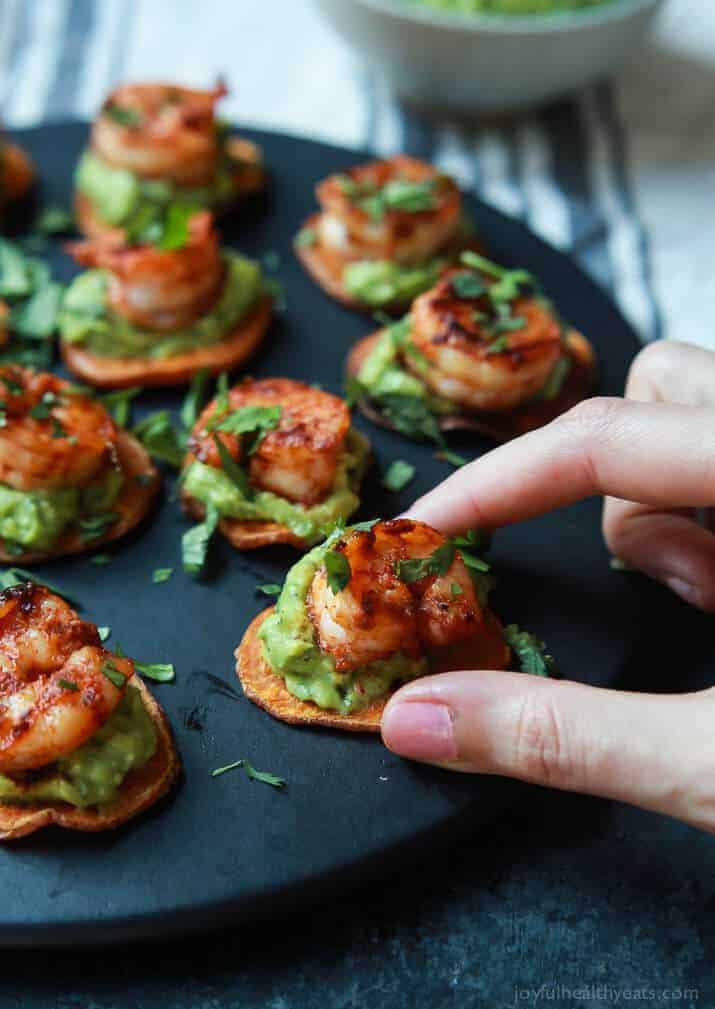 As you can tell, avocado and guacamole are a huge hit in the paleo diet world, especially since they can be added to just about anything when wanting to achieve a creamy texture. These spicy, exotic shrimp bites get some added flavor from guacamole and the sweet potato fries they rest upon. The crunch of the sweet potato chip mixed with the creamy guacamole and the tangy shrimp result in an explosion of flavor in your mouth.
44. Seasoned whole roasted cauliflower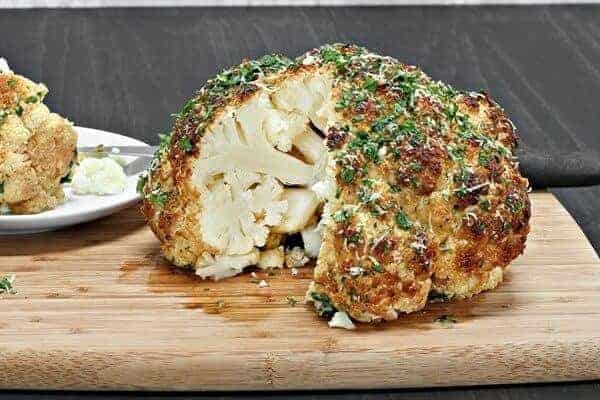 Similar to Outback's blooming onion, but minus all of the oil and fat, we present you with this recipe for a whole roasted, seasoned cauliflower. If you don't like cauliflower, it's only because you've never tried it the right way before. Perfectly seasoned and far from soggy, this 5 star roasted cauliflower recipe will make you rethink vegetables and how sometimes just a few herbs can go a long way to make veggies not only palatable, but fantastic.
45. Olive, caramelized onion & herb drop biscuits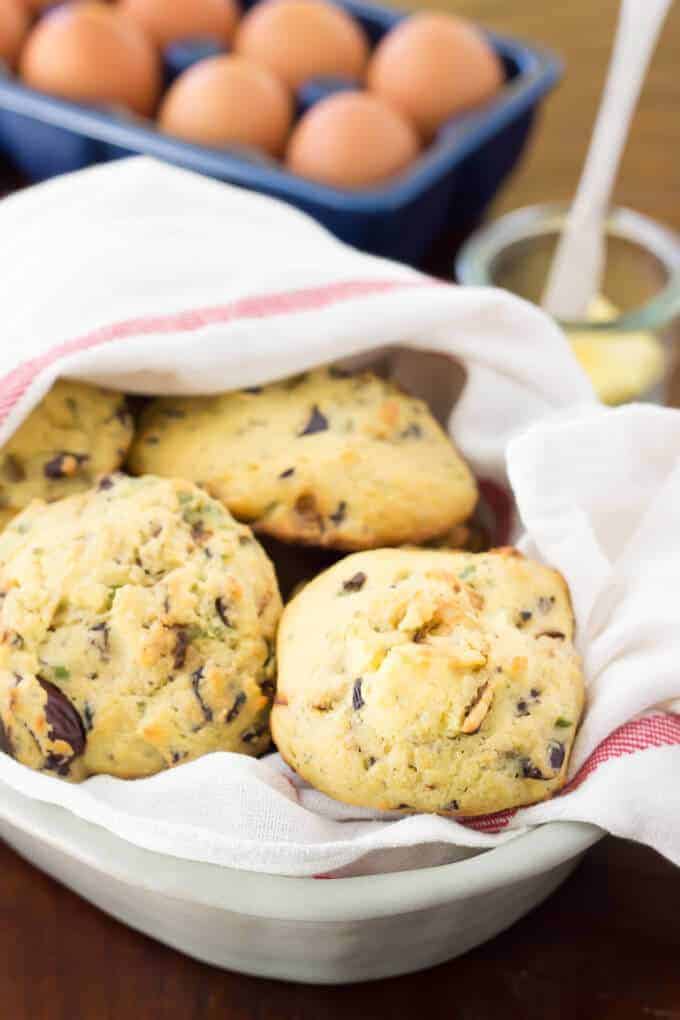 Albeit not quite a dinner recipe, these side-dish biscuits were too good to leave off of the list! Soft and chewy with a hint of olive oil, these biscuits are simple to make and even better to eat. You can even get creative and turn these into a dinner. Stack cold cuts inside for a delicious sandwich option or stuff the biscuits with some ham before cooking to sneak a bit of protein into these delectable, little muffins.
46. Garlic shrimp and quinoa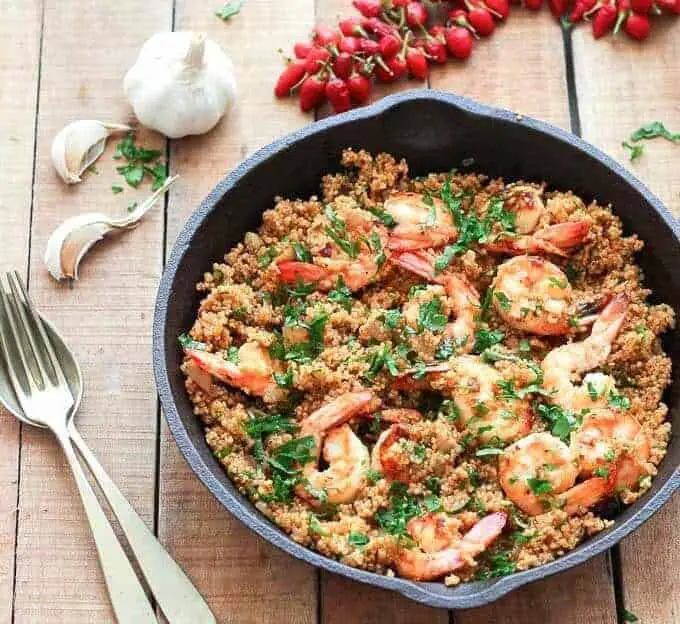 Despite most people thinking that quinoa is a grain, it's actually a seed that provides protein and fiber and is low in fat and gluten-free. This easy dish mixes fiber-rich quinoa with high-protein shrimp resulting in a wholesome and light, yet flavorful paleo dinner. The perfectly seasoned shrimp and quinoa make for a tasty meal without being too heavy on spices and flavors but heavy enough to keep you from snacking for a few hours after eating.
47. Easy garlic lime skirt steak & veggies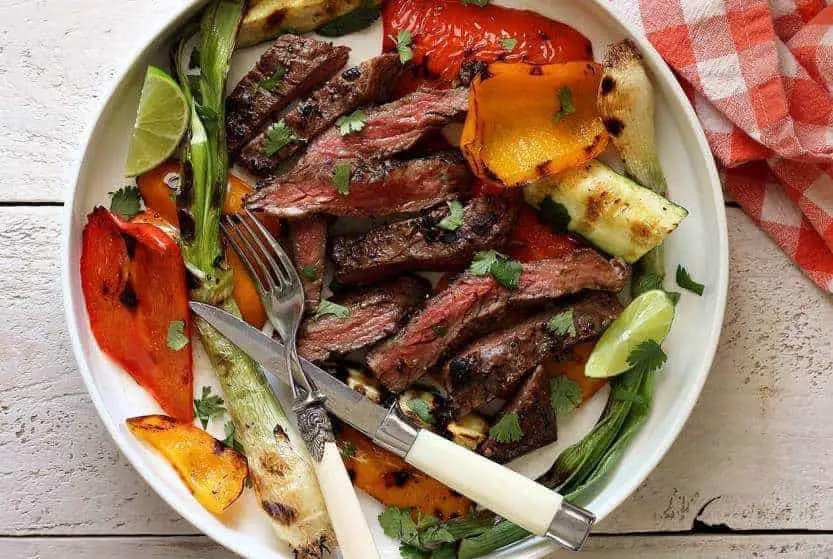 Don't be put off by the use of skirt steak in this recipe. Although usually a tougher cut of meat, it's rather more flavorful than traditional steak cuts like filet mignon and let's also bring up the fact that it's normally much less expensive, as well. It's not often skirt steak is served on its own; it's usually made into fajitas or tacos due to its tough texture. To help tenderize this cut of meat, letting the steak rest in the savory marinade for a few hours is crucial (and quite scrumptious to boot!
48. Grilled flank steak with avocado chimichurri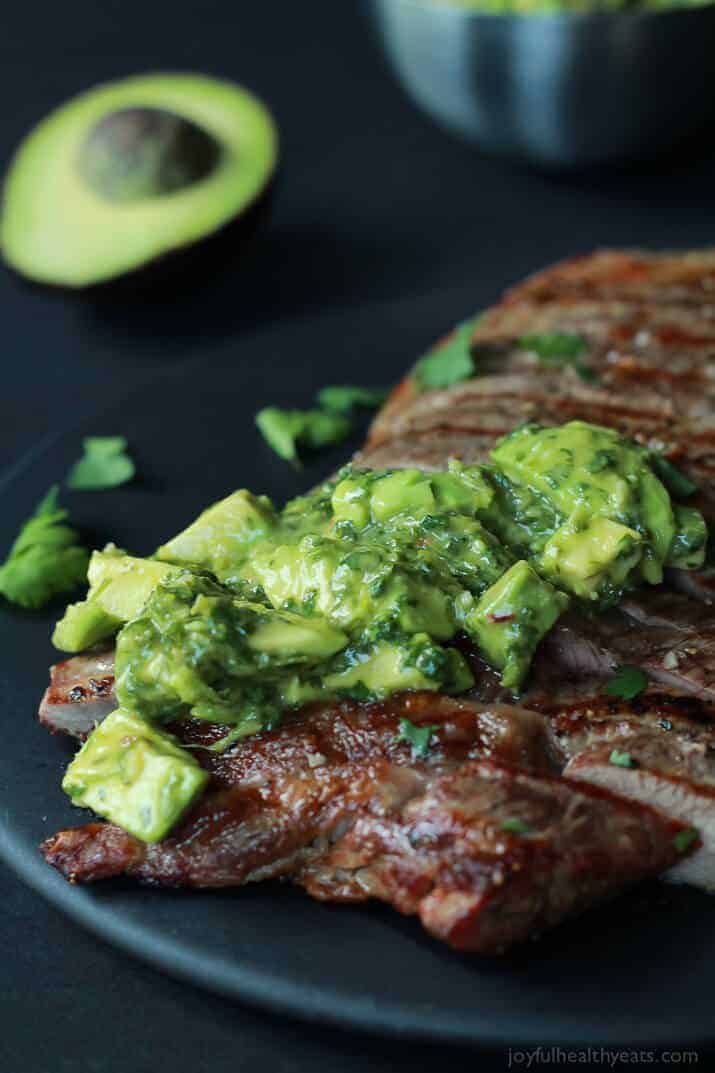 There's nothing more delicious on a hot summer day than a juicy grilled steak. The bold flavor of this simply seasoned flank steak is enhanced by the delectable creamy avocado chimichurri dolloped in heaps atop it. The best part is, preparation and cooking time will only set you back about 20 minutes. Who says you have to slave over dinner for hours in order for it to be scrumptious?
49. Spicy shrimp with cauliflower mash and garlic kale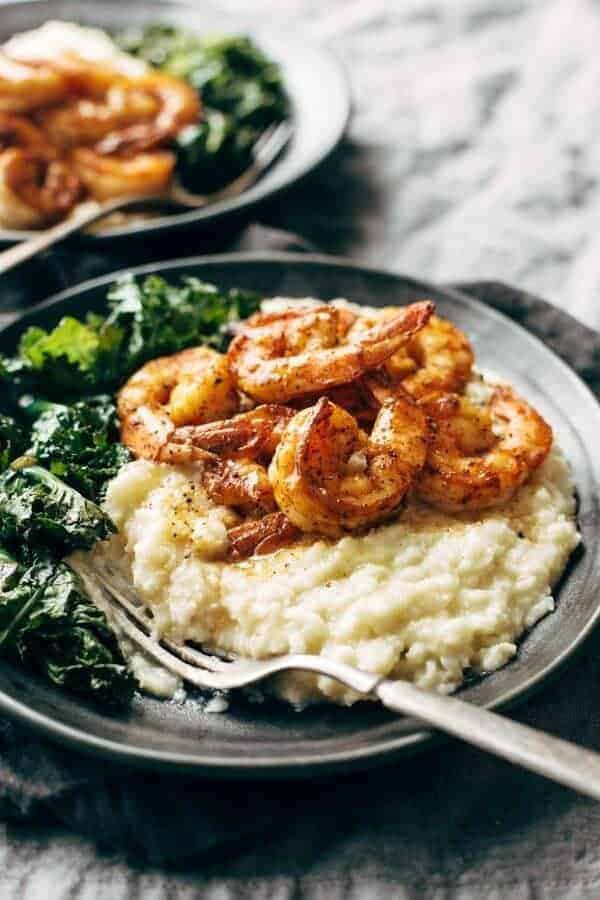 If you're looking to impress your house guests at your next event, you need to whip out this recipe. Delectable from start to finish, this meal is one of the tastiest paleo dinner recipes around, while being relatively easy to pull off. The roasted kale is made with a small amount of bacon grease to rev up flavor and cut down on bitterness. The cauliflower is mashed with white beans to give it a creamy and more palatable texture and the shrimp are just the icing on the cake. The sautéed shrimp are the perfect blend of spices and juicy perfection.
50. Chipotle lime carnitas salad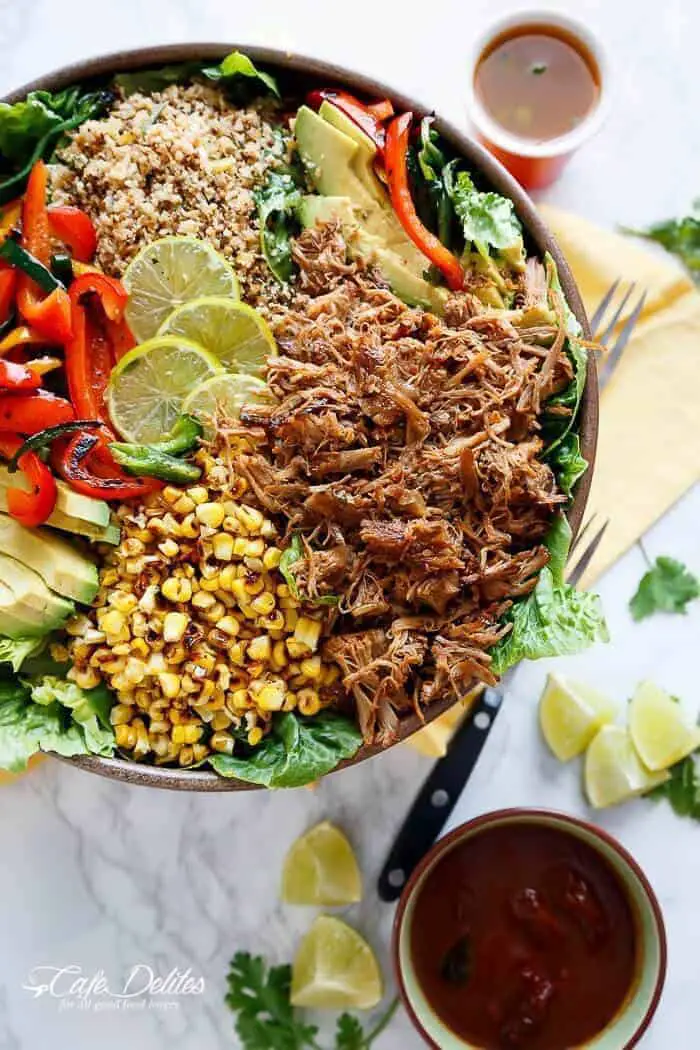 With all of the ingredients in this salad, it'd be more apt to call it a food bank than a salad. This monster of a salad is more like a burrito bowl and great for days when you're hungering for something nutritious while also looking for something outrageously filling. Filled to the brim with colorful vegetables, rice (or substitute quinoa,) avocados and hearty shredded pork or chicken, you'll be full for days with this gigantic meal. Try our paleo pizza recipes if you aren't just in the mood for cooking.