Breakfast often gets a lot of hype as the most important meal of the day, but anyone looking to eat healthier shouldn't discount the importance of lunch. It is all too common for people to make poor choices at lunch, picking up high-fat fast food or carb-heavy options like hearty sandwiches or pasta. Of course, this will give you a quick boost of energy but you'll soon hit the mid-afternoon slump and then turn to the junk food in the vending machines. This terrible cycle has to be broken!
Whether you're following a strict low-carb diet or simply want to limit the number of refined carbohydrates you're eating, it's smart to plan a healthy, low-carb lunch. Revolving your lunches around something other than carbs will actually make you feel fuller for longer after you eat. So, eating a low carb lunch means that you won't be hungry an hour later and start snacking on junk foods. A healthy lunch leads to healthy eating for the rest of the day!
Sometimes it can be challenging to eat a healthy low carb lunch. It is so easy to reach for a slice of pizza or order that take out burger but that is a habit that you need to break! The key here is preparation. Rather than just grabbing any food you can at lunchtime in the middle of a hectic day, plan ahead and pack a healthy low carb lunch to bring with you to work or just to have on hand at home. Then, when you are hungry in the middle of the day, there it is! You're perfect, delicious, healthy low carb lunch, ready and waiting for you!
Once you are mentally ready and committed to eating healthy low carb lunches, it is time to plan. It is a good idea to prepare your food the night before when you are just relaxing at home, thinking about living and eating wholesome foods. While you can definitely make your food in the morning, that time can be rushed and hectic as you are scrambling to get out the door on time. So the night before- plan! You can even make your food in big batches at the beginning of the week. This means only cooking once! Now that is ideal- one day of low carb meal prepping and you will be eating healthy, tasty foods all week! Now you are getting the hang of healthy low carb lunch planning!
One more thing to keep in mind now that you are thinking about all the low carb lunches you will be making-don't make the mistake of thinking that eating low-carb means eating nothing but meat. That is definitely not the case! We've prepared a wide selection of meals that will tantalize your taste buds and provide you with the energy you need to make it through to dinner. Time to take a look at all the delicious low carb lunch options you can easily add to your daily routine. Where to begin….
Don't Go Hungry – Fuel Your Body with these 50 Low Carb Lunch Ideas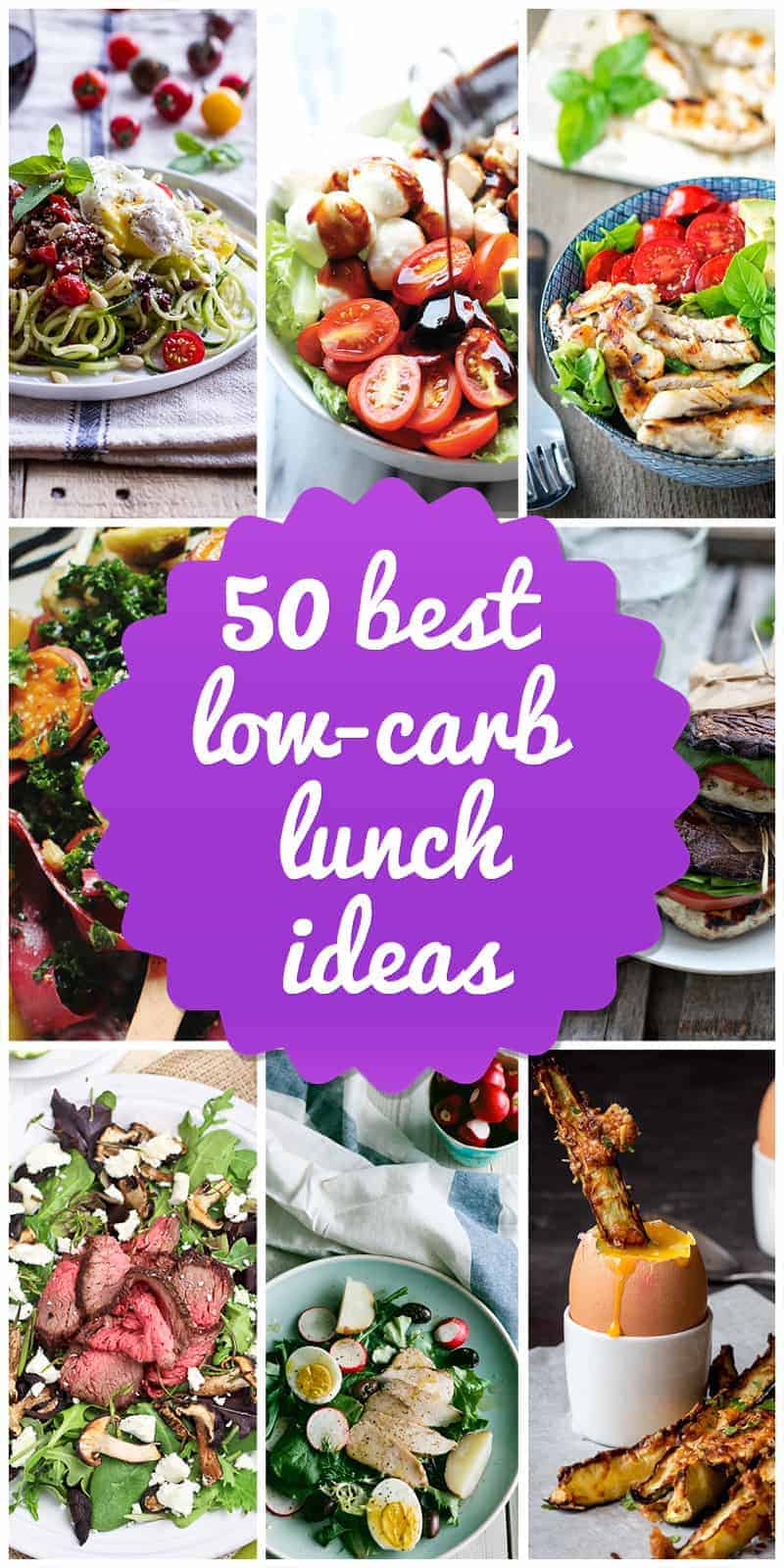 Related: See all our yummy low carb recipes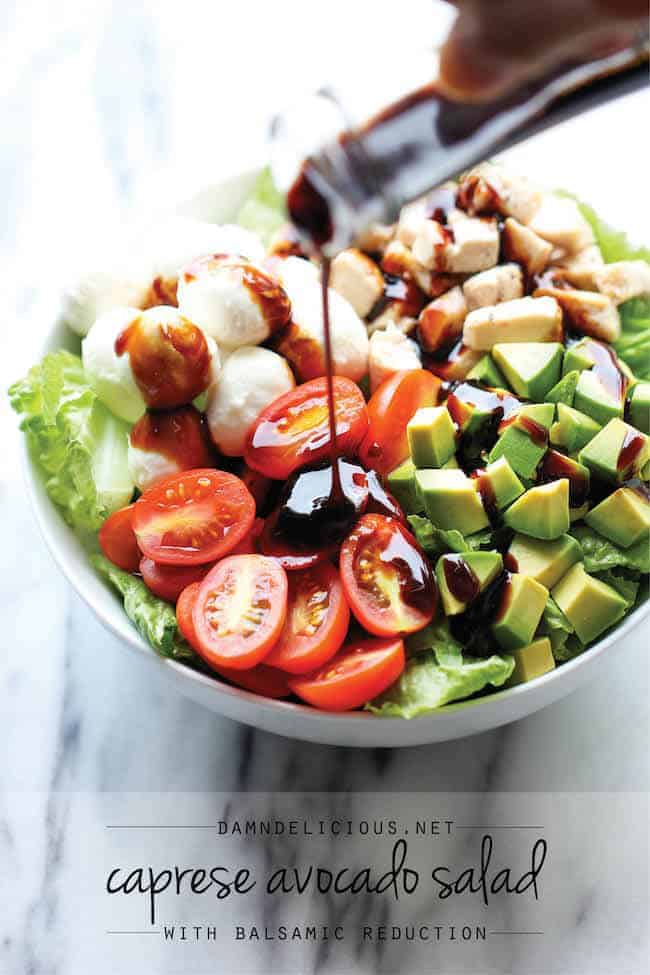 What can go wrong when you combine tomatoes, mozzarella and avocados? The diced chicken included in this delicious salad makes it hearty enough to call a meal but the balsamic dressing makes it feel a lot lighter than something with a heavy dressing. You won't miss that creaminess when you have delicious avocado which adds plenty of the "good fats" to the meal. This meal works best when you're eating at home, but if you want to take it on-the-go, toss the avocado with a bit of lemon juice to avoid browning and keep the dressing separate until you're ready to eat. Read our guide on how to make your own BBQ sauce for this.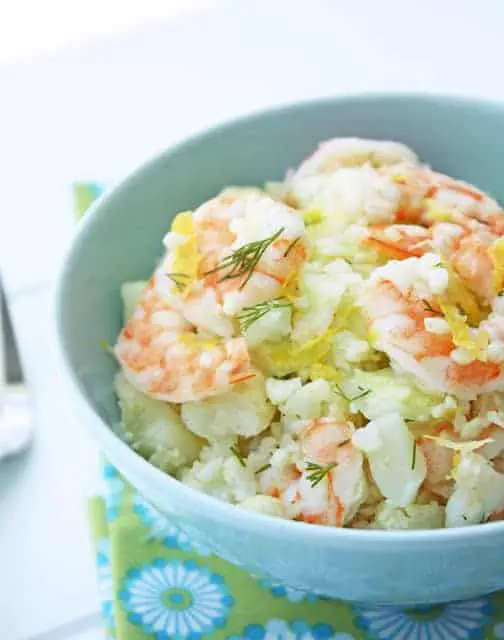 Pasta is high in carbohydrates and can make you feel sluggish soon after you eat. This unique shrimp salad uses finely chopped and lightly cooked cauliflower in place off the pasta that you might normally use in a lunchtime salad. Shrimp adds protein to the meal to keep you feeling full. Since cauliflower is so low in calories, you can eat as much of this salad as you want without feeling any of the guilt you'd feel over eating copious amounts of pasta salad!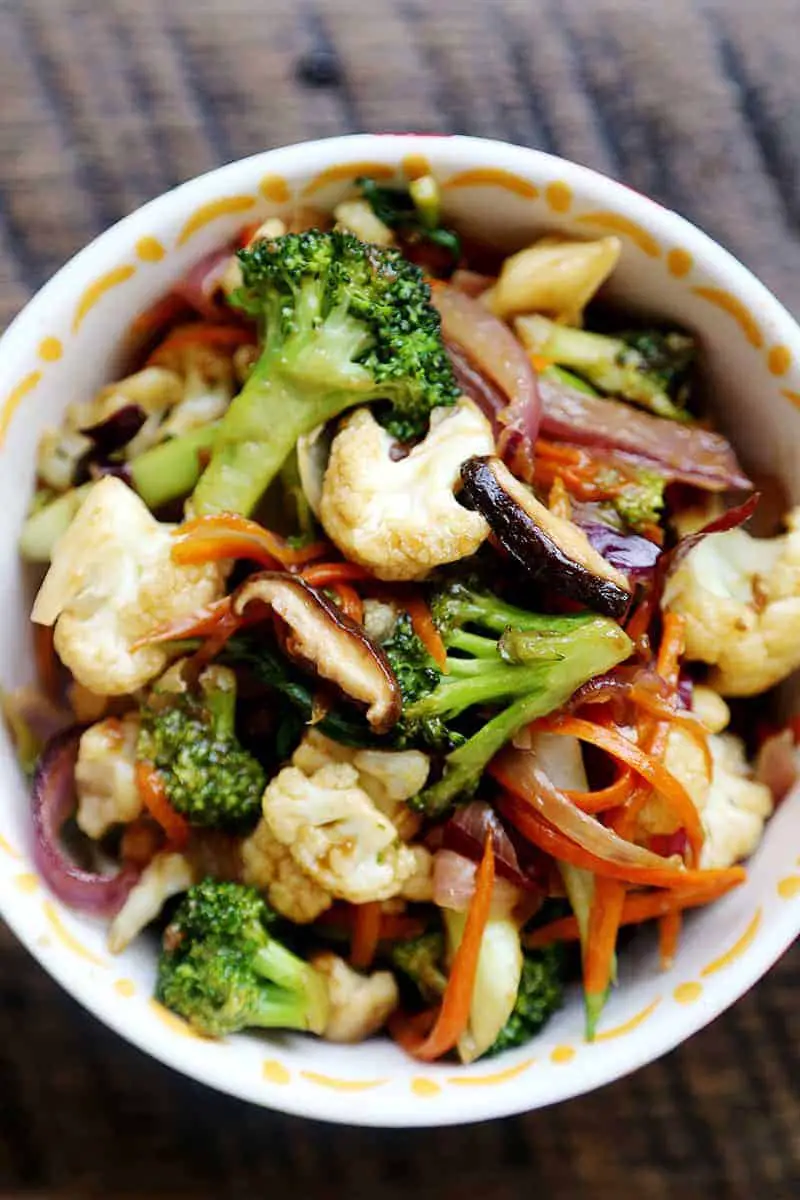 If you're craving Chinese food, but don't want all the fat and calories that come in the typical take-out box, you'll be surprised how easy it can be to make this yourself. This version uses healthy ingredients along with a secret ingredient. Can you guess what it is? Cornstarch! Cornstarch helps to thicken up the sauce to the right consistency making it just like that take out you crave. With such a large helping of vegetables, you'll definitely feel full and in a good way! Keep this dish low-carb by eating it on its own, serving alongside "rice" made from cauliflower (you have to try this if you never have!) or with "noodles" made from zucchini.
4. 15-Minute Zucchini Pasta with Poached Eggs and Quick Heirloom Cherry Tomato Basil Sauce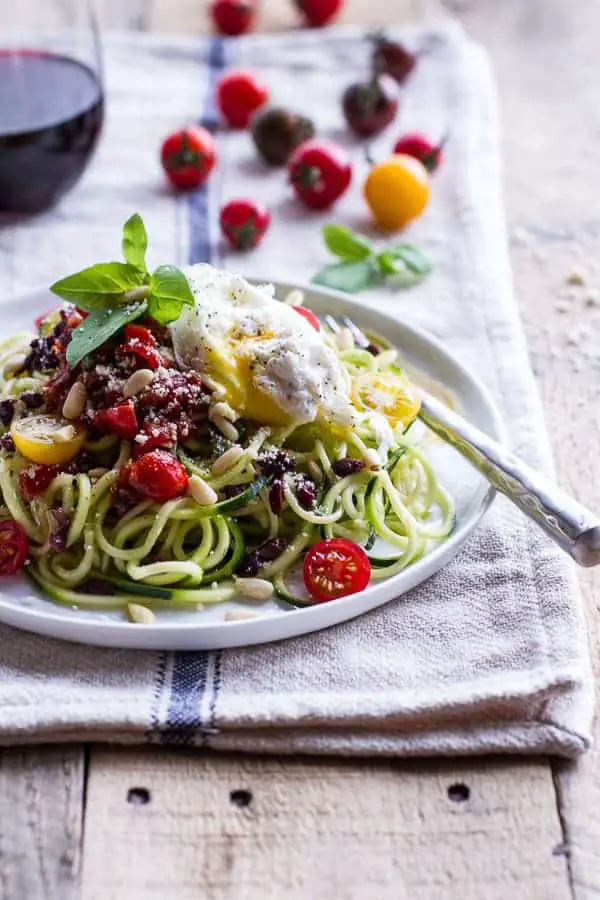 If you're looking for a way to make use of all the amazing summer vegetables in your garden or from the local farmer's market, look no further than this simple dish. Although the recipe here calls for a mixture of pasta and spiralized zucchini, you can make it low-carb by leaving out the pasta completely and increasing the amount of zucchini you use- more zucchini and less carbs! The sauce has a delightful summer taste that is going to have you licking your plate clean for sure. By adding a poached egg to the dish, it increases the amount of protein you get in a serving however you can skip this step (bye egg!) and make this meal vegan-friendly.
5. California Turkey and Bacon Lettuce Wraps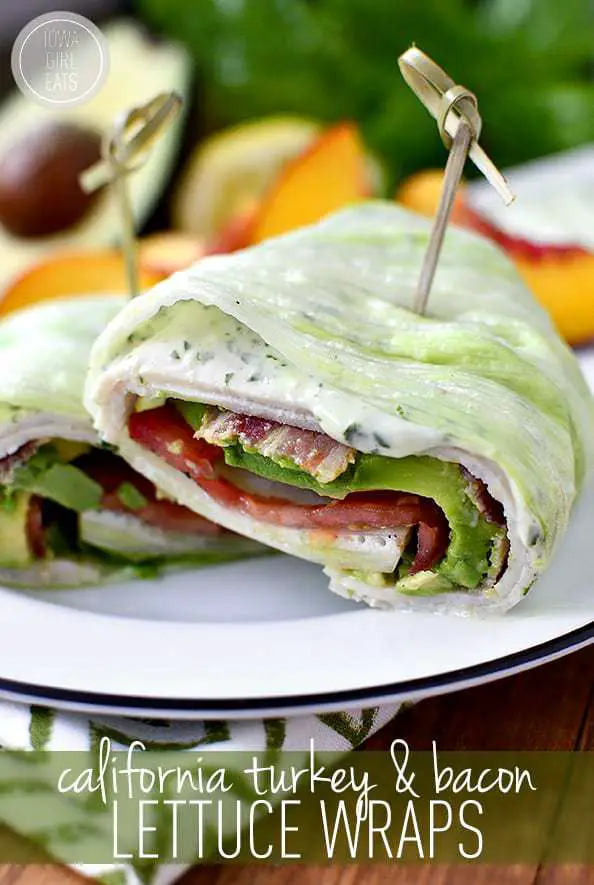 When it is lunchtime and you know that you should be eating carb free but you just really need a sandwich, make this wrap. With a basil-mayonnaise dressing, your mouth will be so tantalized that you won't even miss the bread. Carefully layer all of the ingredients together and then roll the wrap up to make a perfect, no carb sandwich
6. Shawarma Chicken Bowls with Basil-Lemon Vinaigrette
If a salad doesn't seem like a hearty enough low-carb lunch, opt for this chicken bowl instead. It has all of the ingredients you'd typically want in a salad – lettuce, tomatoes, avocado – but the quantity of chicken is raise. Basil-lemon vinaigrette gives the dish an unexpected and unique flavor while the chicken provides lots of protein. The healthy serving of veggies provide the fiber your body needs. Serve the chicken warm on a bed of cold vegetables for an interesting twist on this dish.
7. Portabella and Halloumi "Burgers"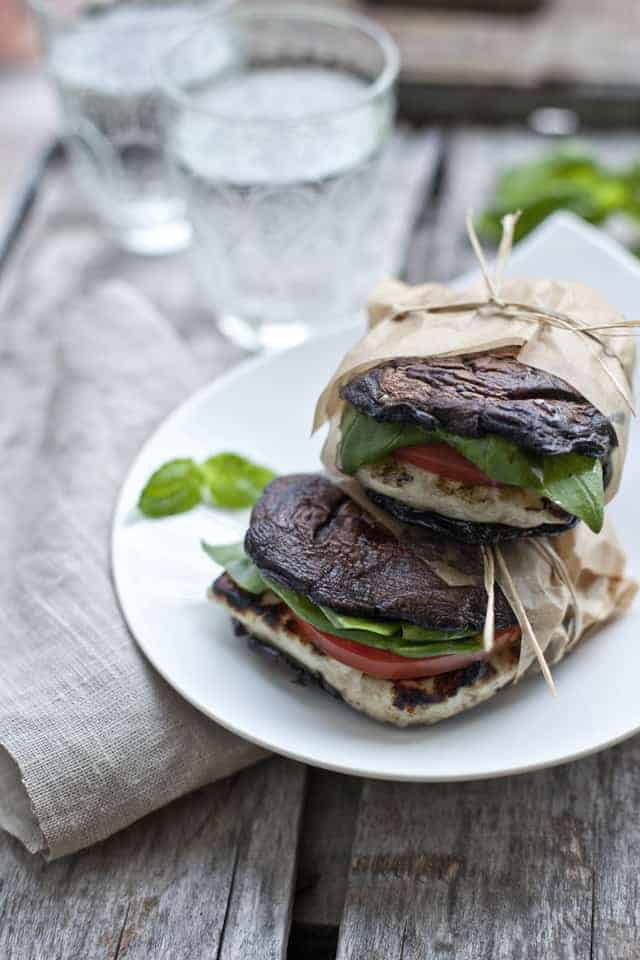 Many low-carb lunch recipes rely on a hefty serving of meat or a lot of vegetarian recipes that try to emulate the taste of meat. This recipe idea turns all of those ideas upside down. Thanks to its meaty texture, portabella mushrooms often take the place of hamburgers in a vegetarian burger. However, this recipe uses the mushroom as the bun rather than as the meat. With the halloumi cheese and tomatoes inbetween the mushrooms, you've got a great tasting "burger". Consider eating it with a fork, though, as it's bound to get a little bit messy!
8. Oh My Gosh, Spaghetti Squash
Spaghetti squash is a staple food for those who follow a low-carb lifestyle and we know why. It's delicious, packed with vitamins and does a decent job emulating the texture of pasta. Oh, and it is super easy to make. Spaghetti squash is good enough to eat roasted on its own, but, when prepared like in this recipe, you'll feel like royalty dining on something sinful. Kale adds vitamins and minerals while the chickpeas add protein. With a garlicky sauce and the shaved cheese on top, you're in for a delightful treat.
9. Crispy Peanut Tofu & Cauliflower Rice Stir Fry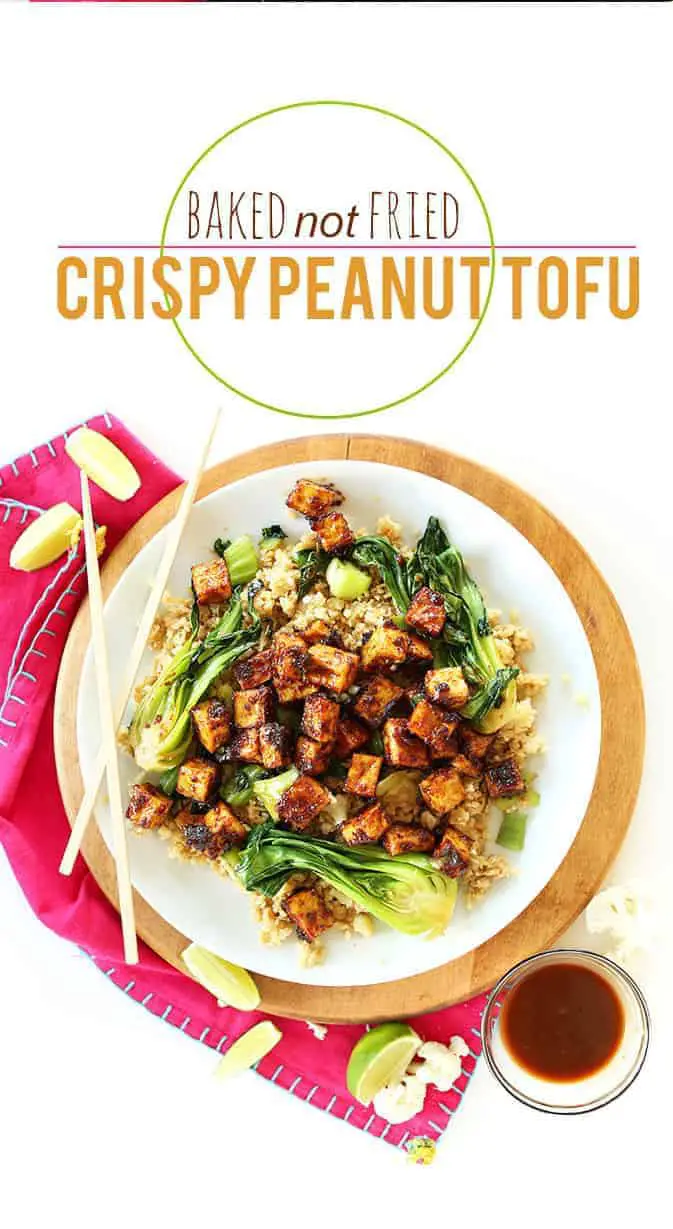 The key to making this carb-free lunch perfect is to pre-bake the tofu before adding it to the pan. This little trick helps give the tofu that crunchy-on-the-outside-creamy-on-the-inside feel that you really want. The Thai peanut sauce is the perfect compliment to tofu cooked this way and you'll love that the cauliflower rice makes it uber-healthy.
10. Chicken and Asparagus Lemon Stir Fry
The flavors of chicken and lemon just seem to go together, which is readily apparent in low-carb lunch recipes like this one. Stir-frying the asparagus until just crisp gives it that rich, smoky flavor, and the sauce will thicken up with corn starch to perfectly coat the chicken and veggies. Eat this on its own or on top of cauliflower rice. You could also eat this as a wrap using a large lettuce leaf or a store-bought low carb tortilla. Yum!
More low-carb lunch ideas on the next page…