41. Strawberry Milkshake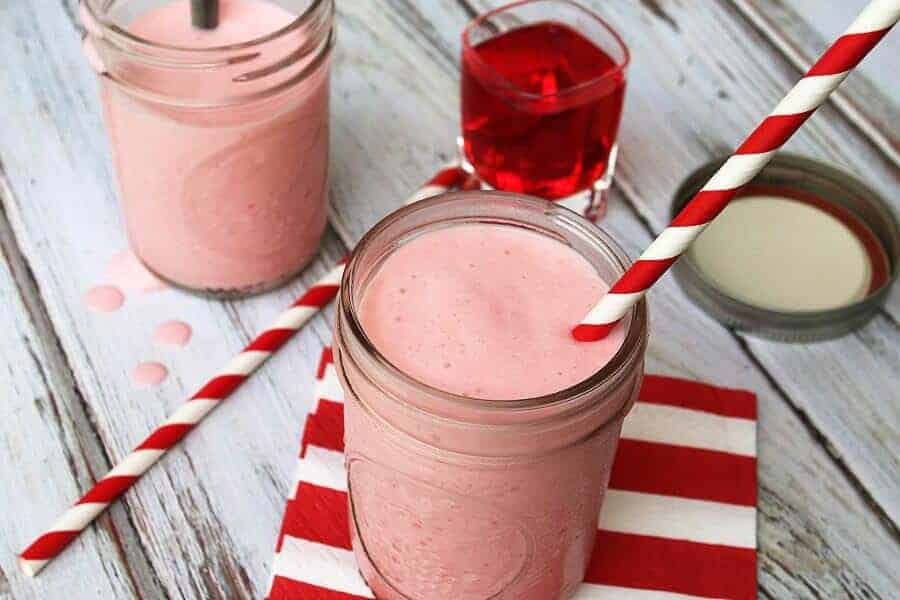 Do you remember Strawberry Quick as a kid?  It is a heavily sweetened, strawberry flavored powder that can instantly turn your plain milk into a glass of pink wonderfulness to go along with those horrible canned vegetables, frozen fish sticks, and boxed mashed potatoes. In its heyday, it was a child's delight, though probably loaded with sugar and not very nutritious. Do you sometimes wish smoothies could be this easy to make. This strawberry milkshake takes the work out of a low-carb smoothie recipe by using Strawberry Torani for the fruit flavor (which is also so easy to use). This is strawberry syrup that contains zero sugar, zero carbs, and zero calories. Not sure how that can be, but it is true and quite amazing.
42. Blueberry-Vanilla-Yogurt Protein Shake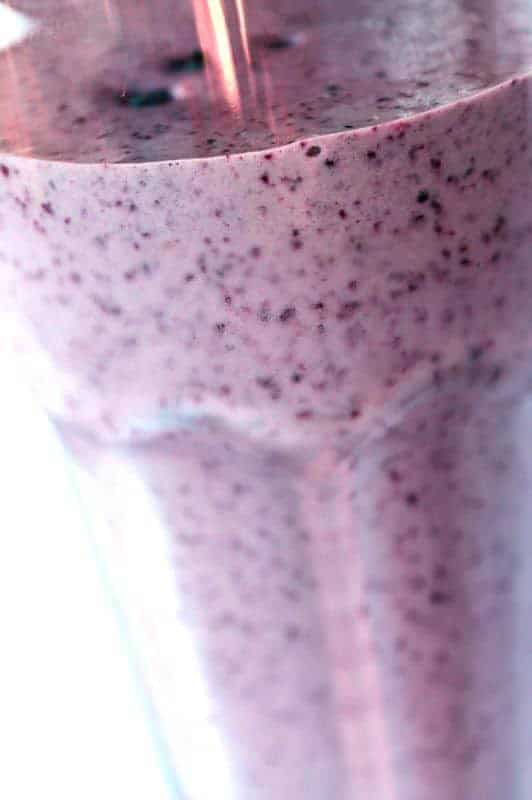 Sometimes the best drinks to include in a smoothie diet are the simplest ones. The Blueberry-Vanilla-Yogurt Protein Shake uses a simple recipe that relies on frozen blueberries, vanilla zero carb whey protein, heavy whipping cream and Greek yogurt. This not only delivers a healthy dose of calcium and protein, it also delivers all of the weight loss benefits of blueberries, making this a great fat burning drink. With only 455 calories and 10.5 net carbs, this creamy drink is a great fast lunch.
43. Healthy Almond Joy Milkshake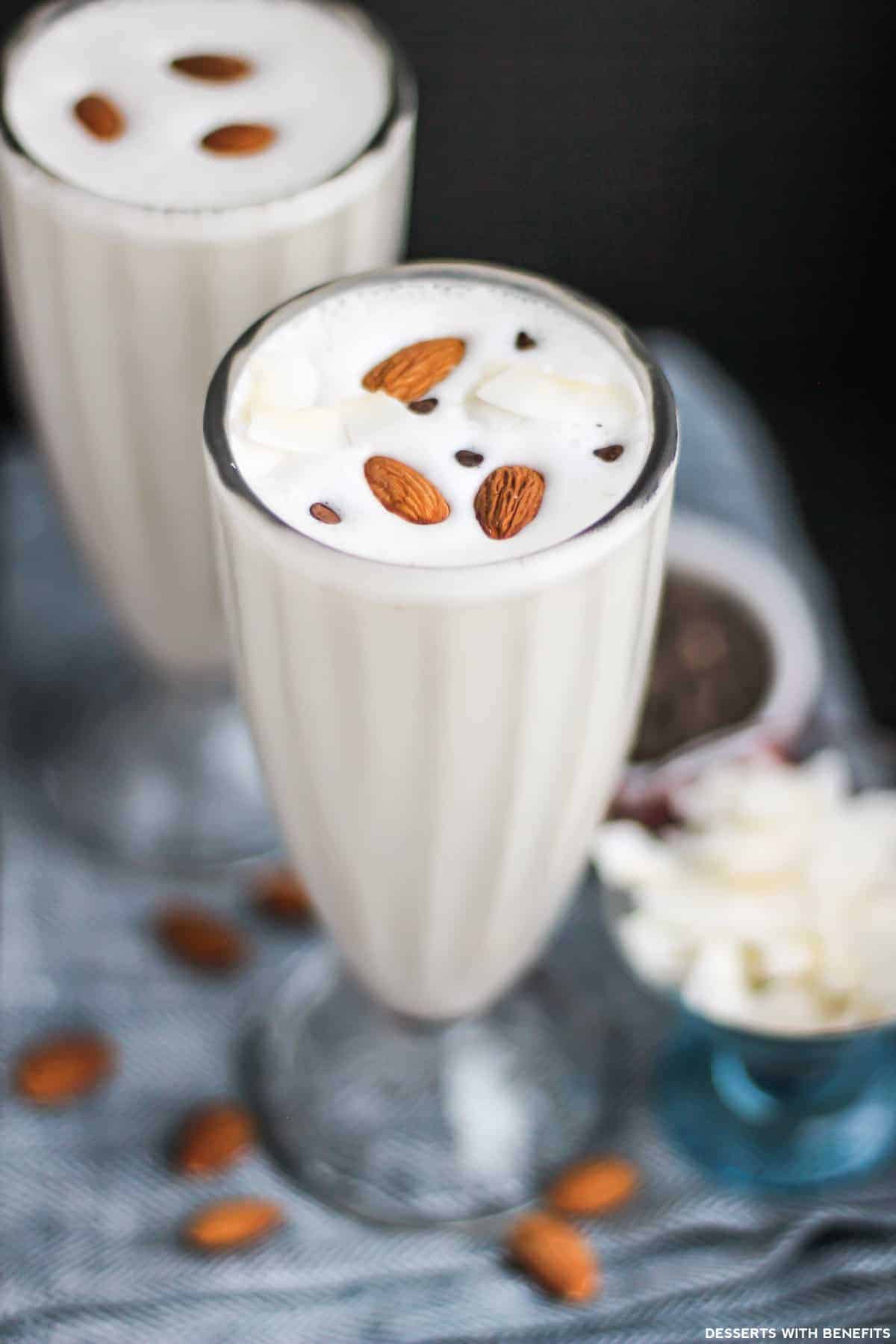 Looking for a healthy dessert while sticking to your smoothie diet? The Healthy Almond Joy Milkshake is a great choice because it is sweet without all the sugar or artificial flavors. Coconut-flavored stevia, semi-sweet chocolate chips, vanilla extract and almond milk can easily trick you into thinking you are drinking a candy bar while staying low carb! Add in some nonfat Greek yogurt, psyllium husk powder and natural almond butter for extra calcium and protein to get a diet-friendly drink packed with nutrients.
44. Cinnamon Roll Smoothie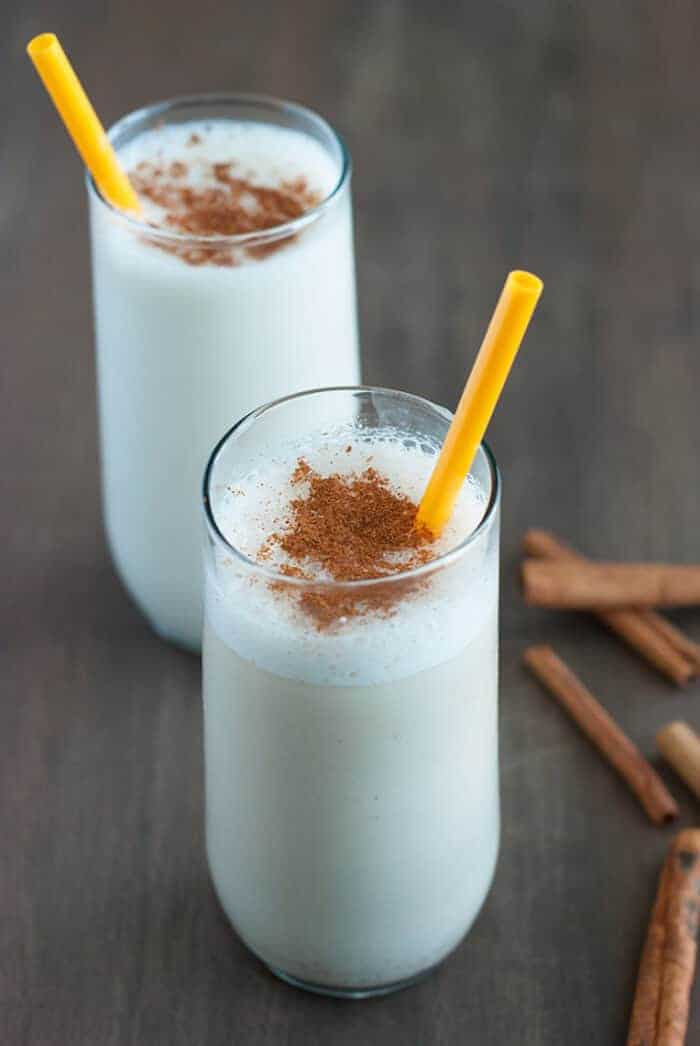 Ok, this one had me at hello. You can just smell cinnamon rolls baking in a hot oven when you read the title. This should be a standard weekend breakfast smoothie. It is scented and flavored with cinnamon and vanilla. Flax meal gives it the body it needs to fill you up and the fiber for digestive regularity. The only thing missing is the carbs! This is going to be one of your new favorites for sure.
45. Mango Coconut Smoothie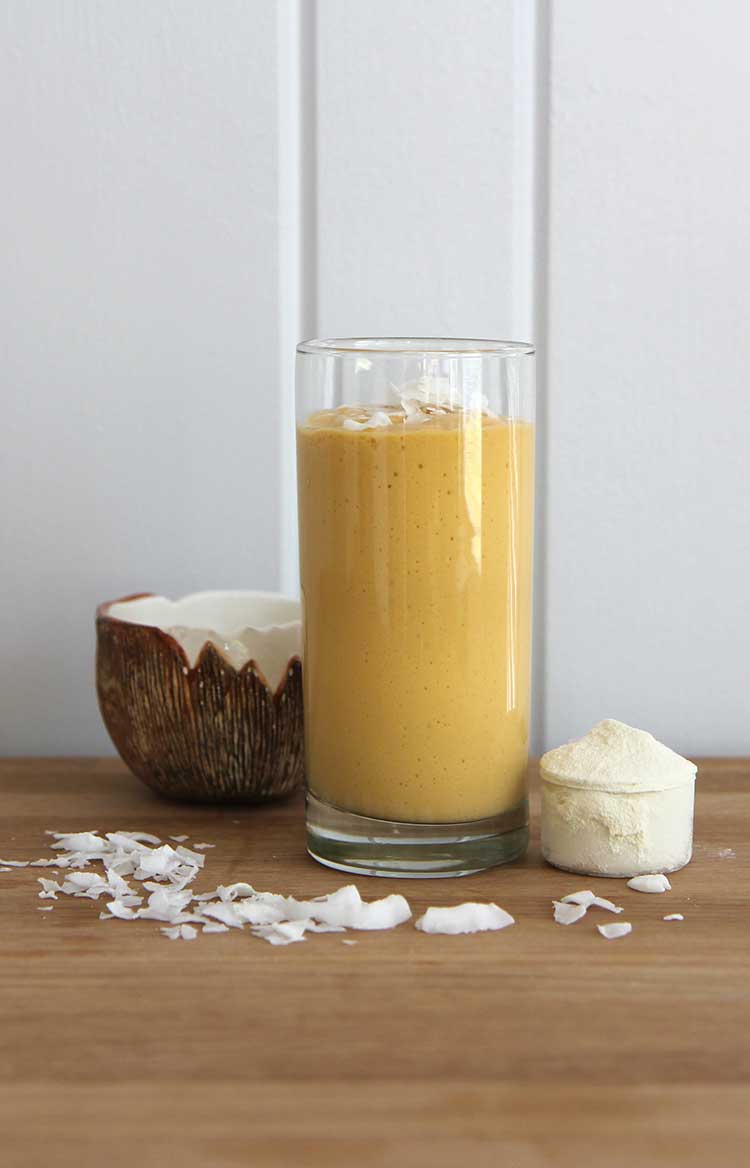 Looking for a timeless low-carb smoothie that can keep you full all morning? The Mango Coconut Smoothie is a great addition to any smoothie diet because it is thick, filling and tastes great. Loaded with Vitamin A, C and B-6, mangos are one of the best ways to start the day. Coconut helps add to the value of this healthy smoothie by boosting metabolism and increasing good cholesterol. Enjoy with a scoop of vanilla protein powder and hemp or flax seeds to get even more benefits from this creamy tropical smoothie. Make sure to make a big batch as everyone will want a glass of this.
46. Three-Ingredient Blueberry Mint Frozen Yogurt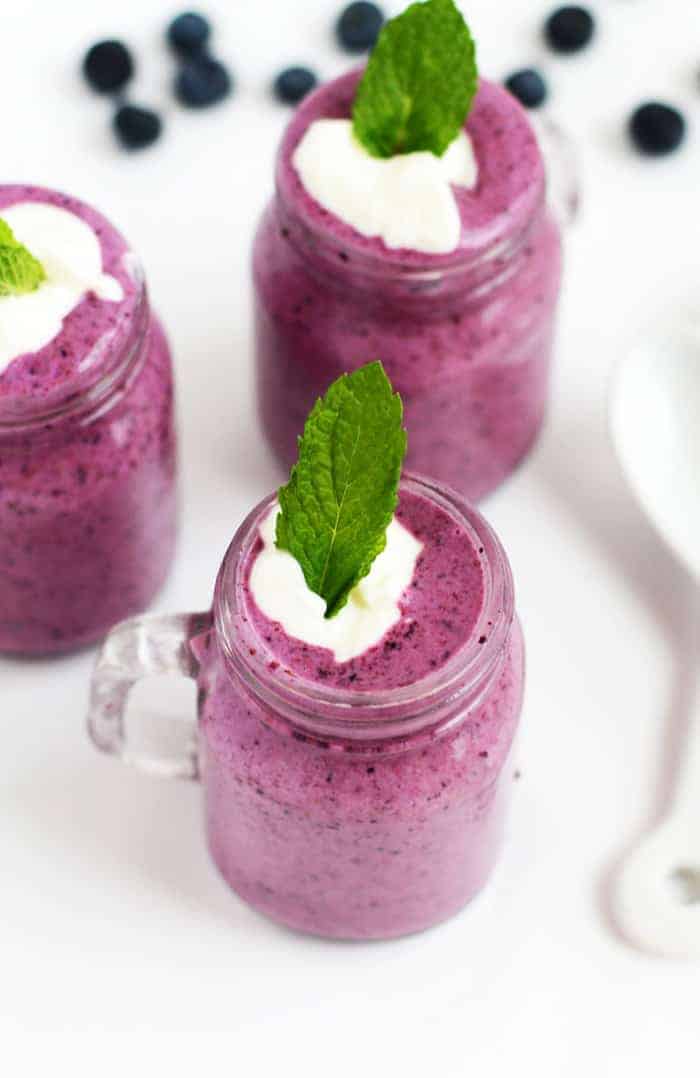 While this isn't necessarily a smoothie, the Three-Ingredient Blueberry Mint Frozen Yogurt is a starting point in many drink recipes. This yogurt is perfect for those on a low-carb diet looking for a simple alternative to ice cream or a base for their new favorite drink. Natural sweetness from the blueberry helps curb sugar cravings and the mint helps promote digestion. Just combine frozen blueberries, vanilla Greek yogurt and fresh mint for a delicious post-workout treat that anyone can appreciate.
47. Minty Green Protein Smoothie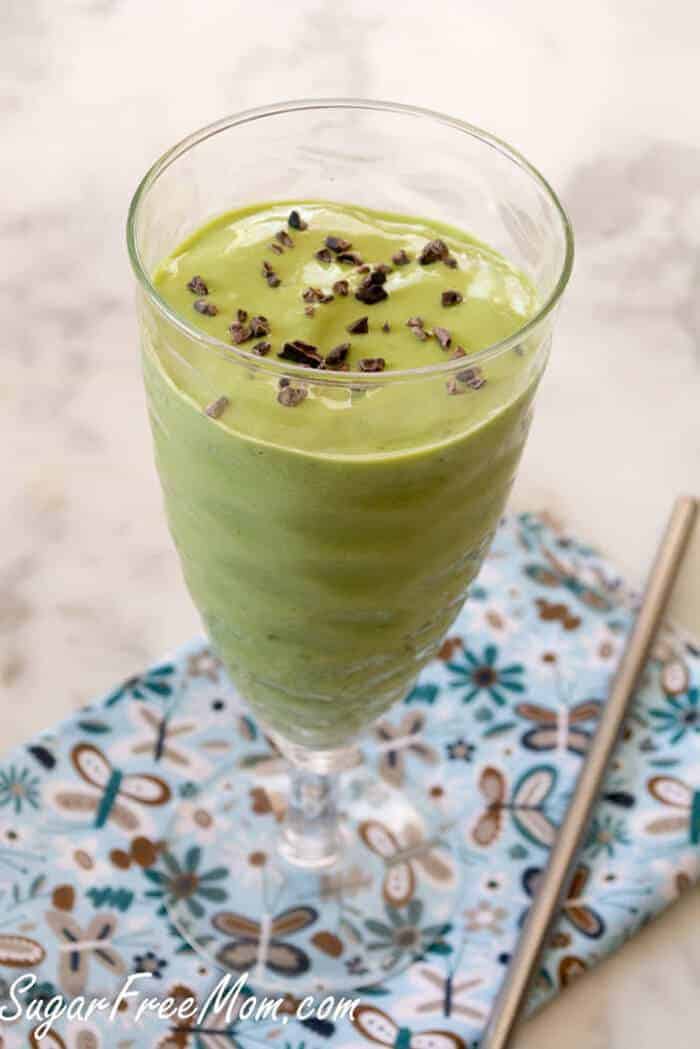 Green low-carb smoothie recipes sometimes get a bad rap for falling flat on flavor. They can't be overlooked for their nutritional value. Healthy fat from avocados, calcium from spinach, and powerful antimicrobial properties from herbal essential oils and extracts are necessary in our keto diets. It can't all be about dairy fat and sugary fruit. The Minty Green Smoothie is completely dairy and sugar free. If you just can't live without some sweetness, add a little Stevia or dark chocolate.
48. Protein Frosty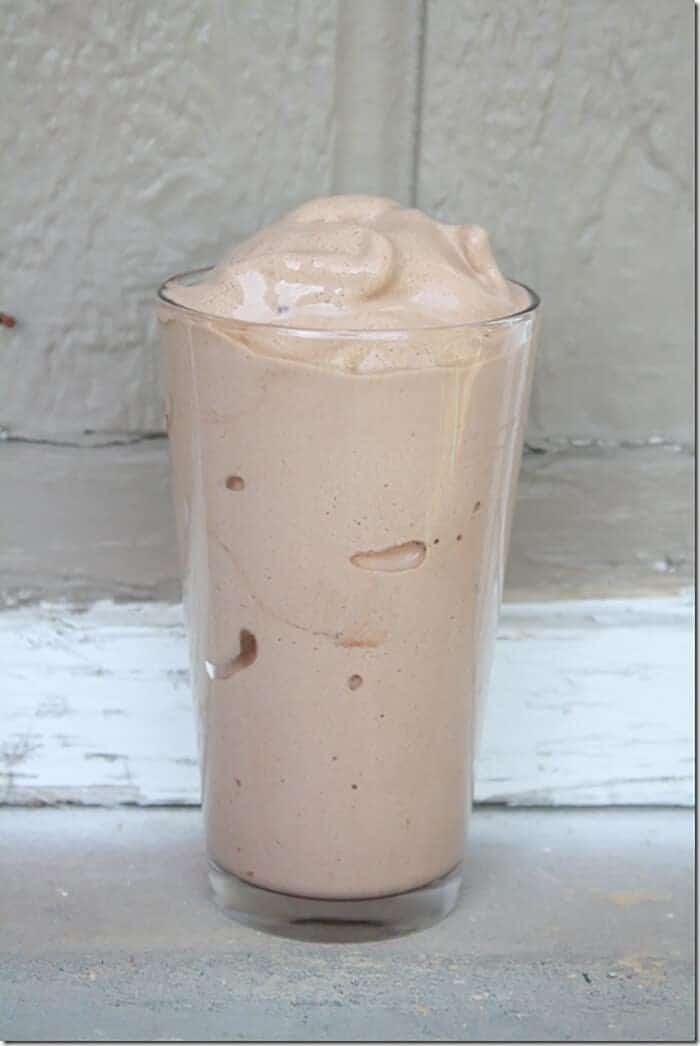 As with all good endings, we might as well close with chocolate. Here is a frosty smoothie that tastes just like a frozen chocolate shake. Almond milk and protein powder are the base. It is thickened with culinary gums, which you could substitute with flax meal if you aren't a fan or can't find it in your local store. It is flavored with real cocoa powder and your sweetener of choice. Toss in some ice before you blend it to make it thick and cold, grab a straw, and you have a thick shake for an on-the-road breakfast or snack.
49. Skinny Oreo Milkshake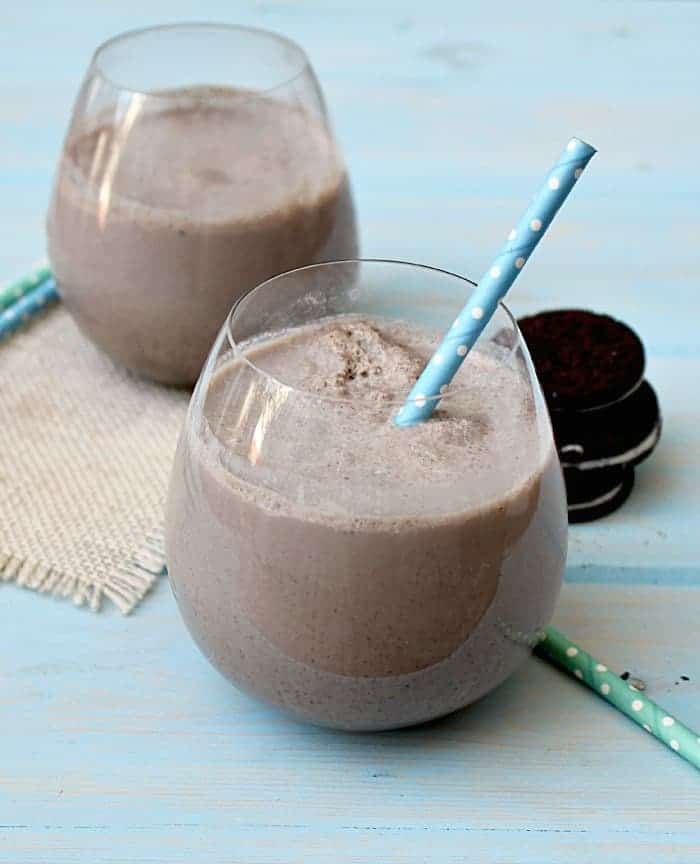 Shakes and cookies are often one of the hardest things to cut out of a diet. The Skinny Oreo Milkshake makes things a little easier by combining a few of our favorite cookies with protein-packed skim milk and fat-free cottage cheese. Unlike the other healthy smoothie recipes available, the Skinny Oreo Milkshake is best enjoyed after it is chilled for an hour or more. It is a great choice for after dinner and perfect for those who are always tempted by a full package of cookies- just reach for a smoothie instead and avoid all that cookie guilt. Just add a little truvia and vanilla extract for an extra-sweet treat.
50. Mixed Berry Nutty Coconut Crunch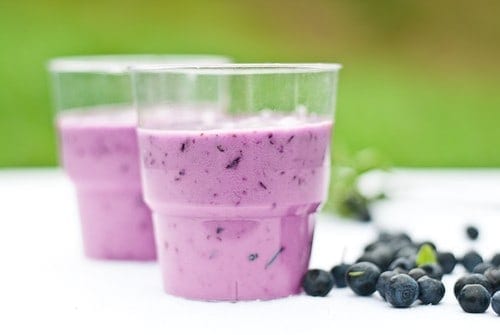 When it comes to choosing meal replacement shakes for a low-carb diet, the Mixed Berry Nutty Coconut Crunch is a must. With a rich flavor and crunchy texture, it is easy to fill up on this delicious shake. As you can guess, the crunchiness comes from almonds and shredded coconut, and the blended frozen berries just add to the complexity of the drink. Loaded with fresh ingredients and bursting with nutrition, this appetite-curbing, protein-filled drink is easy to include in any diet plan. This one really is everything you may want in one cool glass. Try combine these healthy smoothies with some Paleo snacks and you are in for a treat.
Are you ready for healthy smoothies?
With dozens of low carb smoothies available, it is easy to find a healthy recipe that you like. Try experimenting with different recipes. Most of the ones included in this list of 50 have ingredients that can be easily supplemented. Try adding your favorite protein powder, sweetener, flaxseed meal, chia seeds or anything else that strikes your fancy. You will be surprised by some of the combinations you come up with and how nutritional they can be. Smoothies are so versatile and easy to work with that they are clearly a win for anyone on a low carb diet. With the help of these tasty smoothies, you never have to worry about your diet being boring.
If you love this blog and you are in need of a platform to showcase your kitchen artistry check out our post on how to create a WordPress blog with Bluehost.