41. Homemade Protein Bar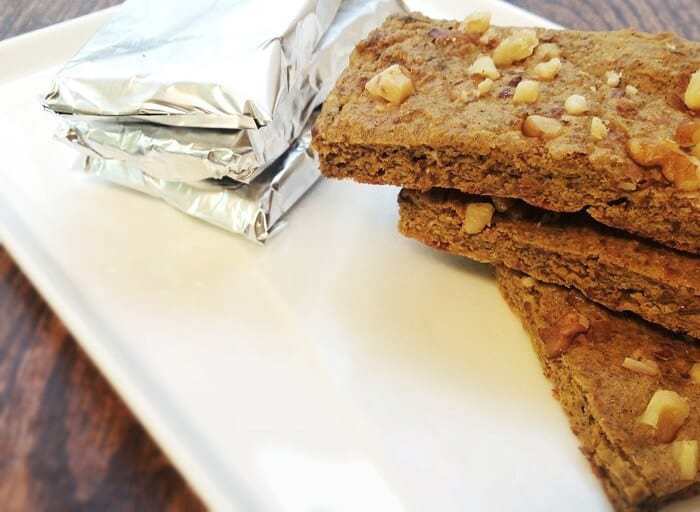 Move over, nut butter—pumpkin just landed on the low-carb protein bars scene with this fabulous recipe that makes us wish it was fall year-round. Egg whites, puréed pumpkin (canned is fine), cinnamon and spices come together in a winning combo to bring a little taste of autumn to your post-workout snacking. These bars require a bit of baking, but at 77 calories a pop, we think you'll find them worthwhile. We're DEFINITELY putting crushed pecans on top!
42. Paleo Mango Coconut Almond Protein Bars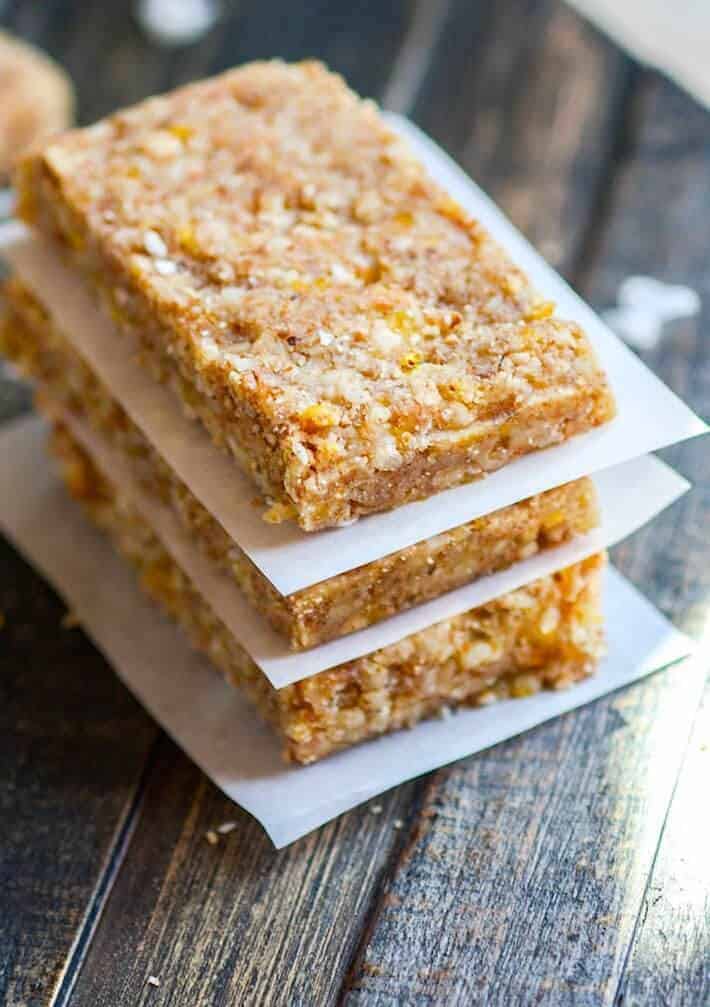 Take your taste buds to the tropics with the best of all mango and coconut low-carb protein bar recipes. These bars can be adapted with a variety of protein options, but the dried mango, coconut flakes and natural honey and maple syrup sweeteners ensure a delicious-tasting bar no matter what you choose as your protein base. Whip these up in 15 minutes with a sturdy food processor and easy pantry staples and watch them fly off the tray when you're finished cooling them in the fridge. We like ours with a 6-ounce serving of plain non-fat Greek yogurt for an on-the-go breakfast.
Related: Paleo white chocolate Granola Bar
43. Healthy Peanut Butter And Jelly Blondies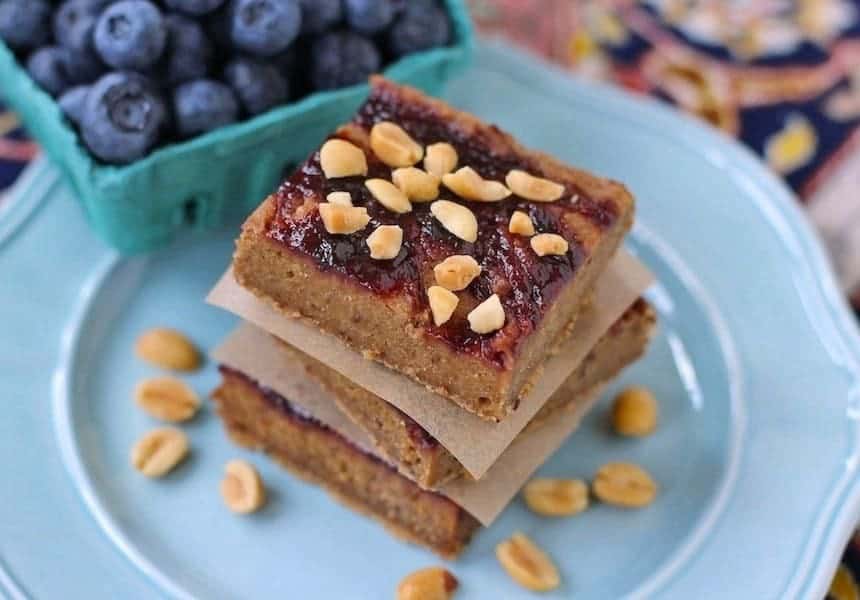 Reminiscent of childhood school days gone by, these blonde brownies invoke the taste of the classic lunchroom staple with a healthy helping of protein. The addition of flaxseed, peanut flour, oat flour, and vanilla sugar combine with any preservative of choice to create this twist on the old standby. It is the perfect low-carb protein bar for any child's lunch bag.
44. Chocolate Coconut Superfood Protein Bars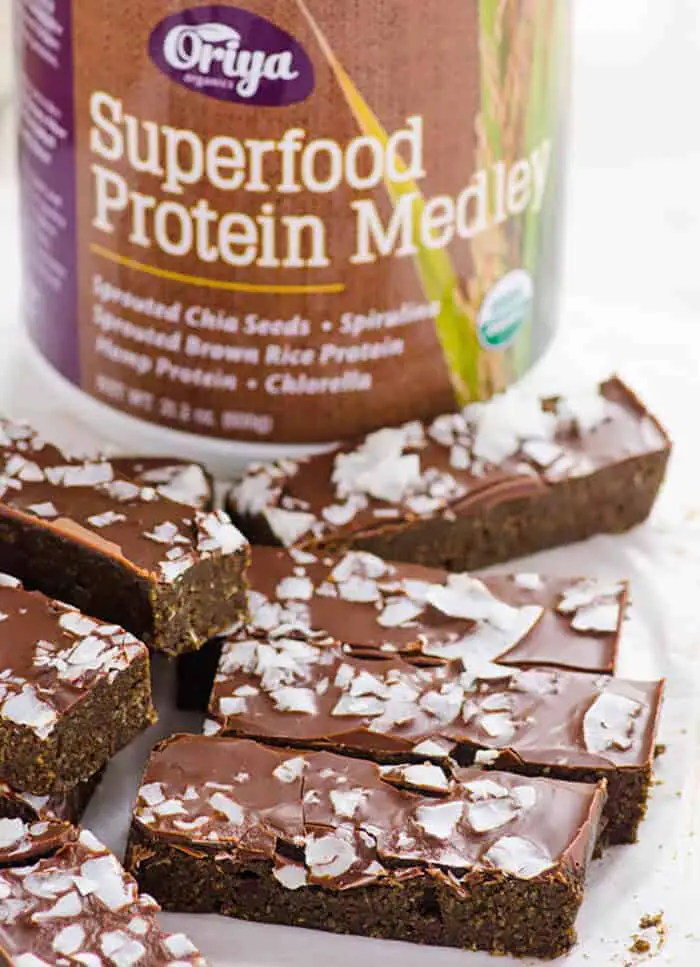 Get a double-dose of superfoods with one of the best of the low-carb protein bar recipes we've found. Medjool dates and Oriya Superfood Protein Medley
come together with coconut and chocolate to make a decadent bar that's packed with superfood goodness. These sweet, nutty bars really bring the coconut flavor to the table with coconut flakes, milk, and oil among the ingredients. This recipe calls for some simmering on the stove, but are no-bake once you put everything together. Bonus? They keep in the freezer for up to 6 months! We think that's worth a little effort on the burner.
45. Protein Bars – No-Bake And Baked Versions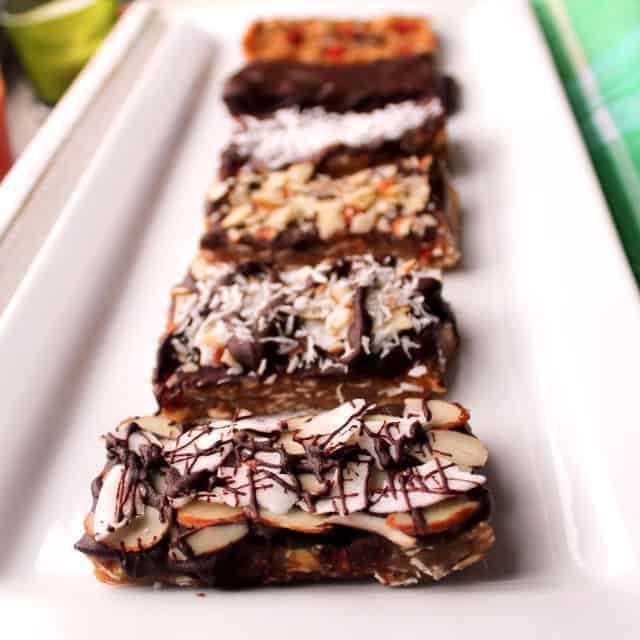 For this recipe, all the ingredients are items commonly sold in bulk, making these some of the most cost-effective low-carb protein bars. Flax powder, peanut butter, bananas, oats, almonds and coconut oil come together with some raisins and goji berries to make a natural, frugal, healthy snack that tastes like none of those things. This recipe makes both no-bake and bake versions, the no-bake requires refrigeration for a couple of hours while the bake version goes into the oven for about 20 minutes.
46. Healthy Millionaire's DIY Protein Bars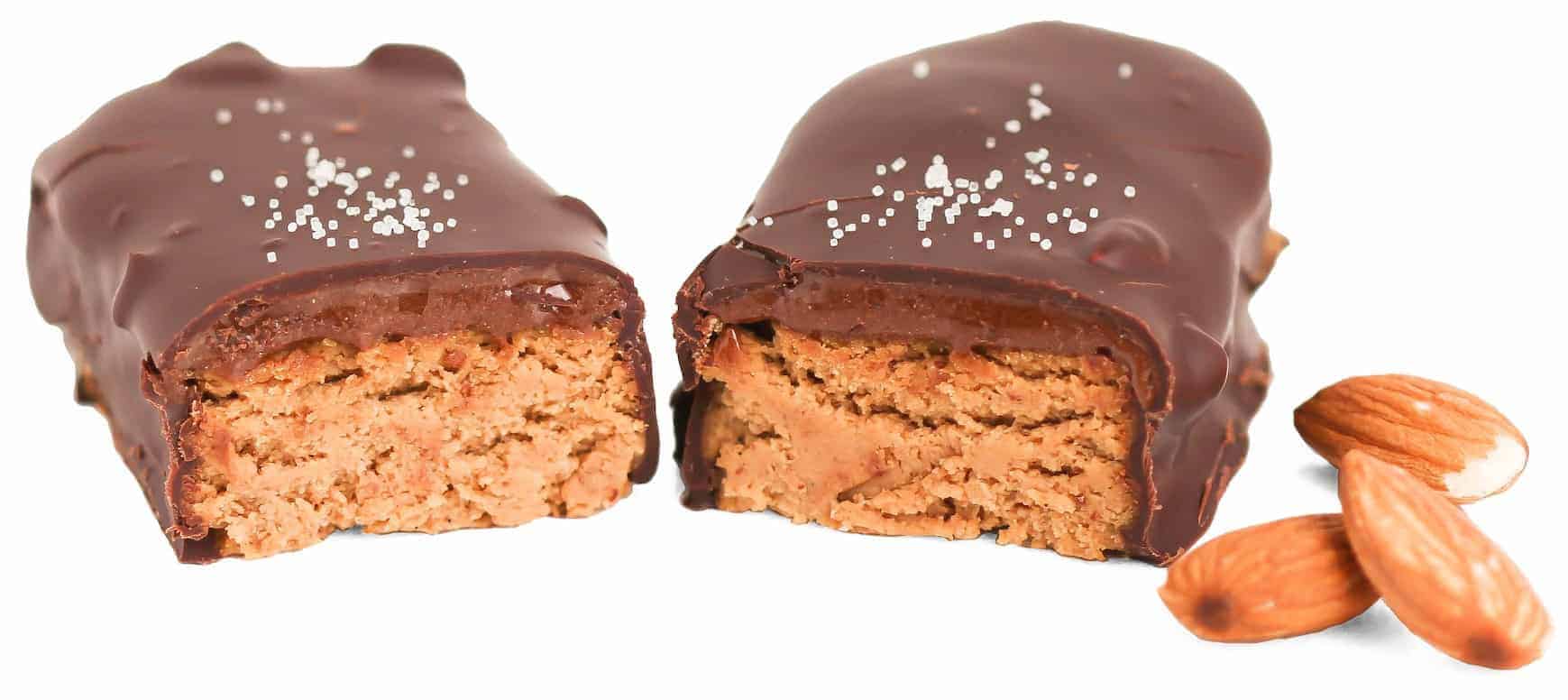 The recipe for these sugar-free protein bars combines almond butter, caramel, and chocolate to make a decadent snack that tastes like candy. Yet one look at the ingredients and it's to see that it is the total opposite of candy. It is stacked with fiber thanks to the oat flour, and the protein comes from the vanilla brown rice protein powder. This sweet snack has no refined sugars, even the caramel is organically made making this snack nutritionally balanced and tasty to boot!
47. Dark Chocolate Covered Maple Pecan Protein Bars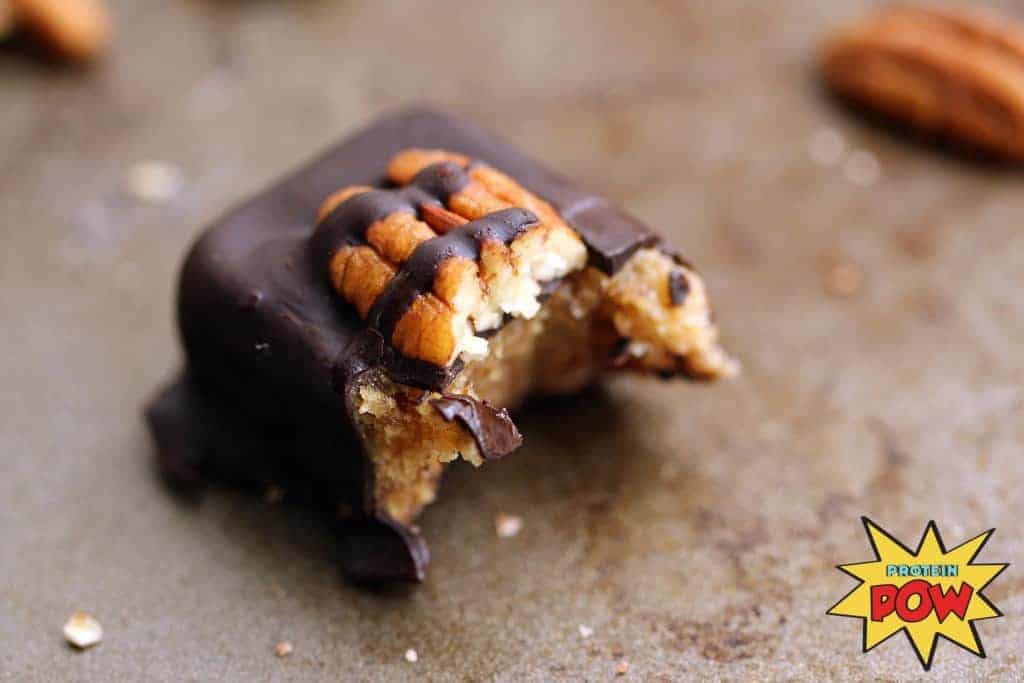 The combination of flavors from the pecan, agave nectar, dark chocolate, and coconut sugar make this the best protein bar equivalent to the most decadent desserts. Filled with valuable proteins and fibers, these can be taken by bodybuilders, athletes, or ordinary fitness enthusiasts, with benefits that can aid any active individual. Add extra pecans to the topping for an enhanced flavor.
48. Single Serve Chocolate Protein Bar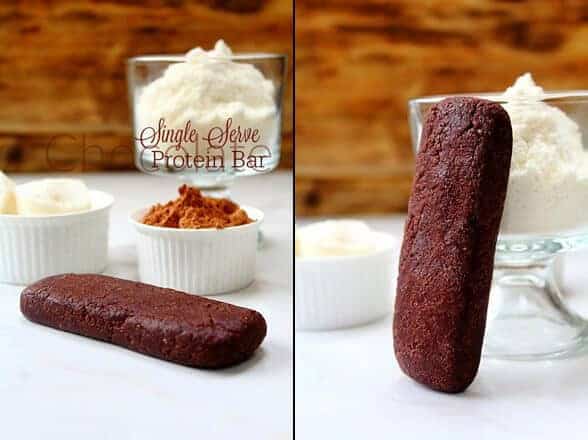 This is as simple as it gets: a single serving of protein and chocolate, prepared simply in a single bowl. About 27 grams of protein are jammed into this whopper of a low-carb bar, with the impressive whey protein isolate acting as a sort of super-protein base. Add some stevia and raw cacao to complete this rock-simple, rock-solid low-carb protein bar.
49. Healthy Cookie Dough Brownies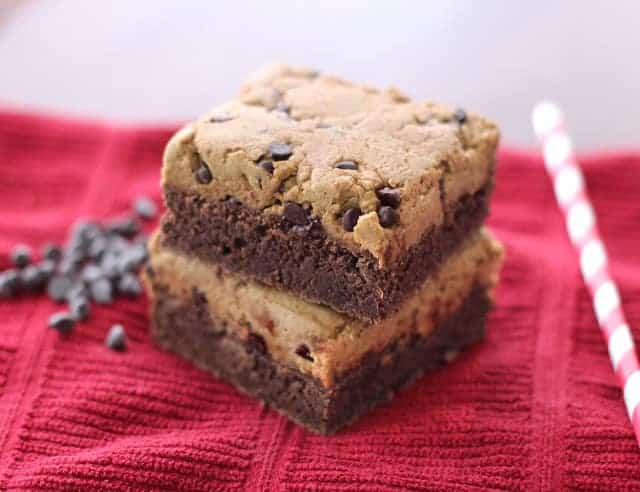 Yes, this is still a list of healthy protein bars: do not let the name of this recipe fool you, it is another addition to the homemade protein snacks. While it contains the taste of chocolate chip cookie dough and the consistency of brownies, the inclusion of natural ingredients like black beans, quinoa flour, and flaxseed ensure this dessert is healthy enough to serve as a meal in its own right.
50. Five Ingredient Protein Pow Raw Protein Brownies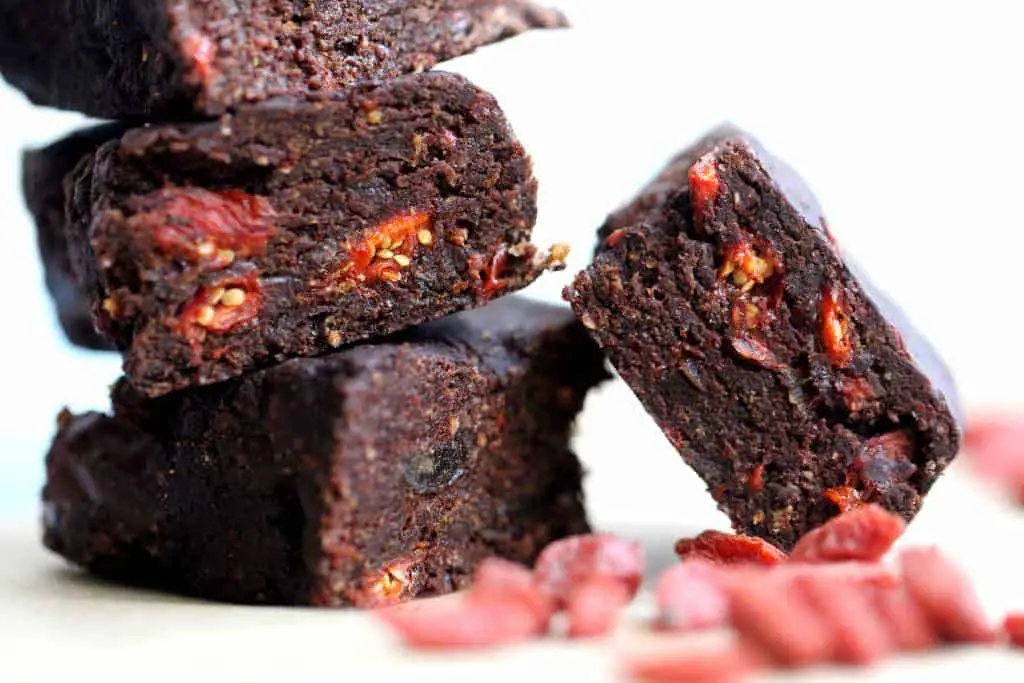 Cashew butter, milk, cocoa and a mixture of berries and dates create a recipe for sugar-free protein bars that can be mixed quickly with the aid of a food processor. While these may be quick to make, they may not be so quick to eat, considering the richness of its ingredients making this quite a filling supplement for any active lifestyle.
Anyone Can Eat Healthy With These 50 DIY Protein Bars
Dieting or eating healthy doesn't have to be a chore, and it doesn't have to be a sacrifice. There are scores of great tasting foods packed with vital nutrients that can fit into any vegan, paleo, gluten-free, kosher, halal, or fringe diet. Mixing any one of these with some protein powder and some sort of liquid bonding agent can create some truly delicious and nutritious desserts, such as sugar-free protein bars; some don't even require any baking! The list of excuses to eat unhealthy foods is dwindling, and these low-carb protein bar ideas are fifty nails driven into the coffin of obesity. Dig in!