41. Easy Low Carb Grilled Chicken Wrap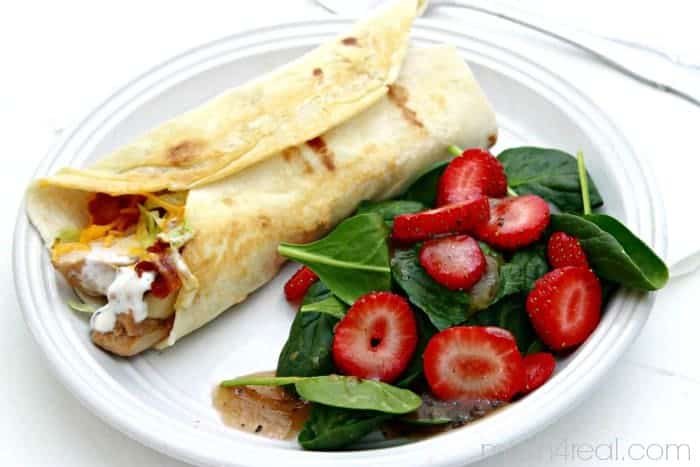 Wraps are a great go-to lunch idea for busy people on the run. Pre-cooked chicken and shredded cheese make this wrap super-easy to put together too. Just add some lettuce, crumbled bacon and ranch dressing and your wraps is ready to eat. But, to take it one step further and make the wrap even more scrumptious, add a drizzle of olive oil to a pan and sear the wrap on both sides. This pairs well with a spinach salad for the perfect lunch. Switch up the chicken spices to make this wrap new and exciting everyday.
42. Chicken Enchilada Zucchini Boats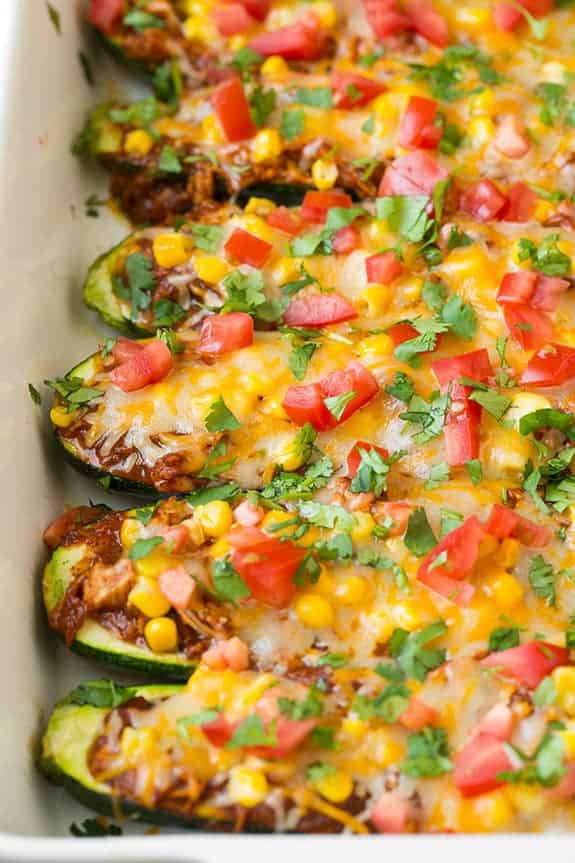 Chicken Enchilada Zucchini Boats are a fantastic twist on the classic enchilada entrée. Trade the high carb tortillas for very low carb zucchini and this is one of those low-carb chicken recipes you will crave over and over again. The filling of this enchilada boat depends on spices including the ancho chili powder which gives the sauce a more robust depth of flavor than the regular chili powder, which you will also add. Topped with a cheese blend that is melted in the oven, this recipe will become a new family favorite. This dish also is completely worthy of a picture so snap one for social media before taking a bite!
43. Low Carb Mexican Chicken Soup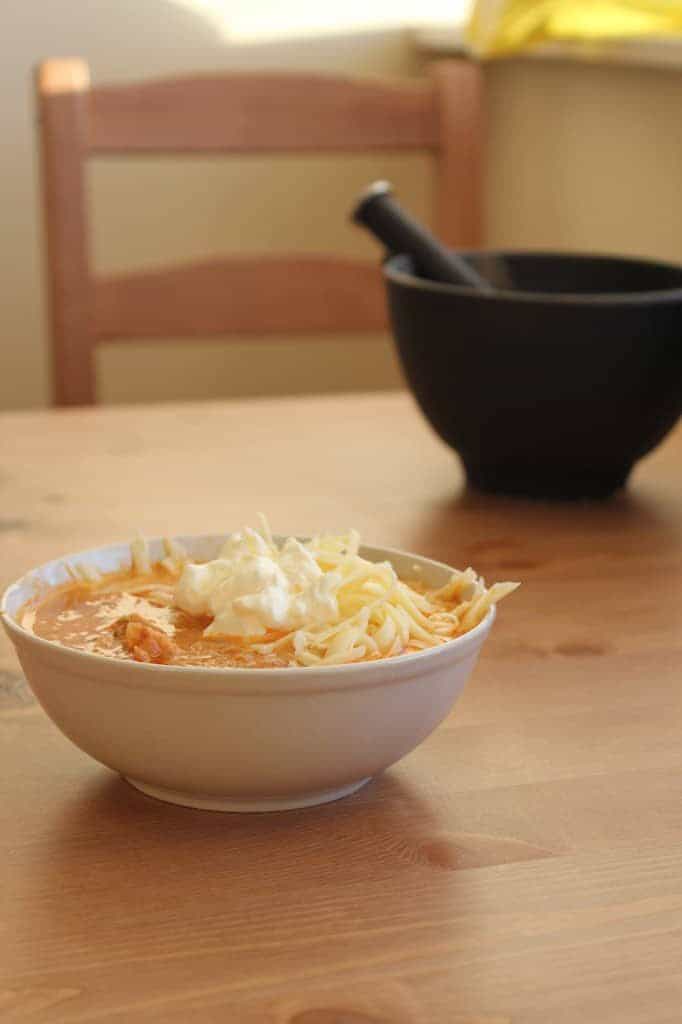 Soup can really warm you up on cold winter days. And, this Mexican Chicken Soup adds some no carb chicken and vegetables to make the soup into a complete meal. This soup gets its flavor from many spices as well as the vegetables. It becomes a bit creamy with the addition of cream cheese. Topped with sour cream and shredded cheese, it is perfect for lunch or dinner, and it can be served with nacho chips or cheese chips if you need true low carb options.
44. Creamy Sun Dried Tomato + Parmesan Chicken Zoodles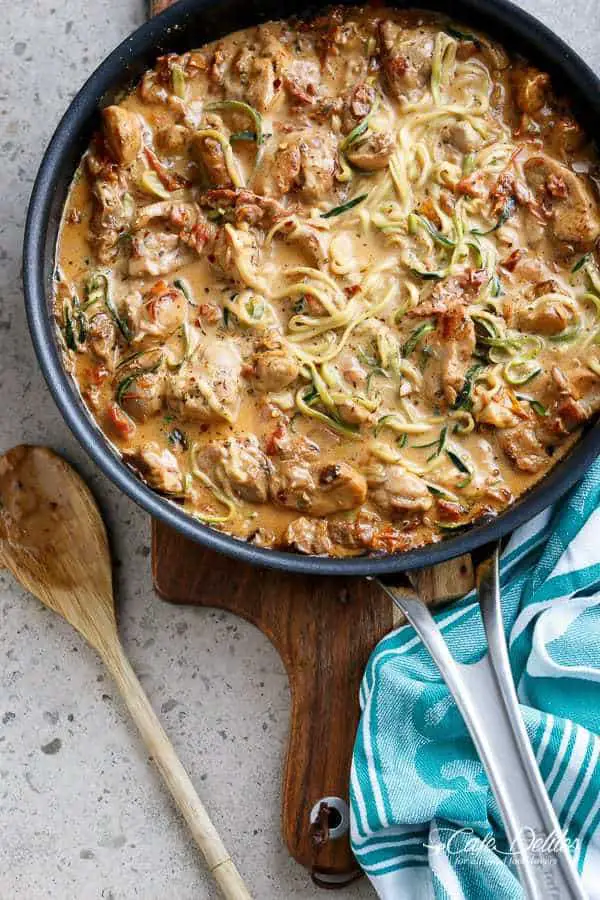 Sun-dried tomatoes, garlic, and parmesan cheese are infused into a creamy sauce to make this incredible chicken dish. The addition of zucchini "zoodles" makes this dish a great low-carb food that doesn't taste like it is low in carbs. Zoodles can be formed from a special "zoodle maker" or you can make fettuccini-style ribbons using an ordinary vegetable peeler. Either way, the pan fried chicken added to the zoodles and sauce is a comfort food everyone will enjoy. Zoodles for everyone!
45. Cheesy Chicken Stuffed Peppers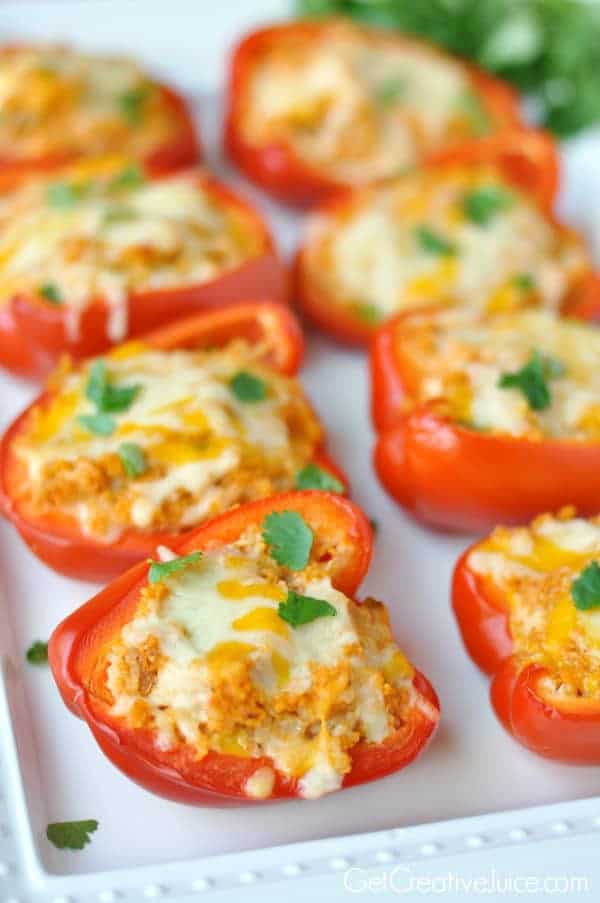 Use a pepper for an edible bowl in this fantastic Mexican inspired, low-carb food. Couscous, shredded chicken, taco seasoning, and salsa make up the filling for these sweet red peppers. Topped with a Mexican blend of shredded cheeses, this will be a meal that the whole family will really enjoy. Since it includes foods from a variety of different food groups, it will also provide great nutrients and keep you satisfied long after eating which is great when you are on a low carb diet.
46. Roasted Red Pepper, Mozzarella And Basil Stuffed Chicken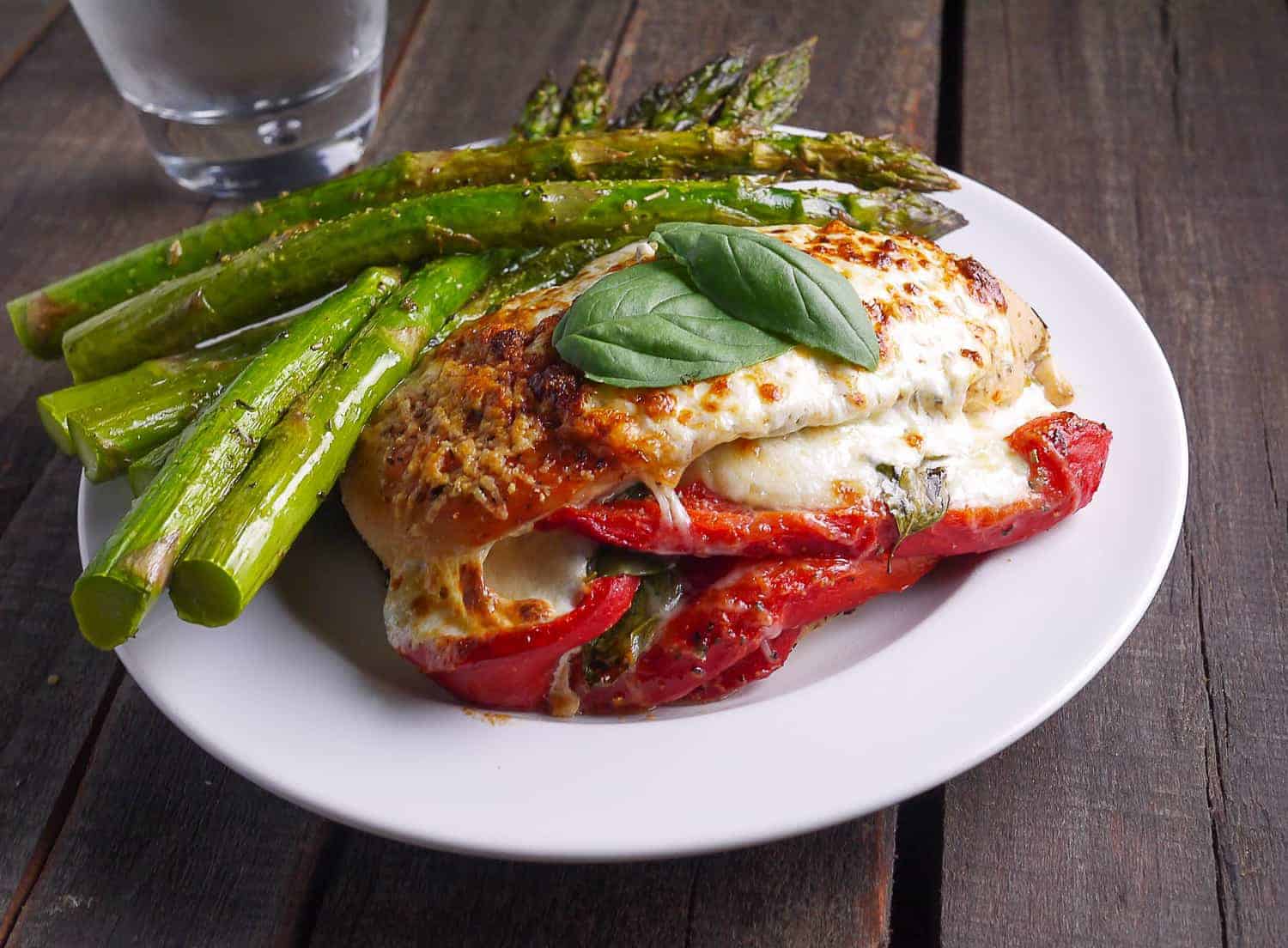 If you love mozzarella cheese, then this is a superb dish for you. Butterflied chicken is stuffed with the mozzarella cheese, peppers, and other veggies of your choice, then topped with even more cheeses. The sweet, roasted red peppers give the chicken a distinctive, robust flavor that screams of Italian cuisine. Additional veggies that you can stuff into this chicken include sautéed spinach, fresh tomatoes, mushrooms, artichokes, or olives; all of which add their own level of appeal to this almost no carb chicken entrée.
47. Low-Carb Baked Chicken Tenders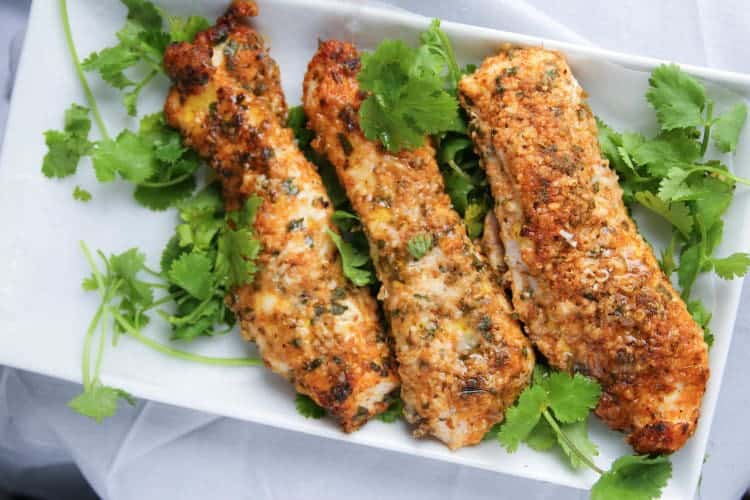 Here's one for the kids, and kids-at-heart. There's just something about a chicken nugget that has "kid" written all over it. These carb free chicken nuggets have absolutely no breading on them. Nope, no bread crumbs, no panko, nada. Instead, they are dredged in a mixture of spices and parmesan cheese and then baked for a golden, crispy coating that even the kids will go for. Add some dipping sauce, veggies, and a green salad and this meal is ready for the table in less than 30 minutes. Baking is also a very healthy way to cook these tenders as opposed to frying.
48. Chicken Paprika With Sour Cream Gravy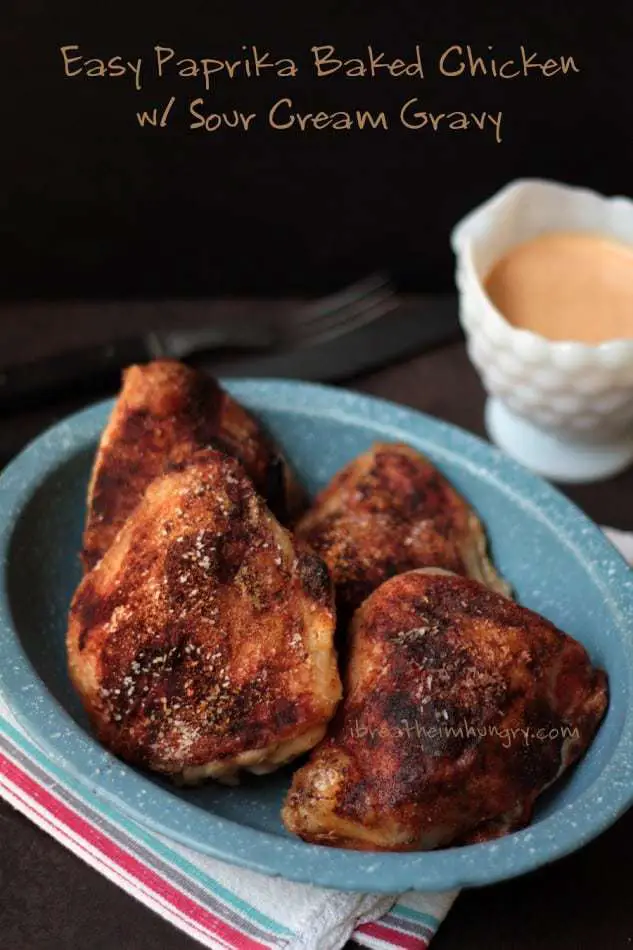 The gravy makes this carb-free chicken the cream of the crop. And, the moist, seasoned chicken is so easy to make with only three ingredients. You simply mix Hungarian paprika, onion powder, and salt together and sprinkle generously on the chicken. The chicken then bakes until done, and the gravy is made by adding sour cream to the pan juices that the chicken creates. Couldn't be any simpler but the taste is amazing. This one will have you coming back for seconds.
Related: Eat well and live long with our 50 best Paleo chicken recipe
49. Low Carb Baked Chicken And Cauliflower Rice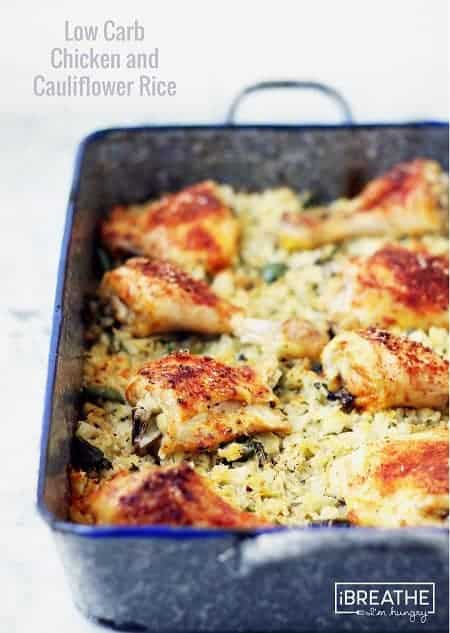 Cauliflower "rice" is the hot replacement for the regular carb loaded rice. With tons of ways to flavor it, this low-carb chicken recipe uses the juice and zest of a lemon as well as olives for a complex, tangy flavor that is also fresh and bright. Baked together in one dish, this chicken is easy enough to make on a weeknight. It can also be customized with different flavors of the seasons such as the use of fresh tomatoes in the summer. Cauliflower is so nutritious that this dish just screams of health food but with a decadent taste.
50. Honey Glazed Chicken Salad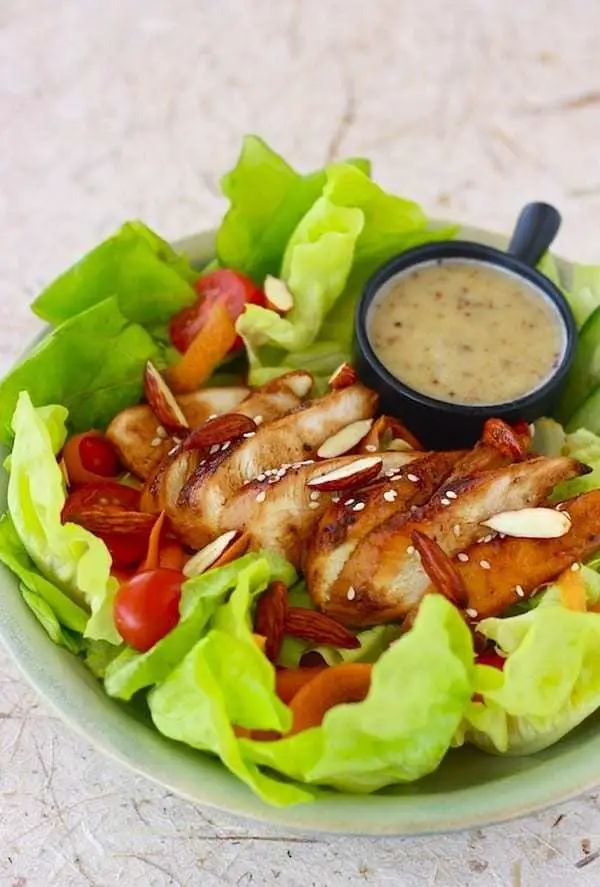 Honey glazed chicken salad is the perfect summertime lunch or dinner entrée. Pairing the honey glazed chicken with any salad fixings including lettuce, carrots, and tomatoes, you can add sesame seeds, glazed almonds and your own honey mustard dressing for a delight on a hot day. The chicken is easy to cook and reheats well if you make a large batch for future meals. You and your family will enjoy this low-carb chicken meal frequently over the summer months and well int the winter as well!
Summary
Chicken is one of the great versatile, low-carb foods that you can eat every day and never get bored. The ingredients you pair with the chicken and the methods of cooking help make each chicken dish different. When choosing a low carb lifestyle, chicken plays a vital role in many of your meals because it is a carb-free source of lean protein. Eating lean protein helps you to feel full for longer, so it makes a great option for those who are trying to lose weight. It is also a powerful tool for those that are trying to build muscles. Overall, it is a healthy option for a low carb diet that will keep you swimming in meal possibilities.