31. Chicken Cordon Bleu Meatballs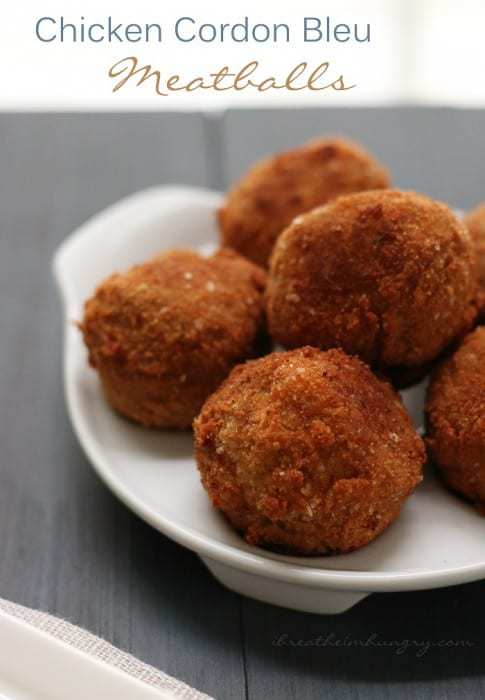 Are they meatballs or Chicken Cordon Bleu? Well, combine the two recipes and you will have this tasty dish. Ground carb-free chicken with pieces of deli-sliced ham is lightly seasoned with salt, pepper, garlic, paprika, and parsley and formed into a ball around a chunk of Swiss cheese. It is then dusted with coconut flour and lightly pan-fried for a golden outer coating. Perfectly delicious plain or with a cold sauce, these meatballs are a special treat you can make any day of the week. This is an incredible twist on two classic that you need to try.
32. Honey Mustard Chicken
This is one of those dishes where you can mix three ingredients, dump them on top of chicken thighs, and bake for 45 minutes. Voila, dinner is done. But yet, it is pretty enough and tasty enough to serve if guests drop over for dinner. The flavors of mustard and honey shine through in this overly simple, low-carb chicken dish. Better yet, it makes its own gravy as it cooks, and you can put it over rice or veggies, depending on how many carbs you want to add to your meal. Either way, it's a delicious, lazy day chicken dish. perfect for weekdays or even parties!
33. Bacon & Chicken Pinwheels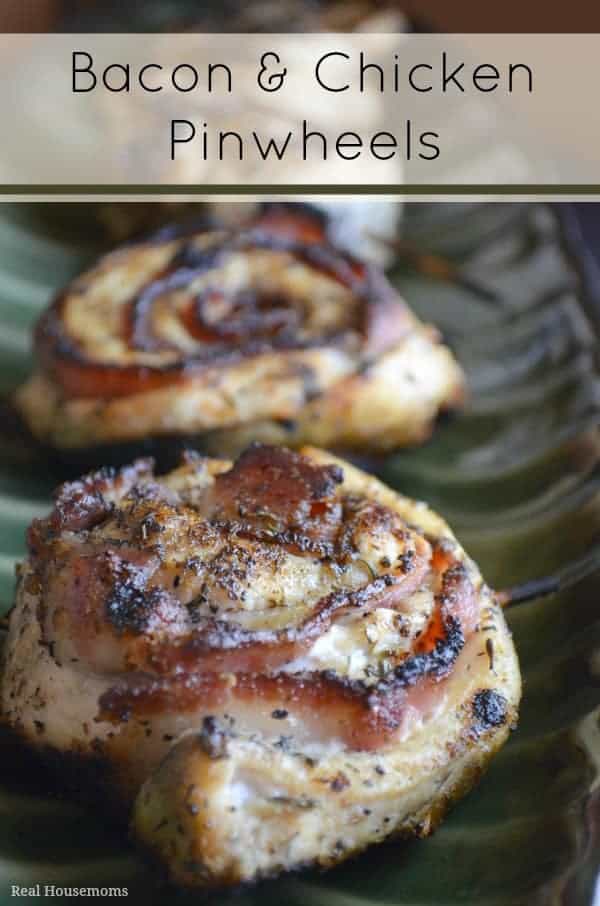 Bacon seems to be everyone's favorite food these days. While it does contain a good amount of fat, it contains virtually no carbs. Wrap it up in low fat chicken to make pinwheels, and you have a balance of flavor and fat while maintaining this as one of the great low-carb chicken recipes. These pinwheels are then drizzled with olive oil and sprinkled with garlic and thyme. They are then grilled for an abundance of scrumptious flavors.
34. Crock Pot Chicken Marsala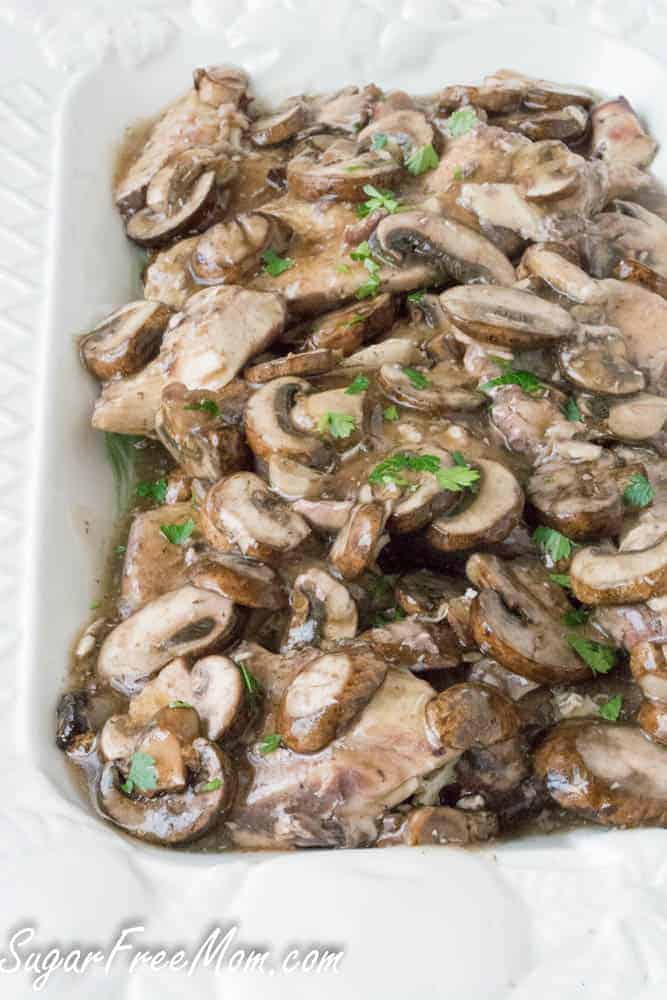 Chicken Marsala is an entrée you expect to find on a menu at a fine Italian restaurant. To be able to make it at home, and in a slow cooker no less, is budget friendly and low-carb diet friendly. You'll never need to go out to a fancy restaurant again! Made with the classic Marsala wine, this chicken basically cooks itself all day and is ready when you come home for dinner. All you have to do is to mix the liquid in the slow cooker with arrowroot to thicken it into gravy, add the mushrooms, and it's dinnertime.
35. Coriander Chicken Thighs With Miso-Glazed Root Vegetables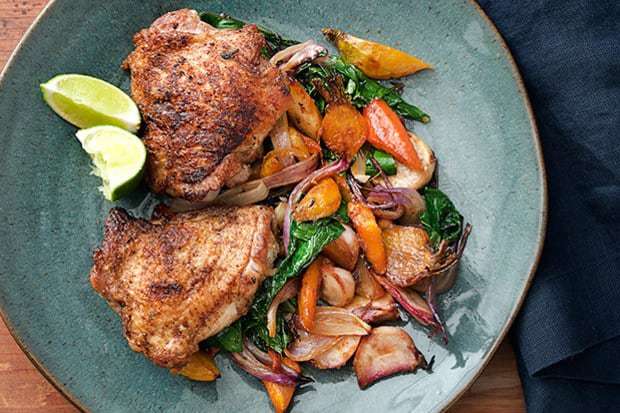 The root vegetables combined with these low-carb chicken thighs make a satisfying winter meal. The soy sauce and miso paste in this dish give it a definite Oriental panache. The flavors blend well together to form a unified feel while creating a savory cooking aroma that makes you so hungry. And, while it does require some chopping of vegetables, this can be done ahead of time for quick preparation at dinner time.
36. Baked Chicken With Cherry Tomatoes And Garlic
Baked chicken just seems to go with cherry tomatoes in the fall. The markets and/or your garden still have an abundance of the tomatoes that are halved and mixed with balsamic vinegar for this low-carb chicken recipe. The chicken and tomatoes make a flavorful liquid in the baking dish that can be used for dipping crusty bread or reduced to make a delicious sauce. A sauce can then be poured over the chicken or it can be poured over rice or noodles for a side dish.
37. Buffalo Balls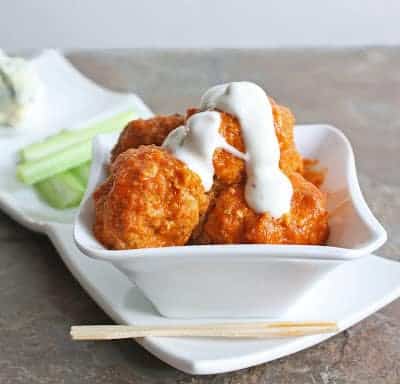 Turn the classic meatball into the Buffalo Ball for the perfect game day appetizer. These mini meatballs are made with ground chicken, cream cheese, bleu cheese, celery, and pepper. They are dipped into a spicy, Buffalo sauce for a burst of flavor, and they are good enough to replace the typical, messy chicken wings that are usually popular at sports parties. You won't be able to get enough of these flavorful bites! They can be served with celery sticks and bleu cheese dressing for an added zing.
See also: 50 Best Paleo Meatloaf Recipes
38. Baked Chicken Parmesan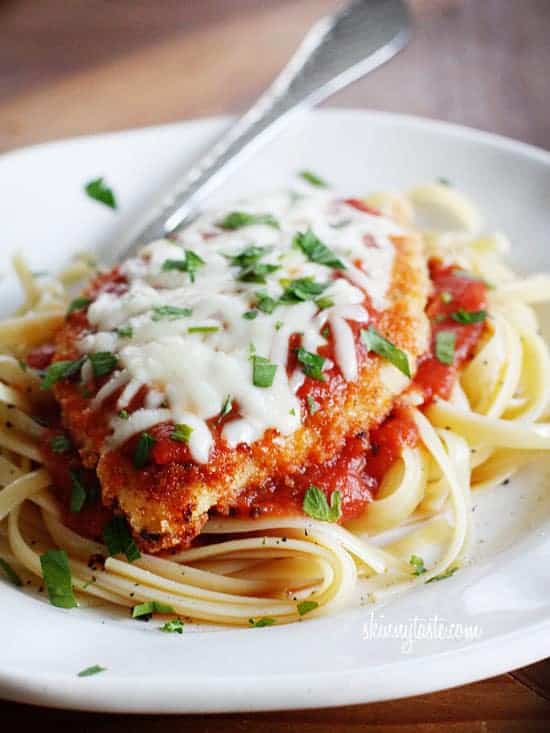 Here is a lightened up version of everyone's favorite chicken parmesan. While you expect to find this at an Italian restaurant, you will be glad you can make it at home with a lot fewer calories. Simply baking the chicken instead of frying it keeps this a low calorie chicken dish that remains succulent and moist. The addition of marinara sauce and mozzarella cheese give it the absolutely sublime restaurant flavor you are craving. Thank goodness cheese is low carb!
39. Mushroom Asiago Chicken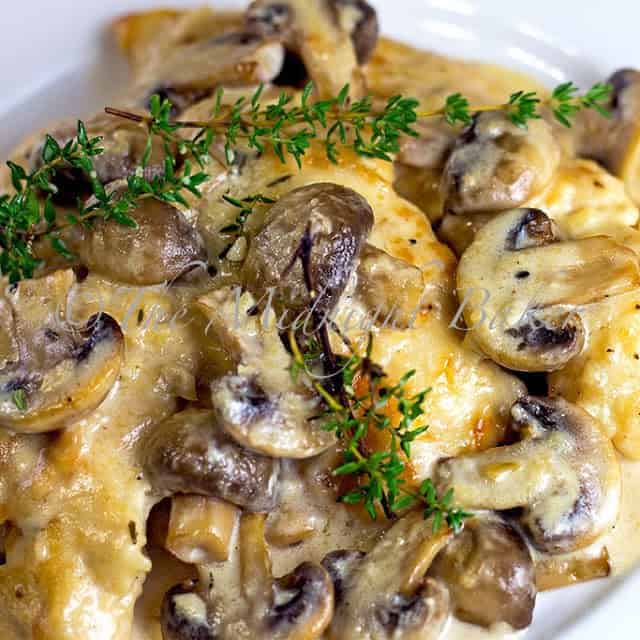 How about a gourmet meal that you can put on the table in 30 minutes or less? Better yet, this is a healthy, low-carb chicken recipe that is filled with tempting fresh thyme as well as a creamy cheese sauce. Additionally, the mushrooms in this entrée are full of nutrients and are especially good at helping to control blood sugar levels. So, this is a gourmet meal that you can really feel good about eating. This makes a great weekend dish when you deserve a real treat.
40. Spanish Chicken With Chorizo And Potatoes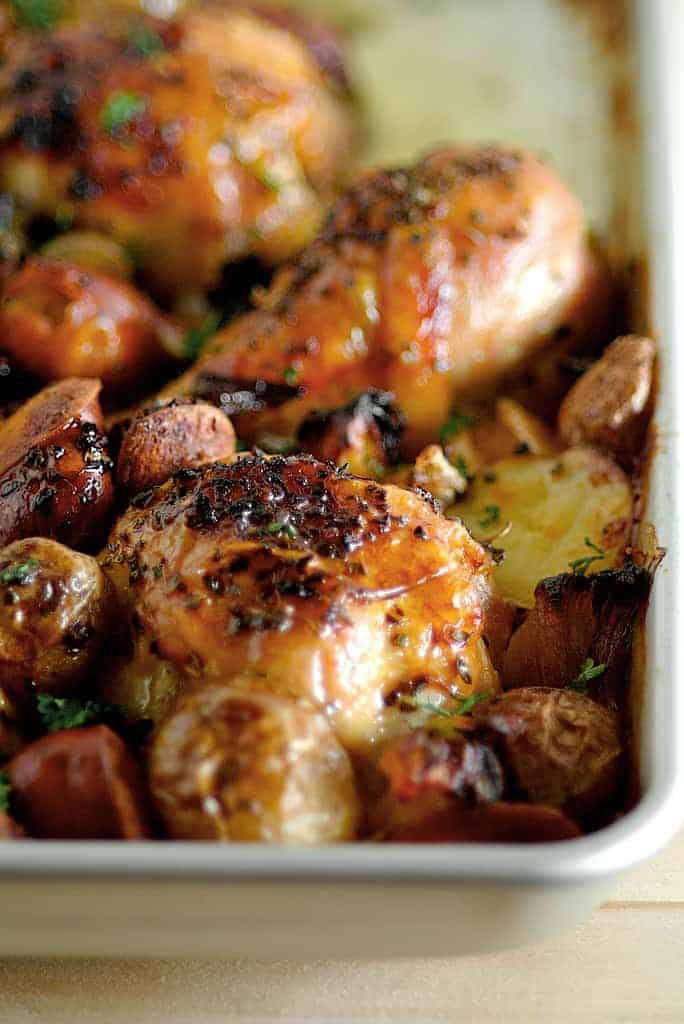 Spanish chorizo is the key element to giving this chicken dish its special flavor. Made with Spanish smoked paprika, the chorizo is baked along with the chicken and potatoes for a spicy, smoky flavoring that permeates the entire entrée. The baby potatoes are cut in half so that they can absorb all of the wonderful flavors as well. A drizzle of orange juice and the orange zest add just a bit of sweetness to round out this perfectly seasoned, low calorie chicken dish. Sweet and spicy, filling and not to heavy- it is really perfect.