Disclaimer: This post includes affiliate links, and I will earn a commission if you purchase through these links. Please note that I've linked to these products purely because I recommend them and they are from companies I trust.
What is Crowd Cow?
Right now, home delivery food boxes are everywhere. There are boxes available that just contain ingredients that you then prepare yourself, there are some that are complete meals, and there are others that simply deliver your groceries to your front door. It all sounds so convenient and great, right? The most popular boxes are premade meals, designed with someone else's expectations of quality and taste. You don't get to choose your fresh vegetables, you can't decide which meat looks the most fresh and you just get whatever seasonings the company feels goes well with the food. No choices here! While that's not necessarily a bad thing, it might not mesh with your lifestyle.
To begin, how ethically an animal is raised and where it comes from factors into not only taste but also healthfulness and nutrition. You may have strong opinions regarding how your food is processed and want to be assured that the meat arriving at your door step is not from a factory farm. The exact farm your meat if coming from is also something that is beneficial to know. You can then research the farm practices and be sure that their moral values regarding raising animals for consumption fits in with your values.
With a traditional meal service plan or food delivery service, you may not be getting all this transparency. So, perhaps you are looking for something better, something more in tuned to how you like to eat. Before you jump into the world of organic beef delivery, however, it's important to get to know the services out there. One service that is gaining popularity as an organic beef delivery service is Crowd Cow. We decided to take a look at this service, assess it and see if it aligns with our requirements regarding our foods.
That's why I wrote this Crowd Cow review, after all.
Crowd Cow delivers healthy, ethically raised pork, beef, and chicken right to your door. They source from local, organic farmers who process the meat and flash freeze it for maximum flavor. Unlike a subscription box service, with Crowd Cow, you choose from a variety of grass-fed beef, pastured chicken, or farm-raised pork. It doesn't recur automatically (which means you won't get any surprise charges to your credit card) and you are in control of everything you get; no surprises, no wasted deliveries. Everything from whole fryer chickens to organic wagyu is available, depending on your location. All organic, all ethically raised, and most importantly, all delicious. Moreover, if you time your purchase right, you can take advantage of periodic Crowd Cow coupons online!
So, all in all, crowd cow looks like a great company . They have worked hard to provide consumers with a wide variety of meats and also maintain their high standards for the meat itself. By using multiple farms, they are able to get that wide range of meat products while still supporting smaller farms as well. So, upfront, this looks like a great company to purchase your organic meats from and have them delivered to your door. Let's take a closer look.
Related: Low-Carb Turkey Meatloaf Recipe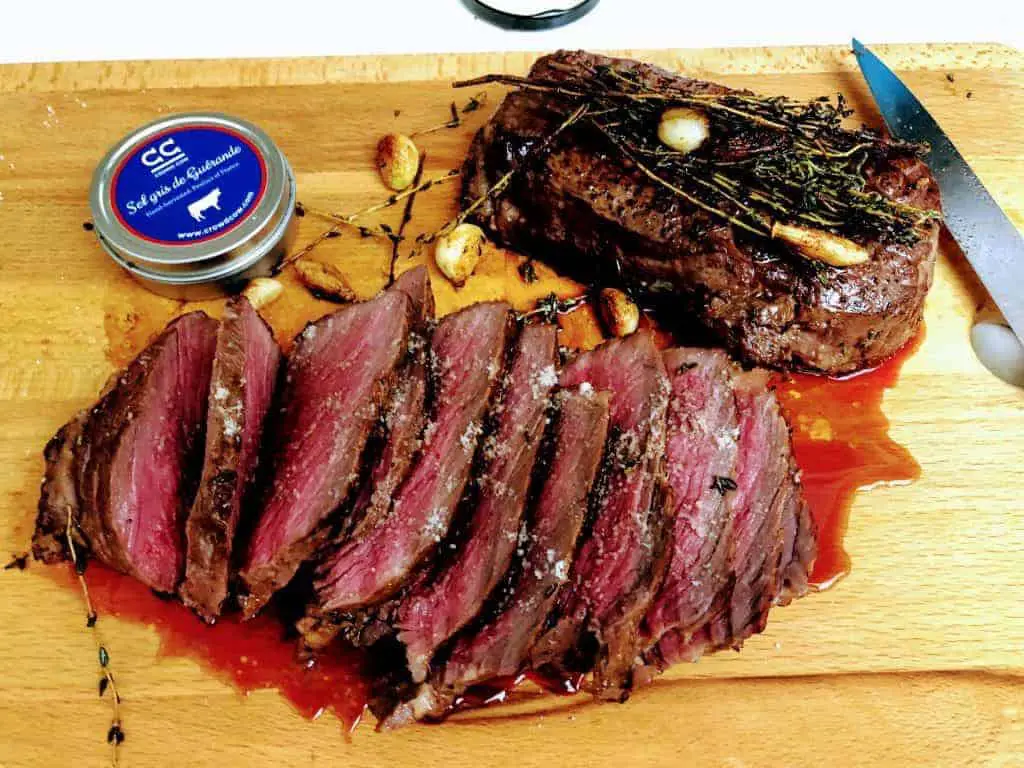 https://www.youtube.com/watch?v=pnn8fsZZZIg
What types of meat are available?
Crowd Cow focuses on beef, pork, and chicken of varying cuts and sizes. They have practically every type of meat you could be searching for. This is ideal as it gives you many options to help decide what to cook and it also allows you to find a specific type of meat you may be searching for. For instance, if you are looking for a beautiful cut of coulotte steak, specifically, Crowd Cow has this and you will be able to treat your family to a specialty piece of organic meat. You may not be able to find this high end cut anywhere else! However, they also sell tallow and soup bones which are typically on the lower end of the scale when it comes to desirability. Yet, don't discount these cheaper pieces of meat! The healthiest soups start with grass-fed soup bone stock, and with Crowd Cow delivery, you can make it yourself. Just but some soup bones, add water and cook! You will have healthy, delicious, organic bone broth soon. Trust me, if you're going to buy organic beef online, you need to give a coulotte steak a try at least once; you'll thank me later. Consider it a special treat and look for those Crowd Cow coupons before you buy!
If you are having a difficult time choosing what type of meat you would like to order (they all look so good!), most farms also offer welcome boxes, which are mixed cuts and sections of steak that allow you to experience the full range of their products. This is definitely a good place to start for your first time using this service. You will get variety, range and, of course, everything will be locally sourced and humanely raised. Perfect for those indecisive moments when you want "something" but aren't sure what!
There are also amazing packages that you can send as gifts. Similar to the welcome boxes, these variety packs are loaded with high end, gift worthy meats. You can also use these curated collections as meat gift baskets for a truly unique and delicious present. The receiver will definitely be impressed and excited about their gift!
When you are on Crowd Cow's website, you may notice that the focus is on beef, depending on your location. Yes, there are more beef options that other meats but the company is trying to change that and provide more options to all their locations. Just keep taking a look and see if you can find other meats available in your order, if not now, keep checking back as new options seem to be added frequently. You may find many wonderful chicken and pork offerings becoming available in your area in addition to the great beef selection. To provide an example, the farms nearest to me have free-range, organic chickens offered in quarters or whole in addition to the wide range of beef choices. And, if you've never had a truly farm-raised, free-range chicken, you are in for an amazing surprise. The flavor is out of this world and will change your mind about every buying from the grocer again. It is unbelievable how different it really is!
As far as pork goes, heritage breeds are on the rise and becoming available in more regions. These breeds of pig are so drastically different from factory-farmed animals that you might second-guess what you're eating- is it really pork? It is just so good and so different than anything you may have had before! Small family farms are raising these pigs in actual pastures, the way pigs should be raised, and feeding them with non-GMO grain. This results in richer, more delicious meat that's a far cry from the bland, mass-produced cuts sold in most stores. Just be warned that once you try this pork, you will never, ever go back to eating grocery store pork again!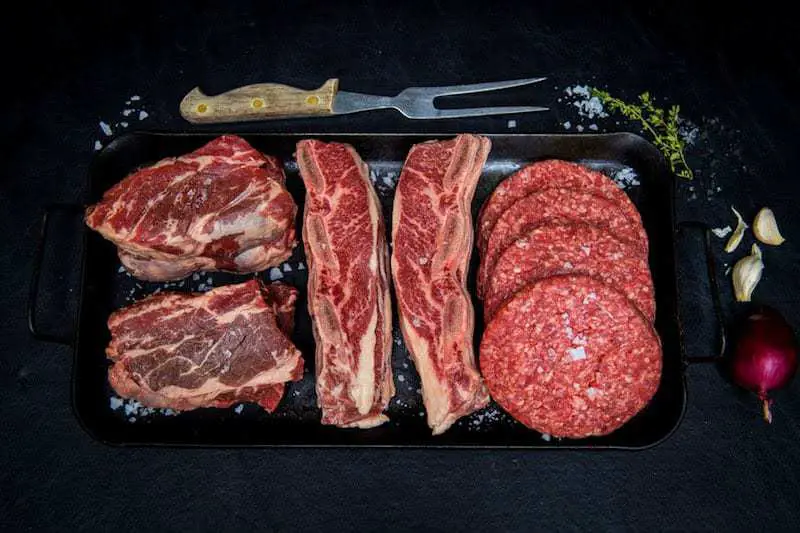 Why choose Crowd Cow over Butcher Box?
If you've done any research on curated meat delivery, you've probably seen ads for Butcher Box. Both are superb companies, but in the Crowd Cow vs Butcher Box discussion, who wins? Well, this IS a Crowd Cow review, and I genuinely do prefer it, mostly because Crowd Cow allows you to fully curate your own deliveries. There's no subscription with expensive monthly deliveries to remember to change or opt out of, just you personally choosing the best cuts of meat for your cooking tastes. No obligations, no need to go online and ajust or cancle your order- just order what you want and know you are getting a great product delivered soon.
Honestly, my favorite part of Crowd Cow when compared to Butcher Box is that Crowd Cow gives you a synopsis – with pictures (yay!) – of the farms you buy from. It's not a vague assurance that you're getting "organic, humanely raised meat"; you literally get to see where your food comes from. How amazing is that! When you are someone who truely cares about where your meat is sourced and feels the ethical need to only consume meats raised properly and you also care about supporting small entities, this is a dream.
Crowd Cow interviews the farmers, gets the history of the land and the farms they care for, and they also show you the conditions in which the animals are raised. It is one hundred percent clarity which means you will never need to question your meat or where Crowd Cow got the meat- it is all right there for you! This both supports local, small, family farms and provides you with the best tasting, healthiest meat you've probably ever experienced. If you're like me and you're used to shopping at the grocery store for EVERYTHING, the difference is INCREDIBLE.
If you want to order from the organic beef delivery market, why not choose the company that shows you where your food comes from? Crowd Cow hooks you up with local farmers, tells their story, and sends you the best of the best they have to offer. Seems like a perfect scenario for everyone.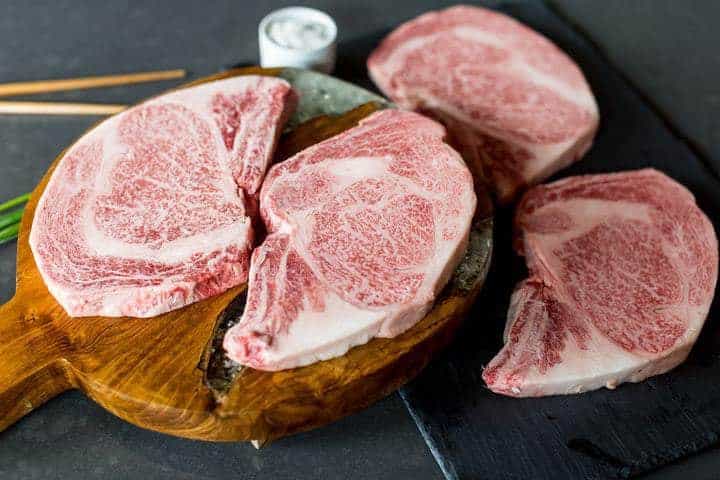 Why should I give up the grocery store for Crowd Cow?
I personally do as much shopping at the local farmer's market as possible; everything just tastes better. However, while the grocery store is more convenient, everything is just bland, and though the farmer's market helps me get local, fresh veggies and fruit, there's not a lot of meat producers around. I still either need to run into the grocery store for meat (blah) or find another option. In steps Crowd Cow! Crowd Cow brings the family farmed, grass-fed beef (or pork, or chicken) to your doorstep. It's like farmers market quality delivered right to you! Quality and convenience- the best of both worlds!
When you buy meat from your grocery store, chances are that it comes with a much higher price tag than what you're actually paying out of your purse. When you buy factory-farmed food, you're getting antibiotics, growth hormones, and the complete lack of flavor that comes from sacrificing taste for rapid weight gain. Most factory farmed animals have had the taste bred out of their meat, but Crowd Cow sources humanely raised, healthy animals from heritage breeds. This ensures no unwanted antibiotics, hormones, or loss of taste.
Ok, this sounds crazy, but how do I cook the perfect frozen burger?
The first thing I thought about when I started to write a Crowd Cow review was the apprehension my readers might have to cooking frozen meat. I think we all have a concept of frozen meat from fast food chains that tastes like rubber, but Crowd Cow allows you to buy organic beef online that is flash-frozen and shipped within days of production. There is no comparison when you're talking about grilling frozen burgers from a family farm versus ones that have sat in the freezer of your grocer for six months. And guess what, the "fresh" meat you are buying in the grocery store is typically meat that has been frozen and defrosted to appear "fresh". So why not skip the middle man and have the frozen stuff sent right to you? Trust me, it is going to be fresher than anything at your grocery store chain even though it arrives frozen.
It's honestly the easiest thing to simply cook the burgers from frozen. Take them out of the freezer and allow them to defrost for about 3 minutes on the counter while you prepare the grill or pan. It's also a good idea to pop them (in their sealed bags) into a container of lukewarm water. This will make just the surface thaw and allows for more even seasoning adherence. From that point, grill as you normally would – it's perfectly safe to defrost as part of the cooking process, as long as the heat is even and medium-high.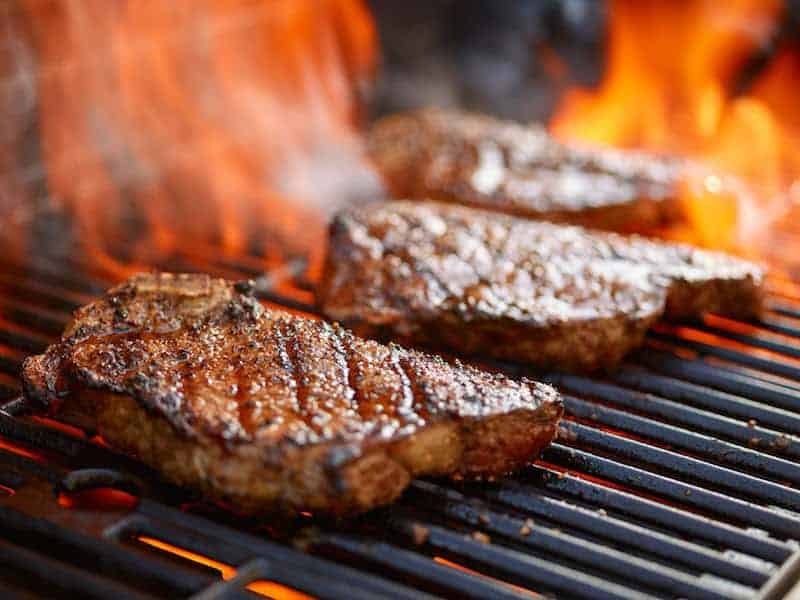 How to cook a frozen steak
Again, I don't feel comfortable doing a Crowd Cow review without explaining how to properly cook the meat you'll be getting. After all, you don't want to destroy a beautiful organic Wagyu steak!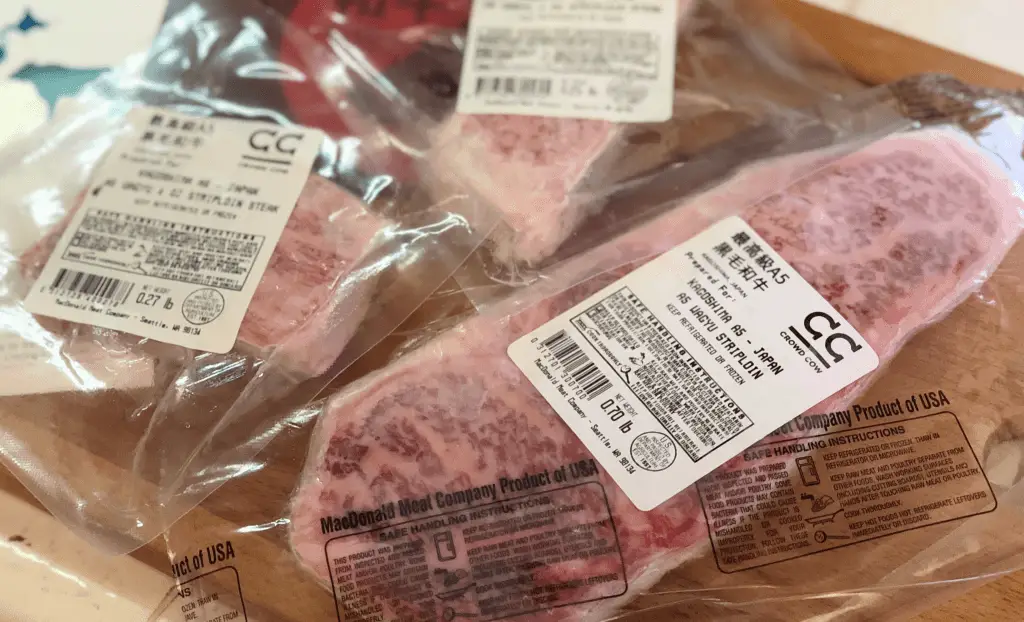 Same as with the burgers, frozen steak only needs a brief thaw to allow you to season it properly. After that, make sure you get a good sear on a high heat for about 90 seconds a side. Once that's done, pop it into a 275 degrees-Fahrenheit oven until you get a 125 degree reading on the internal temperature. This will take longer than cooking a thawed steak, but it retains better flavor and still saves all that thawing time.
Related: 50 Tasteful and nutritious Paleo beef recipes for the whole family
Ultimately, choosing Crowd Cow was a great decision for me and my family. It's healthy, I love cooking with these beautiful cuts of meat, and I even found some great Crowd Cow coupons online just by searching before I ordered! After tasting this meat, I will likely never go back to eating grocery store stuff again. If I need a meat order delivered, I'll just go on Crown Cow and have it sent directly to me in a few days. No subscription, no need to worry about unwanted charges on my card, all they provide is amazing, humane, non GMO meats brought right to me! Can't argue with that!
Treat yourself to the opportunity to cooking with top-quality, healthy, humanely sourced meat with Crowd Cow.

Top Questions About CrowdCow
What is Crowd Cow?




Crowd Cow? Think of it as your virtual butcher shop adventure! We connect you directly with the finest farms and ranches to bring top-notch meats right to your doorstep. It's like a farmers' market, but in your PJs.



How does the ordering process work?




Easy peasy! Browse our mouthwatering selection, add your favorites to the cart, and voilà! Our friendly cow-mputer system takes it from there. Just a few clicks, and you're on your way to carnivore paradise.




Is the meat ethically sourced? Our meat comes from happy animals that roam free and live their best lives. Ethical? Check. Tasty? Double-check!

What types of meat are available? Prepare for a meaty marvel! We've got everything from juicy beef and succulent chicken to pork that'll make your taste buds dance. It's a carnivore's dream come true.

Is the meat organic or grass-fed? Absolutely! Our meat is as pampered as a spa day for cows. They're grass-fed, pasture-raised, and all-around living the good life. You'll taste the difference, guaranteed.

Can I customize my order?




You're the boss of your order! Pick your cuts, choose your quantities, and even throw in some surprise twists. It's like building your meaty masterpiece.

How is the meat packaged and delivered? We've got packaging down to a science! Your meats are carefully packed in ice and shipped straight to your door. Unboxing? It's like Christmas morning, but with steaks.

Is there a subscription or membership required? Nope, no secret handshakes here! We're all about making life simpler. No memberships, no subscriptions. Just amazing meat whenever you want it.

What sets Crowd Cow apart from other meat suppliers? We're not tooting our own horn, but toot toot! We're the bridge between you and the farm. You know exactly where your meat comes from, and that's a pretty darn cool thing.

Are there any promotions or discounts available?

Who doesn't love a good deal? Keep an eye out for our sizzling promotions and discounts. Your wallet and your taste buds will thank you.




Where do you ship to? We're spreading the meaty love! We ship to most places, so you can get your carnivore cravings satisfied wherever you are.

What is the pricing range?

From budget-friendly to treat-yourself, we've got a range that'll suit every carnivore's wallet. Quality and deliciousness? Guaranteed at any price point.



Is there a minimum order requirement?

Nope, we're not into bossing you around. Order as much or as little as you please. It's your meaty adventure, after all.




Is there a satisfaction guarantee or return policy? Your satisfaction? Our priority! If you're not doing a happy dance with your meat, let us know. We'll make it right, no ifs, ands, or rump roasts about it.

Are there cooking instructions or recipes provided?




We're your meaty sidekick in the kitchen! Find cooking tips, mouthwatering recipes, and more right here. It's like having a personal chef, but without the chef hat.
Disclaimer: This post includes affiliate links, and I will earn a commission if you purchase through these links. Please note that I've linked to these products purely because I recommend them and they are from companies I trust.