When you are on "the caveman diet," paleo beef recipes are some of the tastiest, most nutritious options you can cook. Beef is full of protein to give you lots of energy to take on whatever life throws at you. It also goes well with tons of different flavors, so it is super versatile. If you buy lean cuts and grass-fed beef, this hearty red meat can actually be really good for you! With the succulent beef and tasty veggies in these recipes, you won't even miss dairy or grains! From tacos and roasts to stews and stir fries, there is something for everyone on this list. Check out the list below for 50 delicious and nutritious recipes that will help you stick to your paleo diet without even thinking about it.
50 Paleo Beef Recipes That Will Make Your Mouth Water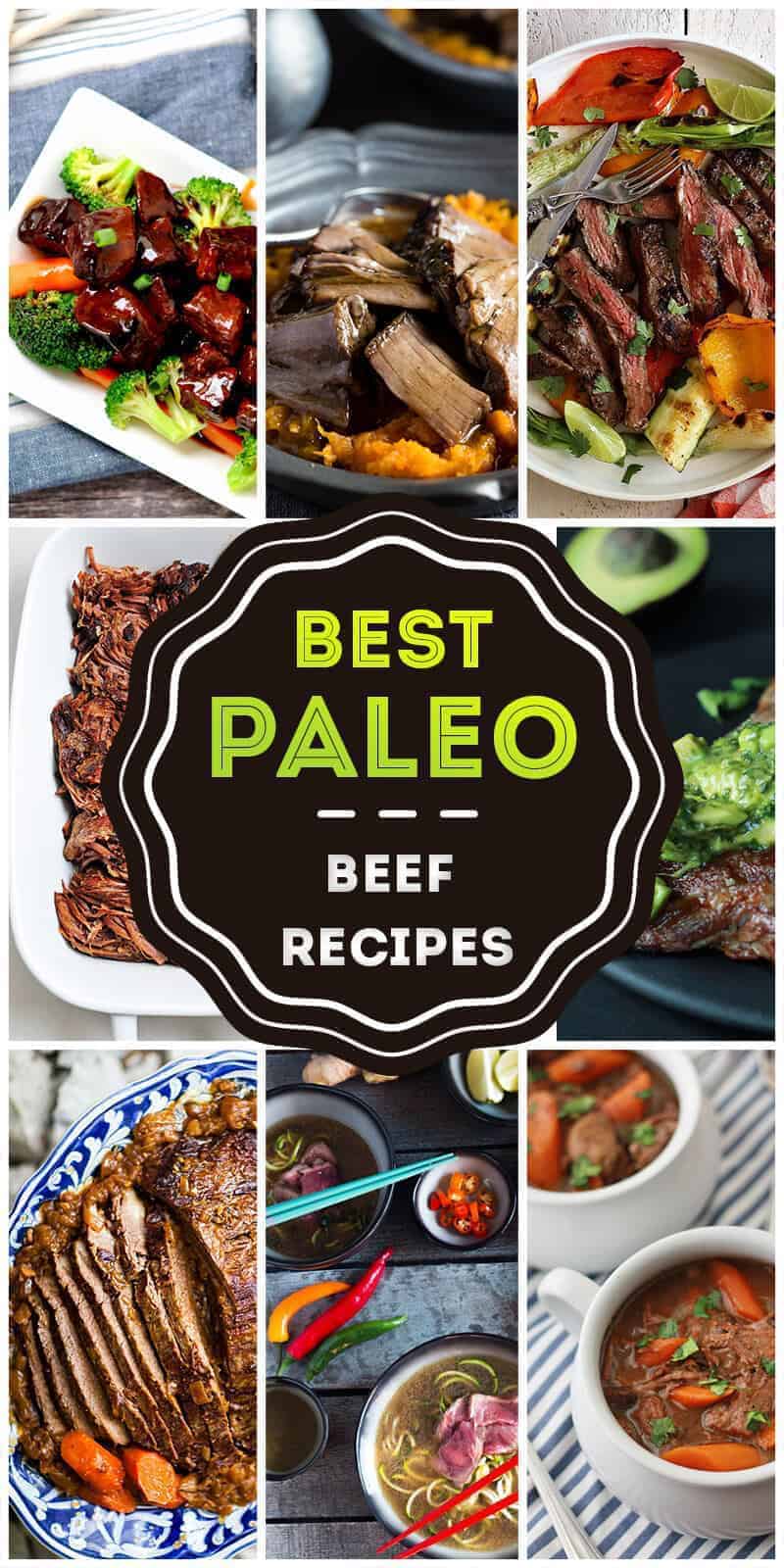 1. Slow Cooker Broccoli Beef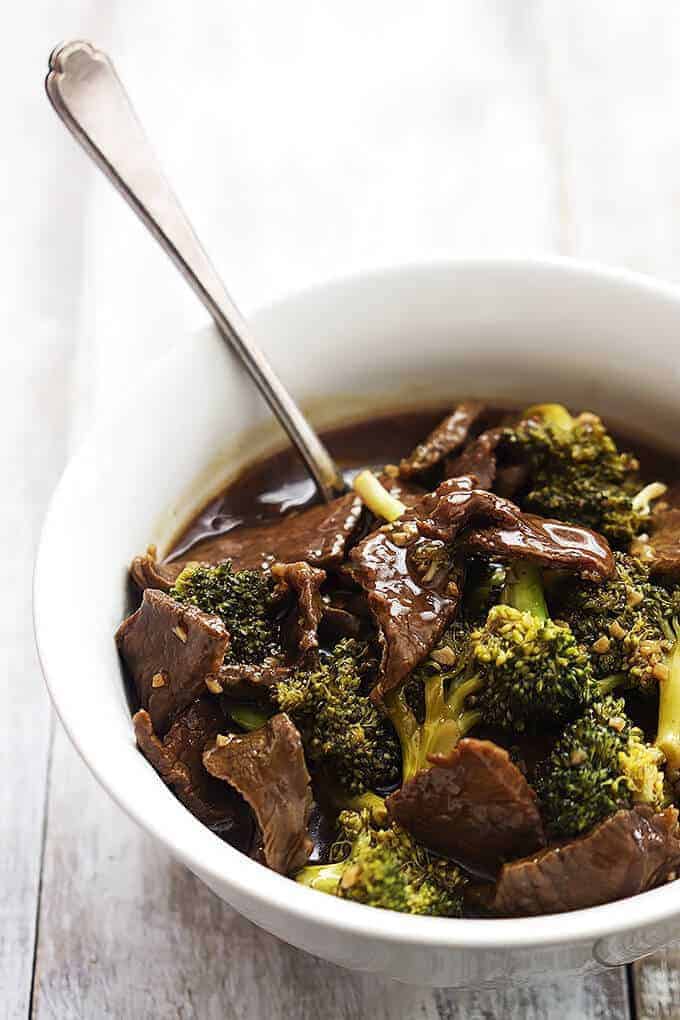 Satisfy your craving for takeout with this easy and tasty dish. Use this recipe to make the same beef and broccoli you love but without the loads of sodium and other weird ingredients. Just pop the meat and spices into your slow cooker and leave it; you will come home to juicy, delicious beef. Steam some broccoli in the microwave and stir it in to make a complete, healthy meal. You can make a meal everyone will love without making a mess of your entire kitchen!
2. Paleo Crockpot Mongolian Beef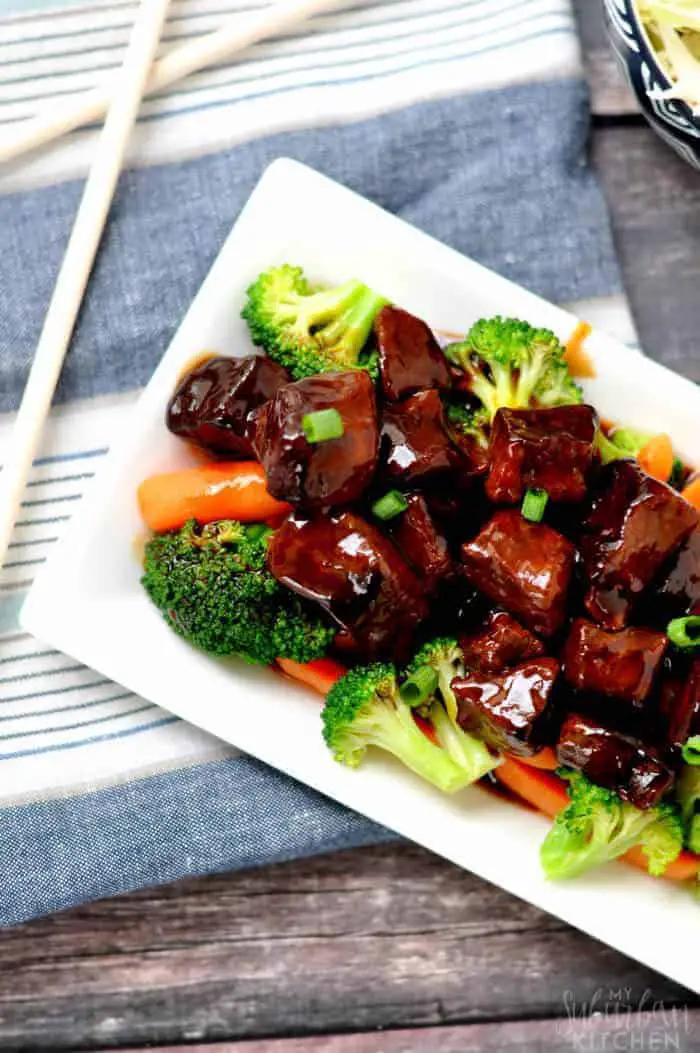 This easy recipe is yummy and good for you! The beef is packed with protein and the veggies are full of vitamins you need. It also packs a punch of flavors that will make your taste buds say "Wow!" Because this recipe is prepared in the slow cooker, it requires almost no effort to feed your family a nutritious dinner. Serve with a side of cauliflower "rice" or an Asian-style salad to complete your paleo-friendly meal.
3. Balsamic Roast Beef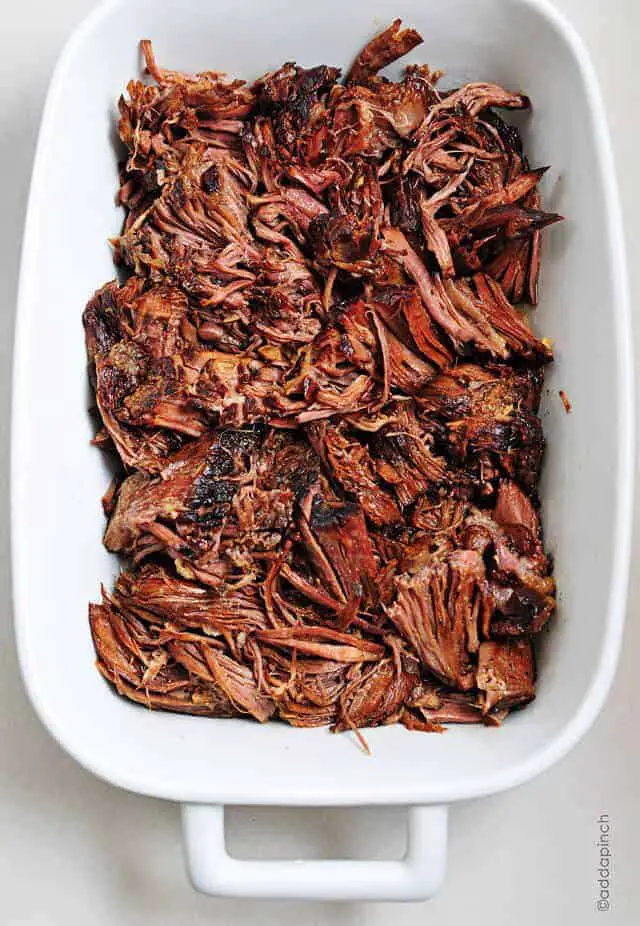 Feed your entire family without spending hours in the kitchen with this simple and tasty dish. Unlike some slow cooker recipes, this one does not require browning the beef beforehand. You can just toss your roast in the crock pot, pour in the liquid ingredients, and go about your day. The best part is that it is made with spices and ingredients you probably already have on hand. Be sure to leave some leftovers so you can make yummy roast beef sandwiches for lunch the next day!
4. Company Pot Roast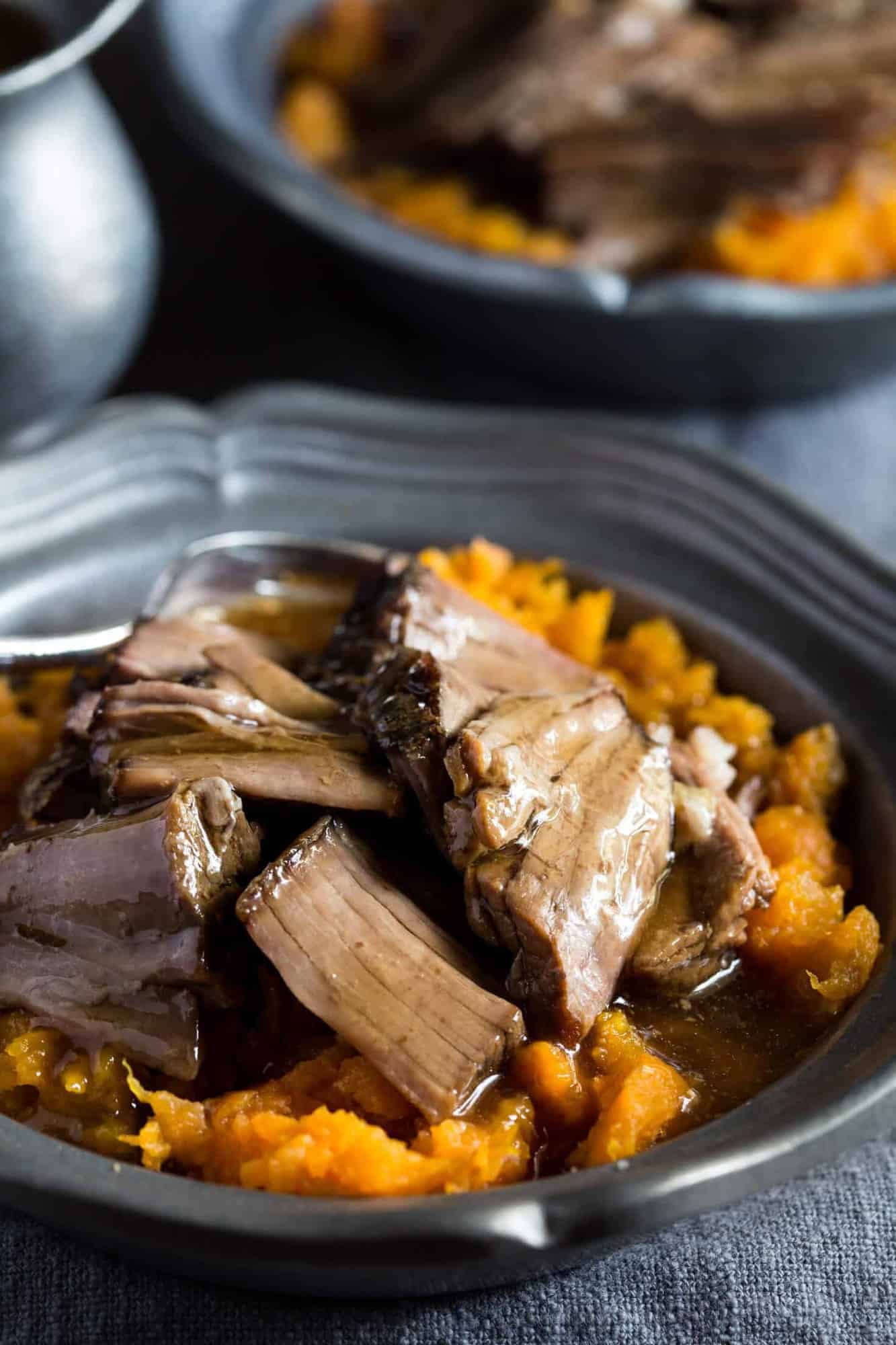 Even the most novice cook can prepare this hearty paleo recipe fit for a crowd. Simply throw the beef, veggies, and stock into your slow cooker and in a few hours you will have a succulent roast, gravy and all. This dish is flavorful, has tons of protein, and fits the paleo, gluten-free, and Whole30 diets. Serve the meat over sweet potatoes for added nutrients and flavor. This healthier take on a comfort food favorite is perfect for chilly fall and winter nights!
5. Grain-Free Thai Beef Bowls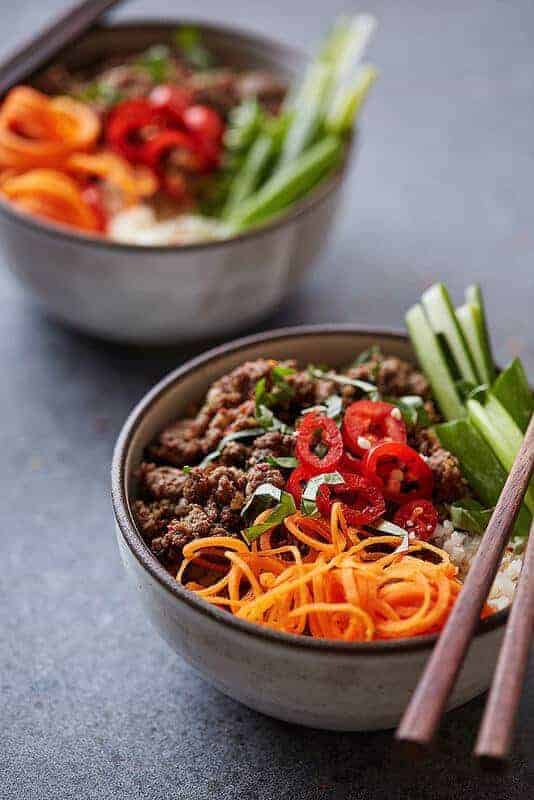 Paleo food doesn't have to be boring or tasteless. Try these delicious Asian-inspired bowls and you will never even miss regular takeout. This dish is spicy, meaty, and flavorful but contain zero grains so you don ot fill up on empty carbs. The secret is to serve your meat and veggies over cauliflower rice or zucchini noodles. Your brain will think you're eating grains but you are secretly eating healthy vegetables!
6. Easy Paleo Beef Strognaoff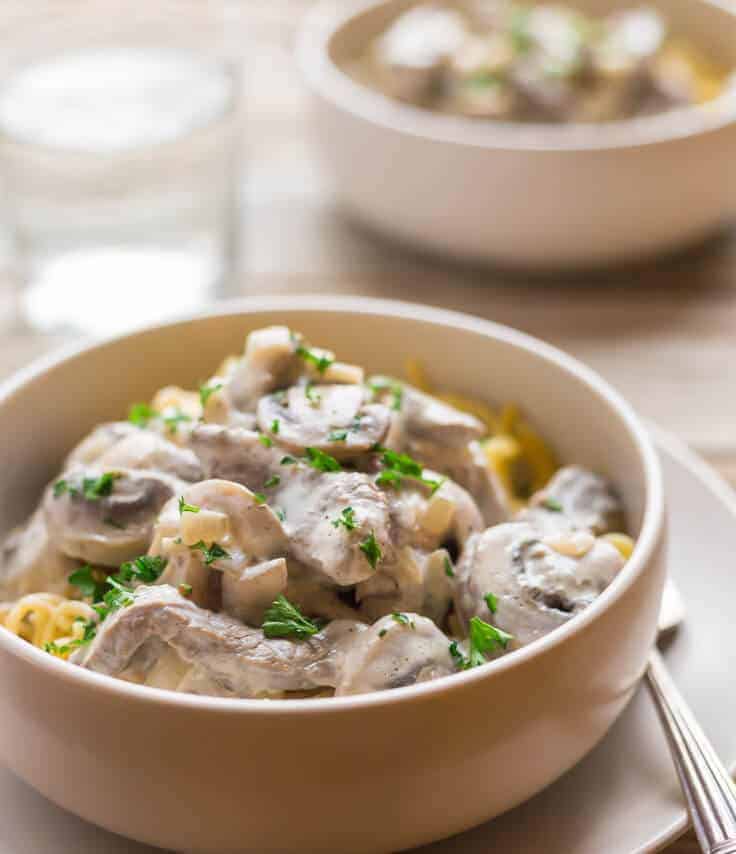 A list of paleo beef recipes would not be complete without beef stroganoff. This creamy classic dish gets a paleo makeover by leaving out the butter and subbing coconut aminos for the Worcestershire sauce. This dish is the ultimate guilt-free comfort food! Instead of serving this dish over egg noodles like your grandmother would have, keep it free of grains by using mashed turnips, zucchini noodles, or spaghetti squash instead.
See also these 50 Paleo recipes that the whole family will love
7. Beef Teriyaki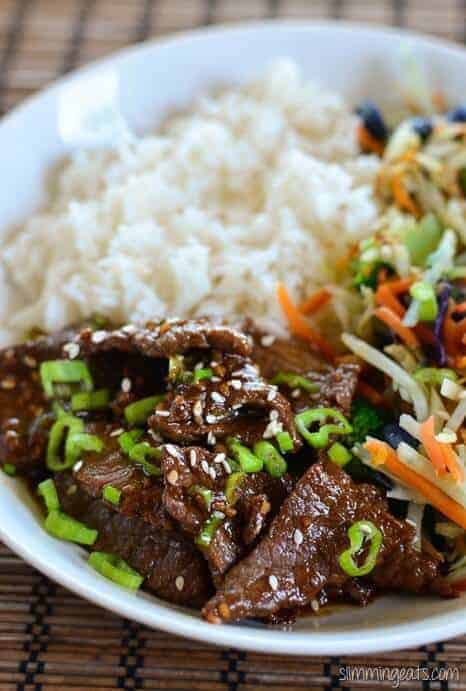 Enjoy your favorite takeout dish while sticking to your paleo diet with this flavorful recipe! The lean cuts of beef ensure you get all the nutritious protein without any extra fat. With all the intense Asian flavors, you will never miss the fat or grains! This quick stir fry is perfect for busy weeknights. Make it a full meal with an Asian slaw or salad and a generous scoop of fluffy cauliflower rice.
8. Steak Bites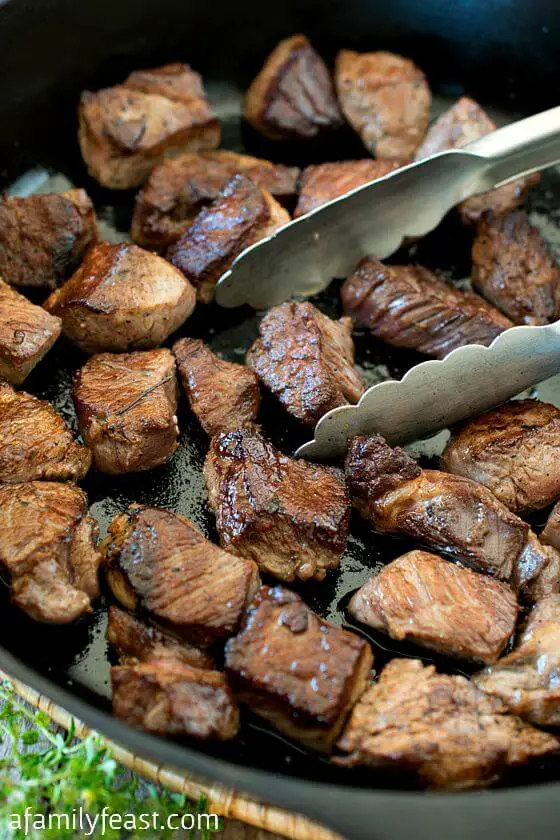 Sometimes the most delicious paleo food is the simplest, like these overnight steak bites! Season cubes of rib eye steak with salt, pepper, and thyme the night before, then saute them in a paleo-approved fat for a fast dinner every member of the family will love! These succulent bites are a great way to ensure you get your daily recommended amount of protein in. Serve them with your favorite salad or vegetables to round out your meal.
9. The Best Meat Rub & Beef Tenderloin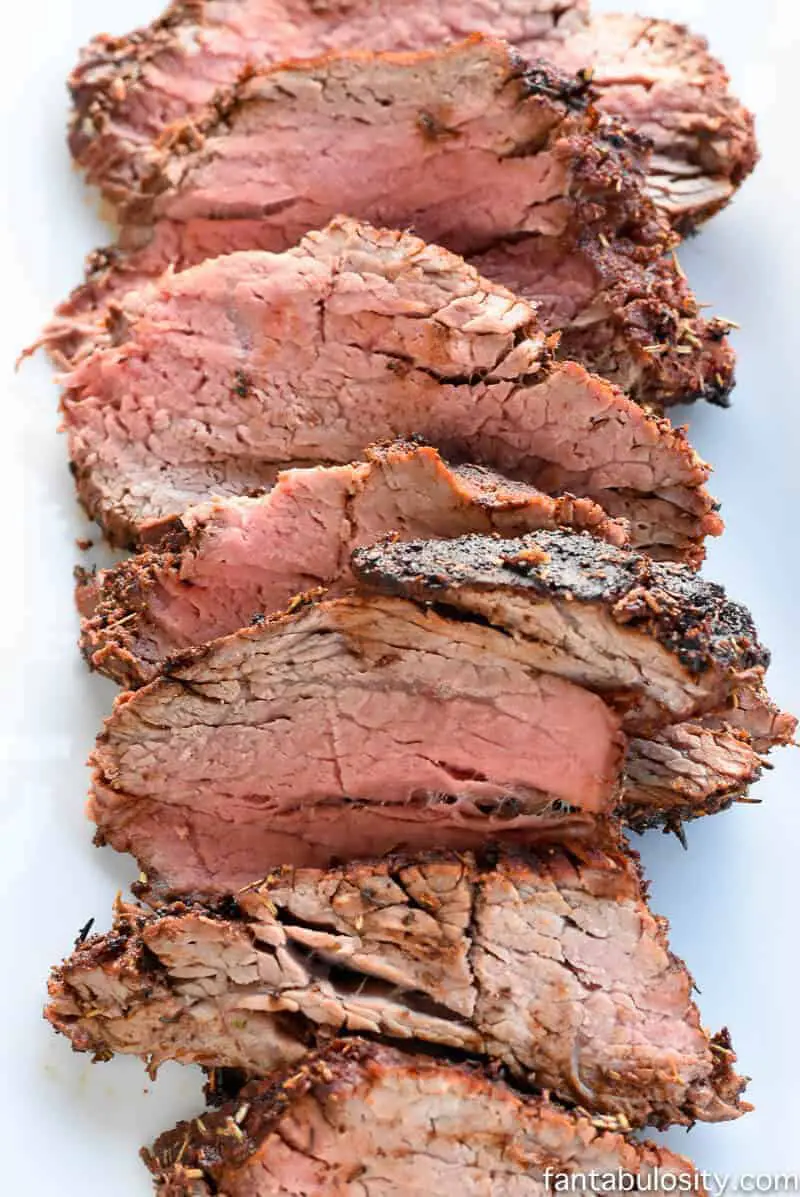 Spice up your regular old beef tenderloin (literally!) with these tasty recipes. First, prepare a mix of paprika, thyme, rosemary, salt, and pepper and rub it into your beef. Then, toss it on the grill for a soft, smoky tenderloin the whole family will love. It will be fall-apart tender and just spicy enough to make you reach for seconds. Sticking to the paleo diet is easy when the food is this good!
10. Easy Crock Pot Sweet and Sour Hawaiian Beef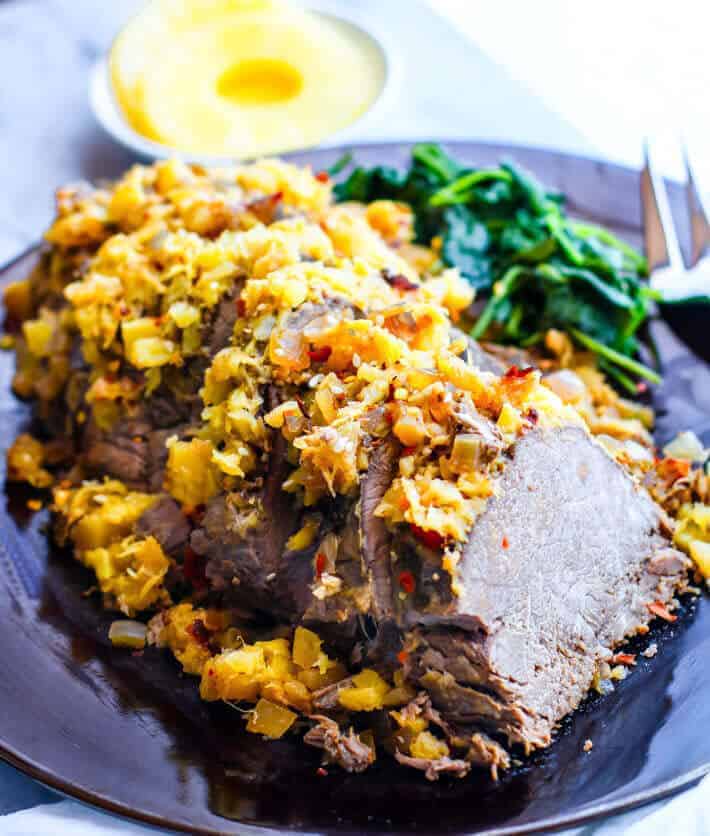 Do not spend all your precious time in the kitchen! Let your slow cooker make this tasty dinner for you and make your house smell amazing in the process. This delicious recipe gives you protein, fruit, and vegetables all in one easy dish. To make it even more healthy and filling, add a side of cauliflower rice or your favorite steamed veggies. You can even freeze your leftovers to eat on a lazy day. Yum!
More paleo beef recipes on the next page…
11. Garlic-Lime Skirt Steak & Veggies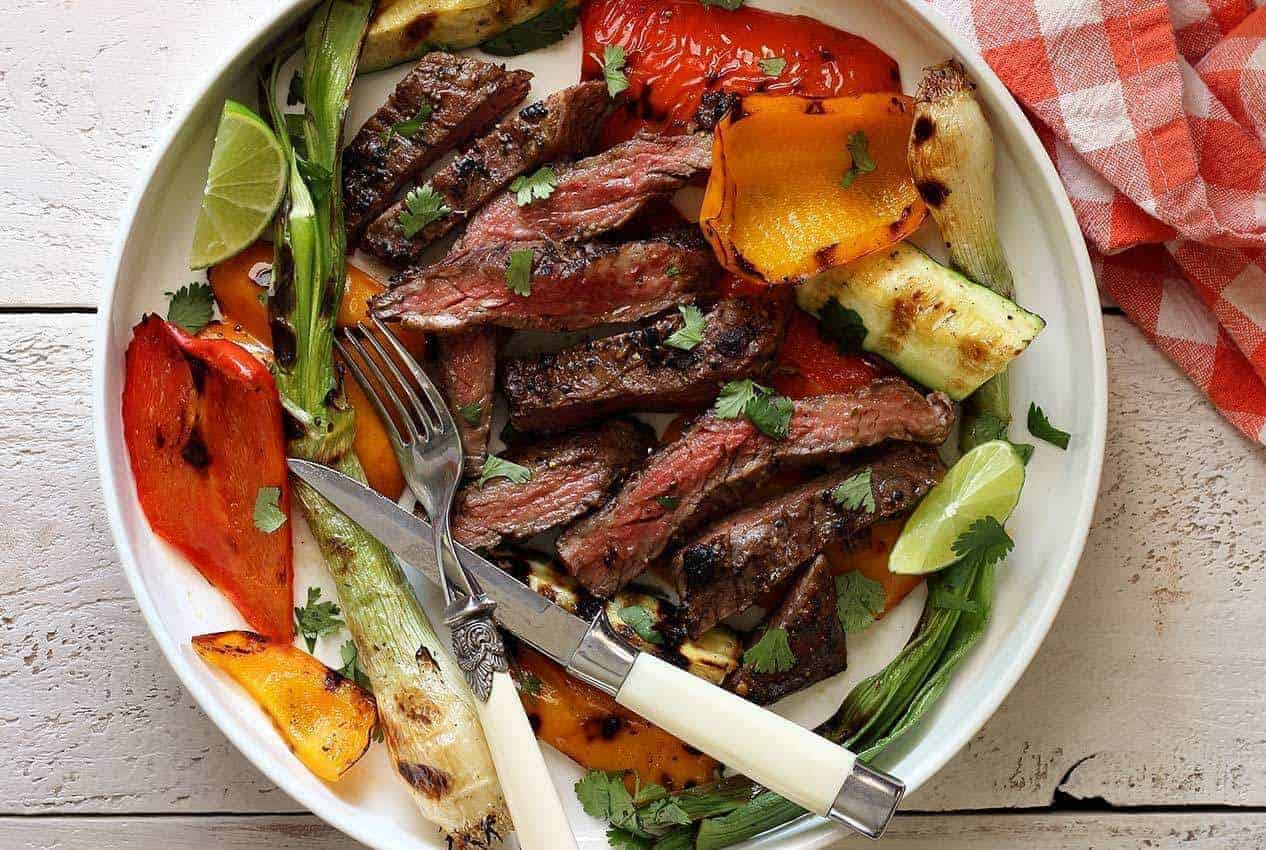 This paleo recipe uses a cheaper cut of beef but packs such a punch of flavor that you would never know it! You can save money but still enjoy a delicious meal. Marinade the steak in olive oil, garlic, lime juice, salt, and pepper for a few hours to get flavorful, tender meat. Then toss it on the grill with your favorite veggies (onions, bell peppers, and zucchini work well) for the perfect fast summer dinner!
12. Slow Cooker Barbecue Beef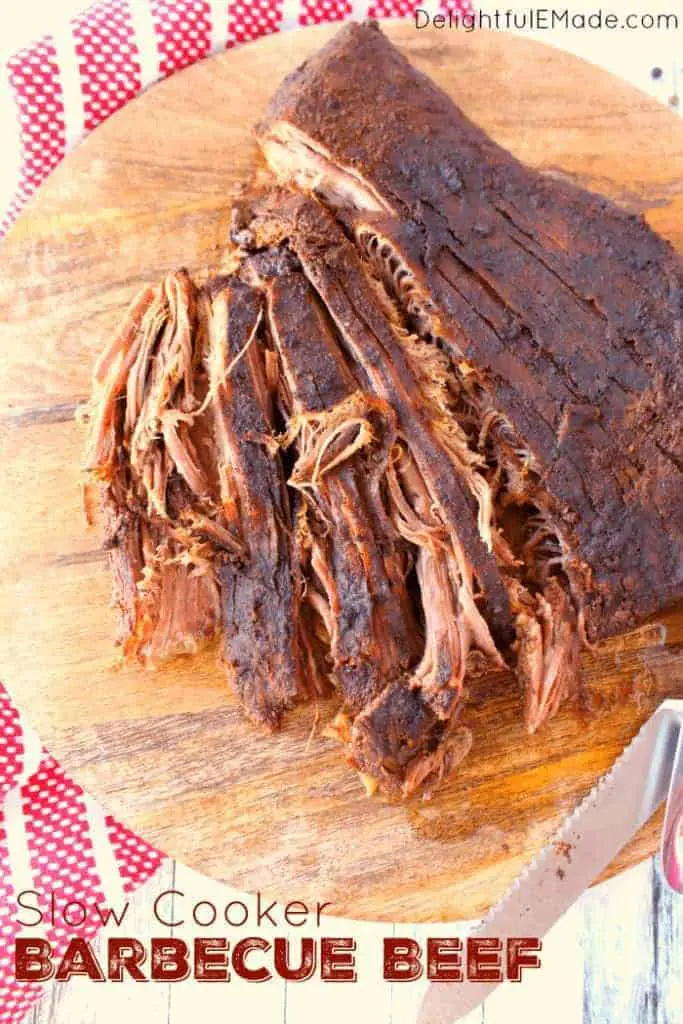 If you want an easy recipe for those busy weeknights, try this smoky, spicy dish. Simply rub brisket, flank steak, or a roast with spices and toss in the crock pot along with onions, water, and beef consomme and let simmer for a few hours. This beef is a yummy topping for all kinds of things: sandwiches, pizzas, nachos, baked sweet potatoes, and more. Just make sure to keep whatever you put it on paleo!
13. Barbacoa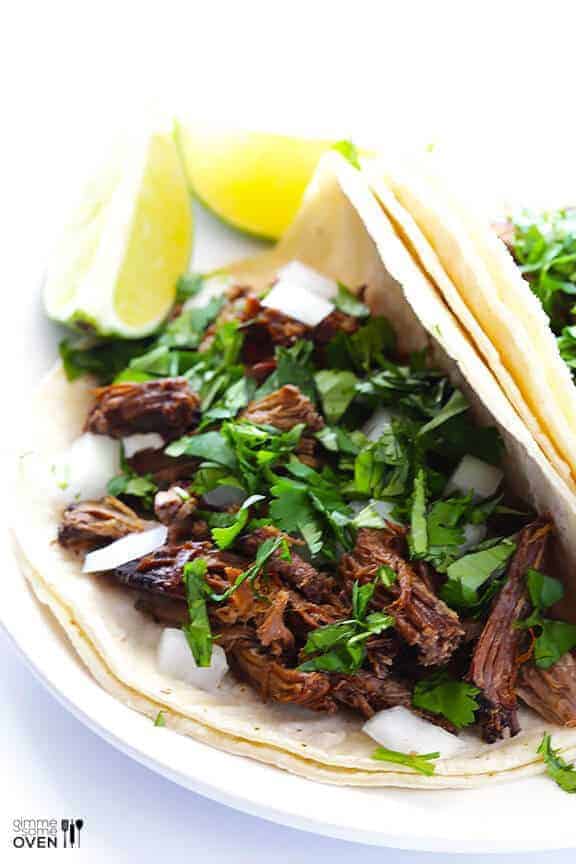 One of the yummiest paleo beef recipes on this list is this flavorful Mexican-inspired dish. This meat can be used for lots of things, like tacos, burritos, bowls, salads, and soups. Even though it is traditionally made in an outdoor fire pit, this barbacoa from a slow cooker tastes just as good! Throw a chuck roast into your crock pot with spicy peppers, Mexican spices, and a few other ingredients to get delicious tender beef that requires almost no work!
14. Basic Bulgogi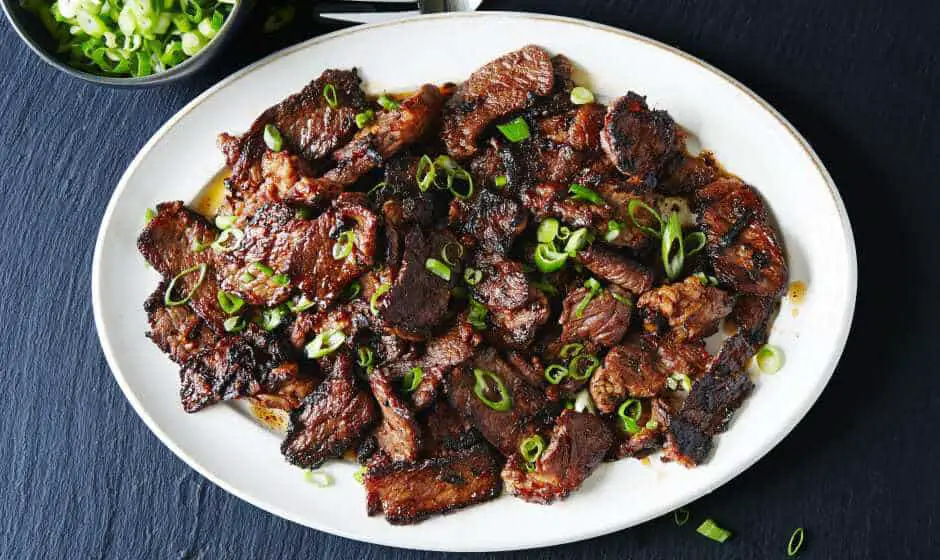 If you are looking for a really unique paleo recipe, try this Korean classic. Cut hanger steak into ultra thin slices, then marinade in a unique mix of pear, garlic, soy sauce, and spices. After 30 minutes at room temperature or up to 8 hours in the fridge, brown the meat for a few quick minutes. This crispy yet tender beef is spicy, sweet, and salty, so there is something for everyone!
15. Paleo Skillet Beef Fajitas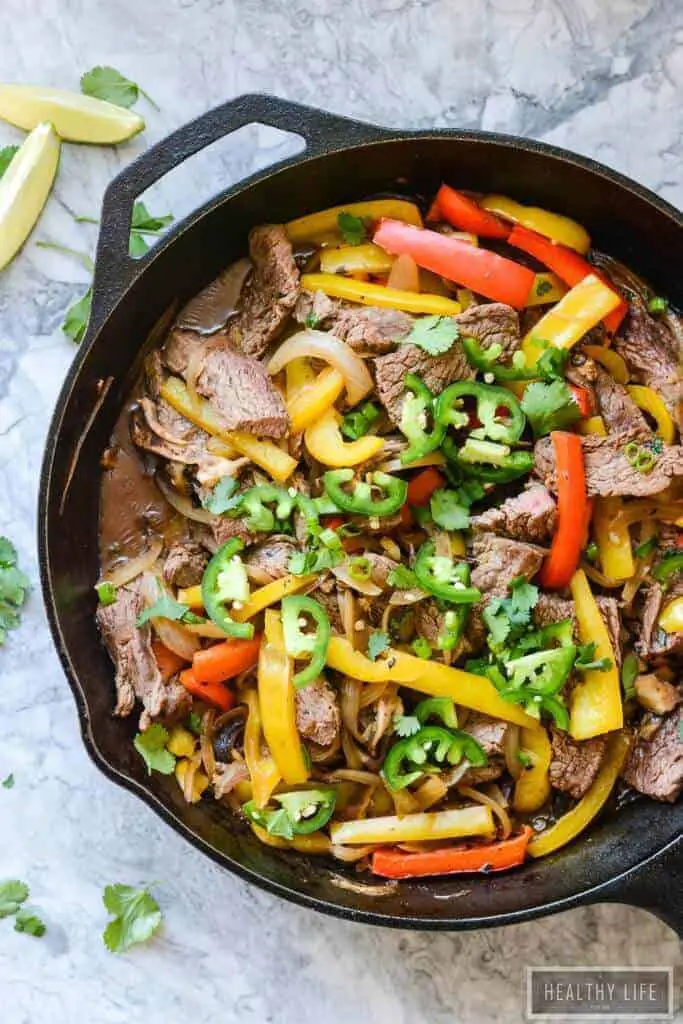 Treat yourself to a Mexican favorite in less than 30 minutes with this tasty recipe. It contains paleo food staples (beef and vegetables) and is super healthy! Plus using flank steak keeps the cost of this meal low. This dish is an all-around win! Just season the steak with a spicy rub, sear, then cook your vegetables (like onions, mushrooms, and peppers) before tossing them all together. Top with avocado and cilantro for even more flavor.
16. Balsamic Dijon-Glazed Beef Tenderloin With Herb Sauce
Sticking with your paleo diet will be easy when you make this scrumptious dinner. It takes just 15 minutes of prep time to make this dish fancy enough for a dinner party. Simply season the beef with salt and pepper, smother it with a mixture of balsamic vinegar and Dijon mustard, and bake. Remove from the oven and let the beef rest for about 10 minutes before slicing and serving with your delicious homemade lemon herb sauce.
Try these 50 Paleo Wrap recipes, perfect for the whole family
17. Paleo Turkey Stuffed Peppers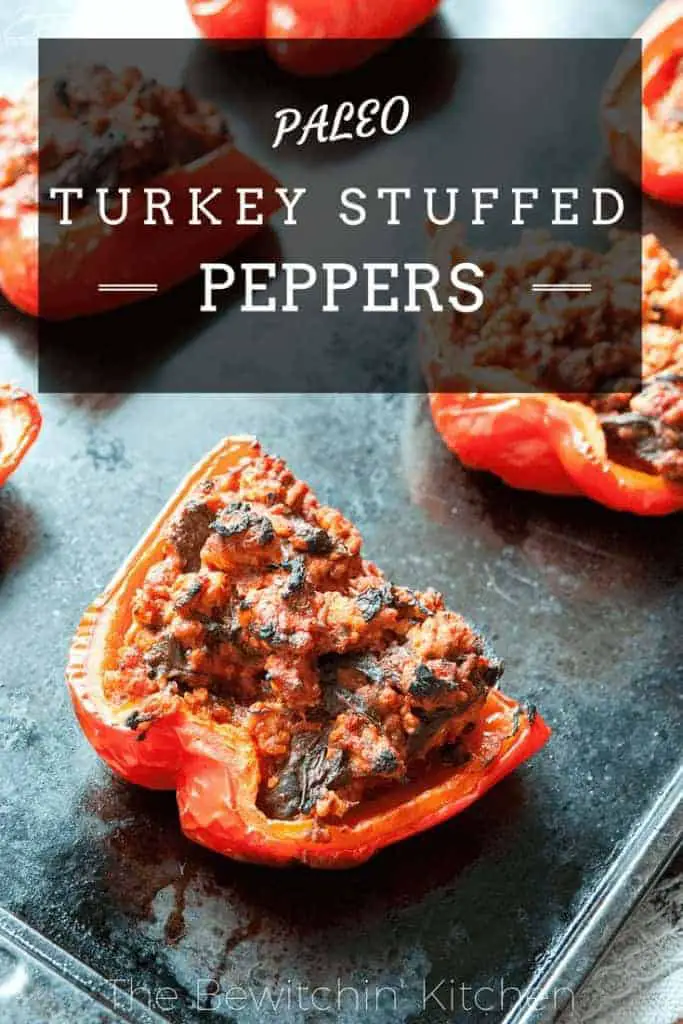 This easy recipe will have everyone asking for seconds! You can either use a store-bought tomato sauce or make your own to be extra sure that it is paleo. Brown some ground meat, then add your tomato sauce of choice, basil, and spinach for a sneaky source of green veggies. Then scoop the filling into halved bell peppers (with seeds removed) and bake. Make this when you are craving Italian food without the empty carbs!
18. Crock Pot Cuban Beef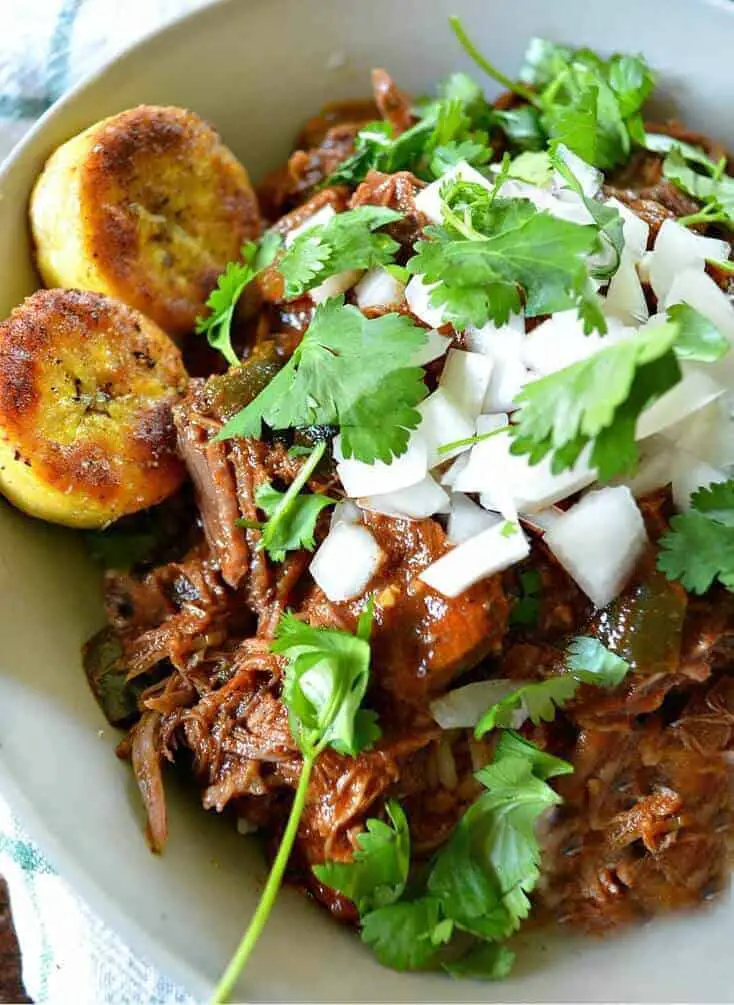 Fill your kitchen with the spicy aromas of Cuban cooking with this recipe. This beef gets gets its smoky, spicy flavor from paprika, cumin, and poblano peppers. You can add even more kick with jalapenos. This dish makes its own sauce from tomato paste and beef broth in the slow cooker. Serve with fried plantains and cauliflower rice for an authentic yet paleo-friendly dinner. This is the perfect dish to warm you up on cold nights!
19. Slow Cooker Mongolian Beef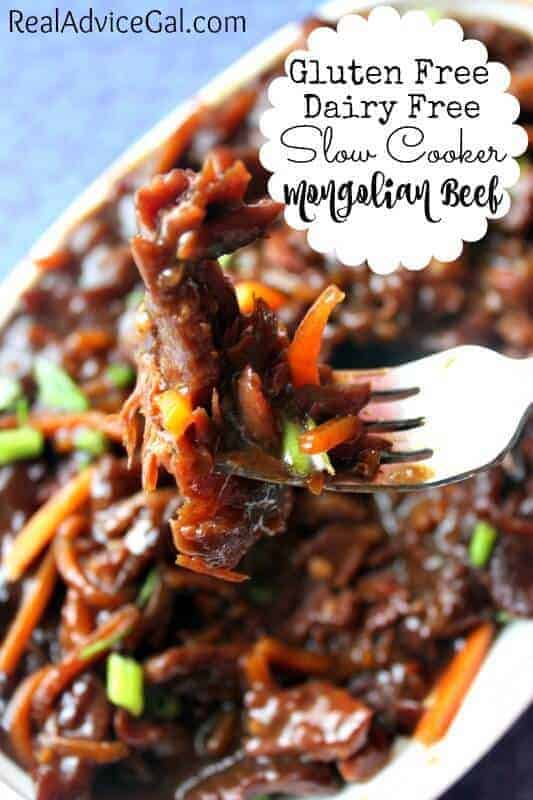 For an easy recipe anyone can make, give this dish a try. It is so full of delicious Asian-inspired flavors and nutritious protein, you might not leave any leftovers! Simply throw the beef into your crock pot along with the water, sauces, carrots, and garlic for a crowd-pleasing dinner that takes practically zero effort. You can serve it over a bed of cauliflower rice for an extra serving of vegetables.
20. Beef Brisket Pot Roast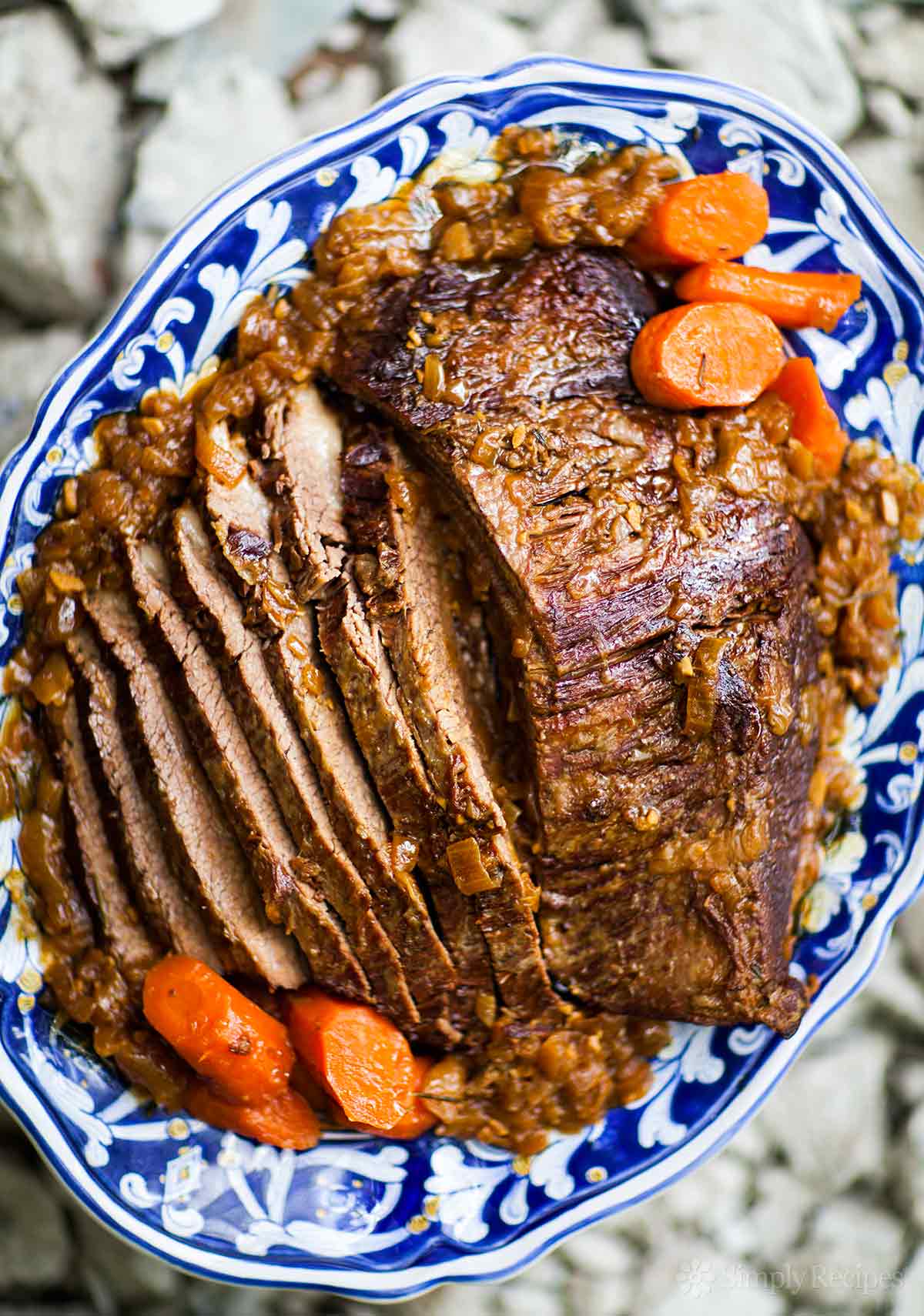 Bring back memories of your mom or grandmother's kitchen with this classic paleo recipe. Sear your beef, then saute the garlic and onions. Next, add the meat back to the pan, add your herbs and stock, and roast, adding carrots halfway through. The brisket will come out so tasty and tender it will be hard to resist making "yummy sounds." Serve with mashed turnips or rutabaga for a paleo-friendly take on mashed potatoes.
More paleo beef recipe ideas on the next page…
21. Cuban Shredded Beef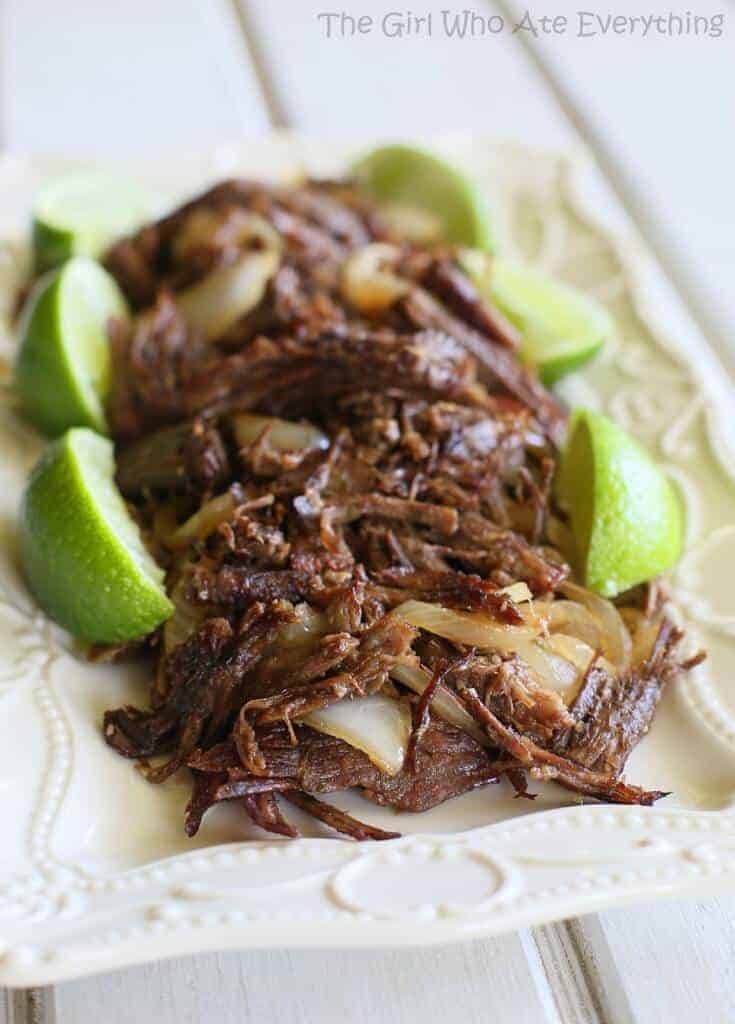 Bring a punch of island flavor to your paleo food arsenal with this dish. The boneless beef chuck-eye roast is infused with bright orange and lime juices and spicy cumin for a flavor combination you probably never tasted before. It is juicy and tender inside but crispy outside. Serve it on top of a salad, in lettuce wraps, or over top of cauliflower rice for a zesty, filling meal.
22. Slow Cooked French Dip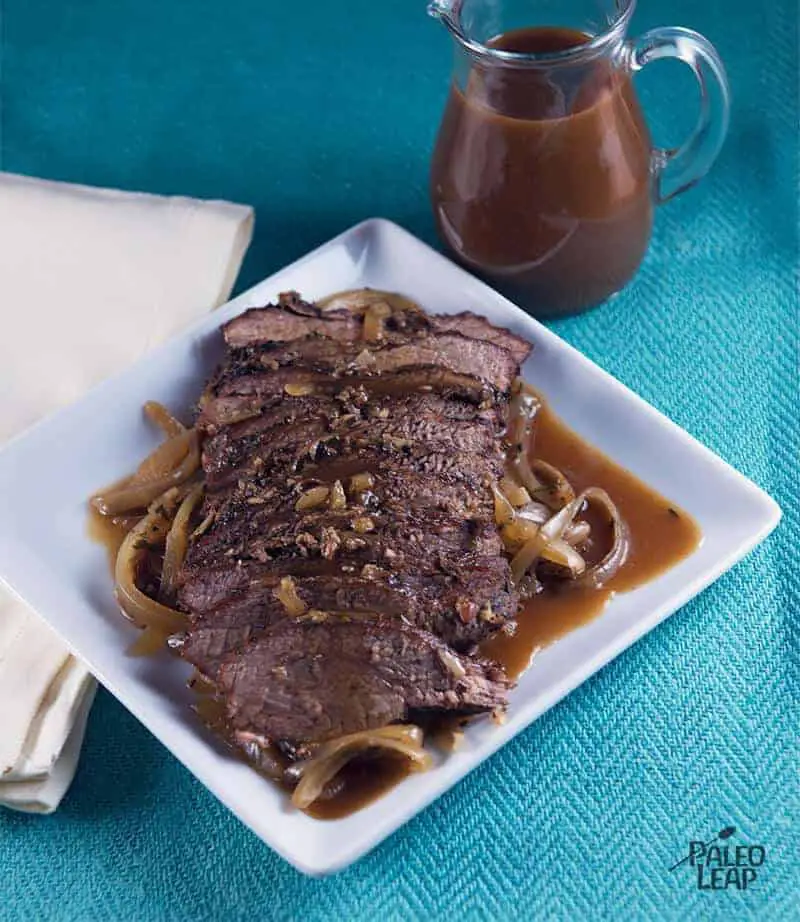 Of all the paleo beef recipes on this list, this may be the juiciest. Because it cooks low and slow in the crock pot, the beef stays ultra tender. Plus, you serve it with a tasty homemade jus for dipping to make it even juicier! Just throw some tri tip, onions, beef stock, spices, and garlic into your slow cooker after breakfast to get an effortless dish for dinner time! Serve with a paleo bun or plain.
23. Beef and Butternut Squash Stew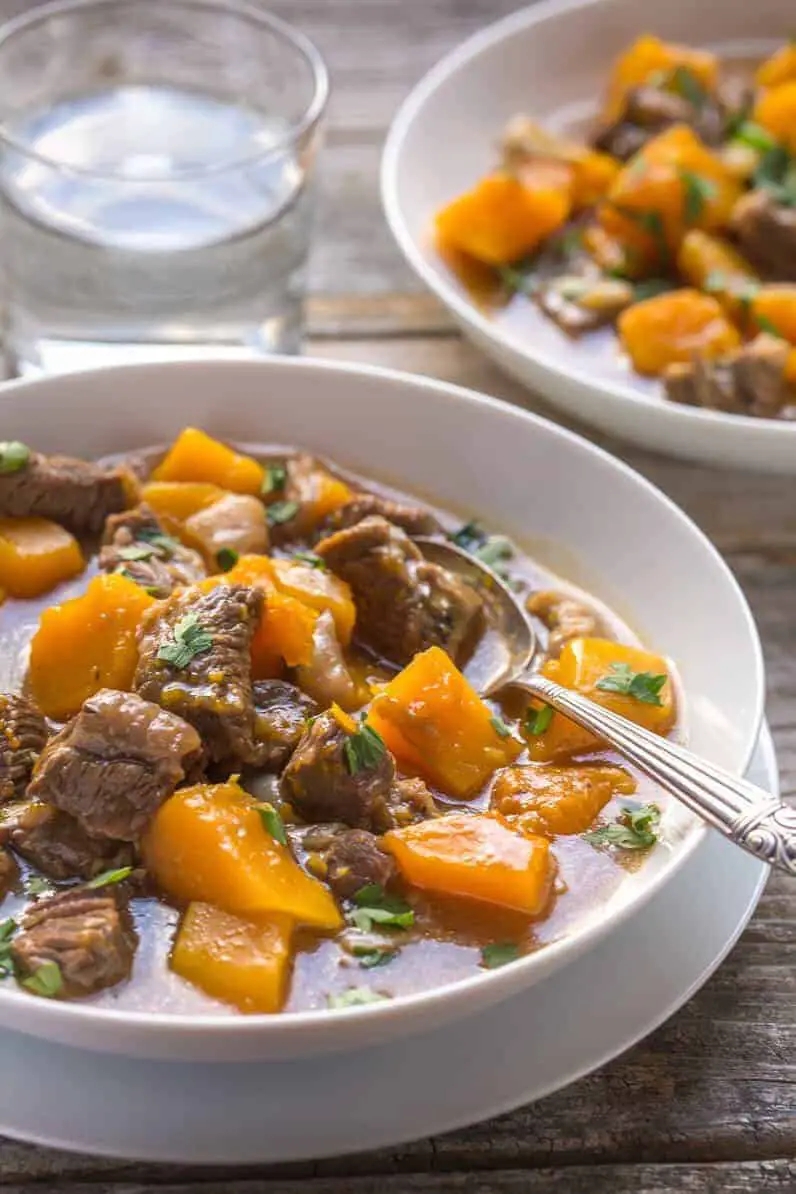 This yummy, hearty dish makes the perfect fall dinner. It is all made in one pot, making it an easy recipe for those busy back to school evenings. You can make it even easier by using your slow cooker! Simmer chunks of beef, onion, garlic, stock, and herbs in a heavy bottomed pot, adding the squash at the end so it doesn't get too soft. You'll have a tasty stew full of warm autumn flavors in no time!
24. Grilled Flank Steak with Avocado Chimichurri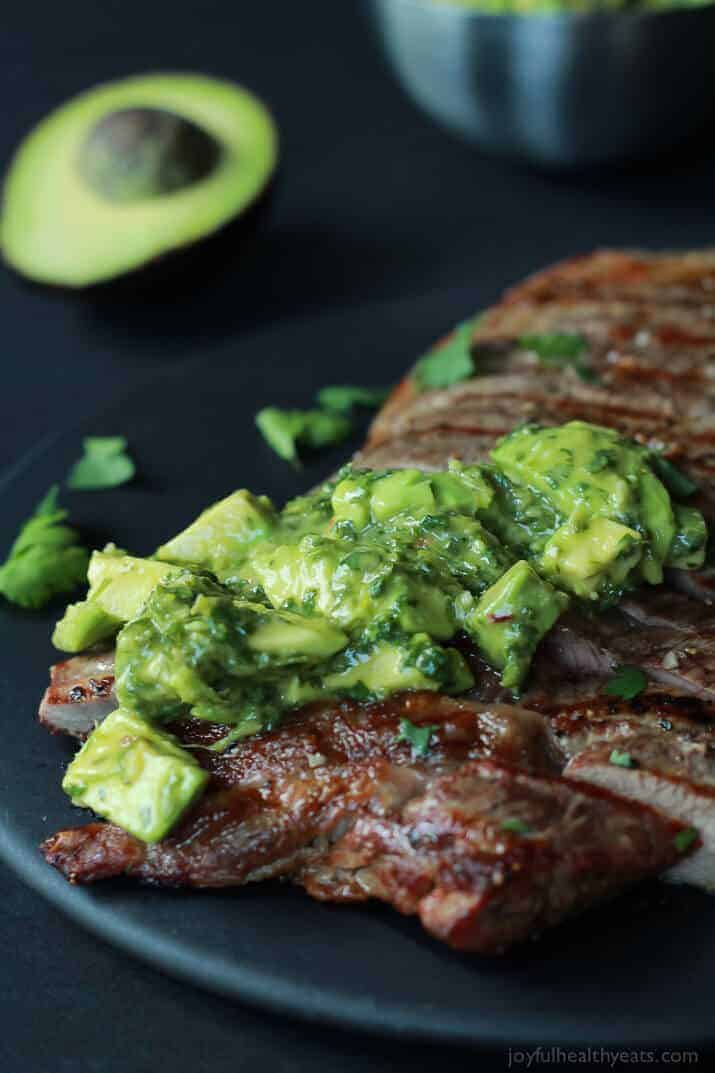 Make a delicious and nutritious dinner in less than 20 minutes with this paleo recipe. The homemade chimichurri sauce contains healthy fat in the avocado and tons of flavor thanks to the unique combination of herbs and spices. Even though a good steak shouldn't need any topping, it doesn't hurt to add a delicious sauce! This dish is great for the warm days of summer (or when you are wishing for summer!).
25. Beef and Zucchini Stir Fry with Roasted Broccoli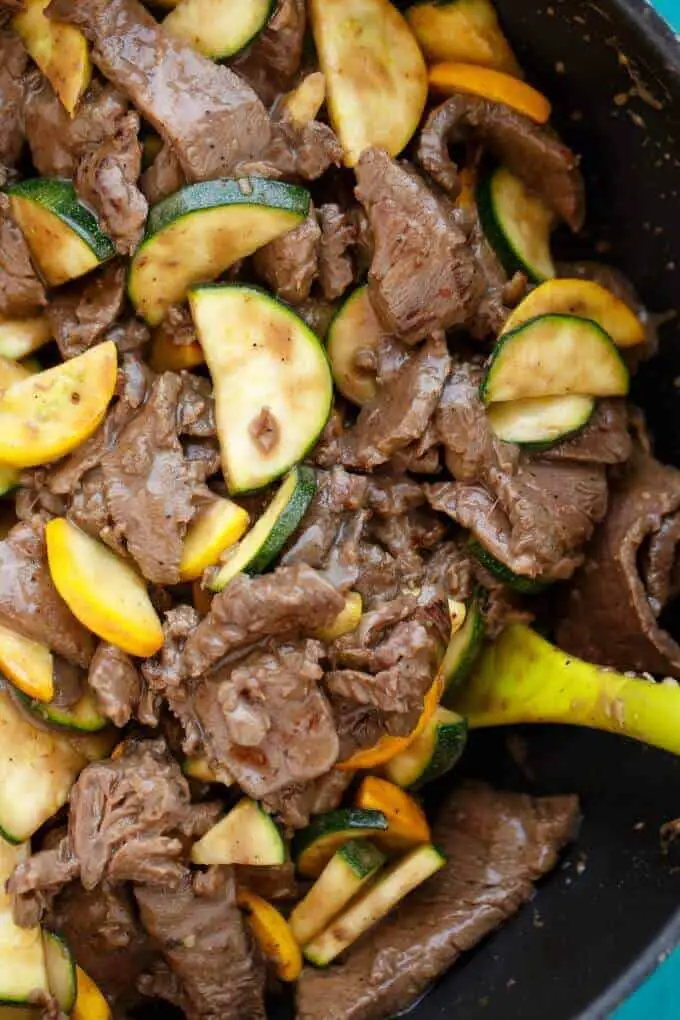 If you have some extra zucchini kicking around, give this dish a try. Because it is just meat and veggies, stir fry is the perfect paleo food. The thin slices of beef and zucchini get crispy and delicious thanks to their journey around the wok with a homemade, Asian-inspired marinade. Top with roasted broccoli for some added greens! Round out your meal with some fluffy cauliflower rice on the side.
26. Slow Cooker Beef Stroganoff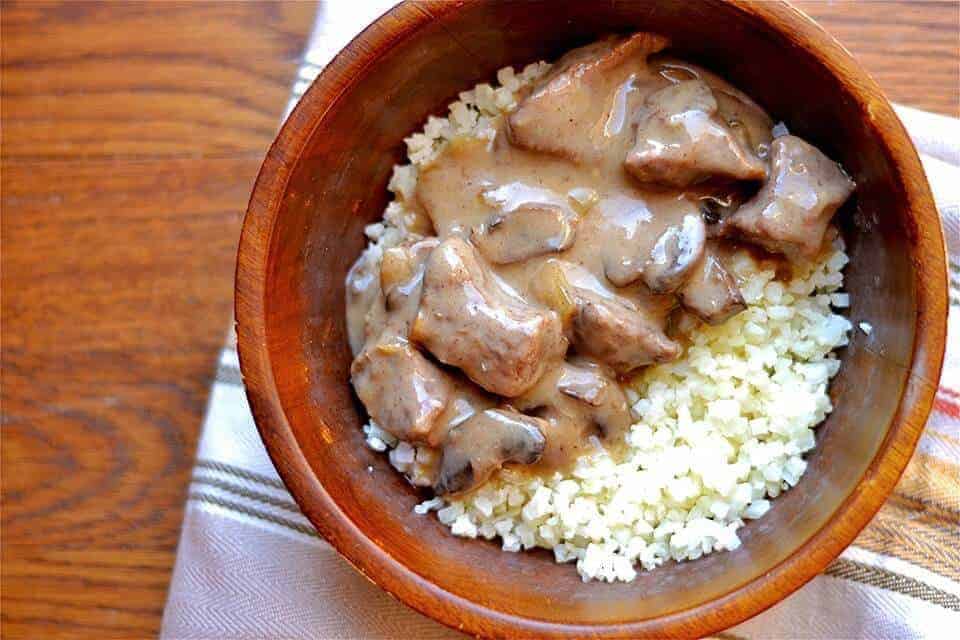 Make an old standby paleo-friendly with this clever and easy slow cooker recipe. The creamy sauce is completely free of dairy products to fit even the most strict paleo diet, using coconut milk instead. Without the milk fat, the flavors of the beef, mushrooms, and onions can really shine through! Because this recipe is paleo, gluten-free, and dairy-free, eating comfort food has never been healthier! Make it even cozier with a side of cauliflower rice.
27. Mini Bacon Wrapped Meatloaf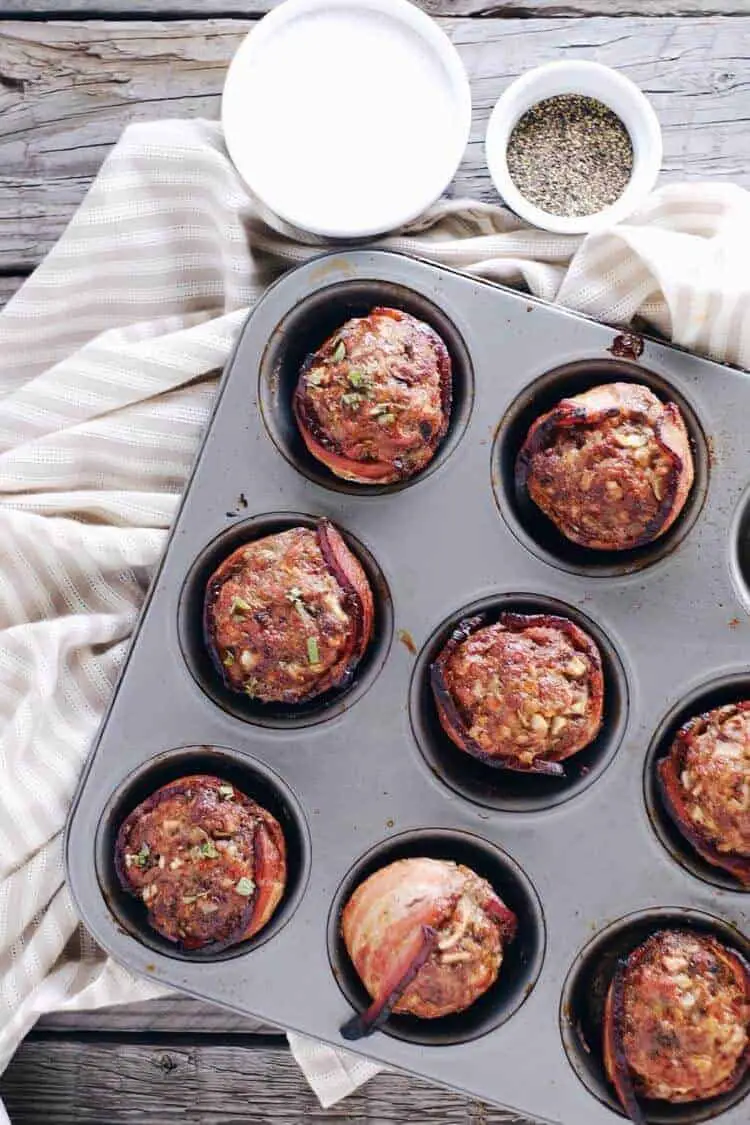 Fill your kitchen with delectable meat aromas with this fun recipe. The mini meatloaves are made with a mixture of beef and Italian sausage for an extra kick of flavor. Add bacon to the mix for a savory, salty taste that will have you drooling. This dish is also gluten-free because it contains no breadcrumbs or other binding agent, so there are no hidden grains to throw you off your diet. They are almost too cute to eat!
28. Sweet Potato and Beef Stew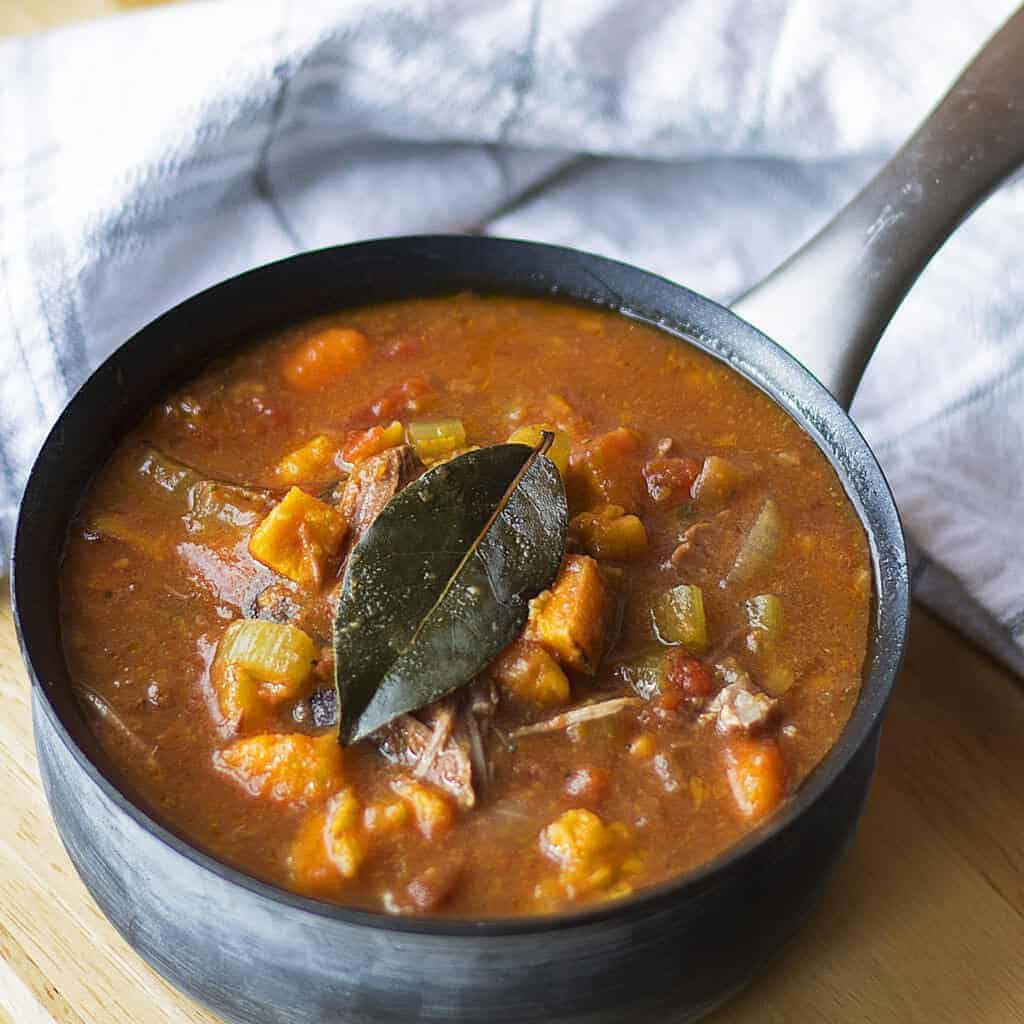 Spend just 10 minutes of prep time to make this delicious and healthy fall stew in your crock pot! All you have to do is cube some beef and sweet potatoes, throw them in the slow cooker with some bone broth, herbs, and veggies, and forget about it until dinner time! This easy recipe is also great to freeze. Make a huge batch, then pop the leftovers in the freezer for days when you are busy, sick, or just don't feel like cooking.
29. Paleo Beef Stew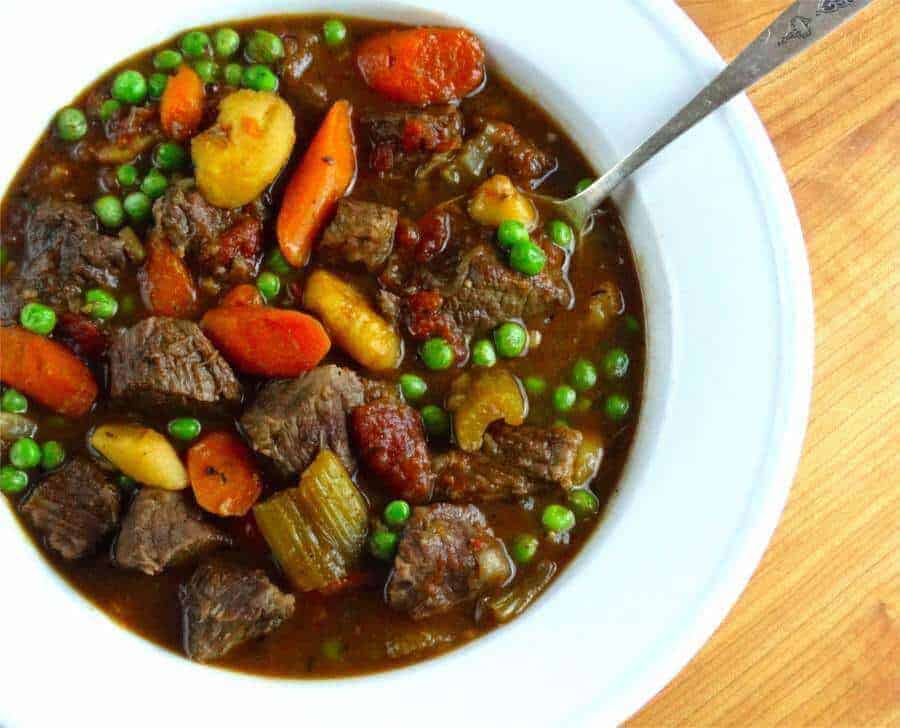 Feel healthy and happy when you eat this classic comfort food. This old-fashioned paleo recipe contains lots of nutritious vegetables and protein-packed beef for a meal that will fill you up right. It's unique because you start the stew in the oven to tenderize the beef, then pop it onto the stove to make it thick and flavorful. Serve with a side of paleo "corn" bread for an even heartier meal.
30. Crock Pot Sweet Potato Chipotle Chili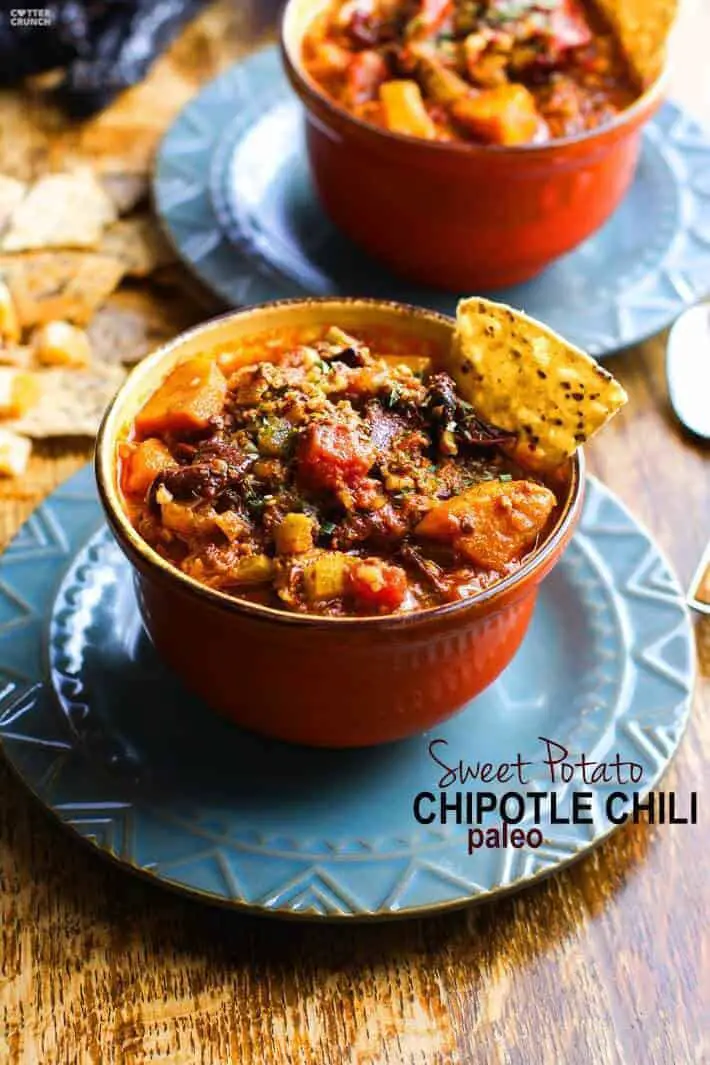 Kick your paleo food up a notch with this spicy chili! Slow cooking the chipotle peppers gives the chili a spicy, smoky flavor that pairs perfectly with the sweet potatoes. Unlike most chilis, which contain beans, this one has lots of super foods instead. Cauliflower, tomatoes, sweet potatoes, and meat pack tons of nutrients into every bowl! You can make this even healthier by browning and draining your beef beforehand to decrease the amount of grease in the crock pot.
More paleo beef recipes on the next page…
31. Slow Cooker Barbacoa Beef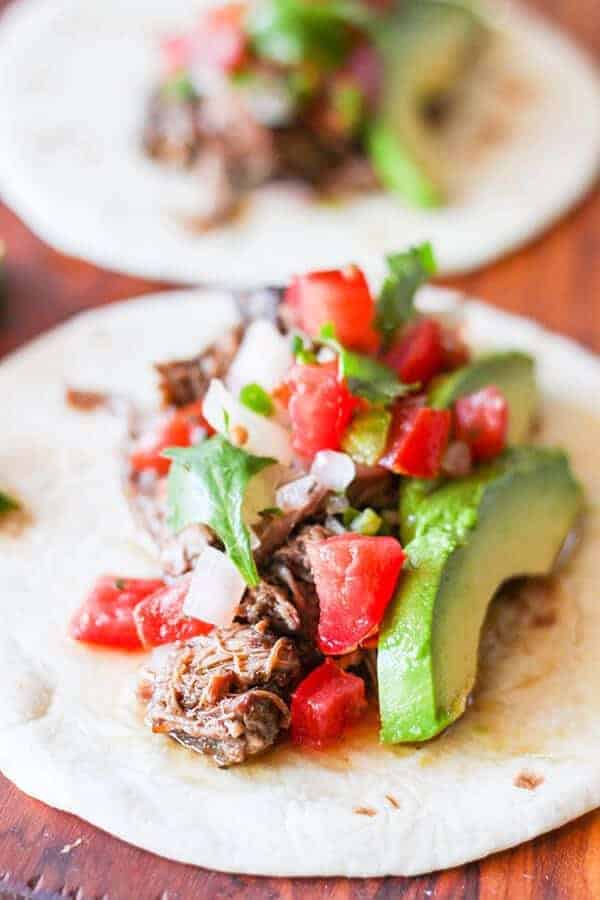 If you love the barbacoa at Chipotle, why not try making it at home? Cooking this dish in your crock pot will fill your kitchen with mouth-watering, spicy smells. With this recipe, it takes just a few minutes of prep work to get a healthier, homemade version of your favorite fast food. Just rub the meat with spices and pop it in the slow cooker before you head to work. The beef will be crispy outside, tender inside, and flavorful all through!
32. Salisbury Steak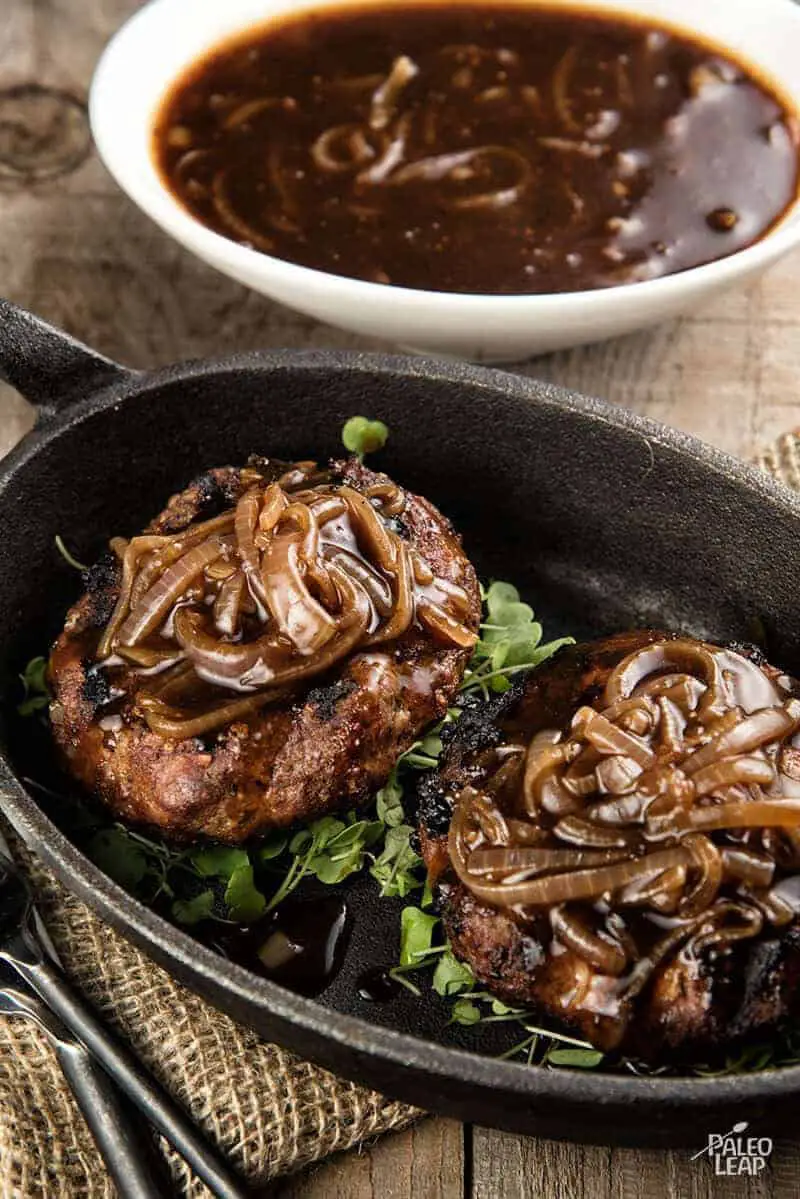 Feeding the whole crew paleo food is easy with this family favorite. By switching out just a few ingredients for dairy-free and grain-free substitutions, you can make a classic dinner that tastes just like Mom's but is a little healthier for you. The juicy beef and rich onion gravy will have everyone begging for a second helping. Plus it is relatively inexpensive to make! Complete this homey meal with a side of steamed vegetables or mashed turnips or cauliflower.
33. Mongolian Beef over Cauliflower Rice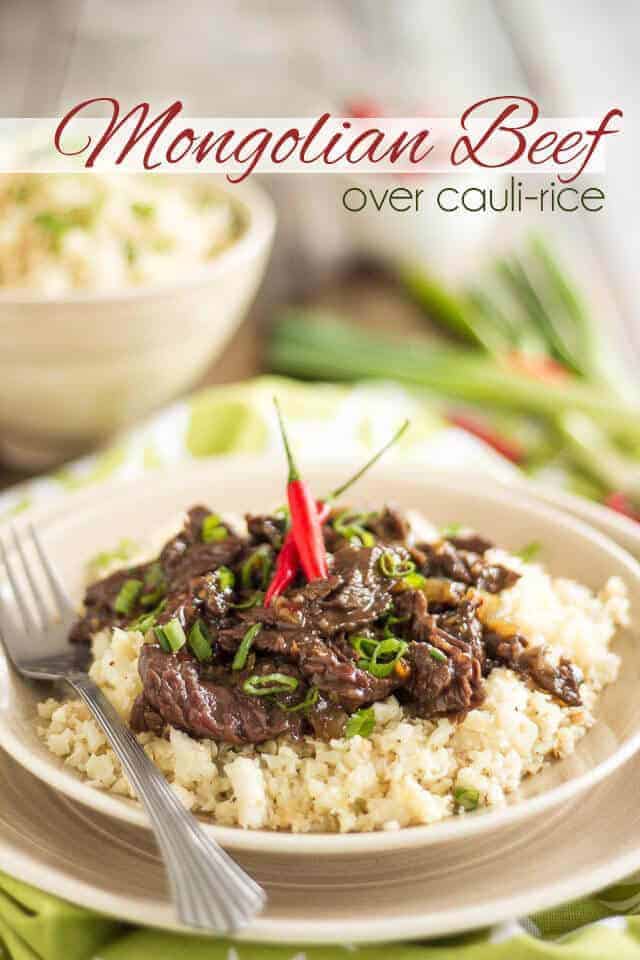 This tasty dish is sure to become one of your favorite paleo beef recipes. The tangy, spicy, salty, and sweet sauce gives a burst of Asian flavors without lots of added salt or MSG that is often found in Asian food. In just a few minutes, you will have succulent, juicy strips of flank steak in a healthy homemade sauce that will make you feel full and energized and forget all about your favorite takeout place.
34. Ginger Beef, Mushroom, & Kale Stir-Fry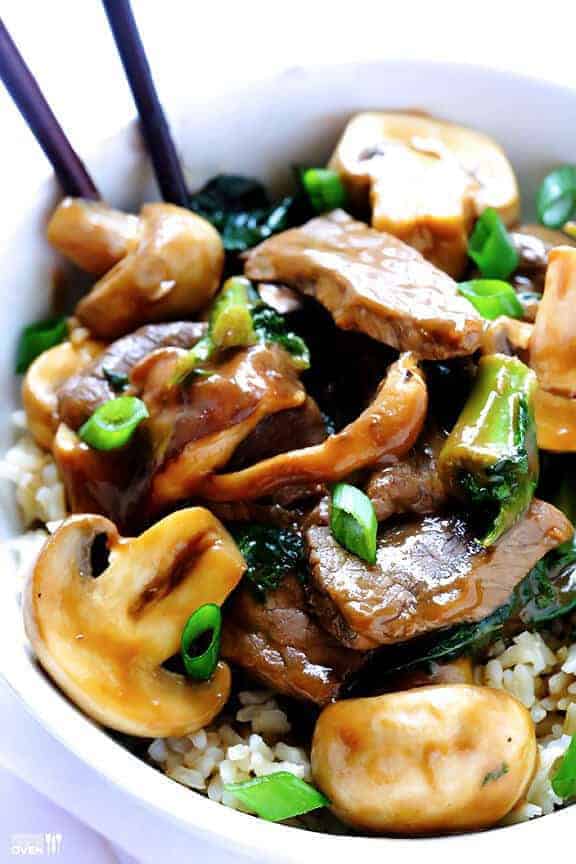 You will totally forget you are on the paleo diet when you make this amazing dish! First, marinade your beef in a flavorful homemade sauce to infuse the meat with tasty Asian flavors like vinegar and ginger. Then saute it with mushrooms and kale for a unique and healthy stir fry combination. The earthy mushrooms, bright kale, and sweet-spicy beef are a flavor explosion! All you need is 30 minutes to make this nutritious meal.
35. Sweet Potato Sloppy Joes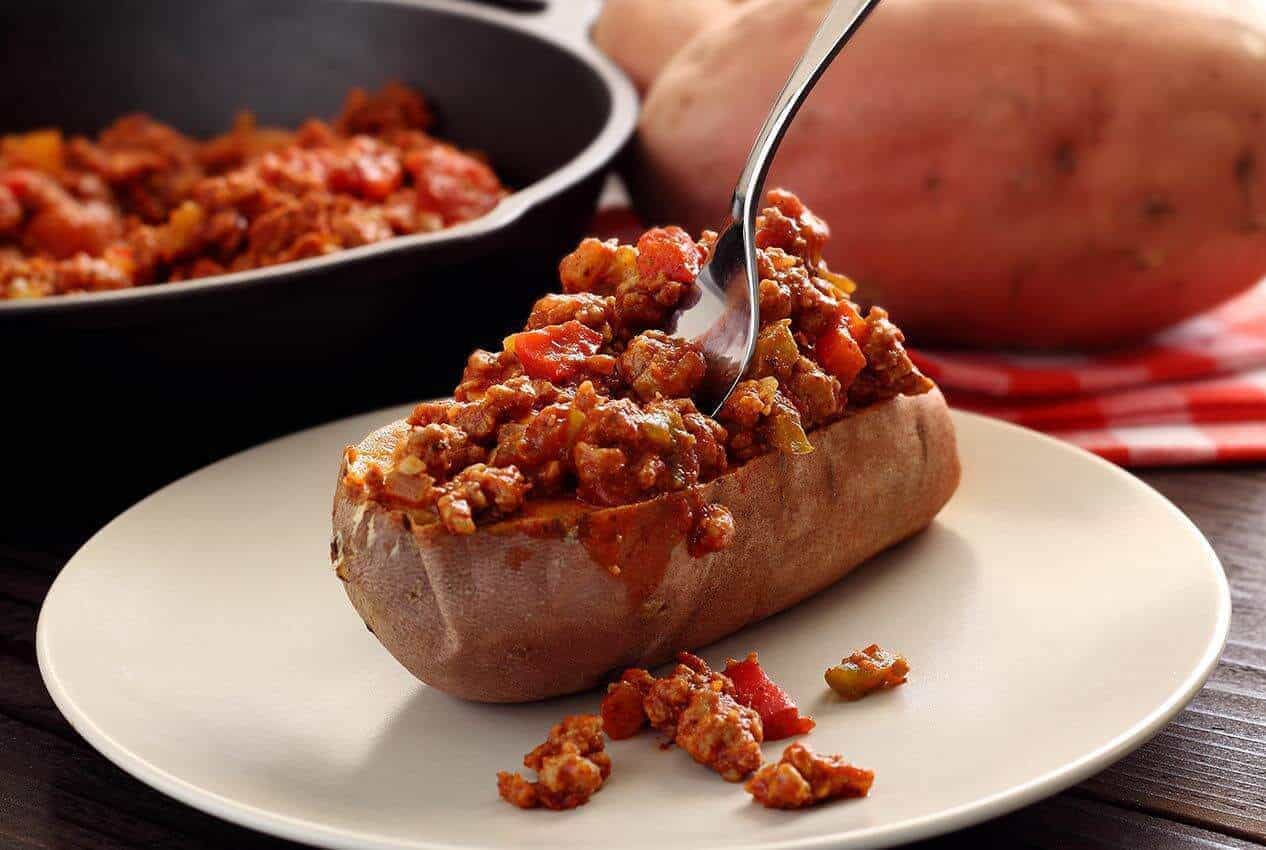 This yummy paleo recipe puts a healthy spin on a classic crowd pleaser. Instead of buns that are full of empty carbs, this recipe stuffs the sloppy joe meat into sweet potatoes, a family-friendly super food. Alternatively, you can cut the sweet potatoes into wedges and pour the sloppy joe mixture over top. It's comfort food with a nutritious twist! Cook your sweet potatoes beforehand to make this an even faster meal.
36. Slow Cooker Beef Stew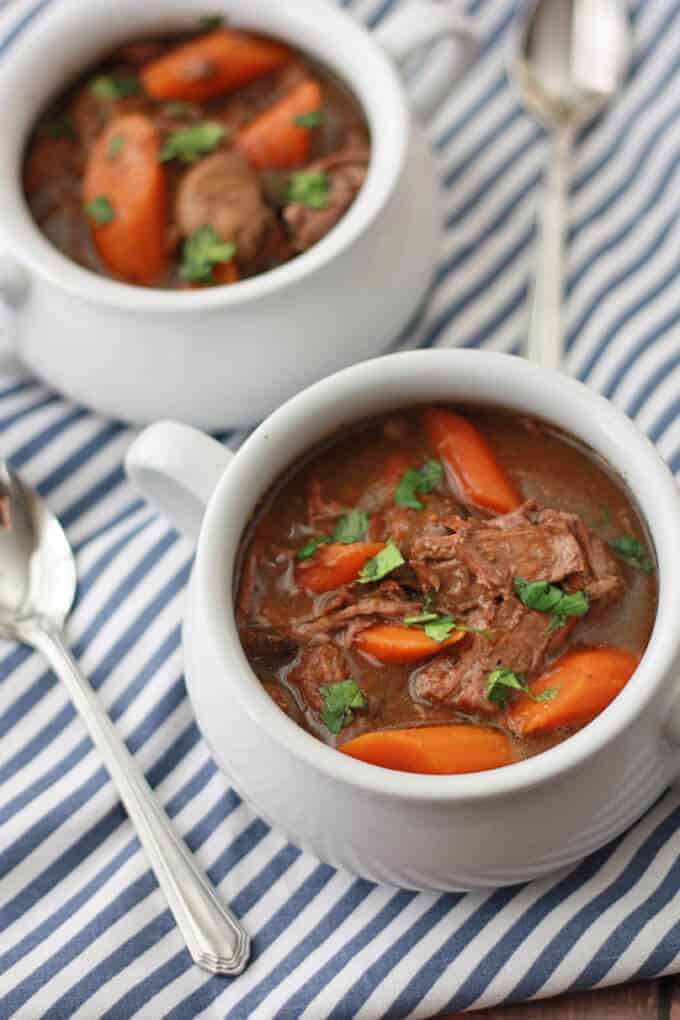 For an easy recipe that will give you the warm fuzzies, give this stew a go. Unlike most beef stews, this recipe uses mushrooms instead of white potatoes so you get all the filling heartiness without the starch. The next time you are feeling the winter blues, pop your beef, veggies, broth, herbs, and seasonings into your crock pot for a simple, effortless dinner. Cuddle up in a blanket with a bowl of this yummy stew to feel warm all over.
37. Paleo Nachos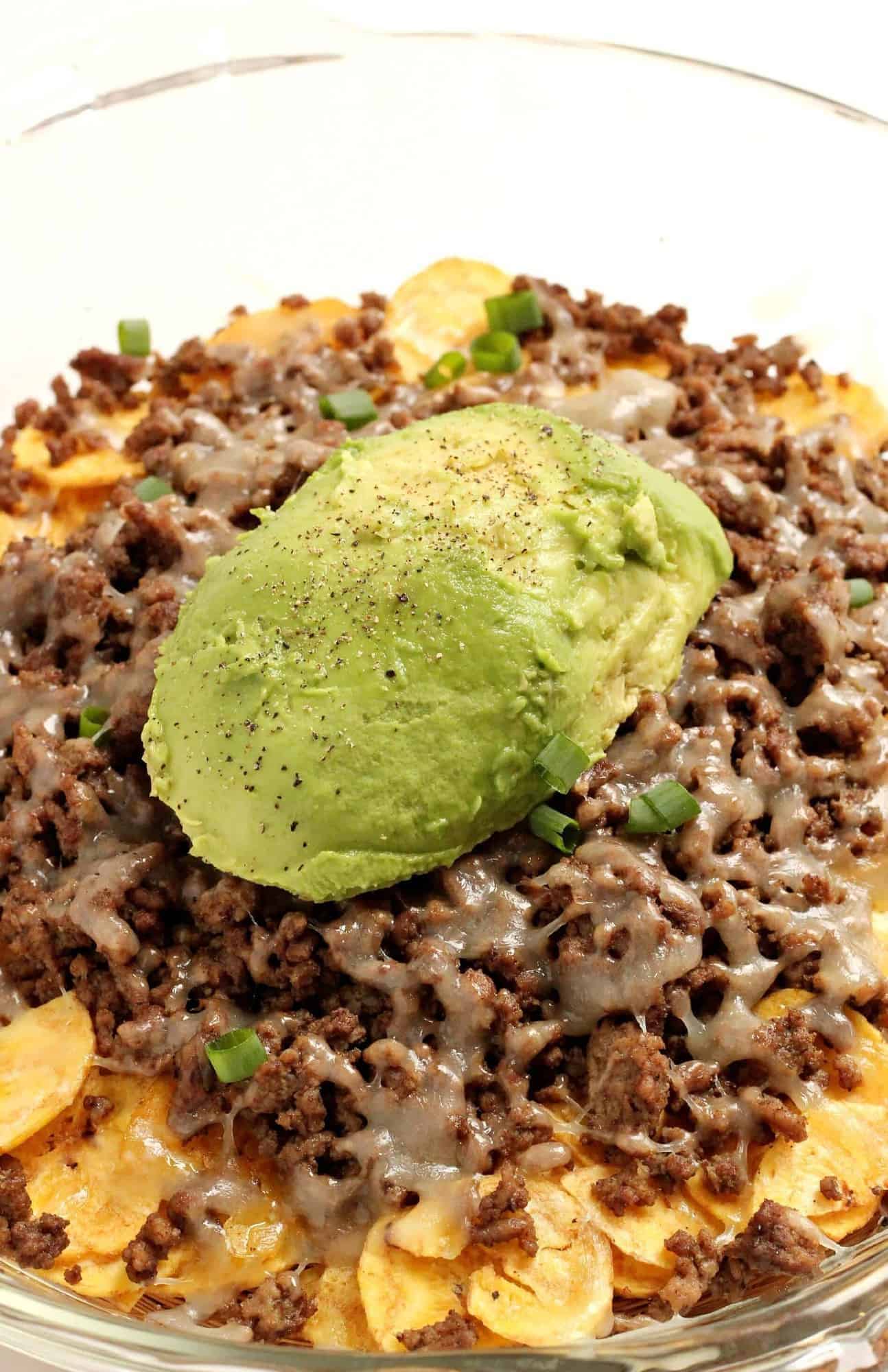 Who says you can't enjoy your favorite foods on the paleo diet? Instead of using corn chips, this recipe makes a base of healthy and delicious plantain chips. They are then topped off with goat cheese, flavorful ground beef, and some healthy fat in the form of guacamole or plain avocado. You can also serve them with zesty homemade salsa for even more flavor. These are so good you will never miss the unhealthy restaurant version.
38. Paleo Pho (Vietnamese Soup with Zucchini Noodles)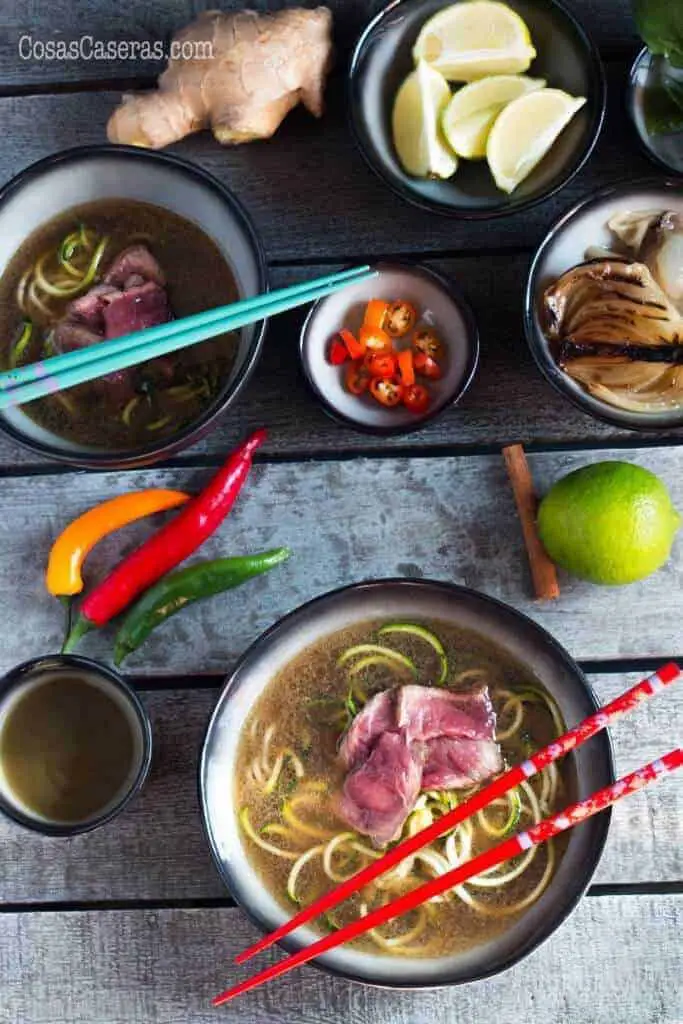 You no longer have to miss out on noodle soup with this delicious paleo recipe. Instead of using regular noodles, this soup features spiralized zucchini, also known as zoodles. This is an easy and yummy way to eat your vegetables and get lots of protein, too. With ginger root, onion, and other sweet and savory flavors, your taste buds will be doing a happy dance! This soup is so tasty you will want to eat the entire batch in one sitting.
39. Caribbean Spiced Shredded Beef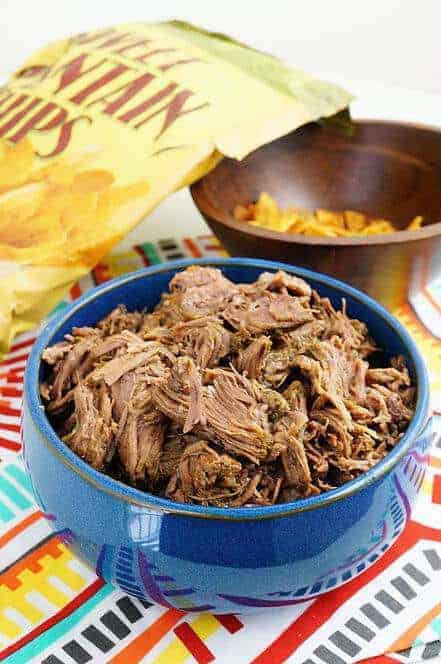 With just 5 minutes of prep, you can fill your kitchen with the spicy aromas of the Caribbean! Pop the seasoned chuck roast into your pressure cooker and let it do all the work. This recipe uses fewer than 10 ingredients to make a paloe-friendly beef dish that is bursting with flavor. Add some mangoes, avocado, and salsa for even more taste of the islands. Serve this beef over mashed cauliflower or cauliflower rice to fill you up and get some extra veggies.
40. Paleo Short Ribs with Garlic and Rosemary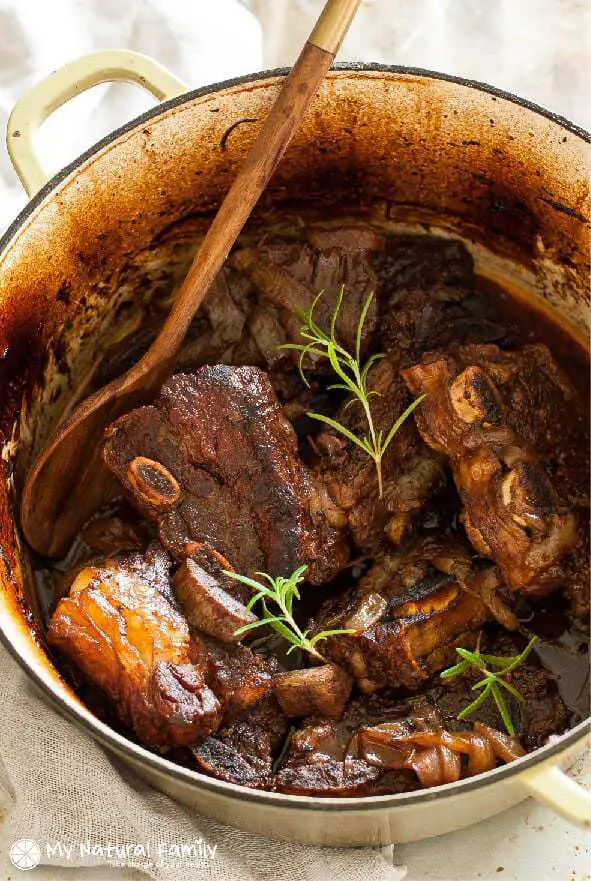 No list of paleo beef recipes would be complete without short ribs! You will not be able to get enough of the succulent ribs and deep, rich sauce featuring garlic, rosemary, red wine, and tomatoes. This beef dish would taste amazing over a parsnip or cauliflower puree in lieu of mashed potatoes. Make this for a date night at home or fancy dinner party to impress your guests while still sticking to your diet.
41. Spicy Beef Bok Choy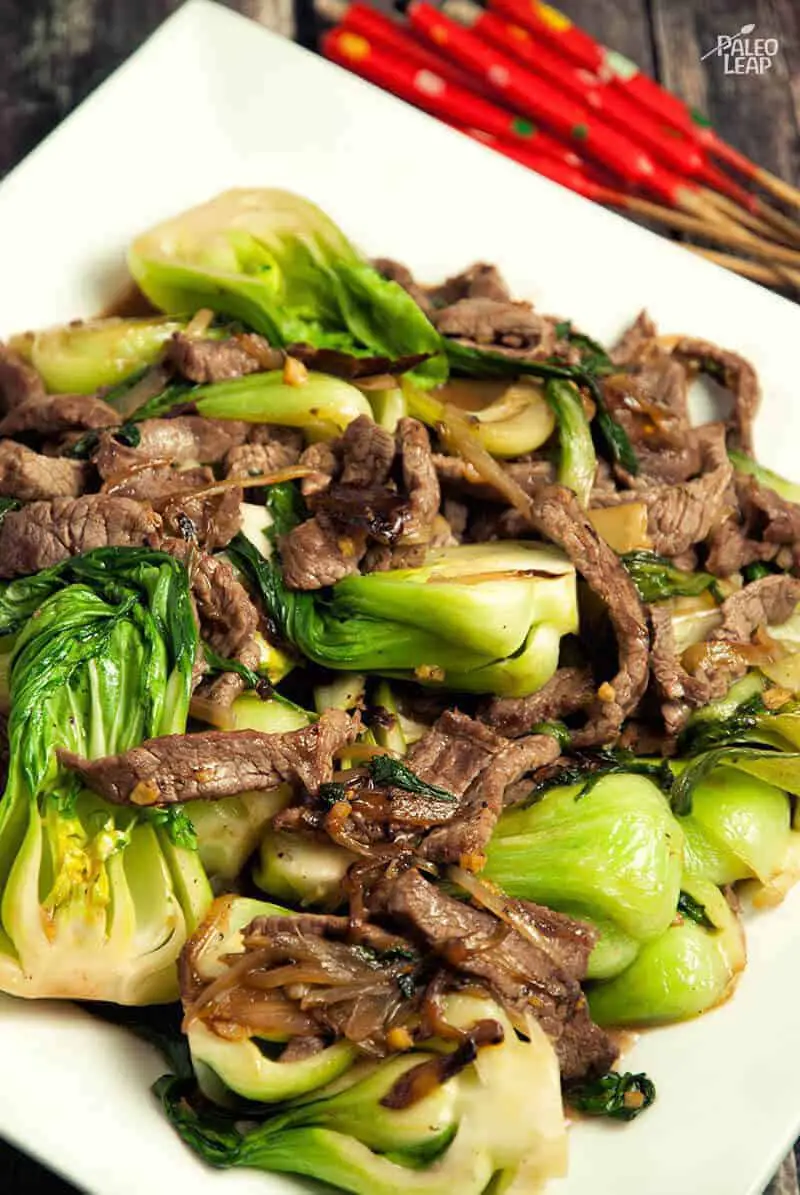 If you want a really fast and easy recipe, this dish is perfect. The bok choy will give you vitamin C, folate, and calcium, while the beef contains lots of protein. Even though this dish is seasoned with only a few ingredients (garlic, onion, fish sauce, ginger, and chilies), it packs a punch of spicy sweet flavor. With its quick cook time and amazing flavor profile, you will come back to this recipe over and over again!
42. Paleo Oven Baked Ribs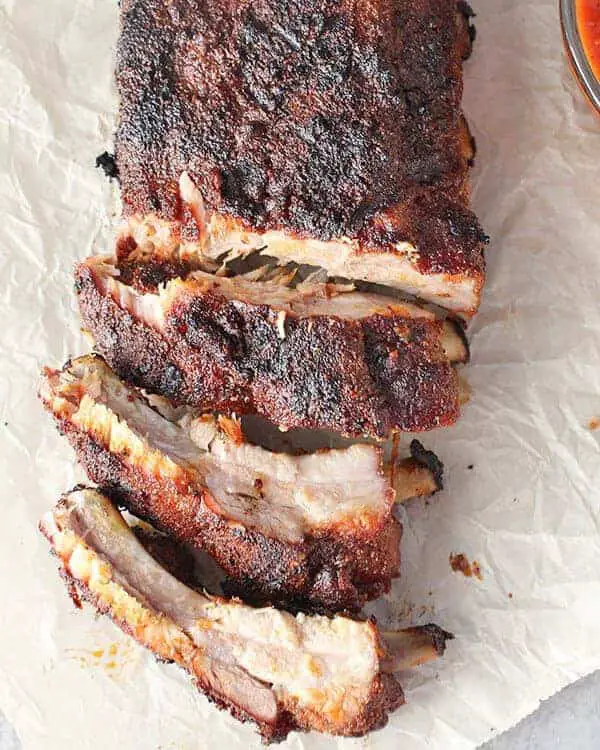 Prep these ribs ahead of your next barbecue for some crowd pleasing paleo food. These scrumptious ribs are cooked slowly in the oven to let the smoky sweet flavor of the rub meld into the meat. Because they are fully cooked in the oven, just toss them on the grill for a few minutes to get a nice char and serve! The best part is, the tasty spice rub for the meat is made entirely of spices you probably have on hand.
43. Tender Juicy Balsamic Braised Beef Short Ribs in a Crock Pot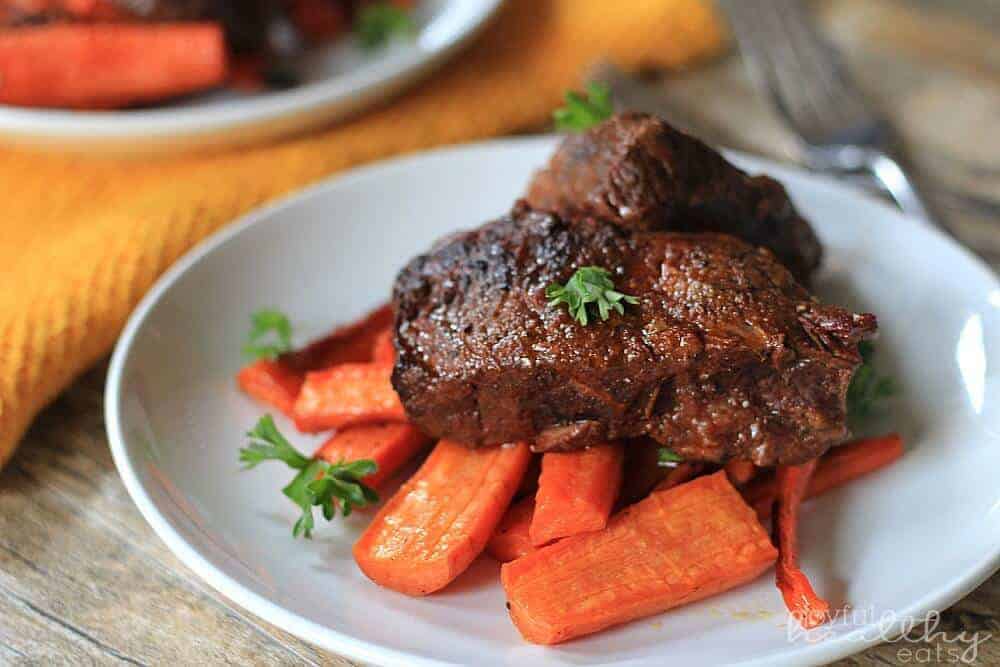 These fall-off-the-bone tender short ribs pack tons of flavor thanks to both a spice rub and a tasty tomato balsamic sauce. After cooking for a few hours in the crock pot, the beef becomes infused with tangy vinegar, sweet dates, bright tomatoes, and fragrant garlic. These short ribs would go great with your favorite steamed veggies, but especially carrots. With delicious recipes like this, sticking to your paleo diet is super easy!
44. Paleo Beef and Broccoli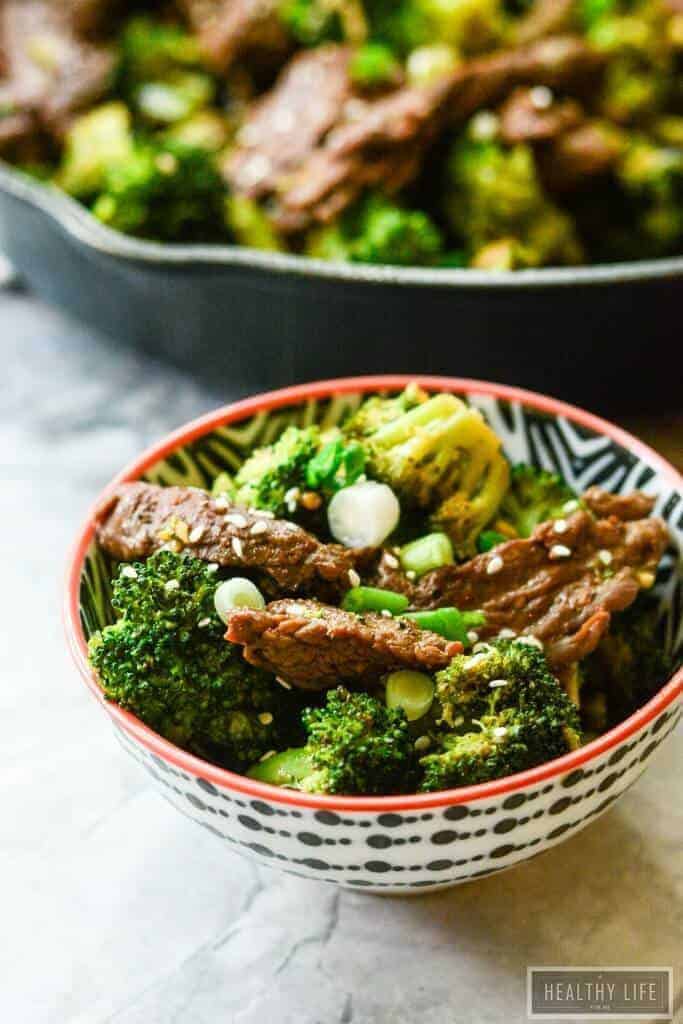 Paleo food has never been tastier than this Asian-inspired dish. First, marinade beef in coconut aminos and beef broth to make it flavorful and tender. Then brown the meat, add the broccoli, and toss it all in a homemade sweet and spicy garlic sauce. Sprinkle sesame seeds over your beef and broccoli for even more protein. This dish is delicious by itself or served on a bed of cauliflower rice to make it more filling.
45. BBQ Meatloaf Muffins with Sweet Potato Topping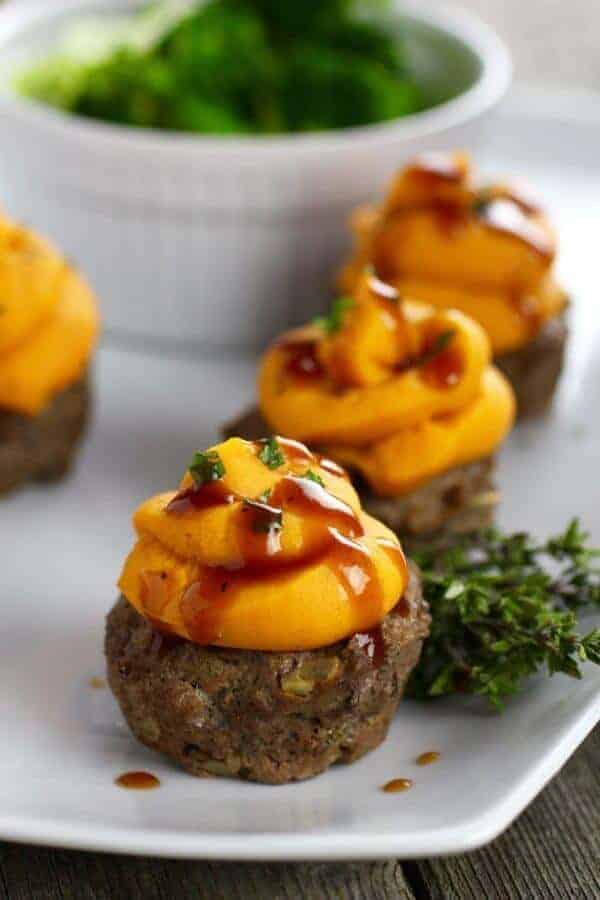 The whole family will love this cute and yummy paleo recipe. It is like dinner and dessert combined! It takes just a few simple ingredients to make these tasty little creations. The sweet potato "frosting" pairs perfectly with the sweet/smoky/spicy flavor of the BBQ sauce and the fragrant onions in the meatloaf. These are also pretty inexpensive to make since the recipe uses ground beef and herbs and spices you probably already have at home.
46. Beef Sirloin with Fresh Herb Marinade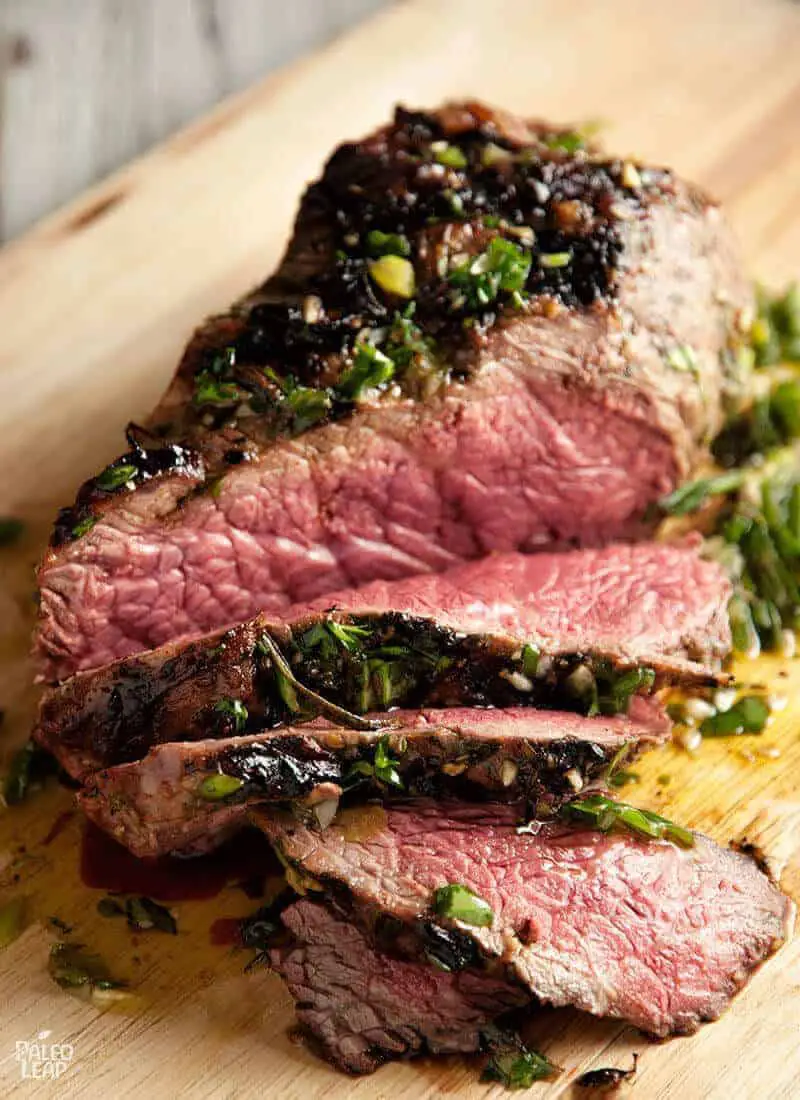 When you want to cook a simple yet elegant dish that fits your paleo diet, try this recipe. The simple herb marinade elevates the flavor of the meat without overpowering or taking over it. The garlic, olive oil, fragrant herb blend, and red wine vinegar will complement your pan seared steak subtly. Serve this dish with a healthy side of veggies like zucchini or asparagus for the perfect easy and nutritious summer dinner.
47. Easy and Budget Friendly Eggplant Beef Casserole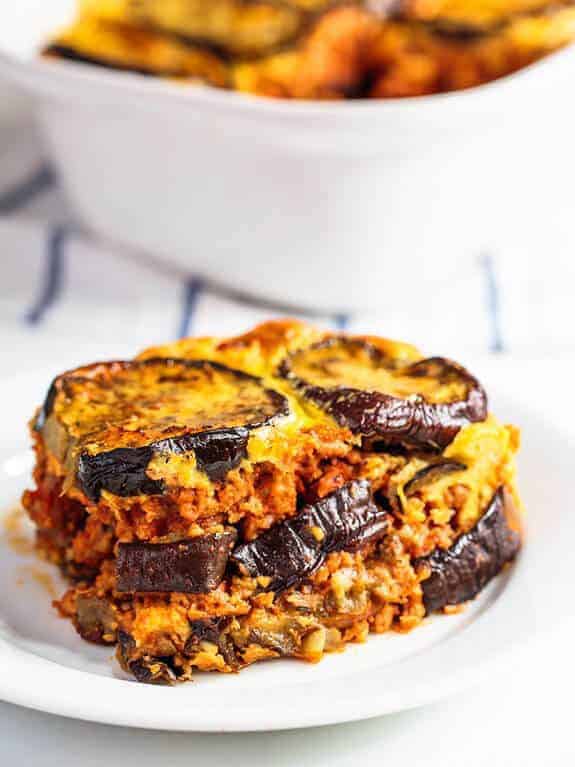 Every list of paleo beef recipes should have at least one good casserole, and here it is. This recipe will save you time and money, making it perfect for those busy week night dinners. Unlike most casseroles, this one does not contain any type of starch. Instead, it uses antioxidant-rich eggplant and egg as a binding agent. But it's the rich tomato sauce that will really hook you. This meal has tons of protein and essential vitamins and is a hearty boot! See our 50 Paleo Meatloaf Recipes, we are sure you will find something you like.
48. Slow Cooker Thai Red Curry Beef Recipe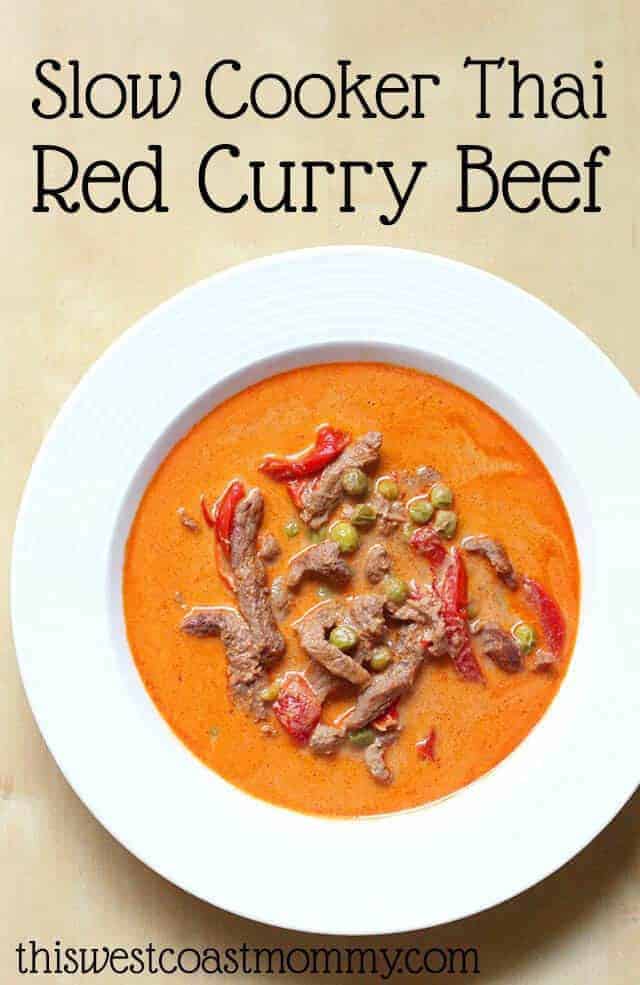 This spicy and sweet dinner requires just seven ingredients and a few minutes of prep to make. Toss the strips of sirloin beef and seasonings into your crock pot and your kitchen will soon be full of the exotic scent of curry! Be sure not to add your peas and peppers to the slow cooker until the last few hours of the cook time if you can; this ensures they don't get mushy.
49. Slow-Cooked Beef Brisket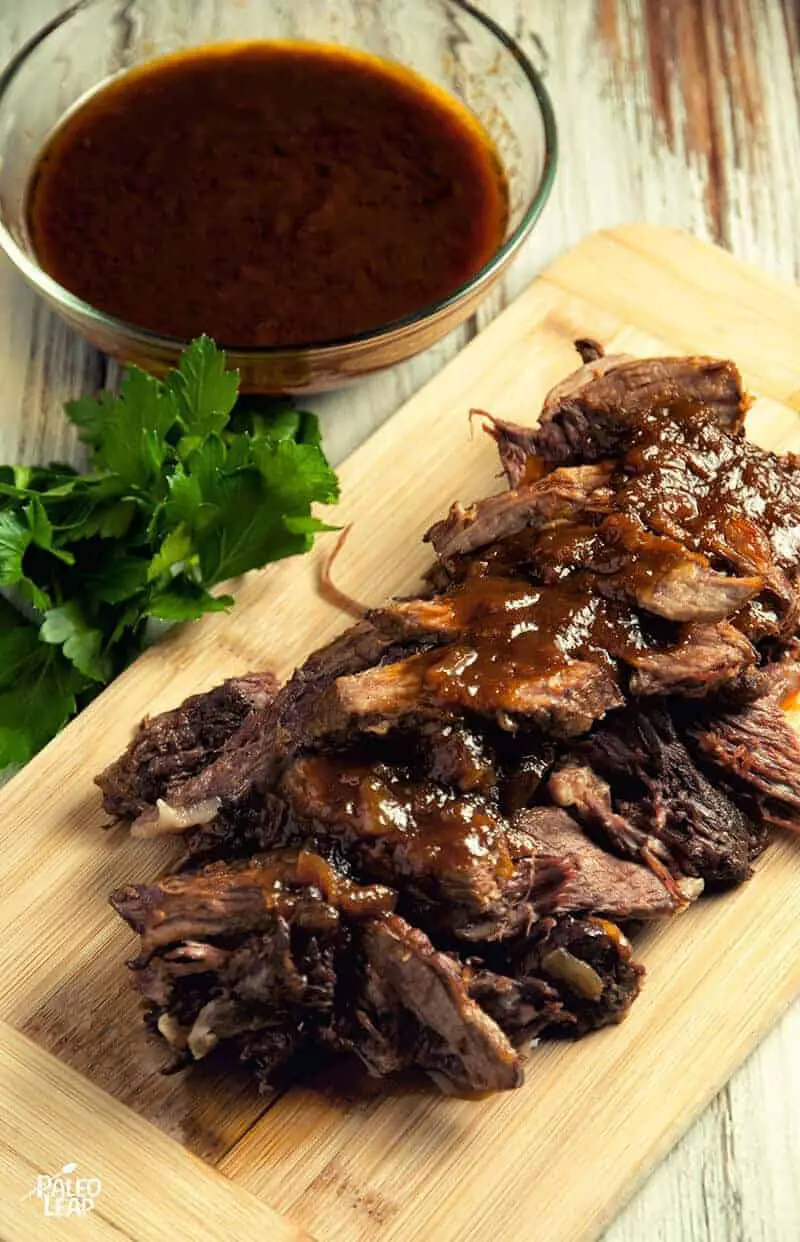 If you want a super versatile paleo recipe, try this delicious brisket. You can serve it with a side of mashed root veggies, a paleo-friendly coleslaw, or even mix it into chili! Best of all, it is incredibly easy to make. Place brisket and onions into your crock pot, then smother with a yummy combination of condiments you probably already have, like honey, Dijon mustard, ketchup, and balsamic vinegar. Then go about your day and come home to tender beef that is ready to enjoy.
50. Slow Cooker Barbacoa Beef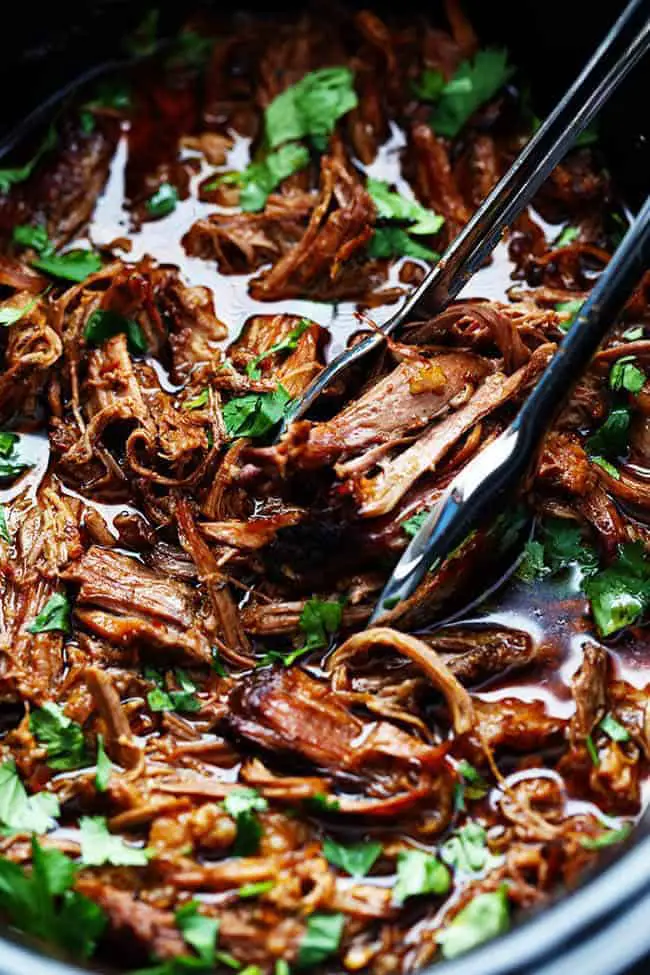 After you make this tasty and easy recipe, you may never want to eat Mexican food out again! The meat is tender and full of spicy flavors, plus it could not be easier to make. First, cube beef brisket or chuck roast and place in your slow cooker. Then blend together adobo chilies, herbs, and spices, and pour over top of the meat. When the beef is done, shred it and use in lettuce wraps, on top of a salad, or in cauliflower tortillas.
Not a fan of beef? No worries, we have you covered with this top 50 paleo chicken recipes.