Is it possible to make a delicious low carb chocolate chocolate chip cookie? Chocolate is a necessary part of life. There really is no way around it- some people must eat chocolate to get your fix (I am definitely included in that group of people who needs chocolate…it really is non-negotiable).  I am also a believer in the fact that once you have a chocolate craving, nothing else will do. I have tried eating a spoonful of peanut butter, a scoop of frozen yogurt, even carob chips just won't cut it. When you want chocolate, you just have to give in and eat it or you will be wandering around all day looking to fill that craving. So skip mindlessly eating anything in sight when you and I both know a quick chocolate fix will cure all of your problems.
Related: Low-Carb Chocolate MugCakes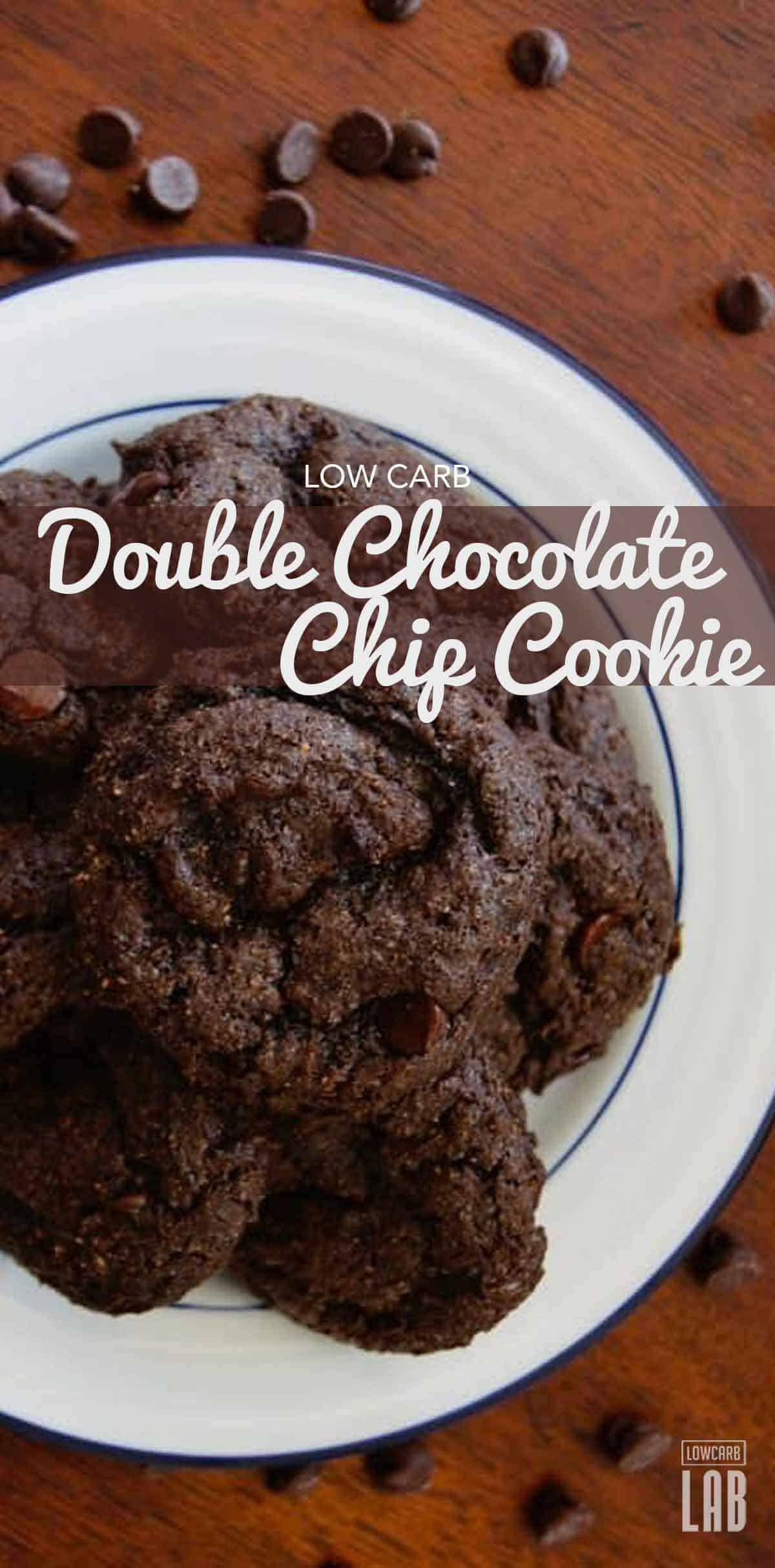 While chocolate is great in any form, chocolate chip cookies are one of the most amazing creations known in dessert history. Melt the chocolate inside a cocoa powder packed cookie, all toasty warm from the oven…my mouth is drooling- you just can't beat this! However, what is one to do when trying to follow a low carb diet but still in need of a cookie filled with chocolatey goodness? Simple! Reach for this recipe.
Related: Paleo White Chocolate Granola Bar
Goodbye to sugar and hello to stevia baking blend! Adios butter and hola to almond butter! See ya later regular chocolate chips and welcome to sugar-free dark baking chips. A few simple changes to a standard chocolate cookie recipe and what we have here is an amazingly delicious cookie that will get you that chocolate fix without the guilt! Oh, and did I mention they are also gluten-free? Just an added surprise to this already surprising recipe! If you love cookies check out also these top 50 paleo cookie recipes.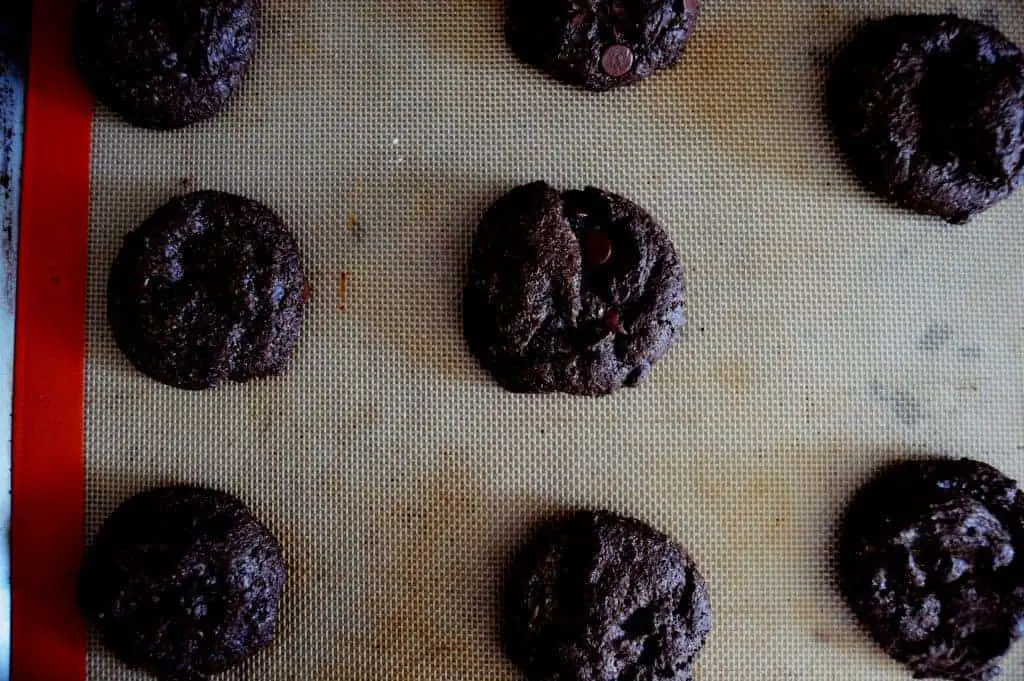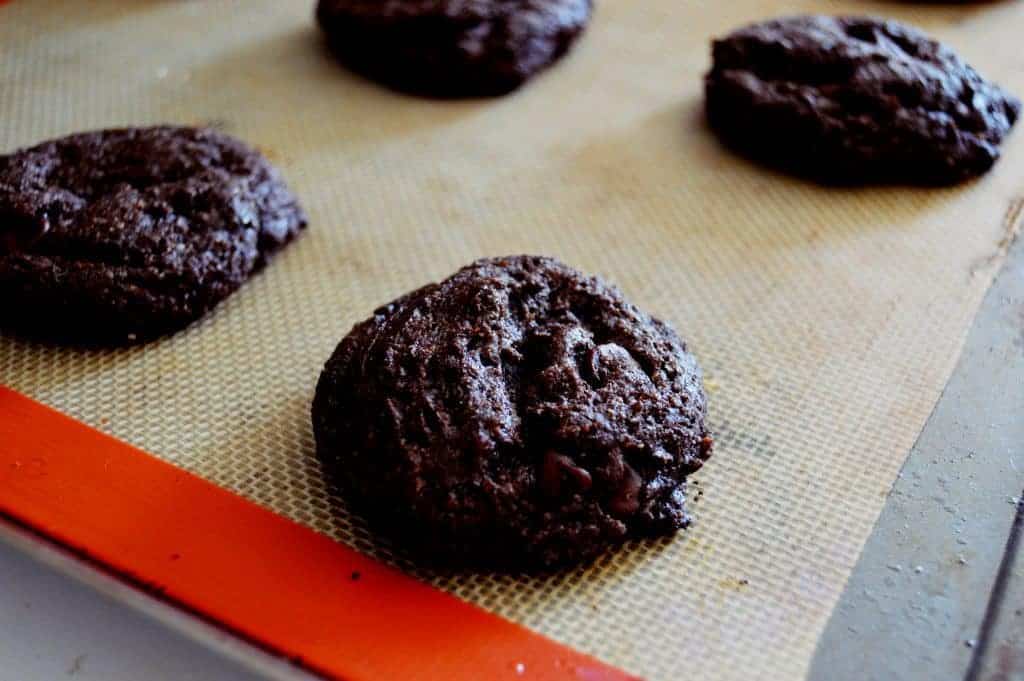 So, after all this chocolate talk, I for sure need one of these cookies right now. Time to get out my mixer and whip up a double…no a triple batch of these cookies. You should probably start making some for yourself too and if you are feeling really excited try out our Mickey themed "sugar" Cookie recipe.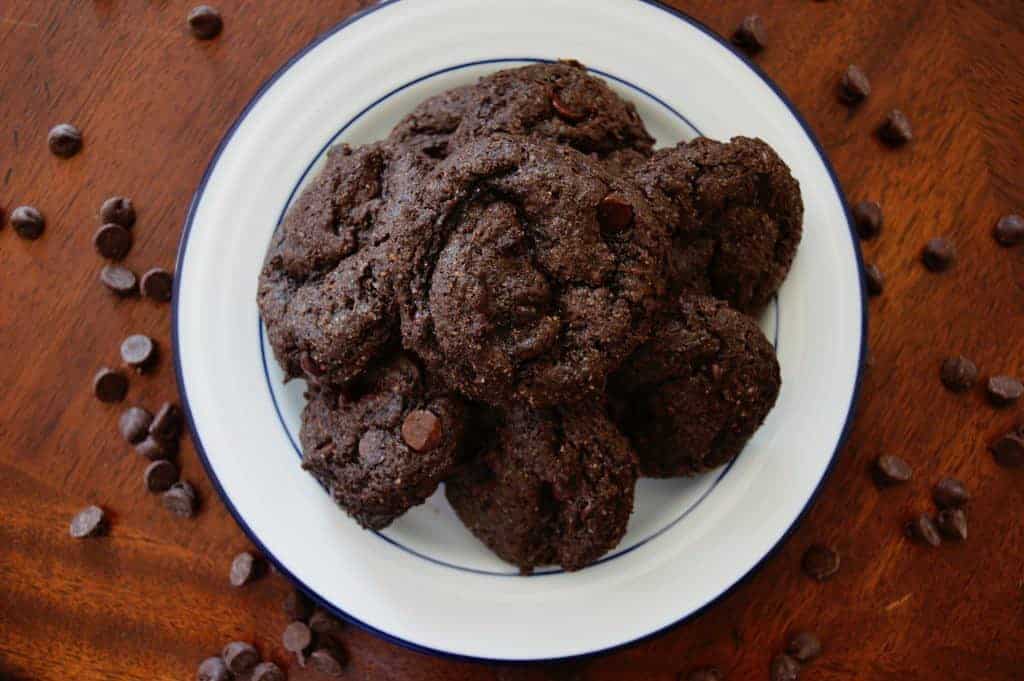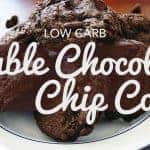 Low Carb Double Chocolate Chip Cookies
Ingredients
Ingredients:
1

cup

almond butter

1/3

cup

Stevia baking blend

2

Tablespoons

unsweetened cocoa powder

1/4

tsp

salt

2

eggs

1

Tbsp

Coconut Oil

2

Tbsp

water

2

teaspoons

vanilla extract

1

Tsp

baking soda

1/2

cup

sugar free chocolate chips
Instructions
Preheat your oven to 350 degrees F and get a flat sheet pan ready for baking by placing a silicone mat on top. (Foil or parchment paper will also suffice)

In a large bowl, add the almond butter, stevia, cocoa powder, eggs, coconut oil, water, vanilla and baking soda and mix with a spatula until a smooth paste forms and the cookie dough begins to pull away from the sides of the bowl.

Add the sugar free chocolate chips to the bowl and mix again to incorporate the chocolate chips. 

Use an ice cream scoop or two spoons to scoop cookie dough balls that are about two inches thick. Place the scooped cookie dough on the prepared sheet pan leaving about 1 1/2 inches of space between each cookie. 

Bake the cookies in the preheated oven for 10 minutes Remove from the oven and let cool on the tray before moving to a plate (or directly into your mouth). 
Related: Go Paleo with this tasteful chip recipes, you'll love them