Many people have a strong desire to change their diet to better their health, but have no idea where to start, or they fear that they can no longer eat foods that they truly love. With the paleo diet, starting out is simple, and there are plenty of paleo recipes for standard American diet foods, such as the beloved pancake! Focusing on natural, whole ingredients that our ancestors ate, paleo is an extremely healthy diet that doesn't limit you because you can always use paleo approved substitutes or recipes.
In contrast to standard American diet foods, paleo foods will leave you with a strong burst of energy, and feeling light as opposed to the heaviness and fatigue that is characteristic of highly processed foods. While this diet will certainly aid in weight loss, it will also often help obliterate fatigue, improve skin quality, and more. Many people also report a decrease in inflammation, fewer allergies, and increased insulin sensitivity, which helps expedite weight loss. There are countless benefits to the paleo diet, and little to no downsides, making it an extremely attractive lifestyle option for many people and their families.
Read on to see our carefully curated list of 50 paleo pancake recipes. Many of these recipes will cater to specific diets beyond paleo, such as those with dairy or egg allergies, or even vegans. There are also plenty of choices for more traditionally flavored pancakes, such as faux buttermilk flapjacks., or more extravagant options, like cinnamon bun pancakes or blueberry oatmeal pancakes.
50 Sweet and Savory Paleo Pancake Recipes
1. 3-Ingredient Banana Pancakes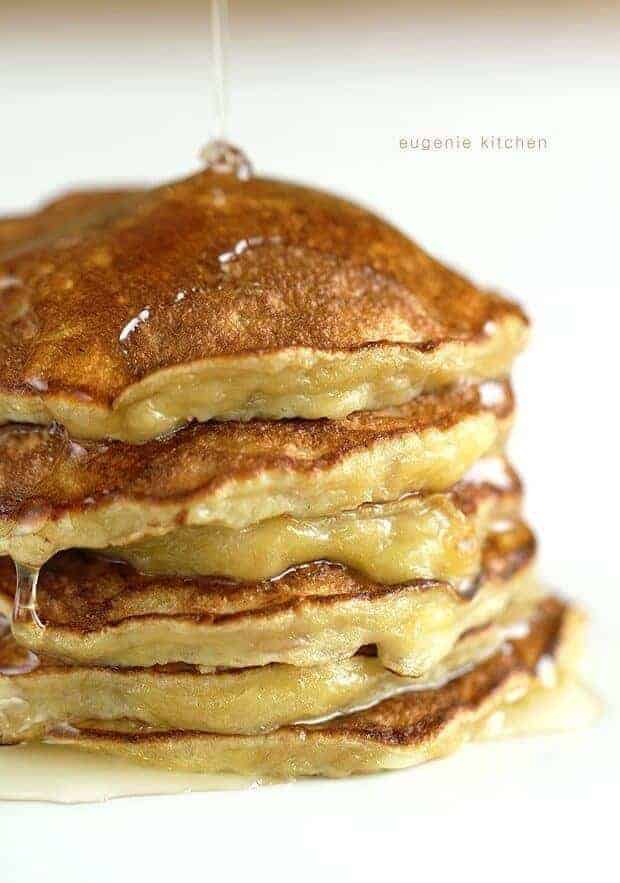 If you're looking for an easy, fool-proof pancake recipe, this is one you should consider. Only using three ingredients that are common in everybody's home, this recipe is super simple, and if you prefer, you can remove the baking powder from this recipe, taking it down to only two ingredients and leaving it totally natural. They will be absolutely delicious with or without the baking powder, so don't fret if you don't happen to have any available.
2. Sweet Potato Paleo Pancakes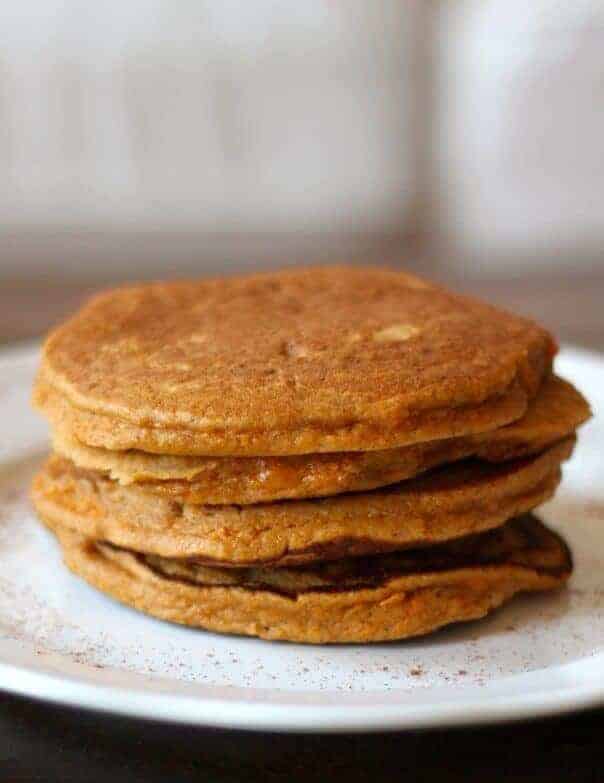 These are reheat friendly, making them favorable for those of you who prefer to make giant batches of pancakes to eat them throughout the week. Made with a base of sweet potato, these are incredible when topped with any of your favorites such as maple syrup, peanut butter, butter, or even just cinnamon. They are perfectly light and fluffy, meaning that anything you top them with will surely absorb into them and add another dimension of flavor. One batch of this recipe makes four to five large pancakes, so make several batches and they'll last you all week easily.
3. Healthy Fluffy Low Carb Pancakes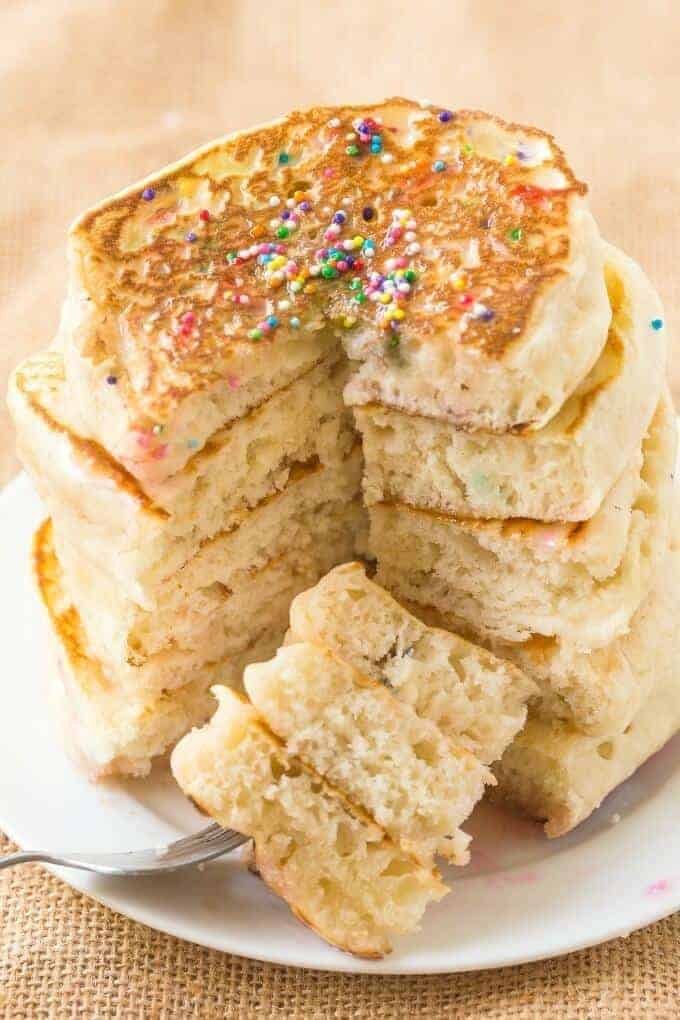 Thick, fluffy, and low carb – the pancake trifecta, really. Loaded with protein without using protein powder, these pancakes are also gluten free, sugar free, and an option for our vegan readers. If you need even more protein than these flapjacks provide, consider topping them with a nut butter. Of course, this recipe being sugar free opens up more options for toppings or mix-ins such as banana, maple syrup, and more without any guilt if you're still watching your sugar intake!
4. Crispy Cinnamon Swirl Paleo Pancake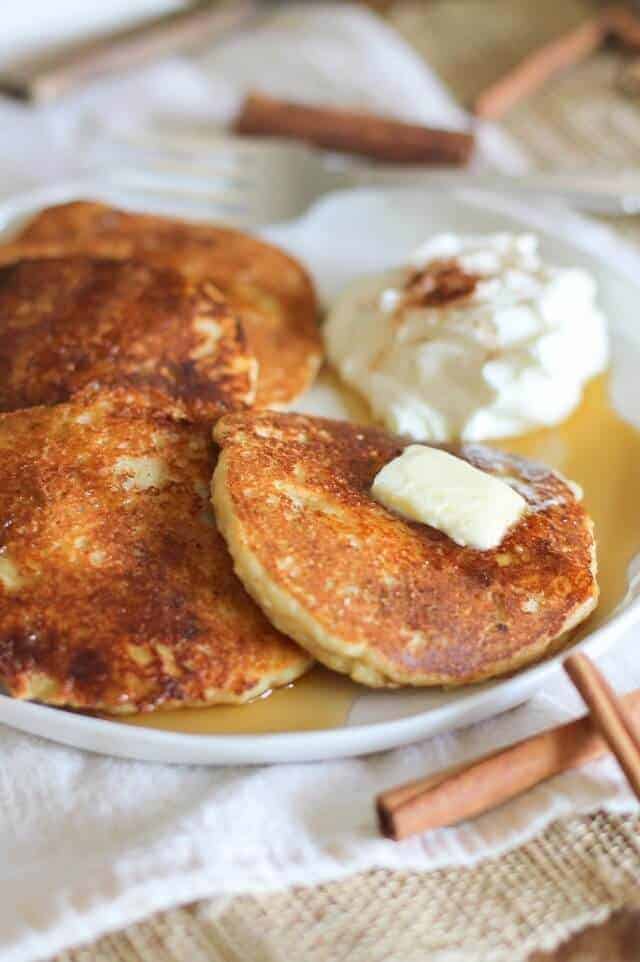 If you're a texture nut, look no further than this paleo pancake recipe that involves coconut sugar caramelizing on the outside of the pancake, resulting in a crisp outside with a soft, molten center. Substitute other flavored extracts for an extra punch in flavor, or top with the cinnamon swirl, or even eat them as is. Consider mixing raisins into it and topping with the cinnamon swirl recipe provided, and enjoy cinnamon raisin swirl paleo pancakes for breakfast. Or dessert. You decide.
5. Cinnamon Bun Pancakes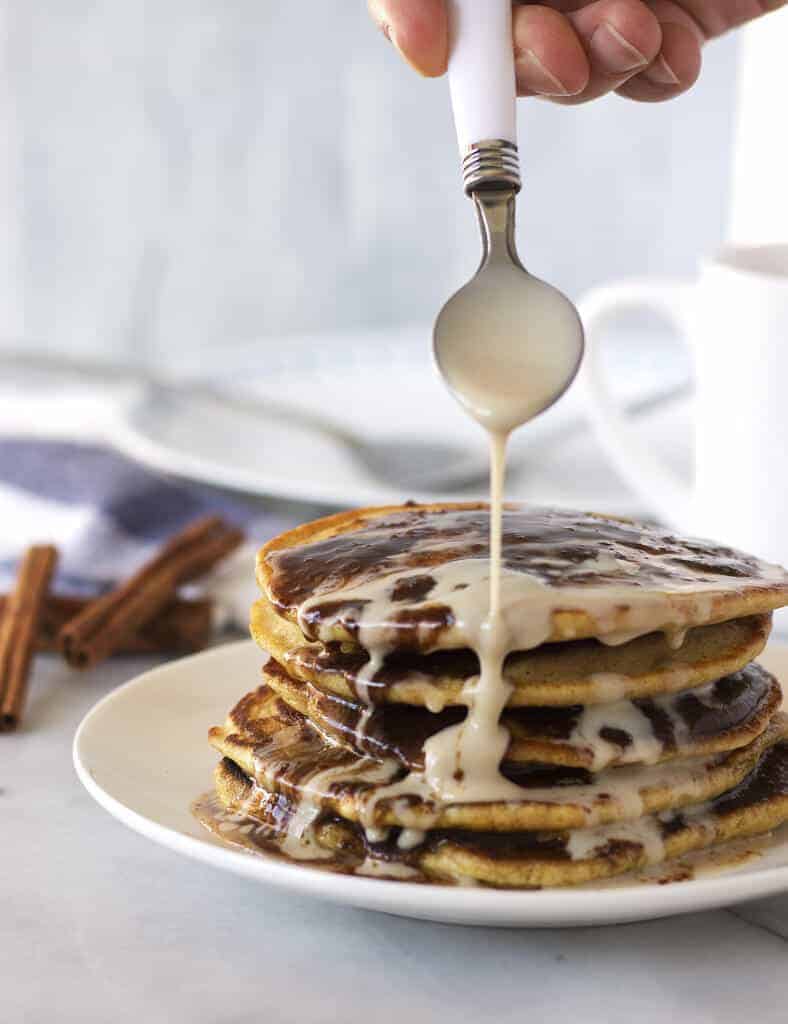 One-tenth of the way through our paleo pancake recipes, and we have another option for the cinnamon lovers who are reading. Give these cinnamon bun pancakes a try, especially if you have children, because they will have no idea that they are eating healthy food, and they'll love every bite! Assemble these paleo pancakes in stacks, layering filling and icing between each pancake, and then liberally glaze the top of the stack with the remaining icing. Eat while hot, and admire the fluffy texture that the almond flour base offers.
6. Almond Flour Pancake
For those of you interested in traditional items made into paleo foods, feast your eyes upon a more traditional pancake recipe without all of the fixings. With a surprisingly simple ingredient list, these pancakes are sure to both hit the spot and fill you up. Top with the pomegranate syrup recipe provided, or alter it slightly for a berry flavored syrup. Of course, you can always keep it simple and top with butter and a classic maple syrup.
7. 3-Ingredient Paleo Pumpkin Pancakes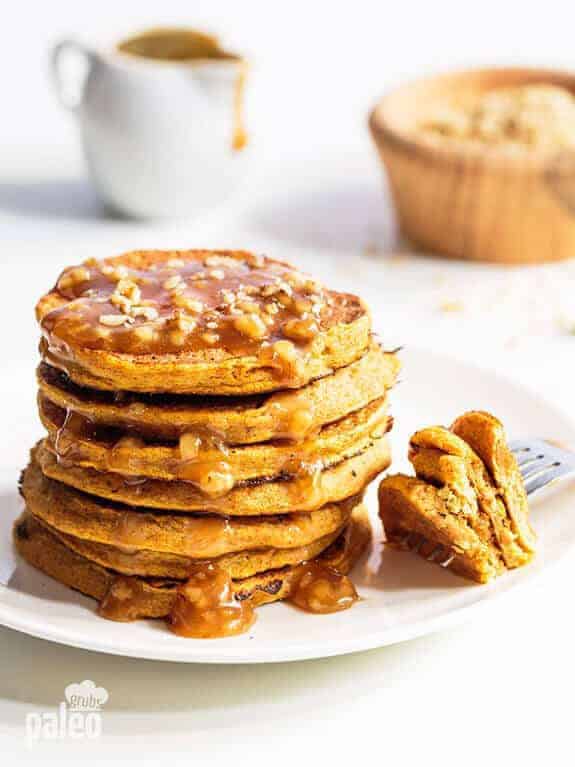 Fans of autumn and all of the pumpkin flavored and scented items that come with it will love every single bite of these super easy 3 ingredient pumpkin paleo pancakes. Egg, almond flour and pumpkin puree combine to form a beautiful product that is easier to make than traditional pancakes. Add cinnamon or perhaps nutmeg to enhance the pumpkin flavor, or throw in some nuts and a bit of maple syrup to add some dimension to the flavors.
8. Fluffy Paleo Pancake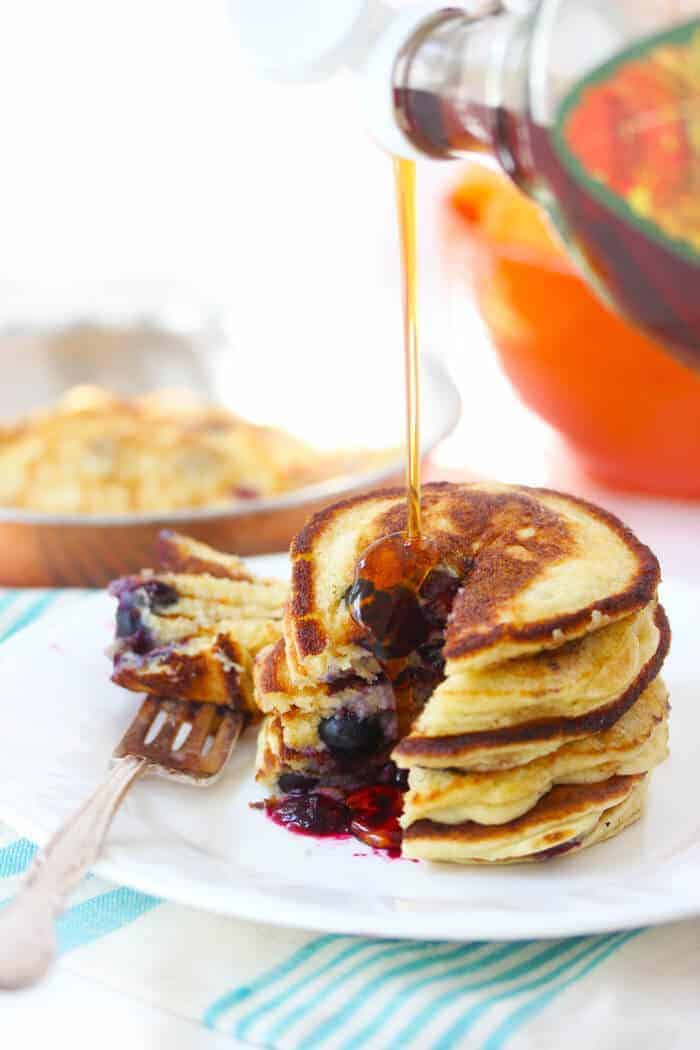 If you have a variety of diets to cater to, these are a big hit for those who aren't grain free while being paleo approved! The almond flour helps create a fluffy base, while the applesauce keeps them moist, making these more traditional pancakes a perfect option for those of you who want an empty slate to gather toppings onto. Slather them in whatever your heart desires, or provide a buffet of topping selections for your family to pick and choose from.
9. Best Ever Paleo Pancakes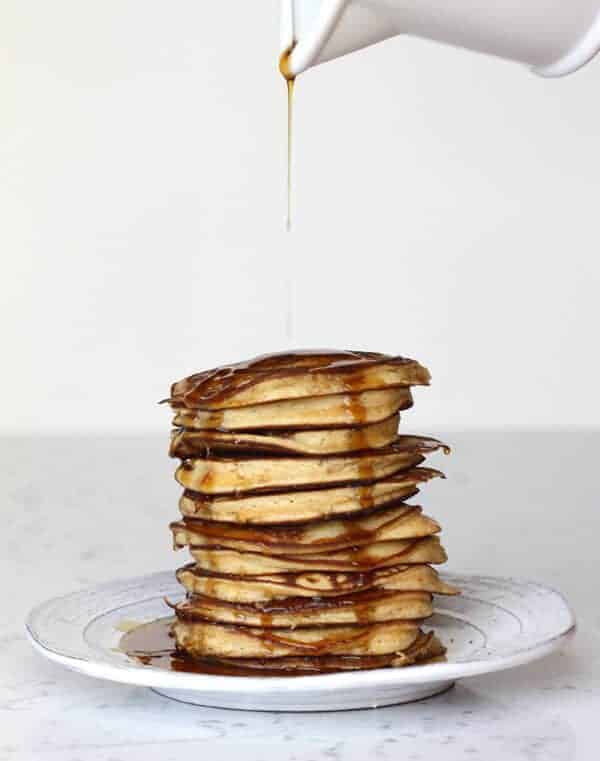 Picky eaters gather around – this is the perfect paleo pancake recipe for selective eaters and a variety of diets. These pancakes get rave reviews for their fluffy texture and spot on taste, and are perfect either alone or with fruit or maple syrup. This particular recipe is child-approved and easily adaptable to different mix-ins or flavors according to preferences, and closely resemble the texture and mouthfeel of regular pancakes.
10. Paleo Coconut Flour Pancakes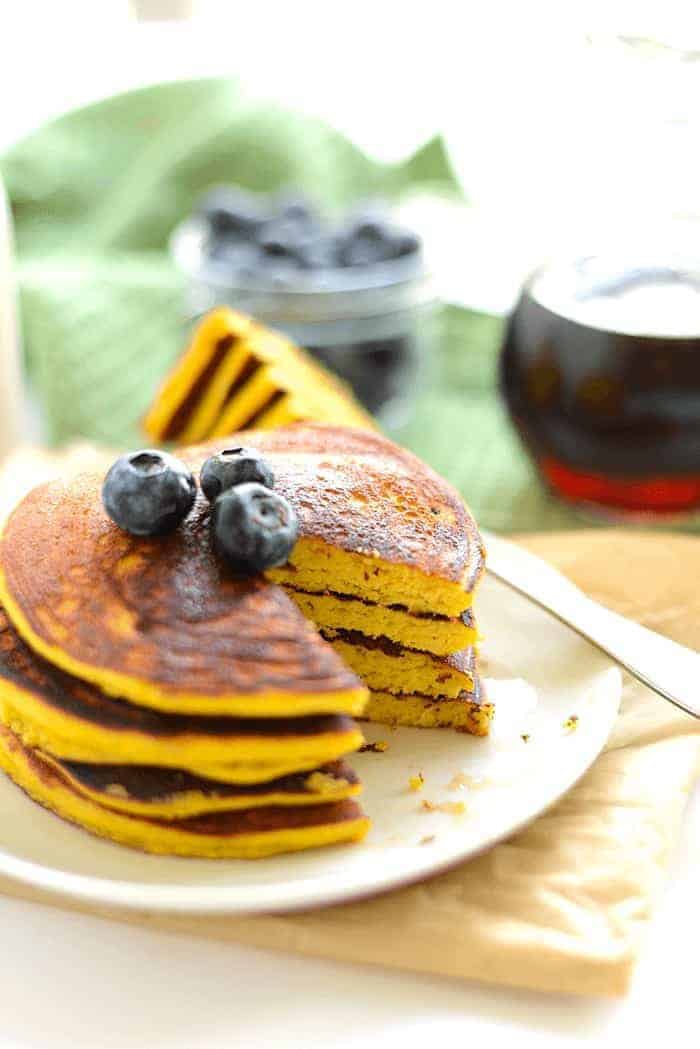 Coconut is a power ingredient that can be used in almost any form for cooking, and this recipe is a testament to that fact. Coconut flour pancakes are often fluffy and have a slight natural coconut taste to them, which can easily be amplified with the use of coconut milk or, as the recipe calls for, a coconut milk and almond milk blend. For coconut lovers, try adding a little virgin coconut oil to the batter, and fry them in virgin coconut oil. If you prefer your paleo pancakes without a coconut flavor, try using almond milk instead of a blend, and add a little vanilla extract to the batter.
More paleo pancake recipes on the next page…
11. Healthy Tiramisu Pancakes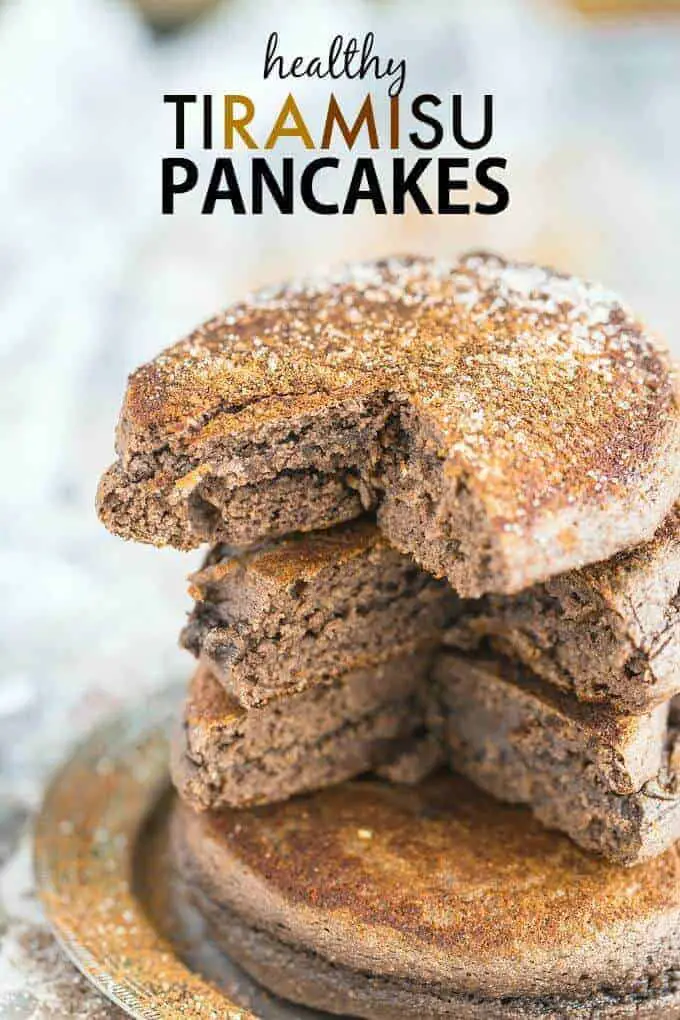 Thick, fluffy dessert flavored pancakes for day or night are a must have for any chef's recipe collection. They're often highly flexible in terms of flavor and what time of day or meal they are served as, and this recipe is no exception. Children will be delighted to have these any time of day, but especially for breakfast, and will have no clue that they are eating a healthy meal. To keep this recipe acceptable for the paleo diet, follow the mentioned substitution for the oats, and make sure that if you choose to use it, you use a paleo friendly chocolate protein powder.
12. Paleo Banana Carrot Pancakes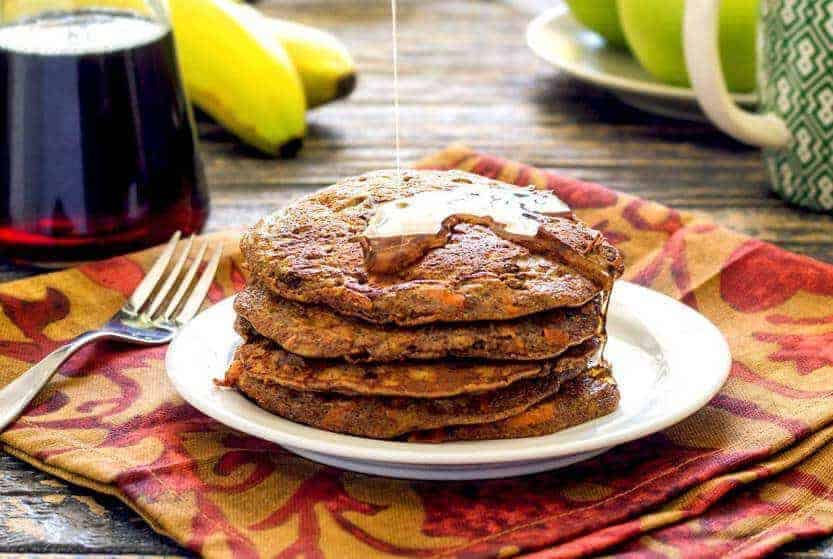 Innovation is king in coming up with any food item, but especially paleo foods. Case in point, banana-carrot pancakes adapted from a banana-carrot muffin recipe. These pancakes lend a flavor similar to carrot cake and are extra moist from the mashed banana. In true carrot cake fashion, consider adding regular carrot cake ingredients such as nuts. As an additional bonus, these pancakes are approved for freezing and reheating to enjoy later, so consider making a few batches.
13. Vegan Life Changing Pancakes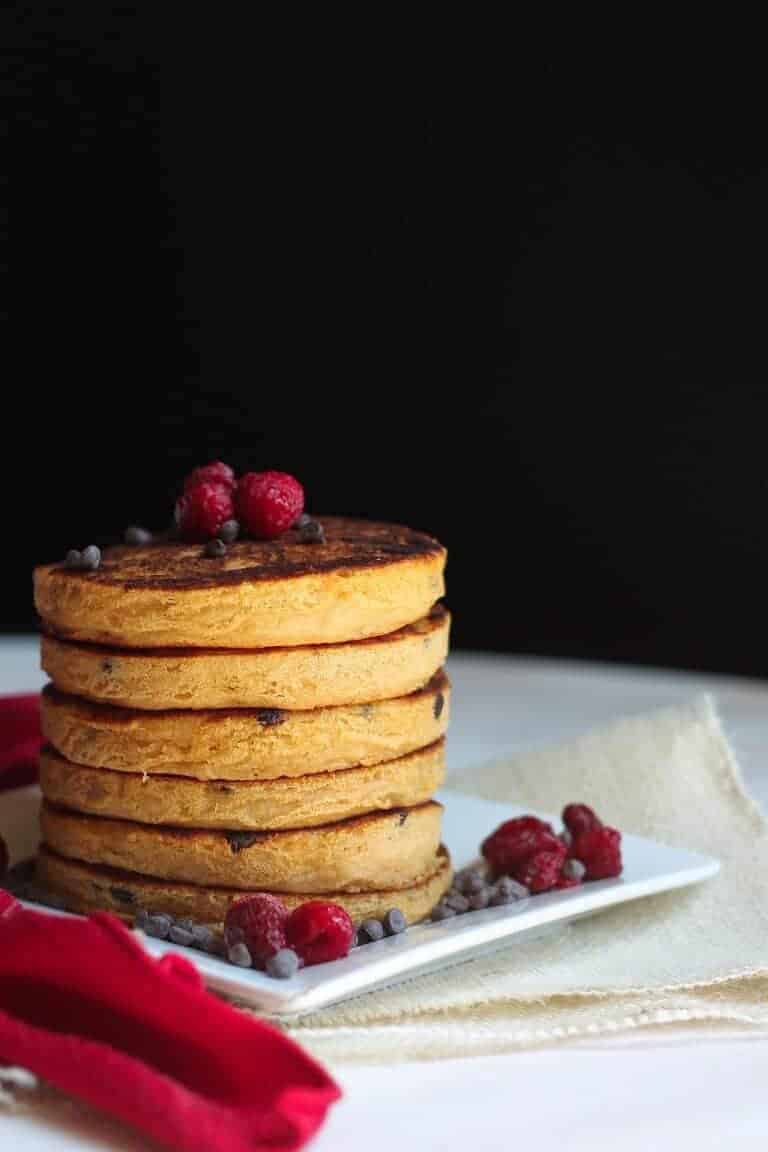 For the vegan readers, here's a life changing (it's in the title!) paleo pancake recipe that results in flawless, fluffy hot cakes. Tall and airy, these will surprise you with their amazing flavor and texture. Follow the steps closely, especially about letting your batter sit for fifteen to twenty minutes, so that the batter can thicken due to the potato starch absorbing the liquid. If you are planning to make this recipe, prepare your potato the day before so that it is ready for the morning.
14. Ealthy Fluffy Low Carb Chocolate Chip Pancakes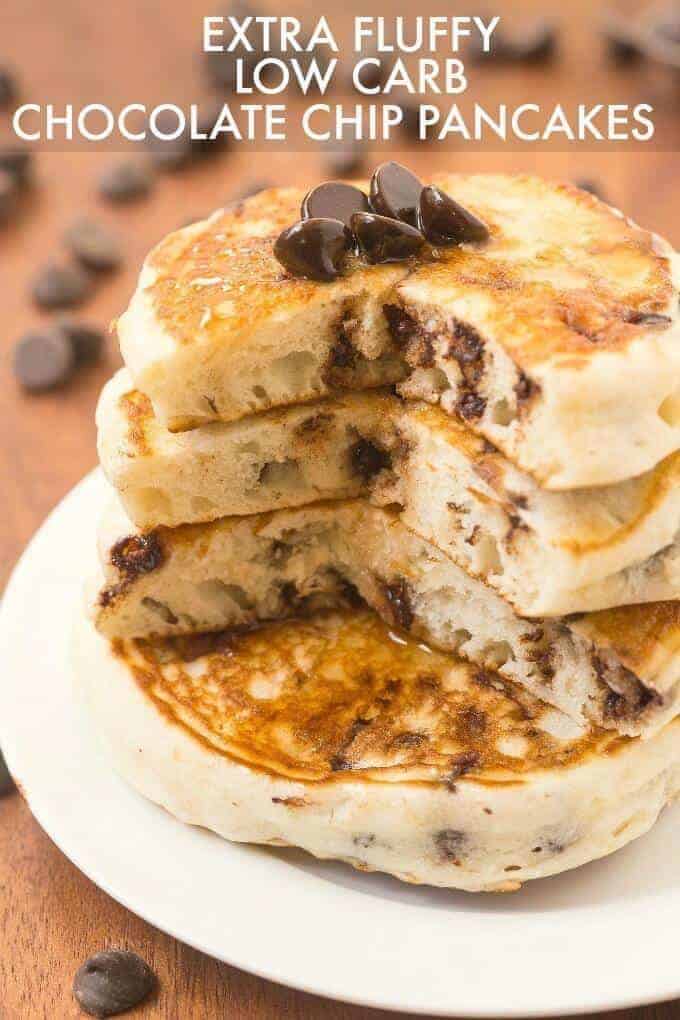 A low carb paleo pancake option, chocolate chips and all! These have the perfect flapjack texture, and despite using coconut flour, they are surprisingly moist and delicate. Omit chocolate chips if you aren't a fan – try mixing in blueberries or nuts, or adding a bit of flavor extract of your choice. Be sure to mix well before adding any mix-ins, until there are no lumps, and let the batter sit for a couple of minutes so that the coconut flour can properly absorb the liquids.
15. Fluffy Coconut Flour Pancakes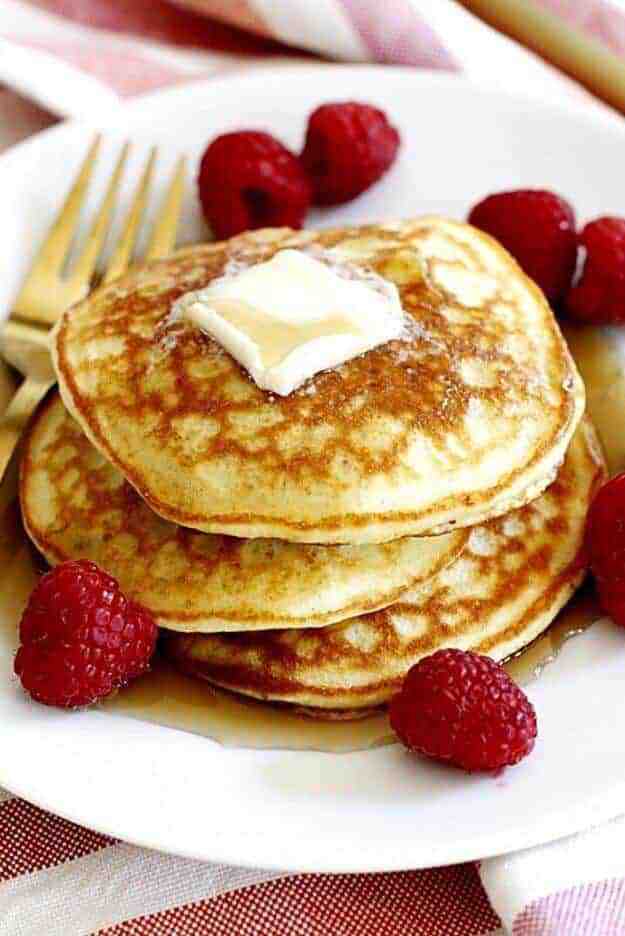 Coconut fans everywhere, rejoice! This recipe is king of coconut flavored paleo pancakes with a few easy substitutions. These end up as extremely fluffy, tender pancakes with a slightly crispy outside and a divine coconut flavor. Best served with maple syrup or fresh fruit, simply replace the sugar with your favorite sugar replacement or sweetener, the milk with your favorite milk choice, and then follow the recipe as written. For a strong coconut flavor, use unsweetened coconut milk instead of milk, and be sure to use virgin coconut oil.
16. Paleo Apple Cinnamon Pancakes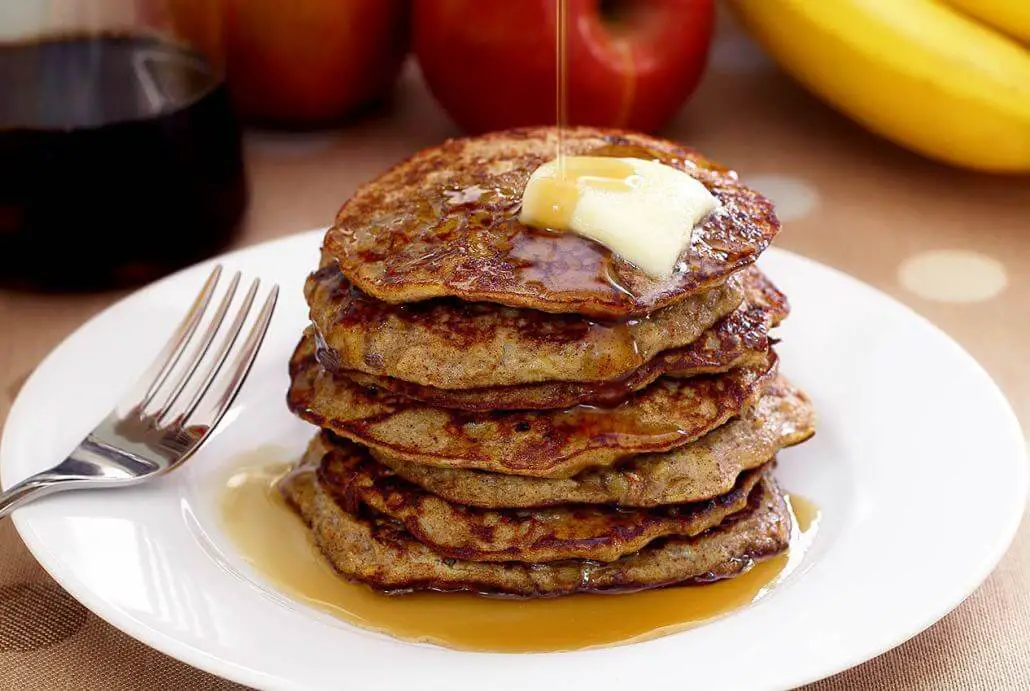 Flour free and sugar free pancakes that perfectly fit the paleo diet, while being delicious to boot. These apple cinnamon pancakes are kid-approved, and have been tested for freezing and reheating with great success, making them a superb make ahead option for snacking throughout the week. Substitute whatever nut or seed butter you prefer, and cook in any oil you prefer. These are extremely filling, and most people will be more than full from two pancakes.
17. Fluffy Coconut Flour Pancakes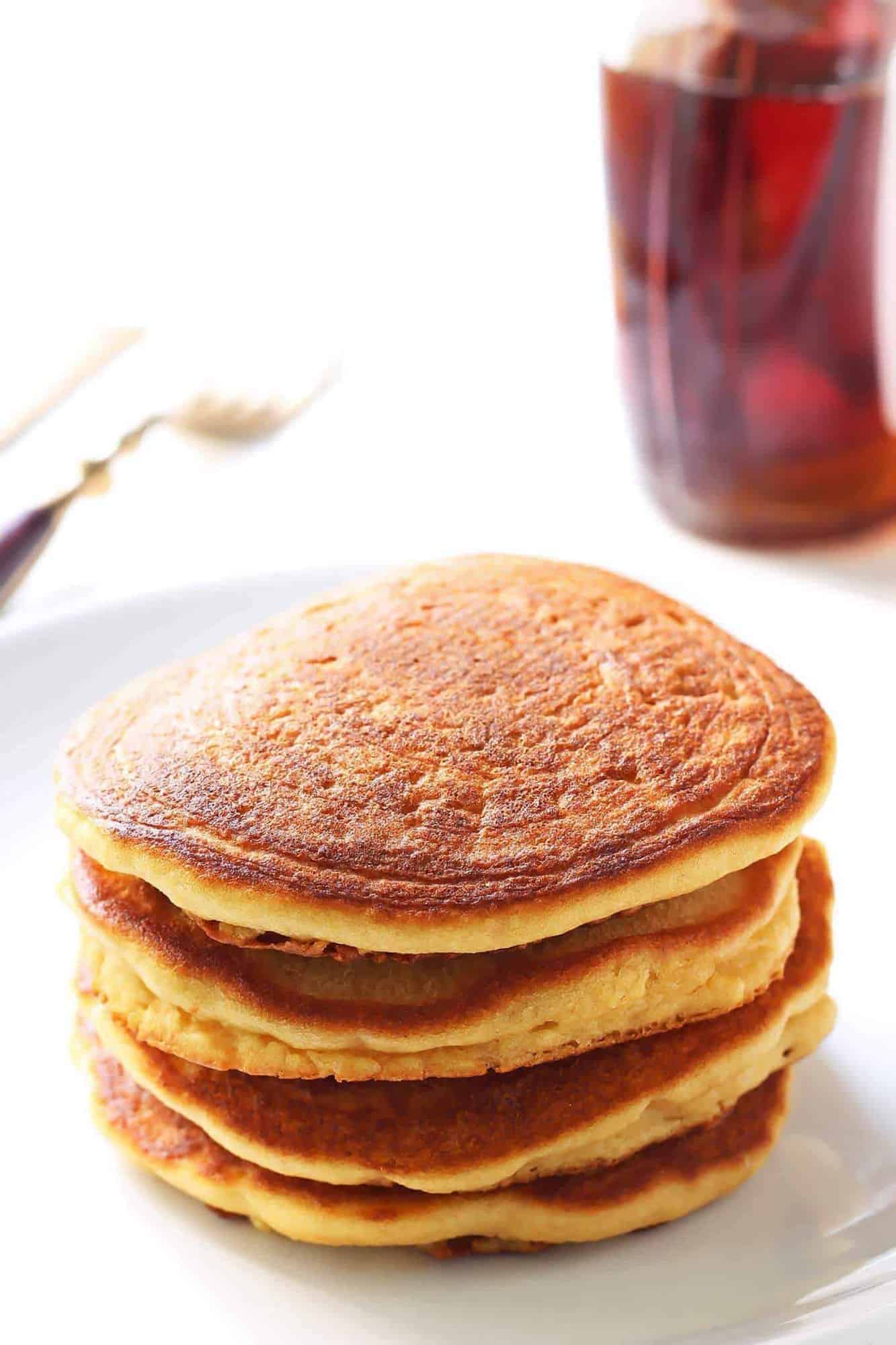 To prevent these divine, fluffy pancakes from falling apart when flipping, make them smaller than regular pancakes, and use two utensils to flip them. Try two tablespoons of batter per pancake, and using spatulas and forks to carefully flip them. As with all coconut flour pancake recipes, let the batter rest to absorb the liquid and properly thicken after mixing the lumps out.
18. Paleo Pumpkin Pancakes Recipe
Paleo pancake recipes vary greatly, even in terms of base, and can accommodate almost any diet. This recipe in particular is flour free and uses a base of banana and pumpkin puree to form a moist, filling pancake with ease. If simplicity is important to you, give these pancakes a shot.
19. Oatmeal Blueberry Yogurt Pancakes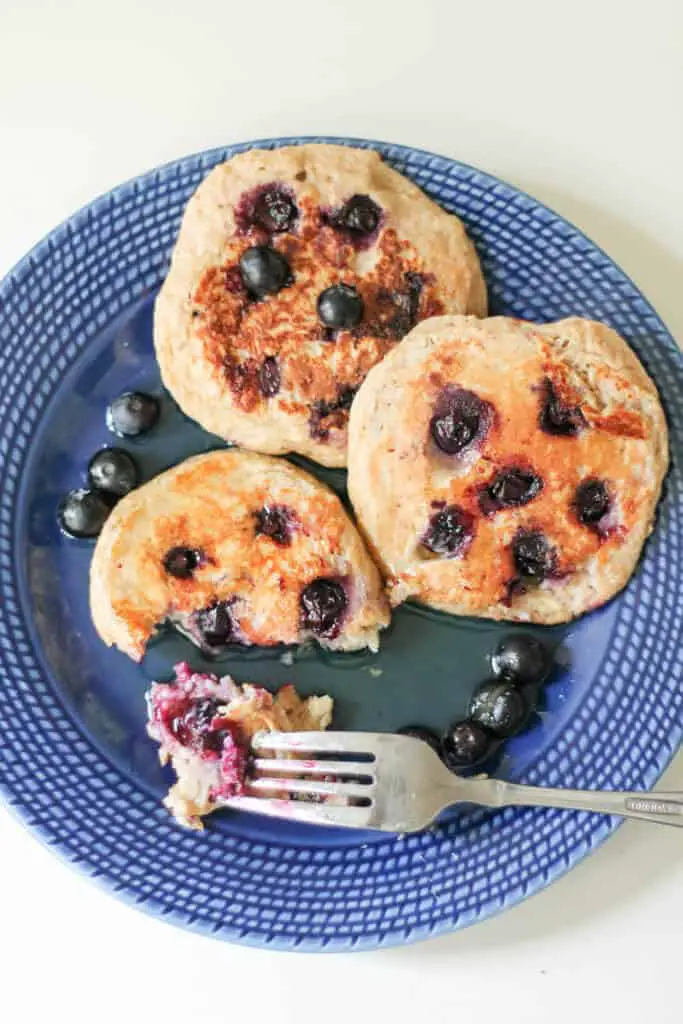 To cut down on crazy, hectic mornings, make several batches of these and store them in your freezer for a quick and easy breakfast. Alternatively, mix in some chocolate chips and warm some of these up for a filling dessert. These pancakes include oats and yogurt, ensuring that they stay moist and have a great mouthfeel through every single bite.
20. Light And Fluffy Gluten Free Pancakes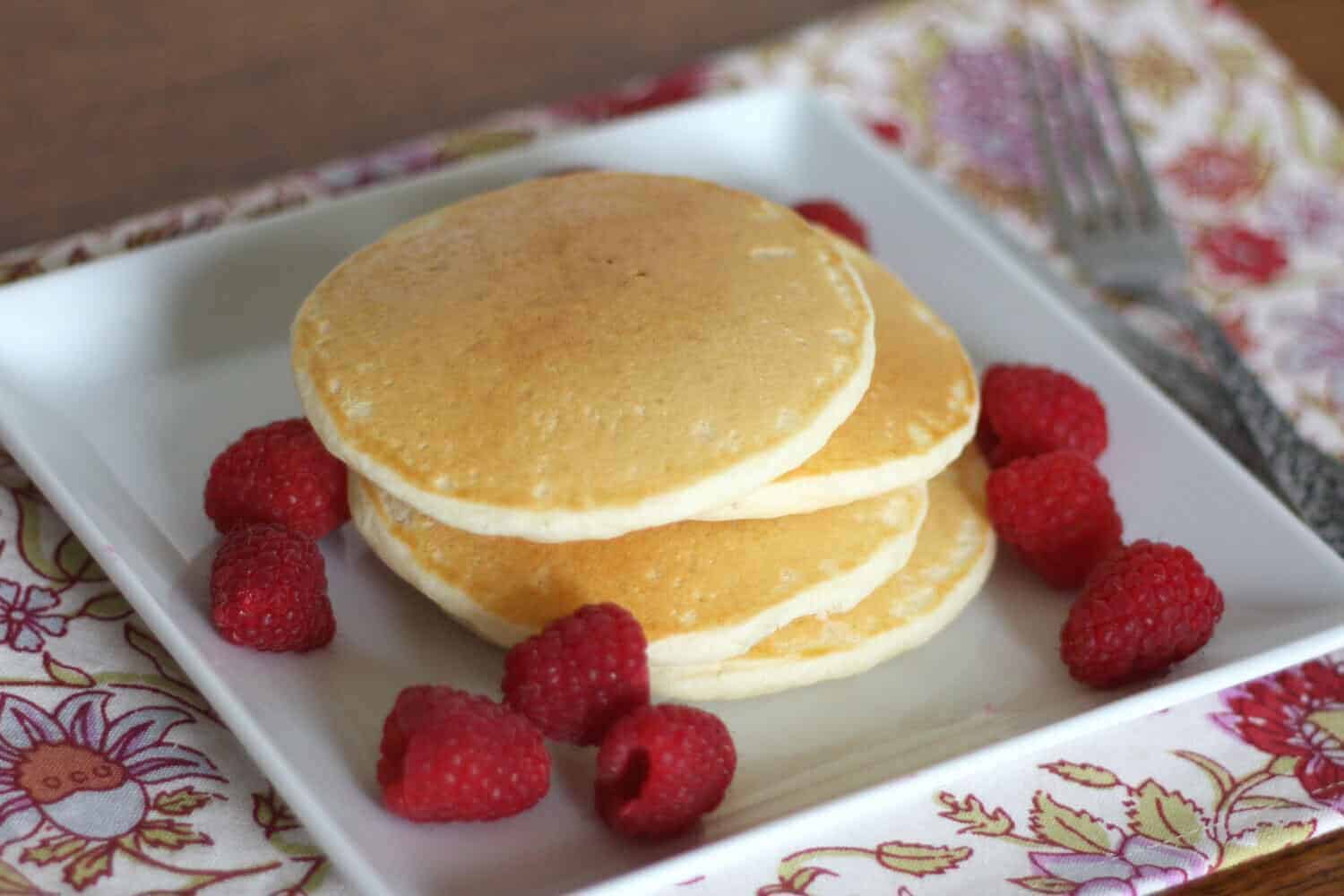 Nobody will guess that these pancakes are gluten free, especially with such a delicate, light texture. Like many of the paleo pancake recipes on this list, these are also freezer approved. With just the perfect amount of sweetness and a texture that is far from dense, these are a great choice if you're looking for a gluten free, traditional tasting pancake.
More paleo pancake recipe ideas on the next page…
21. Gluten Free Cauliflower Cheddar Pancakes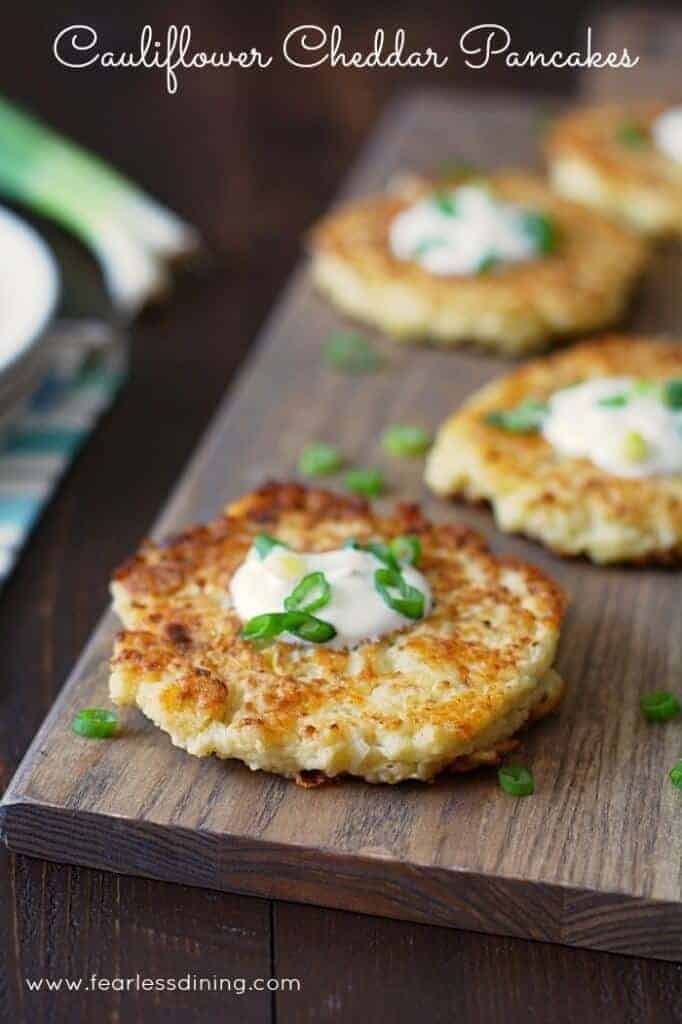 If sweet pancakes aren't your thing, give these savory cauliflower cheddar "pancakes" a try. To make prep quick and simple, look for riced cauliflower at your grocery store and save yourself the hassle of ricing cauliflower yourself. Add whatever cheeses you prefer, and mix in any other savory thing you could possibly want, and feel comfortable having pancakes for dinner.
22. Paleo Lemon Poppy Seed Pancakes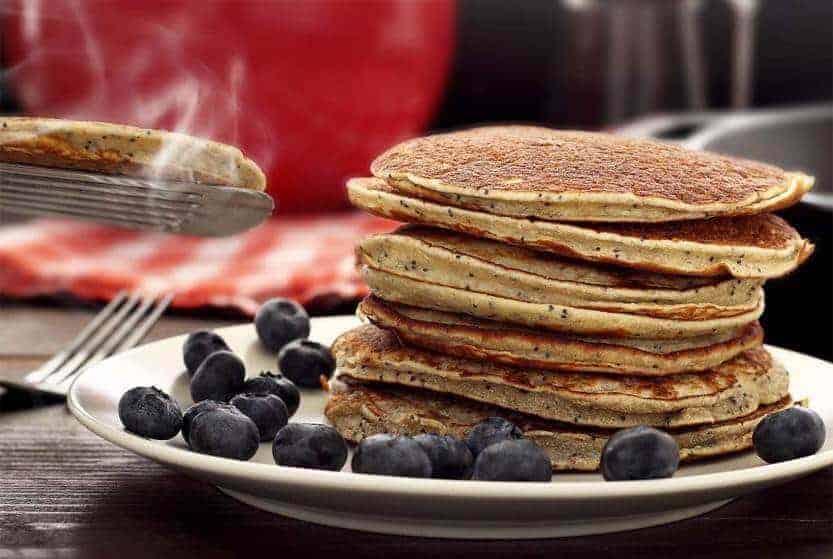 Lemon is a zingy citrus flavor loved by many and exquisite in several types of food, so why not pancakes? Check out these lemon poppy seed paleo pancakes, especially if you love textures, as the poppy seeds give a lovely crunch that goes very well against the refreshing, slightly dense pancake texture. These are somewhat on the dense side, although rising a little bit, so don't expect a light and fluffy pancake out of this recipe.
23. Paleo Peach Pancakes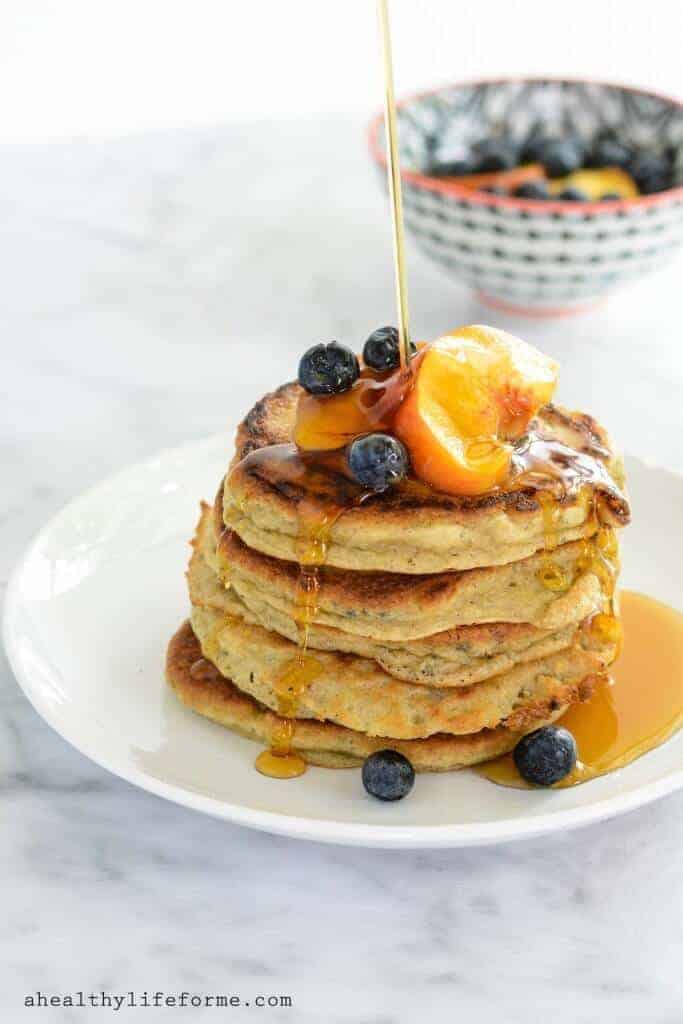 These protein-filled peach puree spiked pancakes have a recipe that is easily adaptable to other fruits and flavors. Use any fruit puree you prefer, or stick with the recommended peach, and revel in the beautiful fluffy texture provided by the tapioca flour. If you can't get enough fruit, these are definitely a recommended choice.
Closely related: Best 50 low-Carb pancake recipes
24. Banana Oat Pancakes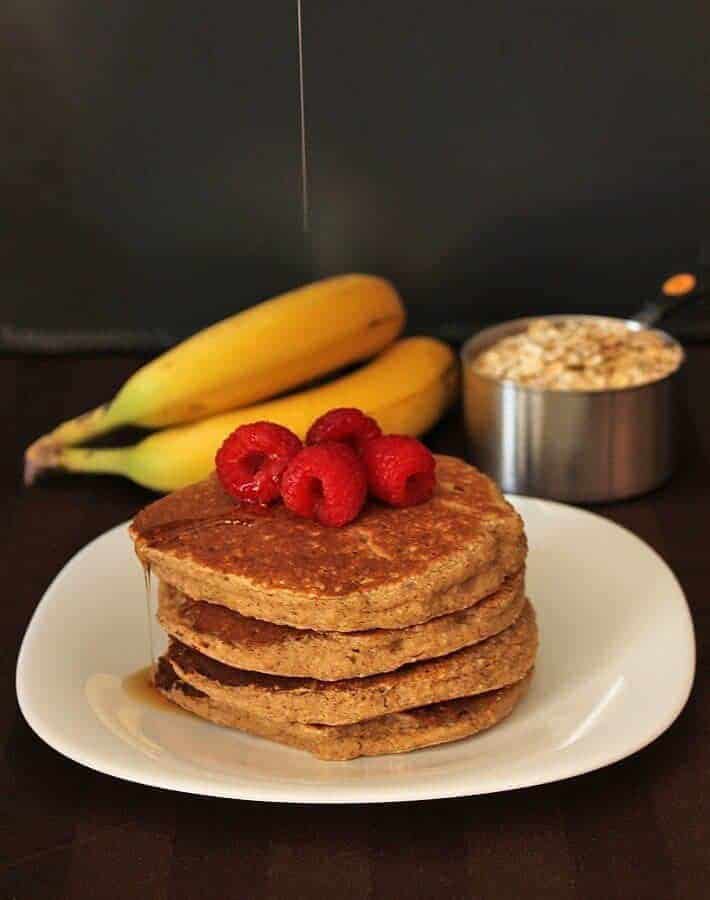 Banana oat pancakes are ideal at all times of day, and are the perfect paleo pancake if you prefer a more dense pancake that is accessible to vegans. Although these are made with oat flour, the author provides a great article on how to make oat flour at home to spend less money, so explore that option if you don't already have this ingredient at home. These are perfect for overripe bananas, and are extremely filling due to the oat flour.
25. Honey Lemon Coconut Paleo Pancakes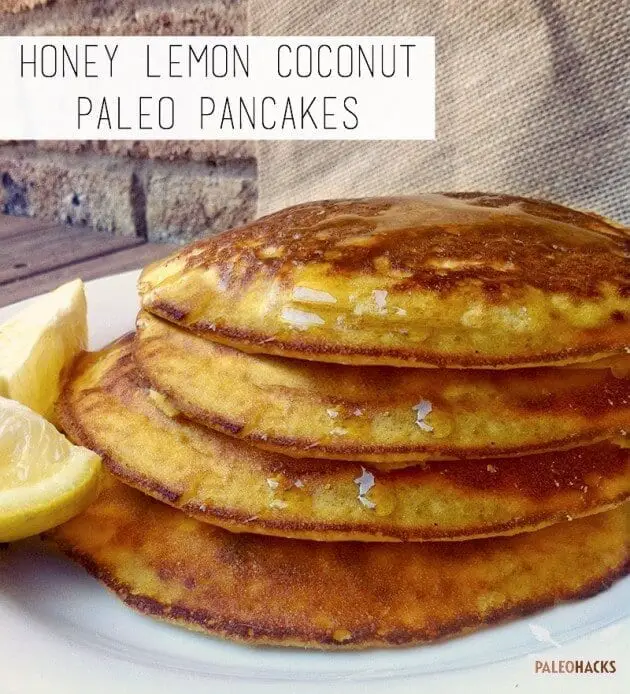 A very simple, limited ingredient pancake that caters to those who just don't have the time to use a more extravagant recipe. Simply combine all ingredients, making sure they are mixed together well, and then cook in oil of your choice. Certainly one of the easier recipes on our list, but that definitely doesn't mean that they don't taste amazing.
26. 2-Ingredient Sweet Potato Pancakes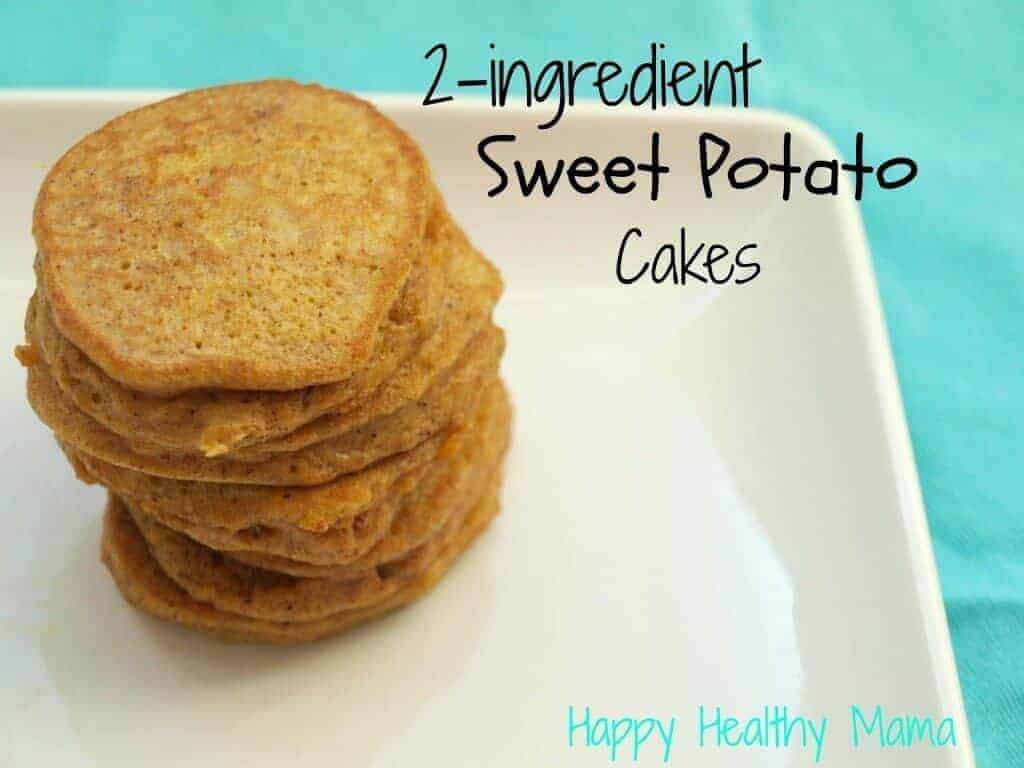 Speaking of simple, these are even easier, clocking in at only two ingredients. Of course, both ingredients are paleo foods, and this recipe is kid-approved. Despite looking and feeling like pancakes, these do not taste like pancakes, nor do they have the texture of one. However, this recipe is highly adaptable by simply adding spices and extracts of your choice, and can be adjusted into either a savory hot cake or a sweet delicious pancake.
27. Banana Oat Blender Pancakes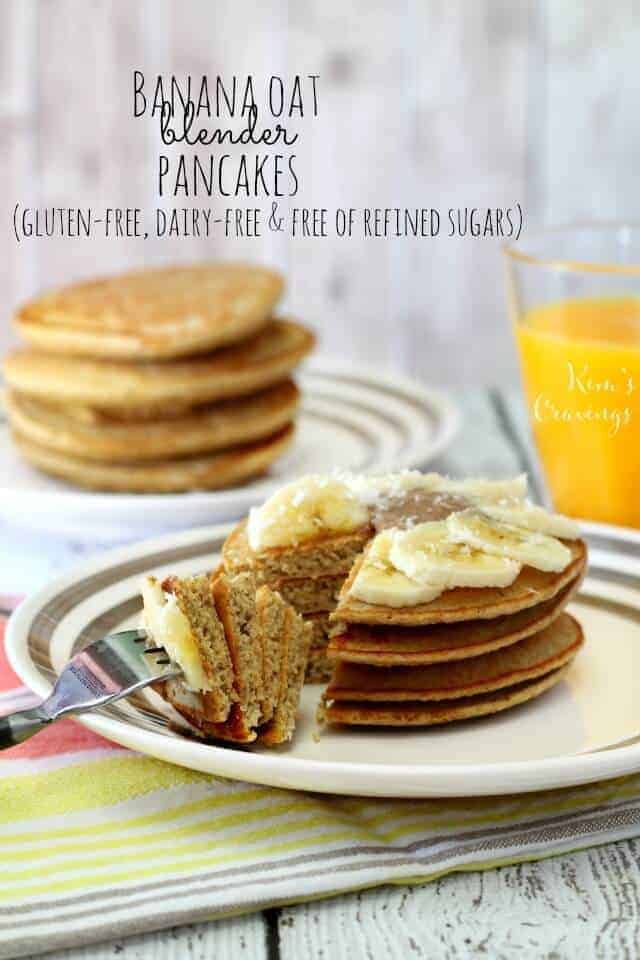 Completely gluten free and dairy free, these pancakes are made very quickly in a blender and provide a nice energy boost in contrast to the heavy, lethargic feeling you're left with after eating regular pancakes. This is a perfectly hearty, satisfying paleo pancake recipe that is a definite keeper if you have anyone who is gluten-free and/or dairy free to feed. Adapt the batter to your preference, because after sitting for a few minutes, the batter will thicken. If you prefer a thinner batter for your pancakes, simply thin it with a little of the non-dairy milk you are using. Try also this sticky but delicious paleo brownie cake recipe
28. Easy, Fluffy Paleo Pancakes Recipe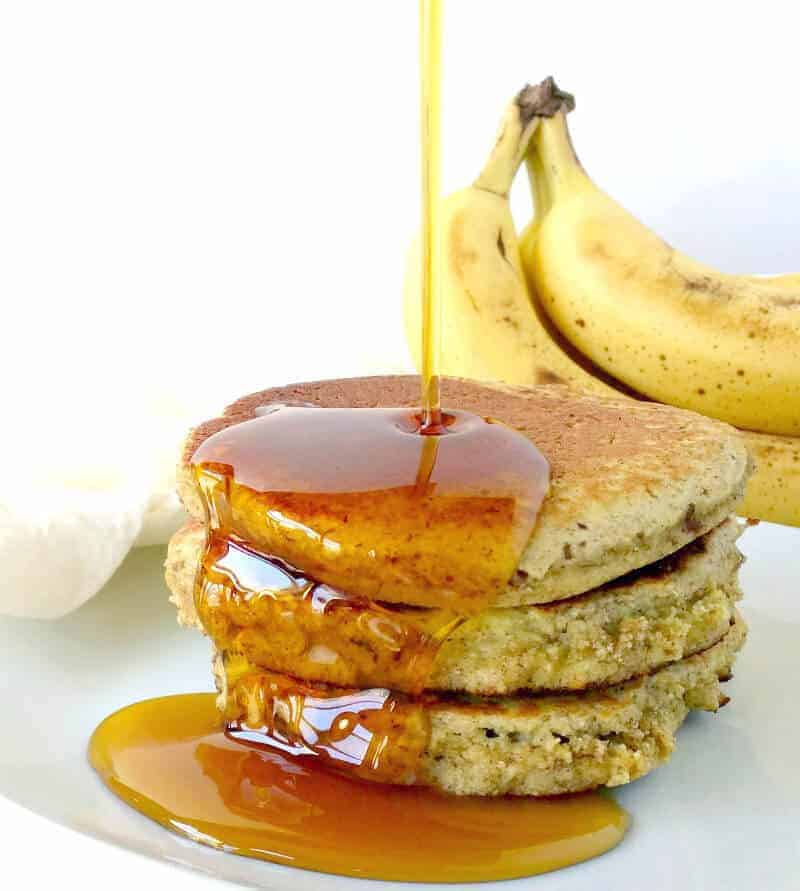 Delicious, fluffy pancakes that were invented out of necessity after the author gave another recipe a try and considered them too dense for her children to enjoy. These light and airy hot cakes will hold together in the refrigerator, but are not freezer tested, so freeze at your own risk. If you preferred the taste of regular whole wheat pancakes, consider adding the optional flaxseed meal, as it often helps lend a taste similar to wheat.
29. 2 Ingredient Banana Pancakes Recipe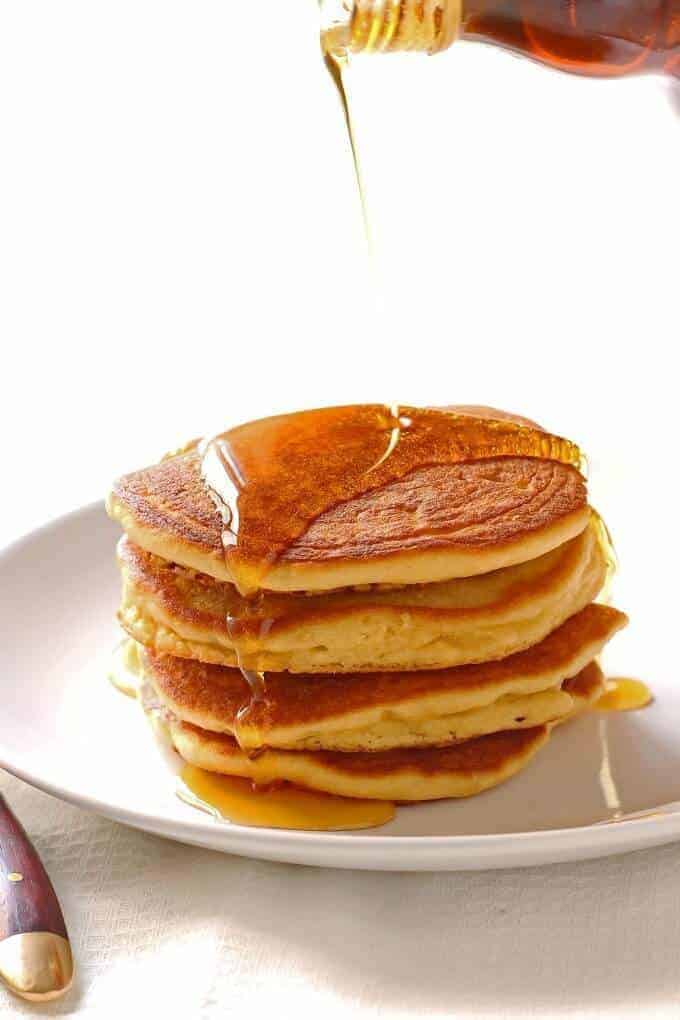 Another ones for the fans of quick, simple, and delicious, as this addition to our list is another two ingredient option. Made with only eggs and banana, with the assistance of a blender, these are a great way to still eat pancakes on a morning when you are rushed. If you are a fan of banana, you will fall head over heels for these soft, scrumptious pancakes.
30. Fluffy Paleo Diet Coconut Flour Pancakes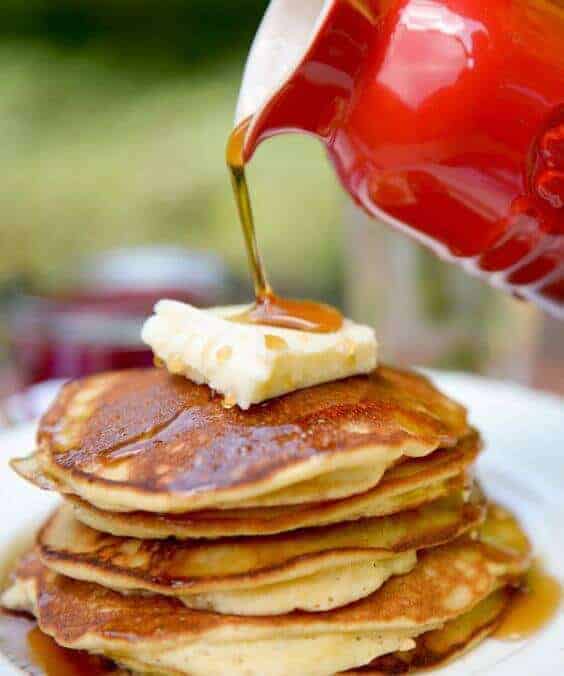 This paleo pancake recipe only makes approximately six small pancakes, so if you have several people to feed, make several batches. Loaded with a substantial dose of protein and fat for a crave curbing meal, these are perfect for starting off your day with a boost of energy that lasts. Use a lower temperature when cooking these due to the quantity of eggs, or you risk burning them.
More paleo pancakes on the next page…
31. Paleo Pumpkin Pancakes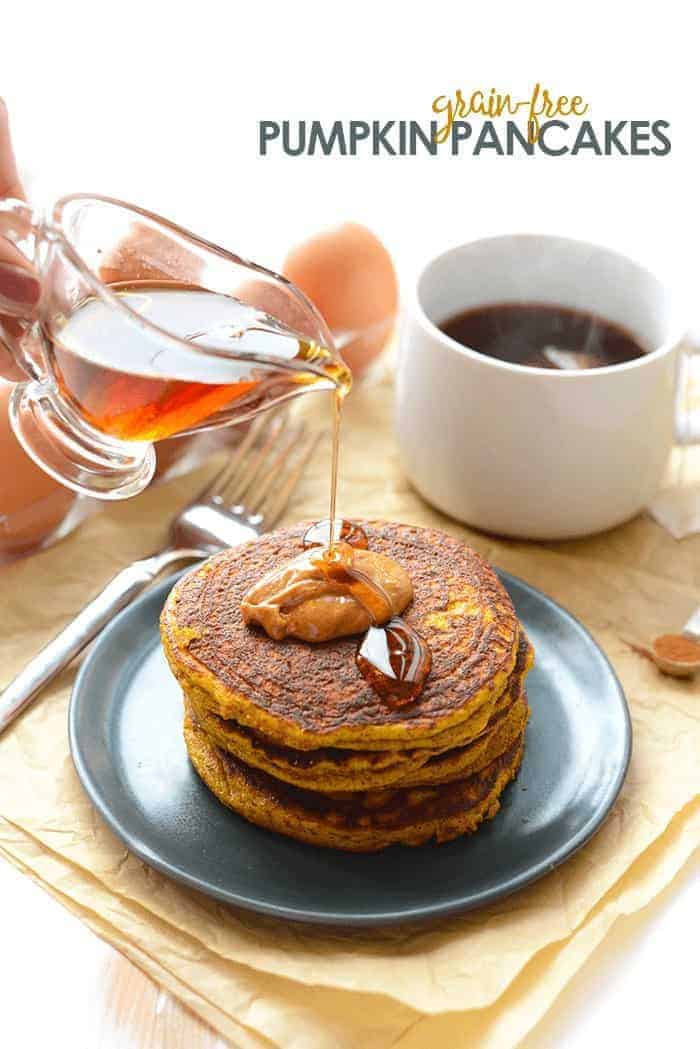 Free of grains and full of pumpkin, these are beautifully tall and moist paleo pancakes. They're soft and tender on the inside, yet golden and crisp on the outside, all while being easy to flip and quick to make. If pumpkin isn't your thing, try replacing it with applesauce to maintain the added water content.
32. Simple Paleo Strawberry Crepes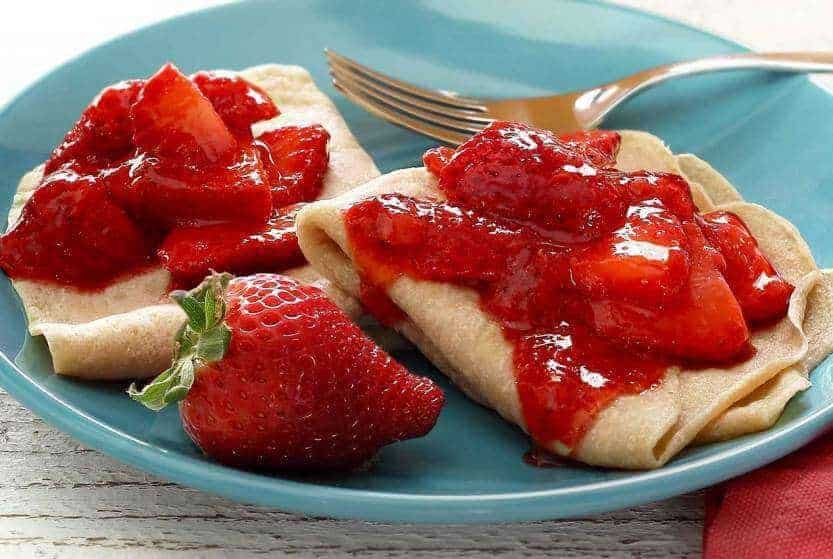 Not quite a pancake, technically speaking, but still absolutely delicious! Paleo crepes stuffed with a strawberry filling are easy to make when you have a little extra time to treat yourself. After preparing the batter, simply spread ¼ cup of batter around the bottom of your hot skillet, swirling the skillet to shift the batter evenly, and then proceed to cook as if it were a pancake. Fill with the strawberry filling, or any filling you prefer, and enjoy.
33. Paleo Pancakes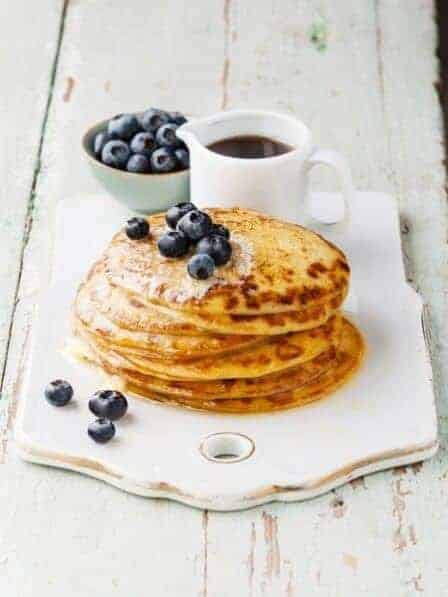 Less carbs, more flavor, is the focus of this paleo pancake recipe. Based on only two ingredients like some of the others we've gone over so far, these are simply made with bananas and eggs, commonly topped with crisp apples or raspberries by the author. Feel free to use any fruit or topping you want, such as a nut or seed butter.
Related: 50 Low-Carb pancakes recipes and ideas for the family
34. Vegan Blueberry Oatmeal Pancakes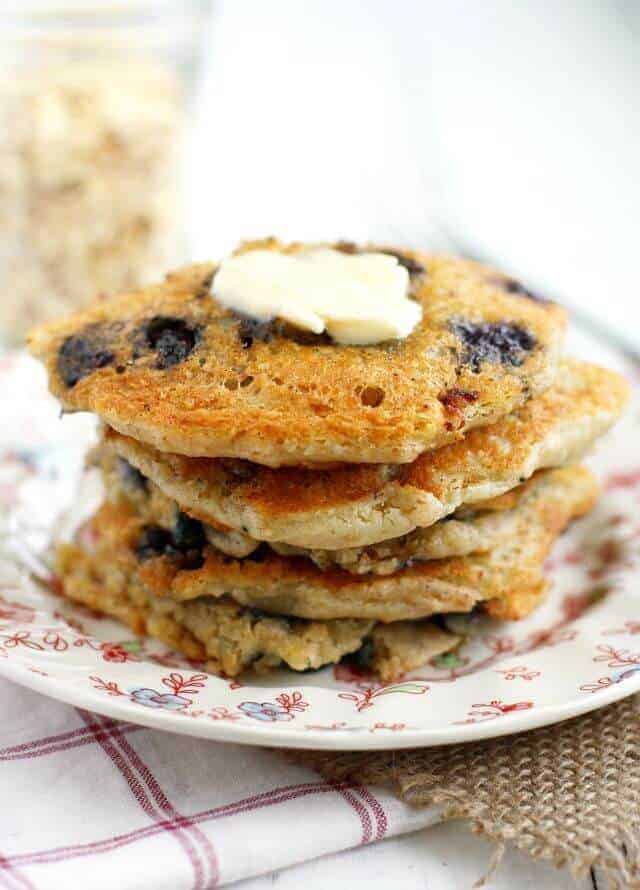 Thankfully, this list isn't exclusive to those on the traditional paleo diet, as proven by these amazing vegan blueberry oatmeal pancakes. Keep the heat at medium low, as although these will take a bit longer to cook because of the ground up oats in the batter, they can definitely still burn if you aren't careful. As a side note, as these are made with ground oats, they will not fit all versions of paleo. This particular recipe is for those of you who are introducing certain grains back into your diet.
35. Perfect Paleo Pancakes
These perfect paleo pancakes are ideal for not just breakfast, but any meal or snack of the day. Use any nut or seed butter you wish, and of course any mix-ins your heart desires, if any. Despite not having any flour or flour type substance, these delicious pancakes hold together and deliver an amazing punch of flavor. For ideas on adapting this recipe, be sure to check the plentiful number of reviews at the author's website.
36. Allergy-Friendly Pancakes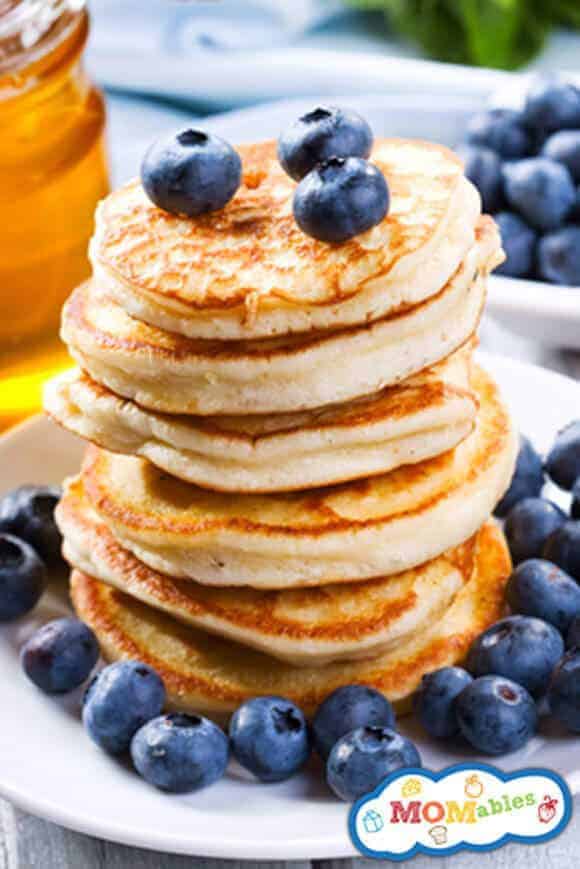 This is for the readers who have a variety of allergens or diets to cater to! This amazing paleo pancake recipe is free of gluten, dairy, and eggs, but definitely doesn't lack in taste. These are kid-approved, crafted with the intent to make your life easier, and despite lacking so many traditional ingredients, perfectly soft and fluffy. Serve immediately covered in all of your favorite toppings, and eat while warm. For best results, use the same gluten free flour as the author, which in this case is King Arthur brand, or check the comments for an alternative suggestion.
37. Spinach Pancakes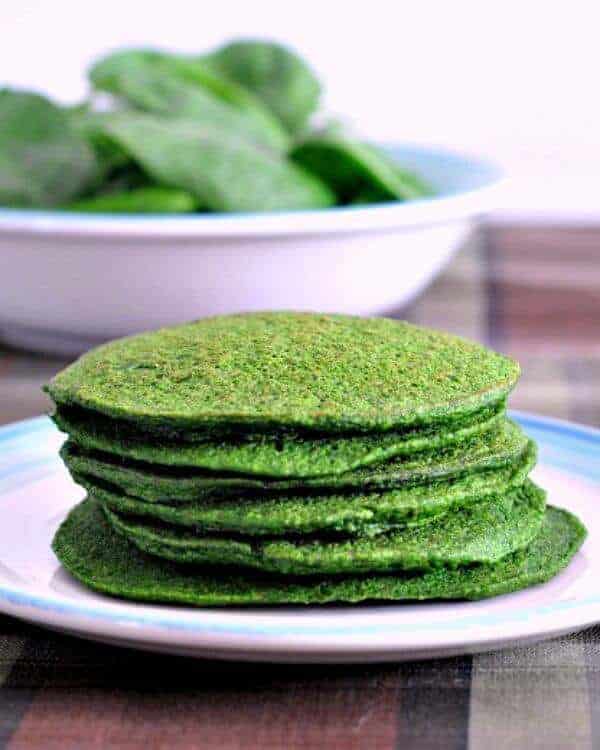 Out of all of the paleo pancake recipes on this list, these beautiful spinach based pancakes are extremely flexible, and are easily adapted to be sweet, savory, or even used as the bread for a sandwich. This recipe also happens to be dairy, egg, soy, and gluten free, and vegan, making it highly versatile and a great fit for any family. Simply add sweetener of choice to the batter for a sweet pancake, or add your savory seasonings of choice, such as sea salt or garlic, for a savory cake or bread option. If the green color is important to you or your children, keep the heat on the lower end when cooking, or they may brown.
38. Gluten Free And Vegan Chocolate Chip Banana Pancakes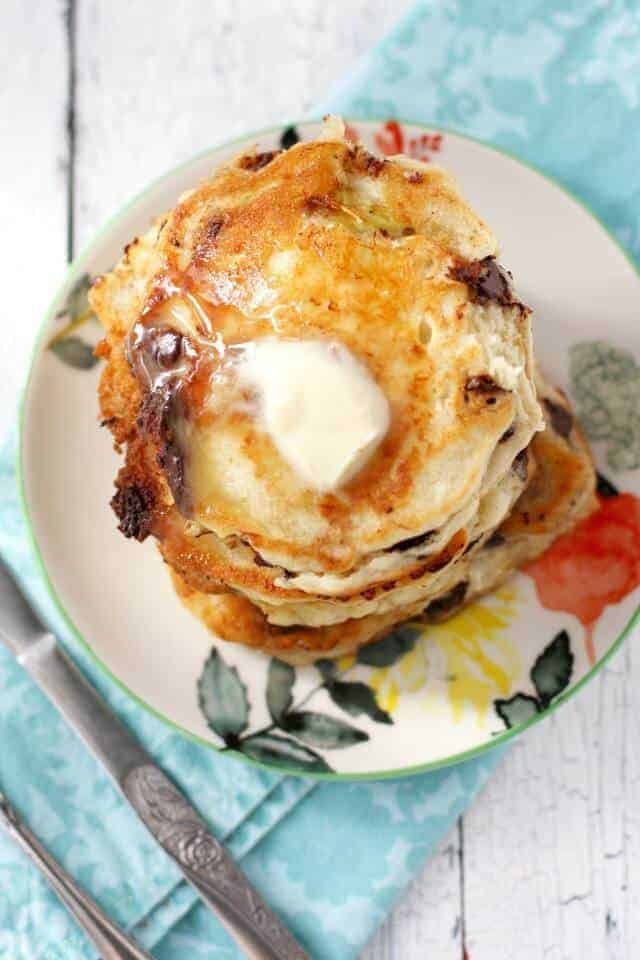 Without gluten and eggs, many pancakes become heavy and dense, which isn't for everyone. Not so with these pancakes! Another vegan selection, these focus on using up overripe bananas combined with a gluten free baking mix to maintain the moist yet airy texture we have all grown to love in a pancake. Omit chocolate chips if you aren't a fan, or substitute a mix in of your choice, such as nuts or blueberries.
39. Ridiculously Healthy Three Ingredient Treats
Three ingredients, full of protein, and chocolate flavored – what's not to love? If you don't have chocolate protein powder, you can easily substitute in cocoa powder, but you will lose almost all of the protein. For plain pancakes, completely omit the chocolate altogether, or add in a little bit of vanilla extract to enhance the natural flavors. This recipe is enough for one serving, so make several servings if you have more mouths to feed, or if you want multiple servings for eating later.
40. Paleo Crepes With Strawberries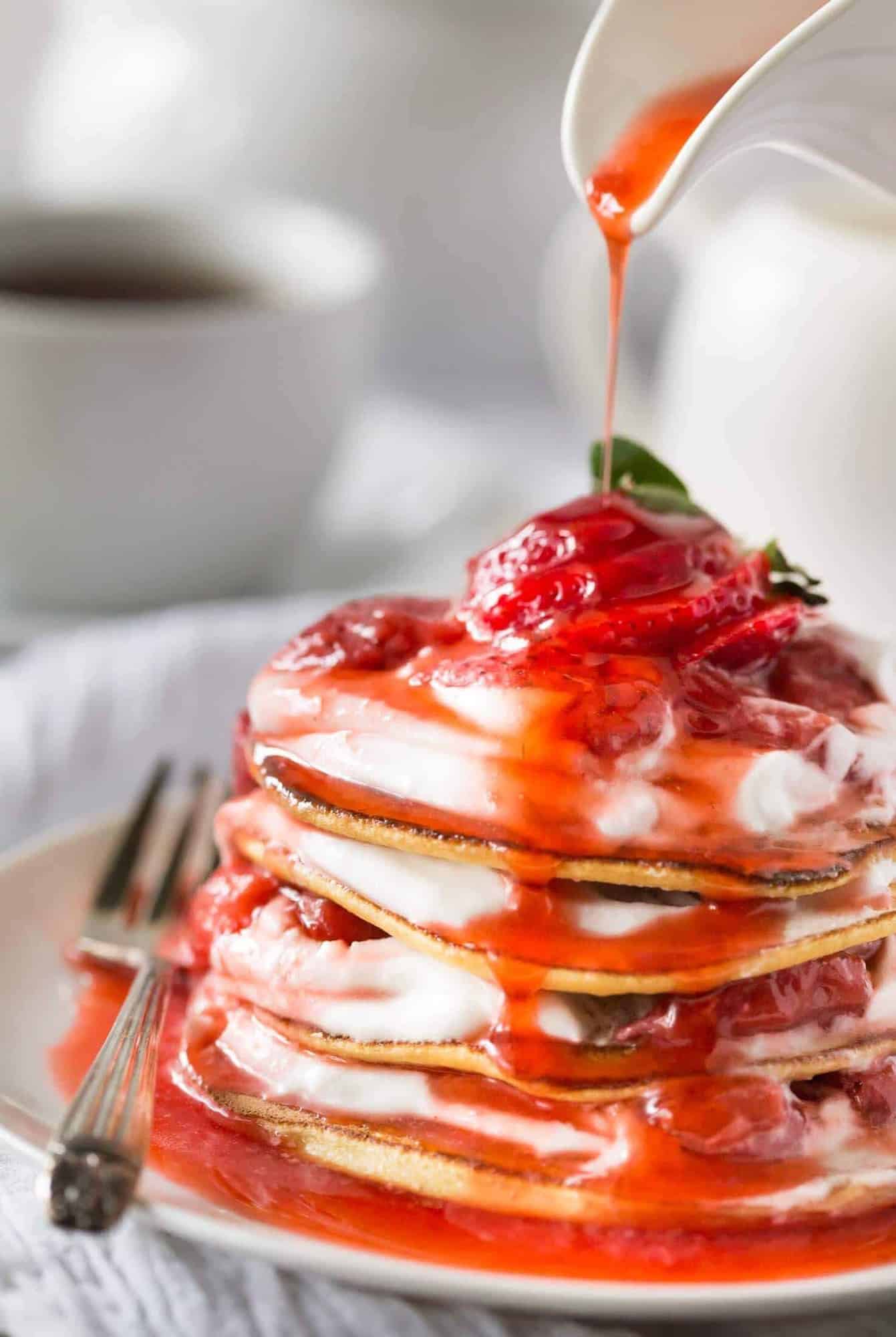 Everybody loves simple, delicious recipes, and this one will be no exception. Not quite pancakes, these crepes have a delicate coconut flavor thanks to the coconut flour base, and are topped with an exquisite strawberry sauce and coconut whipped cream. If you are planning on using the coconut whipped cream as a topping, be sure to refrigerate the can of full fat coconut milk for at least twenty four hours beforehand!
41. Pumpkin Pancakes With Maple Coconut Butter Drizzle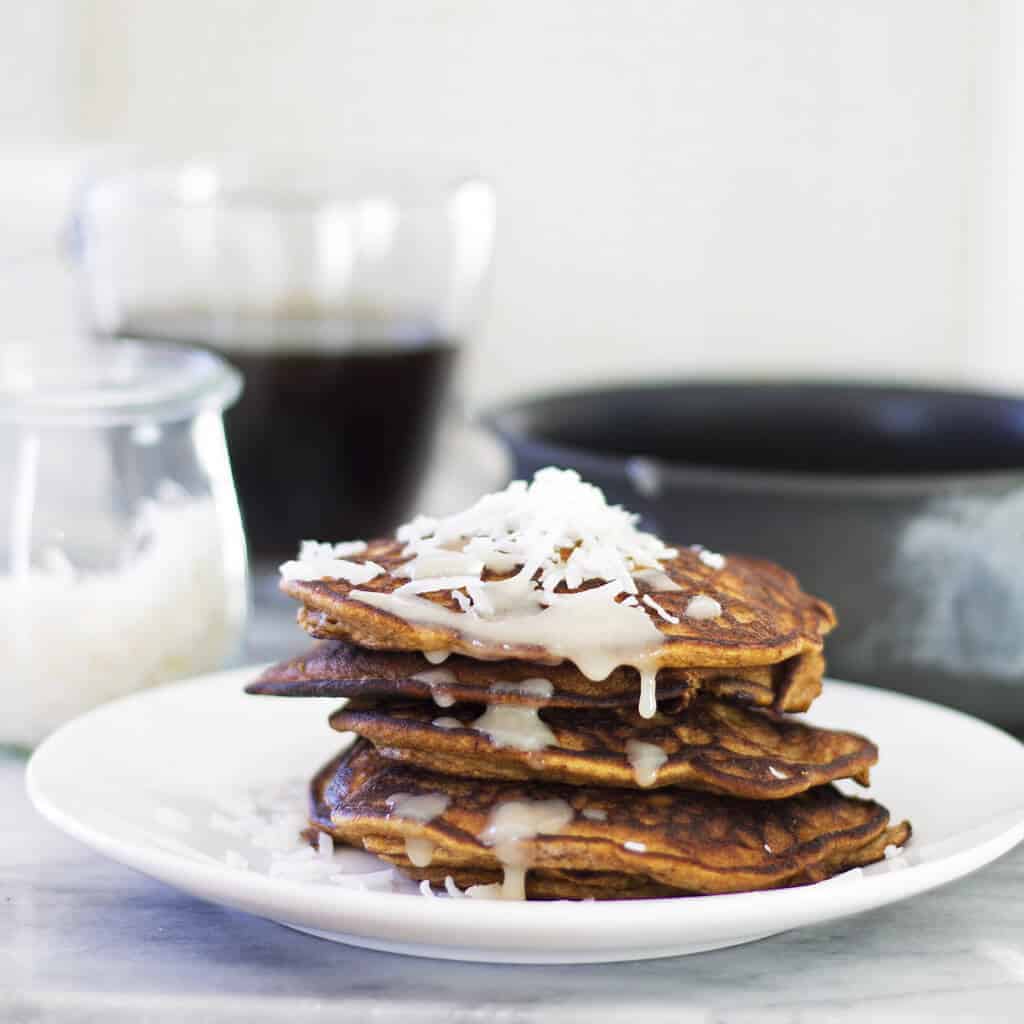 Fluffy and chock full of flavor pumpkin pancakes, topped with a maple coconut butter drizzle, these paleo pancakes go all out on taste. They are extremely nutrient dense and filling, providing you enough energy to easily go through your day if eaten for breakfast, while being sweet enough to satisfy any dessert craving at night. If you love pumpkin, these divine pancakes will not disappoint you. For an extra punch of flavor and some textural contrast, try mixing in nuts of your choice, such as pecans.
42. Gluten Free, Protein-Packed Quinoa Flour Banana Pancakes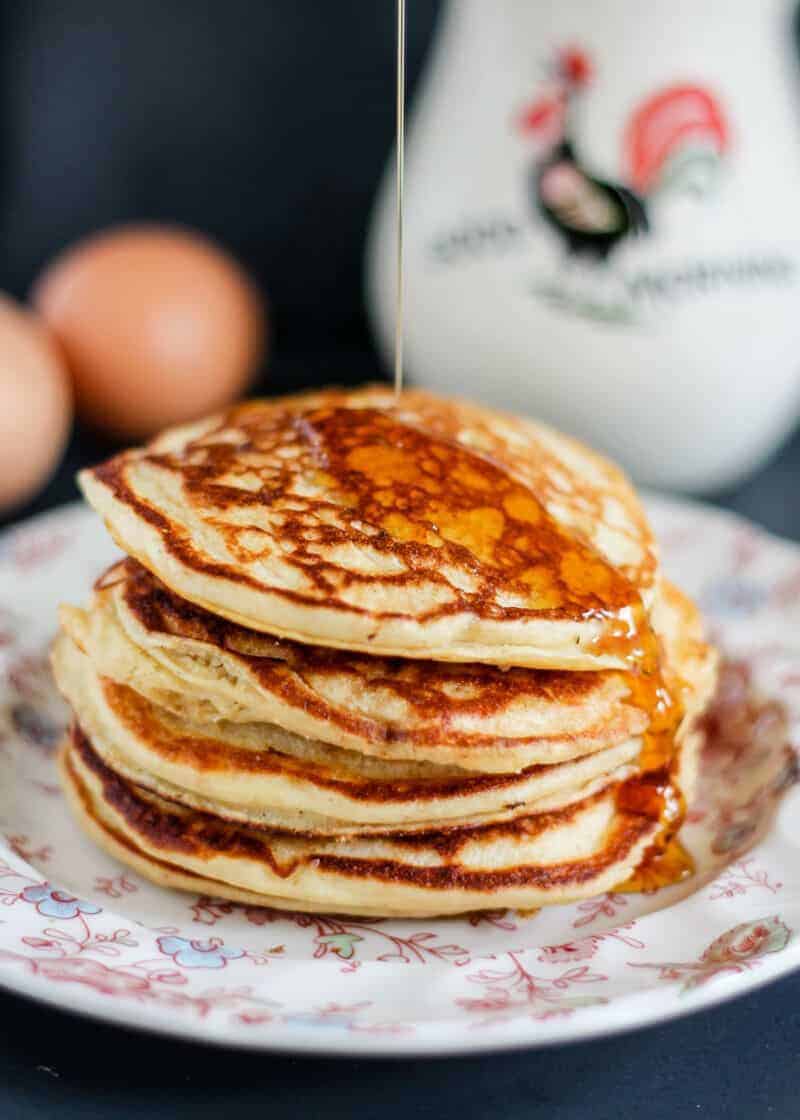 Although considered a pseudo grain, quinoa is actually a seed and is one of many approved paleo foods. Quinoa flour and Greek yogurt are important parts of this recipe, lending to the beautiful fluffy yet moist texture, while banana and a touch of honey help to counteract the natural bitterness of quinoa flour. These are freezer approved, and this recipe makes a total of eight pancakes.
43. Fluffy Blueberry Paleo Pancakes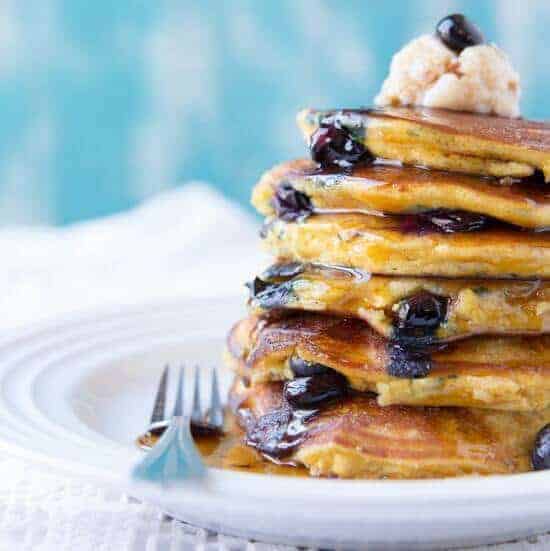 These traditionally flavored blueberry pancakes are just as quick and easy to make as regular pancakes. They have an amazingly light and fluffy mouthfeel, and are the perfect blank canvas to add whatever mix-ins you prefer. If the batter ends up too thick, thin it with a little bit of water until it is pourable, or the batter will not form bubbles when cooking and may not hold together well.
44. Coconut Flour Pancakes
Perfect with a fresh pot of coffee and some fruit, these delicious paleo pancakes are packed with protein and offer a delightfully decadent coconut flavor. They also go amazingly well with yogurt, maple syrup, nut or seed butters, or even a homemade fruit based topping. Unlike some of the other recipes on this list, these do not form bubbles when cooking, so keep a close eye on the edges and watch for browning.
45. Fluffy Coconut Flour Pancakes With Wild Blueberry Maple Syrup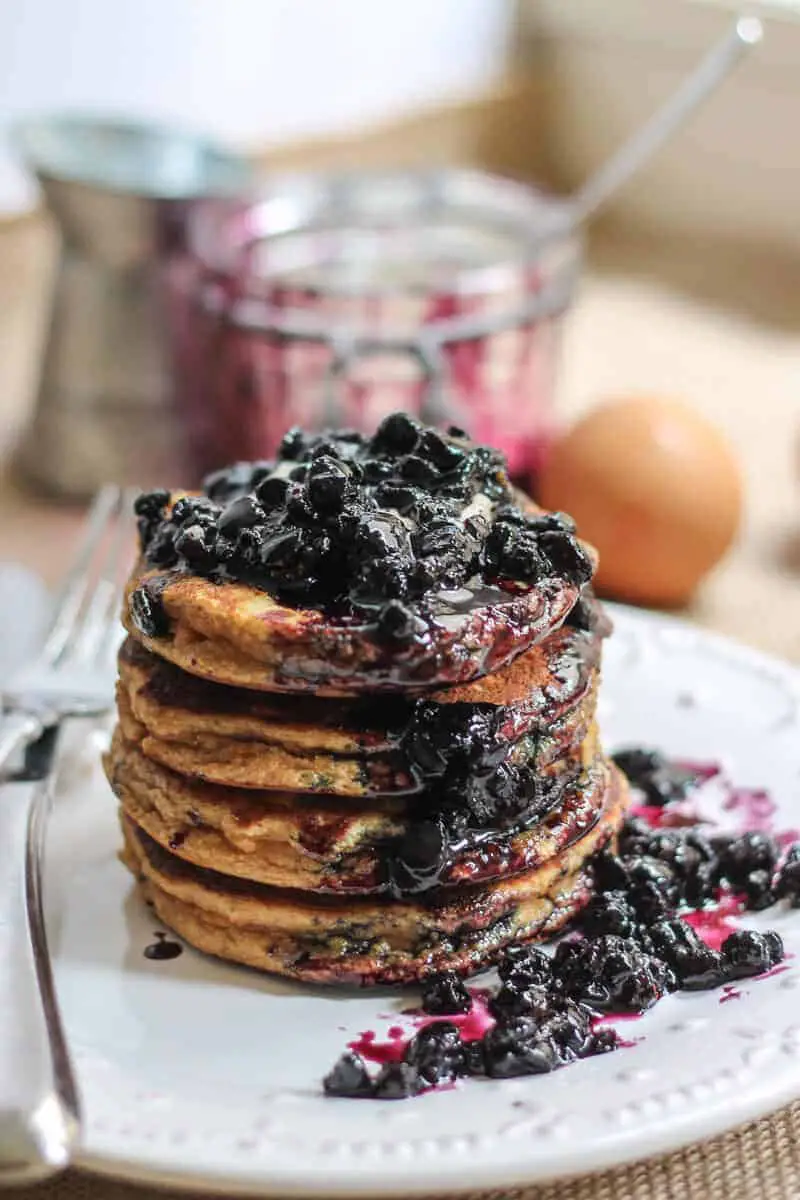 If extravagance or romance is what you're going for, give these pancakes and their topping a try. The secret to this recipe is the nut butter, which helps add not only flavor, but structure to the finished product. The applesauce is used purely for moisture and texture, but if you don't like the idea or don't have any on hand, try substituting banana or pumpkin puree in its place. Tall, fluffy, and bursting with flavor, these are to die for!
46. Paleo Buttermilk Pancakes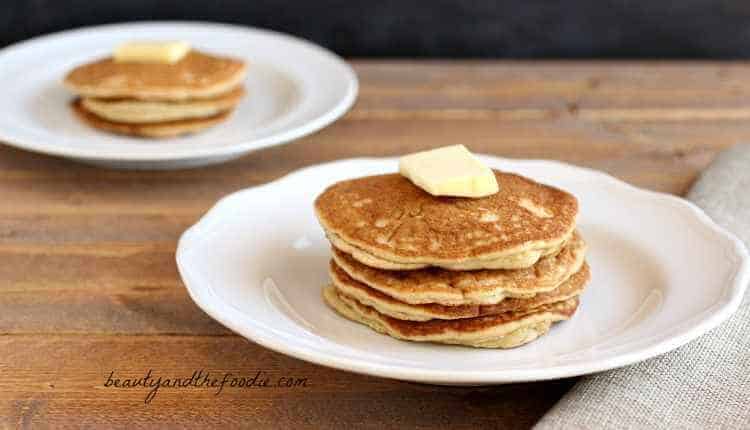 Paleo tends to naturally lean towards being low carb, which makes certain paleo recipes suitable for those on a low carb diet, with others requiring a few minor changes to meet their needs. This recipe is perfect for those of you who are watching your carb count, as all you have to do is use a low carb sweetener of your choice. These pancakes tend to be on the fragile side, so wait until many bubbles form before flipping, or consider adding a structural ingredient such as xanthan gum, another egg, or a bit of nut butter to the batter.
47. Paleo Pancakes With Almond Butter & Blackberry Sauce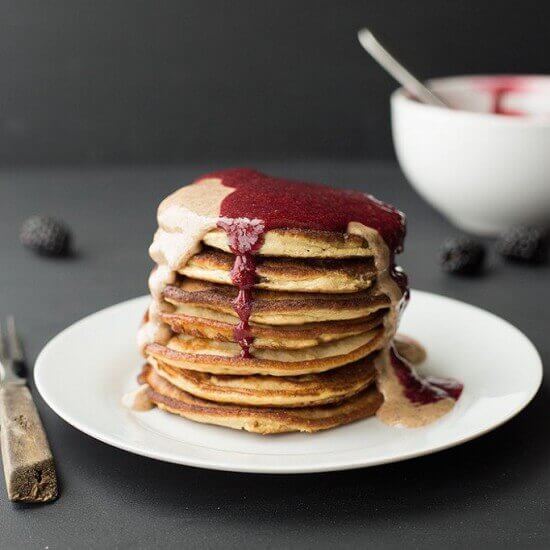 Another low carb option, provided you use a low carb sweetener such as the stevia recommended in the recipe, are these paleo pancakes with a perfectly fluffy consistency. They are quick and easy to make, and one batch of the recipe makes approximately twelve small pancakes. These are not freezer approved, and according to one commenter, the batter is not refrigerator approved, so be sure to prepare them all if you're whipping them up!
48. Fluffy, Classic Pancakes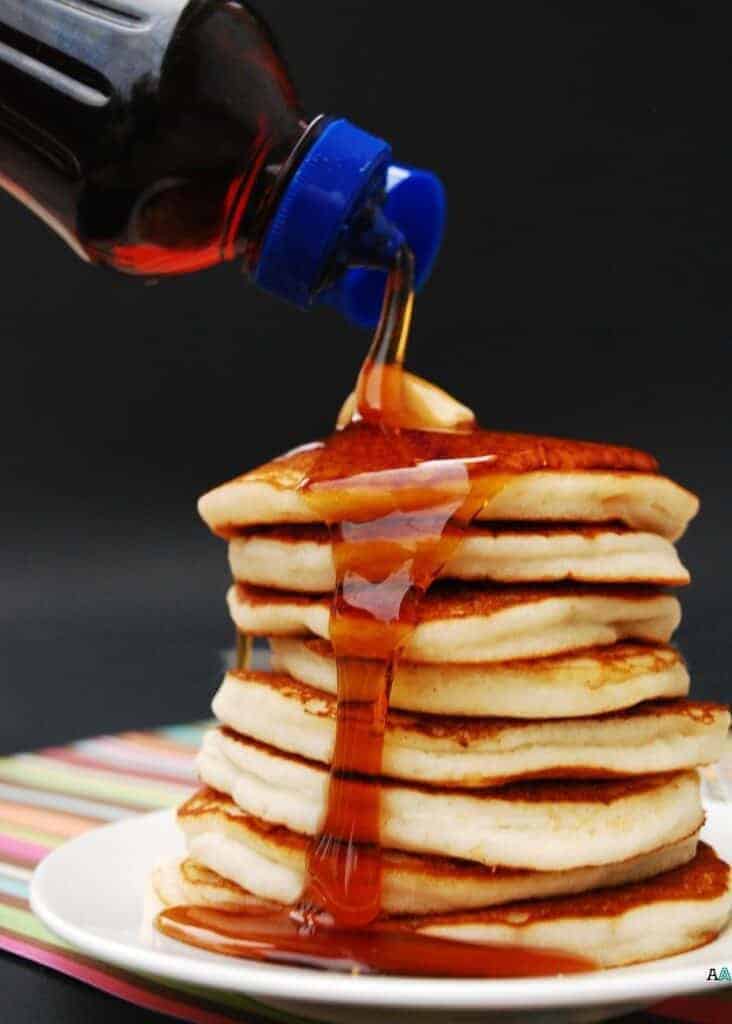 With a batter rivaling that of traditional sourdough pancakes, these flapjacks are soft, fluffy, and allergy free. The star of this recipe is an odd ingredient, but don't let that turn you away! These pancakes are tall and airy, despite not having any gluten, dairy, eggs, peanuts, or tree nuts, and are a great choice for any meal of the day. If you really miss buttermilk pancakes, and have allergies to work around, these are calling your name.
49. Paleo Pancakes (Nut-Free) With Triple Berry Compote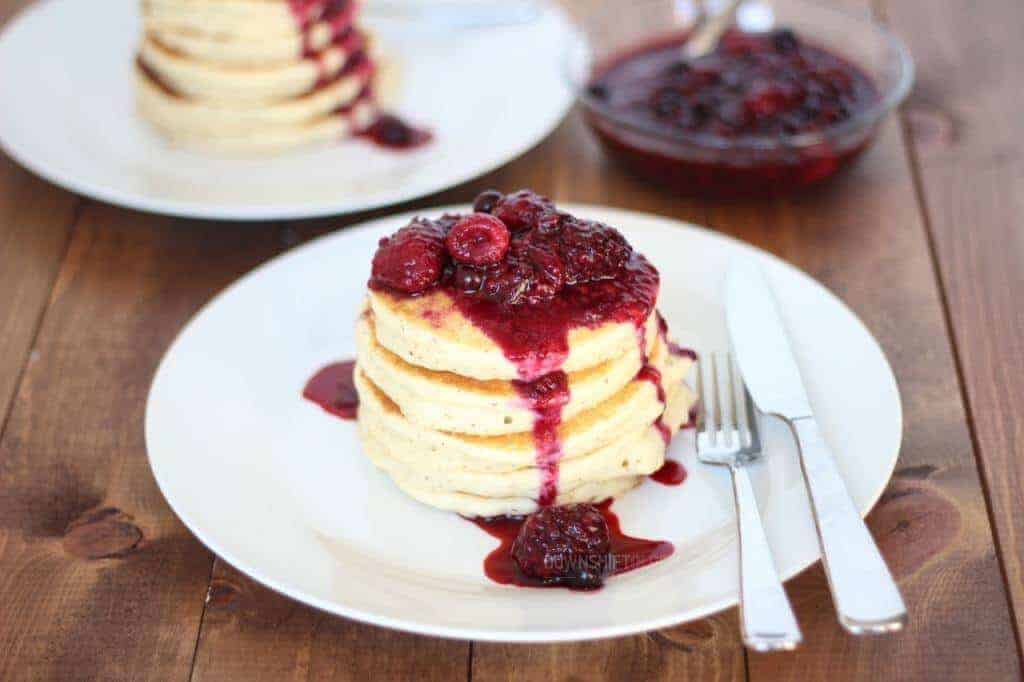 Here's one specifically for those of you who are allergic or sensitive to nuts. These are made with coconut flour and tapioca flour, instead of almond flour, and because of that, they have a light coconut taste to them. However, it is not an overpowering taste, and they still have a beautiful, fluffy texture even with the density of coconut flour. They look just like Bisquik pancakes, without the "from-a-box" flavor!
50. Fluffy Coconut Flour Blueberry Pancakes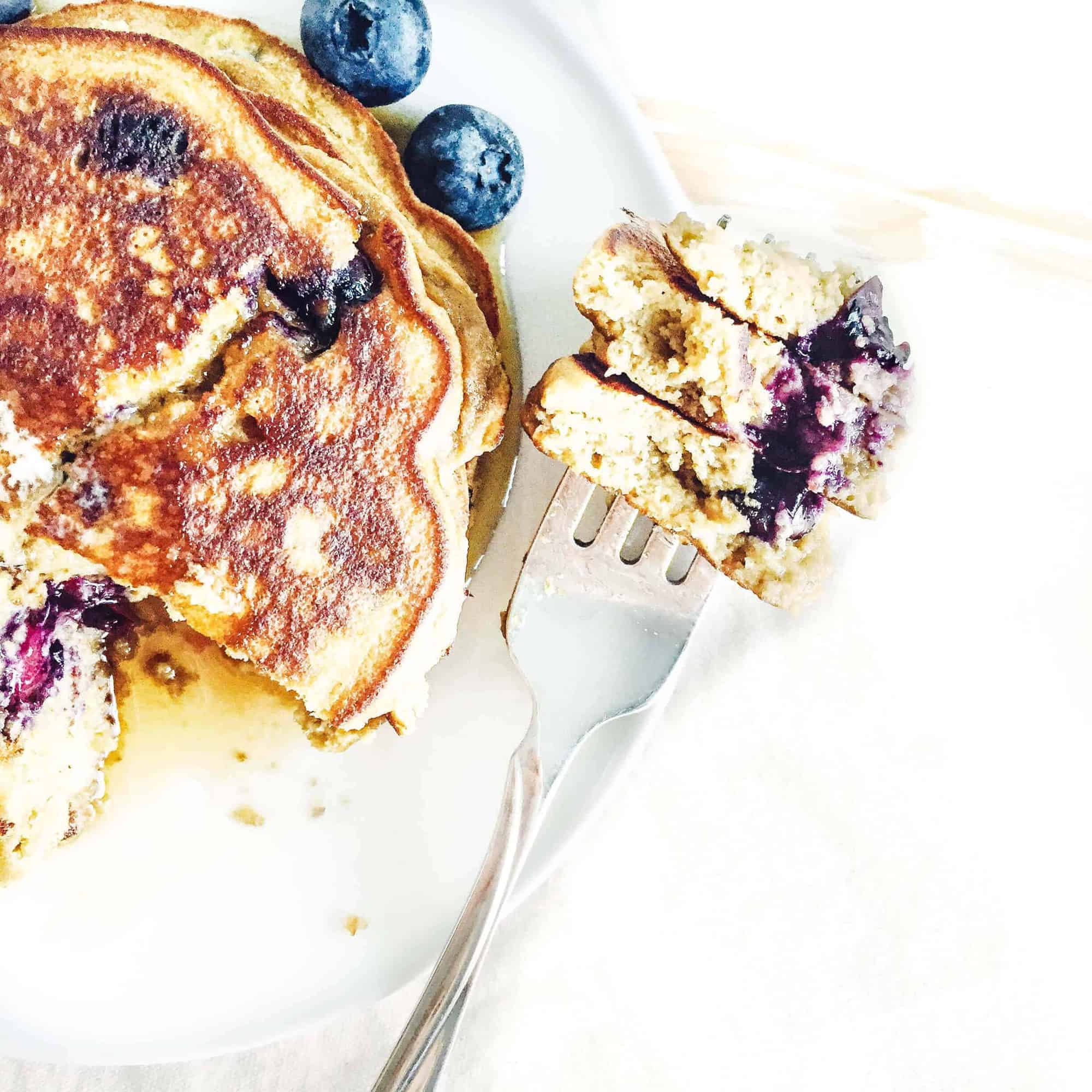 The Internet's Top 50 Paleo Pancake Recipes
Everybody can agree that while normal flapjacks with just a bit of butter and syrup are yummy, pancakes with mix-ins really take things up a notch. These light, airy blueberry pancakes are no exception, and if blueberries aren't your thing, feel free to add anything you want such as chocolate chips or nuts. These are actually extremely fluffy for a coconut flour pancake, and the texture of these pancakes goes great with the crunch of nuts or crispy bacon.
Related: Best Blackberry Pancake Recipe